Banerjee hailed Mohun Bagan after they held their nerves in a tightly contested Indian Super League (ISL) final as they beat Bengaluru FC 4-3 on penalties to lift the elusive trophy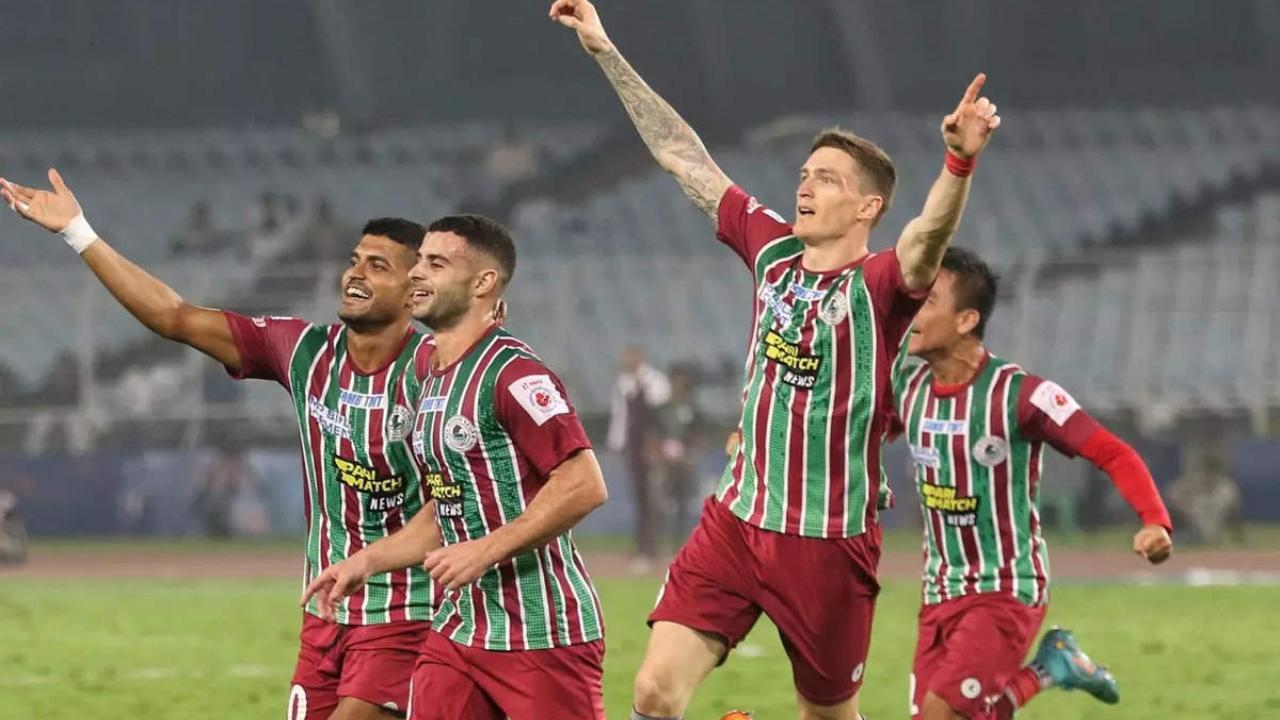 Mohun Bagan (Pic Courtesy: @indsuperleague/Twitter)
It is a routine that plays out every four years. Indian football fans get enlivened and more rambunctious as the World Cup draws nearer, even though India is not part of the tournament. As the multi-nation event approaches, a legion of gargantuan posters featuring Messi and Neymar, sometimes even adorned with garlands, can be spotted along roads in the subcontinent's football-crazy states. They say the World Cup may be held several continents away, but one could be mistaken into thinking it is being played in India. 
Call it a change of taste, the impact of social media, the effect of globalisation, or what have you, the football fever surrounding the World Cup reaches a feverish pitch among all kinds of loyalists. West Bengal Chief Minister Mamata Banerjee is no different. Keen on having Mohun Bagan emerged as the world's best football club, Banerjee urged the club to challenge themselves against the best teams in the international arena. 
ADVERTISEMENT
"Mohun Bagan has to be the best in the world. I want to bring the World Cup through you. Why won't Mohun Bagan play against Brazil? Why won't Mohun Bagan play against Poland? Why won't Mohun Bagan play against Italy? We have to play against them. We have to conquer the world," Banerjee was quoted as saying during the club tent on March 20. 
"One cannot ignore Bengal. Bengal can do it. Bengal can win. You'll win it tomorrow. You'll conquer the world. Remember that day that I said this. I truly believe the entire world will come to your doorstep one day. They will come to welcome us," she further added.
Also Read: We fought till the last minute in ISL final, says ATKMB coach Juan Ferrando
Banerjee hailed the Mariners after they held their nerves in a tightly contested Indian Super League (ISL) final as they beat Bengaluru FC 4-3 on penalties to lift the elusive trophy. She claimed that Bengalis' affinity bordering on maniacal obsession with the sport is enough to show their true potential against top teams in the world. Elated at the stupendous victory, Banerjee also announced a prize money of Rs 50 lakh for the side. 
Now, is it technically deemed possible for the Mariners to play the World Cup, forget lifting the trophy. No, and it should not surprise you. The World Cup is not played among clubs, only national teams participate in the tournament. However, the FIFA Club World Cup can come to the rescue here. It is played between seven teams over a two-week period. 
The most successful Asian team in the FIFA Club World Cup is Japan-based Kashima Antlers, which finished as runners-up in 2016 after losing to Real Madrid in the final. Real Madrid were crowned champions of the 2022 edition. Other participants include Urawa Red Diamonds and Gamba Osaka from Japan, Al-Hilal from Saudi Arabia, Pohang Steelers from South Korea, and Western Sydney Wanderers from Australia. 
It is very rare to see national football teams lock horns with club teams. Though there are a few exceptions, for instance, several clubs can play pre-season friendlies against national teams.