City shooter Heena, who won gold in the ISSF air pistol mixed team event with Jitu Rai, talks about her struggles, highs and husband Ronak's support
Three days after winning gold in the mixed team event alongside Jitu Rai, it was back to the drawing board for Heena Sidhu. With her life partner and coach Ronak Pandit keenly watching, Sidhu is trying to work on few of her flaws that were caught during the finals just days before. Ronak spotted that Sidhu was using up a lot of time to shoot. "Too much of self-doubt and cancelling," was how he put it. Solution was to make her work on her trigger movement. A simple yet harder task was set. During the sighters, she was to be aggressive with her trigger movement. Next up was simulating match situation, with Sidhu trying to break her rhythm. Her first target was to finish her 10 shots series in 11 minutes. In the next series, she was told while shooting about errors that are happening while also told to correct it. In the third she was set a target score to be met.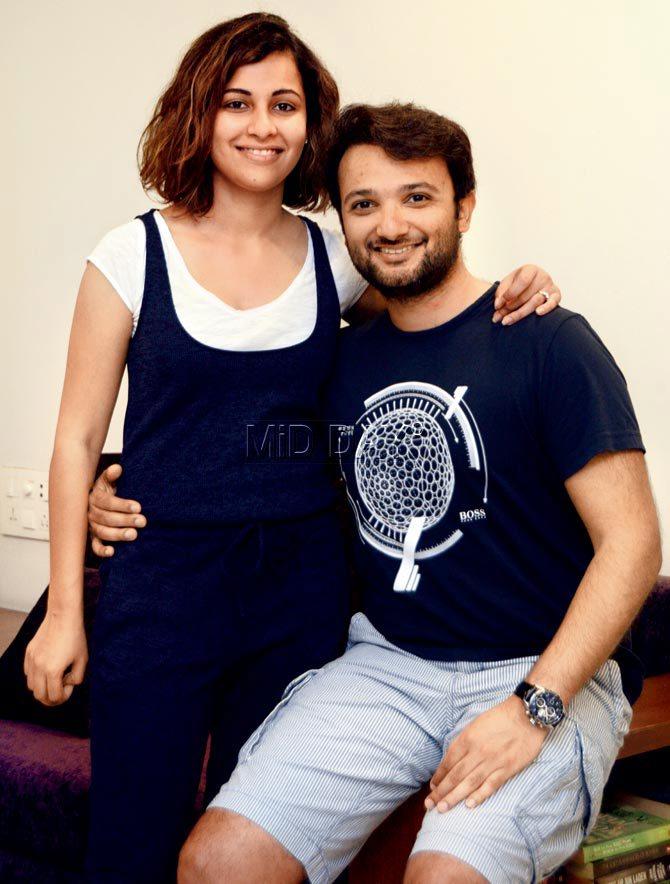 India shooter Heena Sidhu with husband Ronak Pandit at her Goregaon residence earlier this year. Pic/Satej Shinde
And then finally she was told to score 97 in the last series in 10 minutes, with Ronak constantly trying to unnerve with lines 'the next shot has to be a 10' or 'if you hit a nine then it is all over', 'finish this shot in 20 seconds'.
Learning the hard way
The two-time Olympian has learned the hard way that peaking at the right time, in her case around Olympics is a four-year process, and not the way she or her coach Ronak planned it the last time. "After 2012, the only thing that we didn't do was to make a programme of a four-year cycle. Then we were preparing for one match — it was like going there, shooting and then coming back or attending camps. We were doing a one-month, two-month, three-month stint. It wasn't planned for four years! You have had to have specific goals for the first, second, third years so that you peak in the fourth. We did a lot of hard work, but dimag nahi lagaya as to how to use these four years," Sidhu says looking back. The plan for 2020 has already begun. But first, there was a small matter of fixing an injury that had started to trouble from the 2015 National Games. A bulge disc in her neck meant she started to feel tremors while shooting. By 2016 it was a constant irritation. Post the Rio Olympics, Sidhu got a MRI done and the problem was diagnosed. "I felt it while writing and even painting. Then we decided to go for the MRI. Now I am completely free. I haven't complained about it since," Sidhu, 28, adds.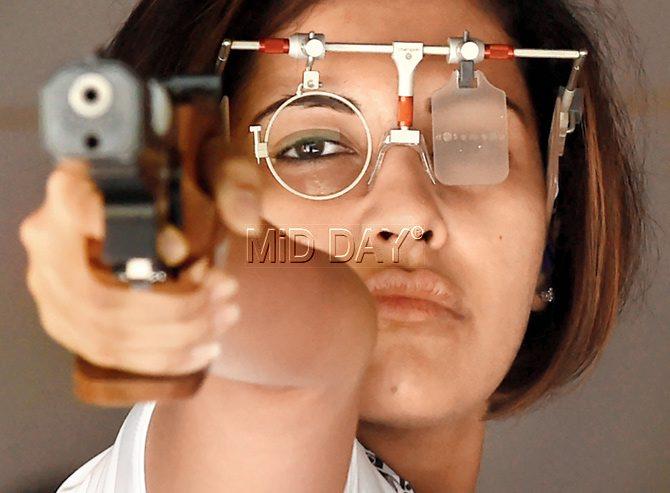 Heena Sidhu at the Worli shooting range in 2016.
The problem fixed, this year is all about working on basics. "We have to work on whatever faults we have identified. The plan is also to work on my body, on every muscle that impacts shooting. We move on to a bit of pressure training from now on, the intensity will increase from October," she explains. This is a big change from what happened right before London Olympics, where they had to face a lot of official indifference. m"There were a lot of doubts about me, about Ronak and about this team before London. We did not get a single rupee marked for us till the time we left. We got the money after the Olympics. They didn't really trust me," she recalls.
On a shoe-string budget, the duo went to Hannover to train. They had to save money by eating light. A single doner for both worth three euros was the sole pick from the lunch menu. "We were already staying in a hotel and then you are paying for the range and if your spending so much on food what are you gonna do? Our psychologist Dr Pierre Beauschamp used to have his sparkling water with his food. We used to feel why he is wasting four euros on a bottle of sparkling water which he will not finish. Here we were finishing our lunch in six euros and he is drinking sparkling water for four euros. Those are the times we have faced," she recalls. Sidhu will compete 10 years as an India international if she participates in the Asian Air Gun that will be held in Wako-Saitama in Japan from December 6-12. It all started with a bronze medal during the 2007 Asian Shooting Championships in Kuwait City.
Where it all began
"It was my first international match and I got the junior bronze. So that was where it all started. In fact, our then coach Czaba (Gyorik), wanted to put my name in the senior category as my scores were very high. He thought I could win a quota and he wanted to use my rawness as a shooter. I shot 379, which was a respectable score. I entered the final at fourth position. So that really gave me a kick." In her own words she has grown a lot as a shooter. From a raw talent, who did not work hard and who took her talent for granted, she says it was not until she tasted success at the 2010 Commonwealth Games that she decided to get serious.
Post the 2010 high, Sidhu has realised few of her dreams while growing up as a sports shooter. But an Olympic as well as World Championship medal is missing from her trophy wall. "I have won everything I could have hoped for. I have even registered the World Record, which was my childhood dream. I have been World No. 1. I think World Championships and the Olympic medal are the only two medals that are driving me now. For as long as I am shooting, I will try to complete my set."