The 2016 Rio Olympian was out of the sport since 2019 after suffering a knee injury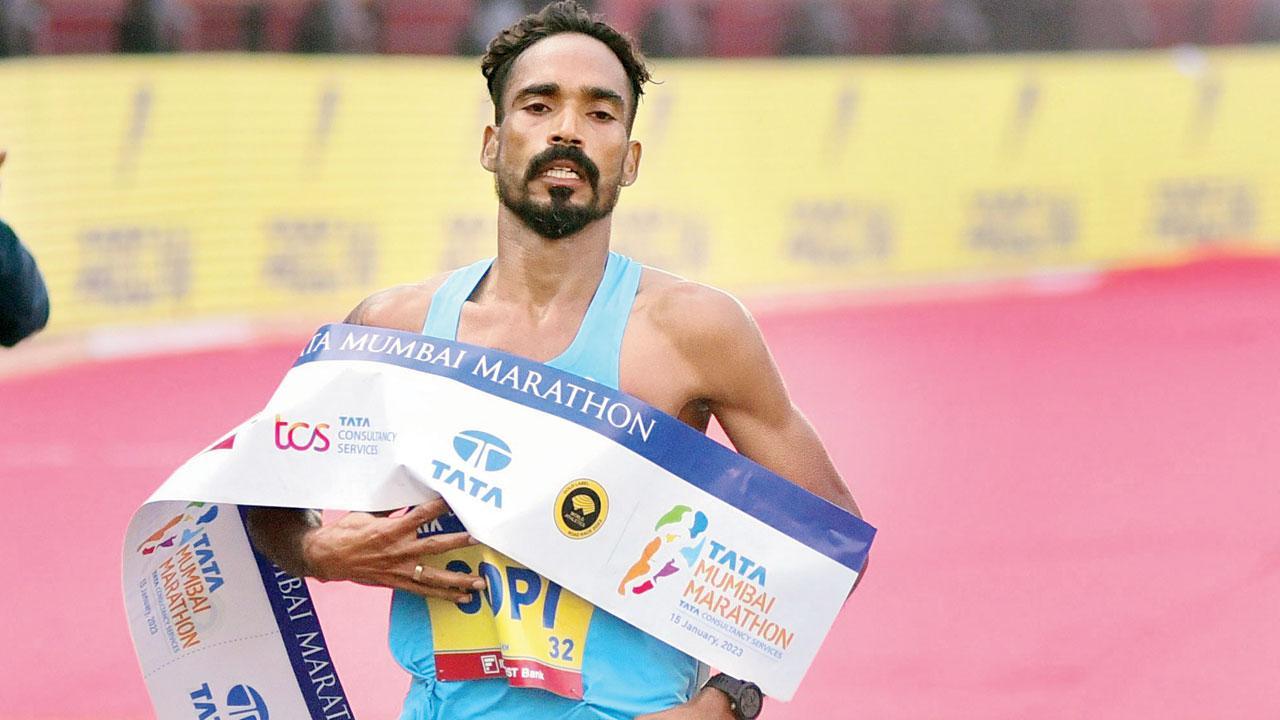 Indian Elite men's winner Gopi Thonakal at the finish line yesterday. Pic/Shadab Khan
Former champion Gopi Thonakal made a strong comeback to grab the Indian men's honours in the 42km race, clocking 2:16:41, at the Tata Mumbai Marathon yesterday.
The 2016 Rio Olympian was out of the sport since 2019 after suffering a knee injury. The following year he had to undergo surgery, which curtailed his chances of participating in the Tokyo Olympics held in 2021.
ADVERTISEMENT
Participating in his first marathon after surgery, Gopi said he didn't expect a podium finish. "I didn't compete for the last three years, so I was just trying to complete the race. I was just expecting a Top-10 finish," said the army man.
Also read: Tata Mumbai Marathon returns after a three-year hiatus
Gopi felt he could have done better given the cool Mumbai climate. "I'll take this result as I didn't expect a victory. Later, I felt I could have done better. I felt a bit of cramps after 32km as it got difficult after the sun was out," said the former Asian marathon champion who hopes for an Asian Games qualification later this year.
Another army man Man Singh, who was competing in his first full marathon, fell short by 17 seconds. Man Singh was neck-to-neck with Gopi till the 30km mark. "I had the intention, but couldn't believe I could win. I'm really thrilled to finish on the podium," he said.
Meanwhile, Satara-based Kalidas Hirave was ecstatic to finish third in his maiden 42km run in Mumbai. Hirave, who is employed with Life Insurance Corporation (LIC), clocked 2:19:54. He said he wanted to test his willpower after experiencing cramps later in the race. "I would have given up but I told myself, 'I will run till I have life in me'. I had the willpower," he said.