Devaj, who finished a close second in the 100m dash on Monday, losing to Yug, did not get a good start and trailed in the second position for most part of the race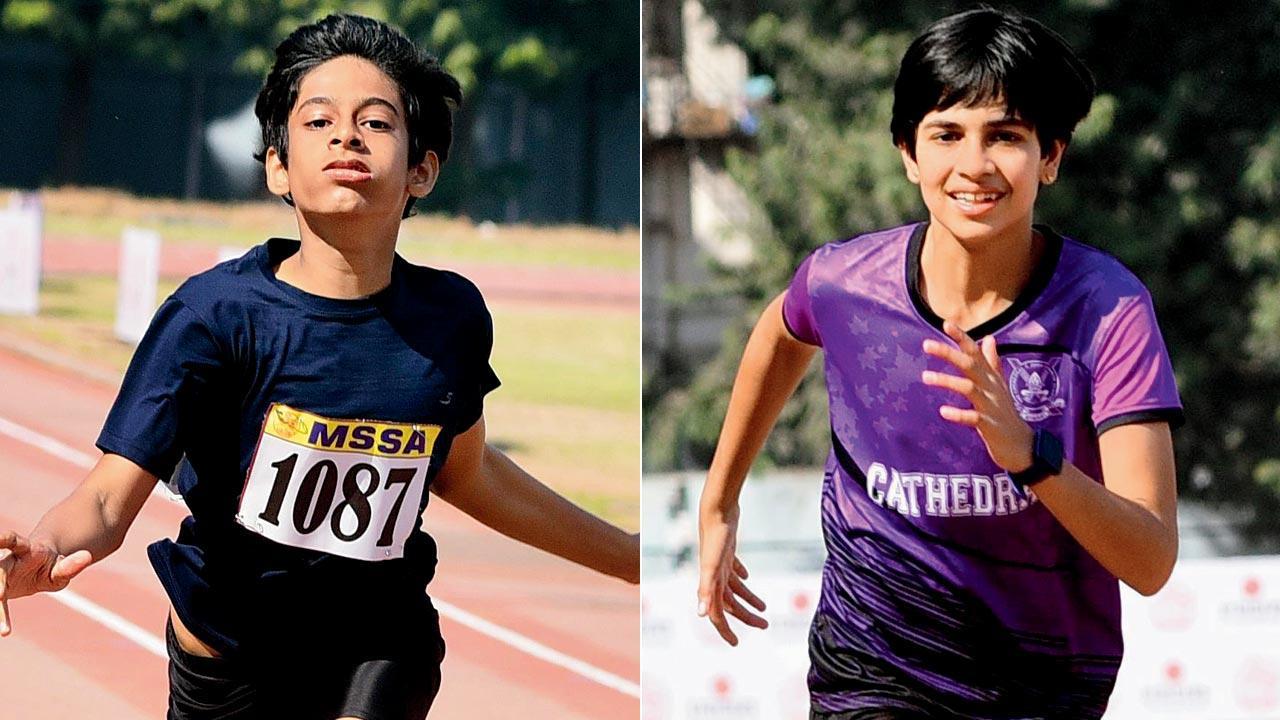 Devaj Parekh (left) and Keona Asher during their respective MSSA 200m finals at the University Sports Pavilion. Pics/Shadab Khan
Devaj Parekh of Pawar Public School (Kandivli) came up with a late burst to clinch a tight race against arch-rival Yug Nanda of Kapol Vidyanidhi International (Kandivli), winning via a photo-finish in the boys' U-12 200metres final of the 128th MSSA Annual Inter-School Athletics Championship at the Mumbai University Ground, Marine Lines on Tuesday.
Devaj, who finished a close second in the 100m dash on Monday, losing to Yug, did not get a good start and trailed in the second position for most part of the race. However, as the field was approaching the finish line, he pushed hard with a last-ditch kick and managed to finish first in a time of 27.796 seconds, just 2000th-of-a-second faster than Yug, who had to settle for silver. Branson Fernandes (28.72 secs) of St Dominic Savio (Andheri) claimed the bronze.
Also Read: Adi Poojary, Riana Saraiya emerge MSSA's fastest sprinters
In the girls' U-12 200m final, Keona Asher of Cathedral & John Connon (Fort) comfortably clinched the gold, clocking 29.77 seconds. Asmi Joshi of Lakshdham High School (Goregaon), who had beaten Keona in the 100m dash a day earlier, finished second this time, clocking 30.87 seconds. Avni Shetty (31.04 seconds) of St Gregorios High School (Chembur) won the bronze.