World Cup hockey trophy lands up with feisty Germans who fight back in regulation time and see off Belgians 5-4 in tie-break after 3-3 in shootout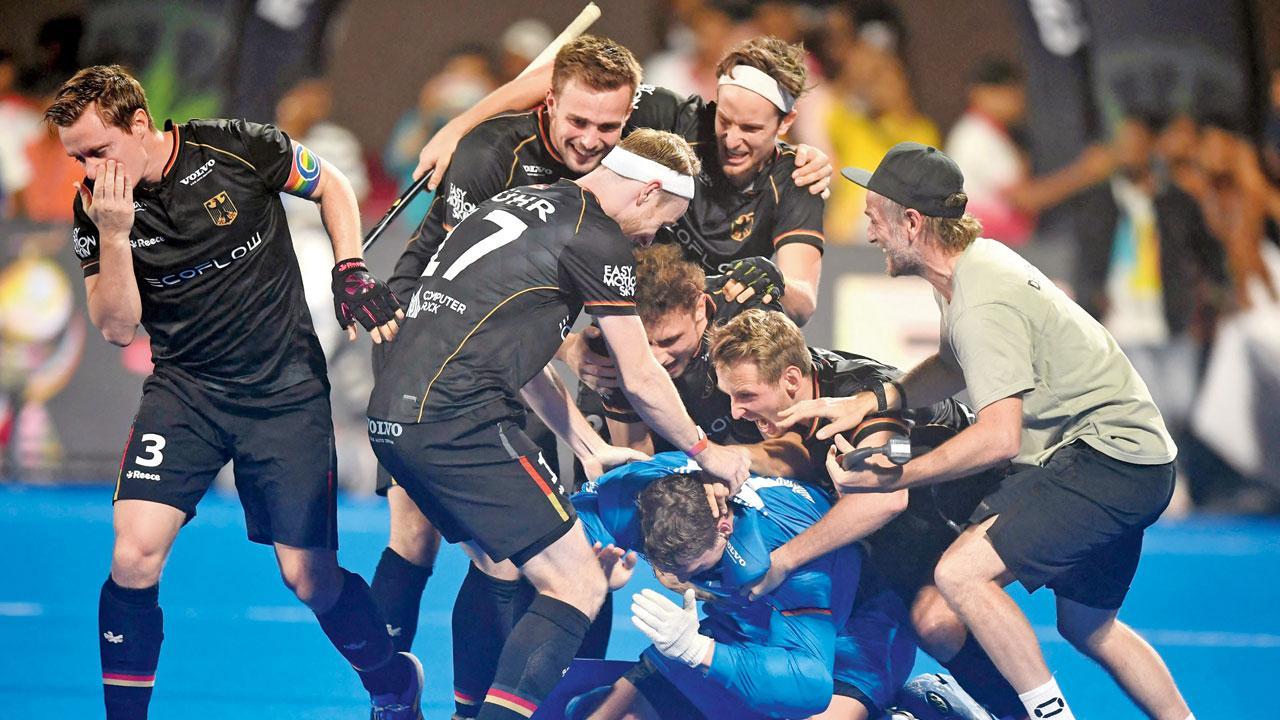 The Germans celebrate their win over Belgium at the Kalinga Stadium in Bhubaneswar yesterday. Pics/AFP
Germany rallied for a third consecutive time in the tournament, this time coming back from 0-2 down to stun World and Olympic champions Belgium 5-4 via shootout to emerge world champions at the Kalinga Stadium here on Sunday.  In the quarter-finals, they had rallied to beat England and in the semis, they came back from the brink to conquer Australia.
Brilliant start for Belgium
Belgium began the fast-paced encounter brilliantly with two field goals, one each by Florent van Aubel (ninth minute) and Tanguy Cosyns (10th minute) to take a comfortable lead at the end of the first quarter. In the second, Germany missed a penalty stroke through skipper Mats Grambusch and it seemed the day belonged to the Belgians. However, Niklas Wellen (28th minute) converted a penalty corner to announce that the Germans were still in it.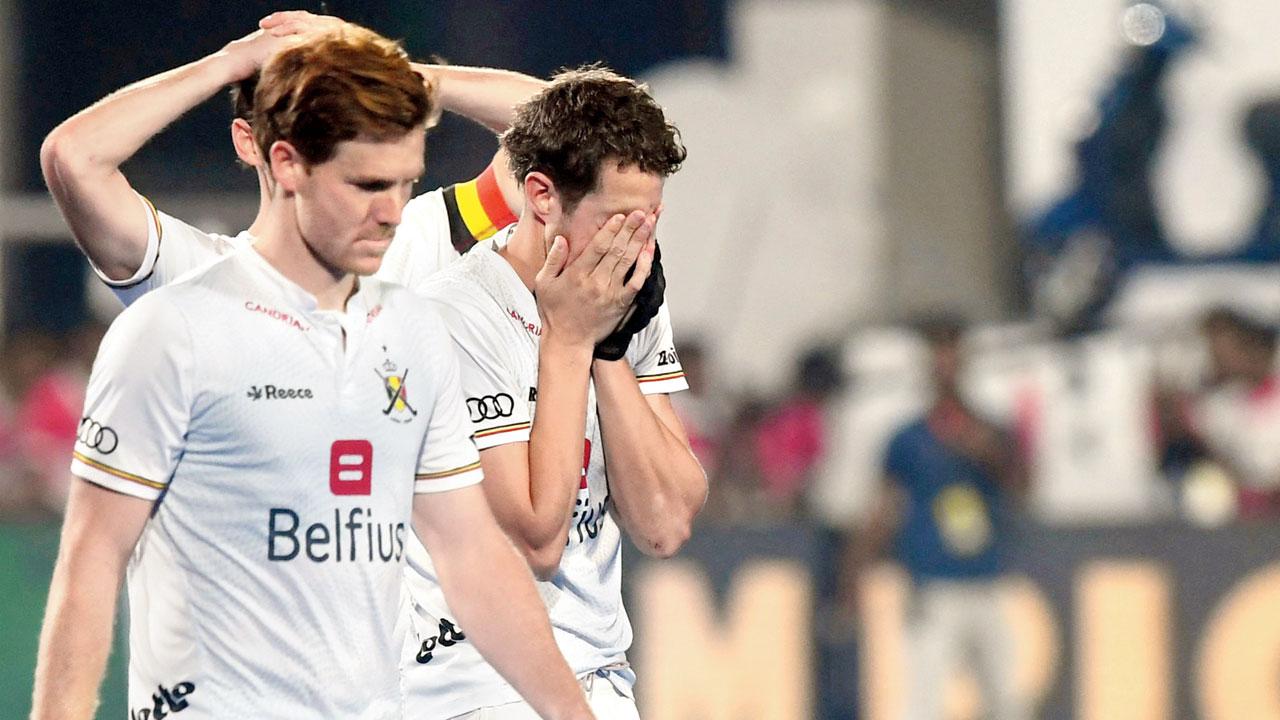 Belgium's Gauthier Boccard (left) and Nicolas de Kerpel wear a dejected look after the defeat to Germany
Germany's Argentine import Gonzalo Peillat (40th minute) then drag flicked home to restore parity. A day earlier, when mid-day asked Argentine skipper Matias Rey if he would like to wish his former teammate best of luck for the finale, he replied with a firm "NO." 
Argentina's Rio Olympics hero Peillat switched over from Argentina to Germany last February after falling out with the Argentine team management. His former teammate's negative wishes notwithstanding, Peillat delivered when it mattered. German skipper Grambusch (47th minute) then made up for his earlier error with a cracking field goal to give his team the lead (3-2) for the first time. 
Boon scores
However, this time it was Belgium's turn to fight back and their star player Tim Boon (58th minute) netted off a drag click to send the game into the shootout. For the tie-breaker, the Germans had another ace up their sleeve. They replaced their regular goalkeeper Alexander Stadler with substitute custodian Jean-Paul Danneberg, who seemed a lot quicker and sharper than his Belgian counterpart Vincent Vanasch in the eight-second shootout duel. Dannemerg denied Belgium thrice in the 12-shot shootout to ensure the Germans finished world champions for the third time after 2002 and 2006.
Meanwhile, in the third-place match, The Netherlands rallied from a goal down to stun World No. 1 Australia 3-1. Jeremy Hayward (11th minute) opened the scoring for the Aussies off a drag flick before Dutch drag clicker Jip Jansen (32nd minute) replied in similar fashion to make it 1-1. Skipper Thierry Brinkmann then came into his own, netting a fine opportunistic brace (34th and 39th minute) as the Dutch finished worthy winners of the bronze medal.
Also Read: Indian women's hockey team loses 1-3 to Netherlands in its second friendly tie