CTC have drawn up contracts for its players and pay them a stipend for now, but they plan to approach sponsors soon in a bid to turn totally professional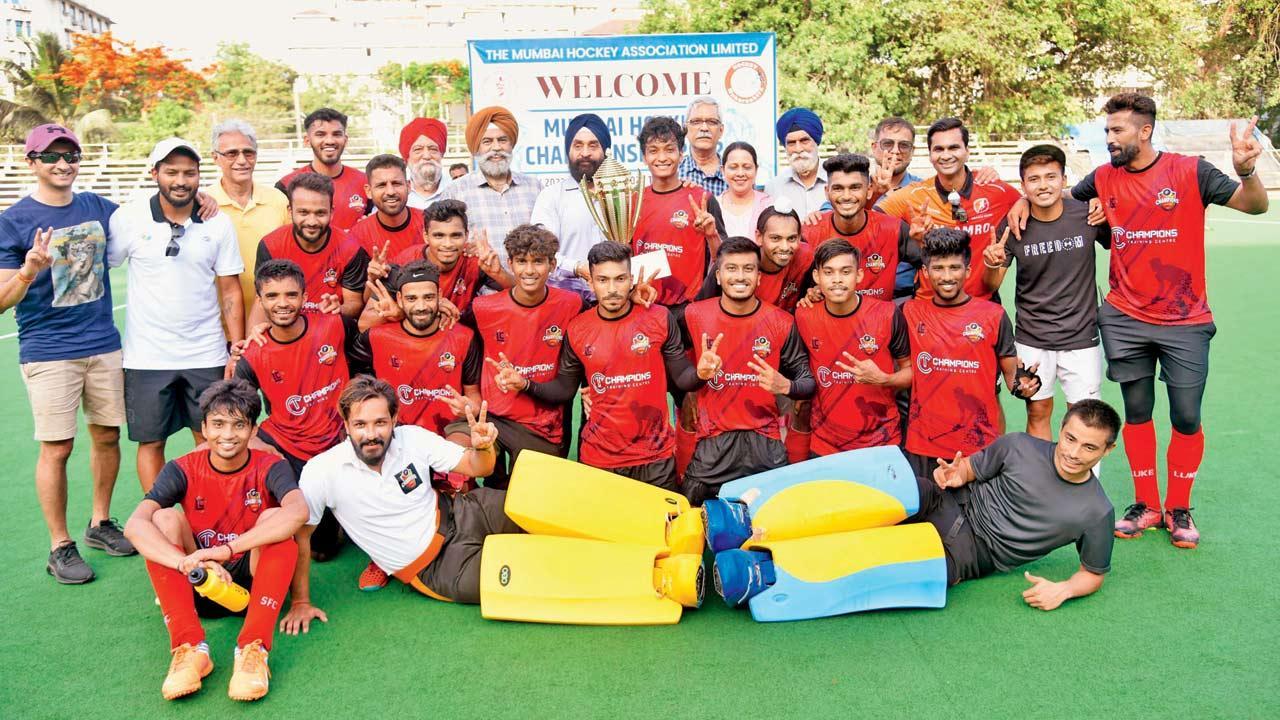 The victorious Champions Training Centre at the MHAL Stadium yesterday. Pic/ Sameer Markande
Olympian Devindar Walmiki raised his hockey stick in the air and heaved a sigh of relief as the long hooter signalled Champions Training Centre's 2-1 win against Union Bank of India in the Mumbai Hockey Championship final at the MHAL Stadium, Churchgate, on Monday. UBI scored the opening goal through Vijender Singh (9th minute), but their joy was shortlived as CTC's Devrath Hiray equalised in the 10th minute. CTC's sustained pressure was rewarded through Manpreet Singh's match-winner in the 43rd minute.
"CTC is a non-profit hockey initiative started by a few of us former players, including my brother Yuvraj, Adrian D'Souza and Siddharth Pandey among others. Our intention is to promote hockey talent in Mumbai, and this title is our first major step in that direction," Devindar, who was part of India's 2016 Rio Olympics team, told mid-day after CTC's maiden championship win. 
CTC have drawn up contracts for its players and pay them a stipend for now, but they plan to approach sponsors soon in a bid to turn totally professional. "Yuvraj and myself used to always train youngsters at the MHAL Stadium, but when we saw that most of our boys were being absorbed by other clubs/teams, we thought why not start our own team. Till date, we have been managing CTC's expenses from our own pockets, but in the long run, intentions however good, will fizzle out if there is no funding. This victory will help us convince potential sponsors that we are good enough and deserve to be financially supported," added Devindar, going on to urge Mumbai-based former international players to come forward and assist CTC in any capacity.
"Mumbai has had a rich history of contributing to the national team and there are many ex-internationals and Olympians here. We would like to tap into their invaluable experience to help guide our Mumbai boys to become future national players," concluded Devindar.