Hyderabad-based physiotherapist Challagundla Kiran reveals the tough grind that India's Thomas Cup-winning men's team endured in Bangkok over the last week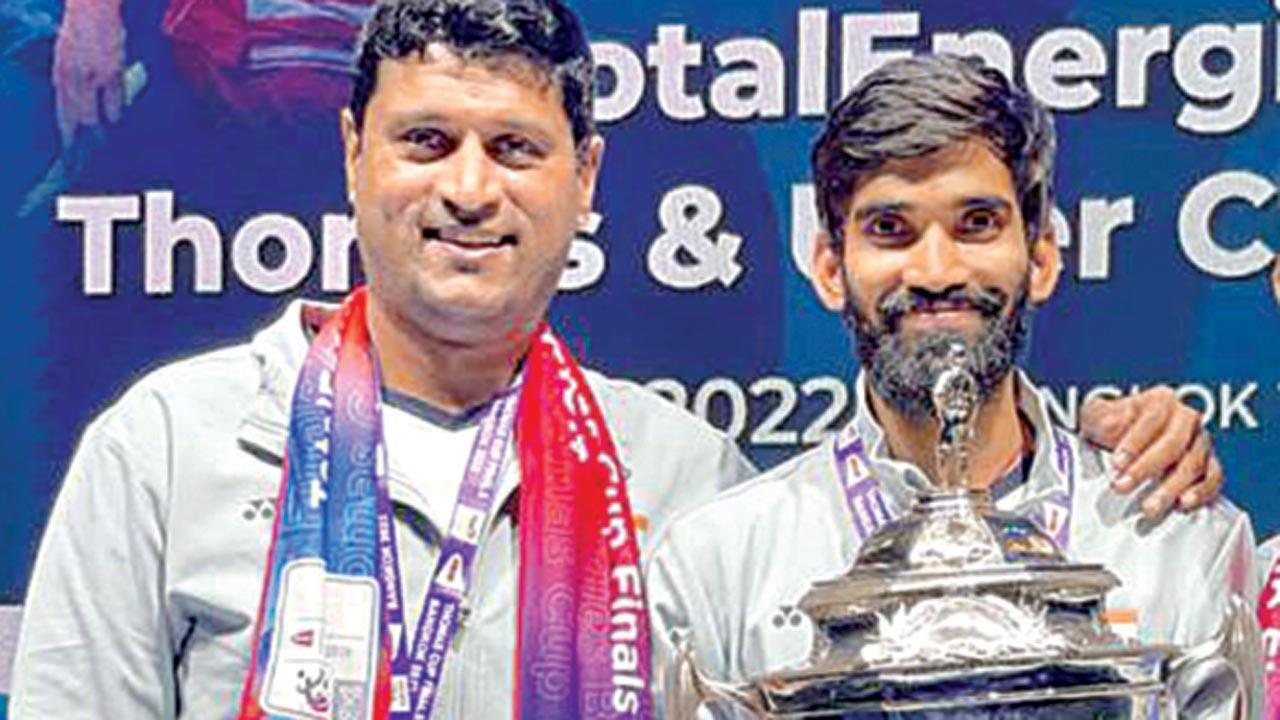 Physiotherapist Challagundla Kiran (left) with shuttler Kidambi Srikanth after India's Thomas Cup-winning effort in Bangkok on Sunday
If the Thomas Cup-winning players deserve accolades for scaling a strenuous summit, the unsung physiotherapists should also get their slice of the cake. 
Hyderabad's Challagundla Kiran and Sumansh deserve credit for keeping the victorious Indian team in fighting-fit shape.
On the court, the players did their best, but off the court, Kiran along with Sumansh, had a key role to play. Hyderabadi-based Kiran had to take care of all the players, barring Lakshya Sen and PV Sindhu, for this important world event.  "It is the biggest achievement as far as team events are concerned. By conquering teams like Malaysia, Denmark and Indonesia it was a victory for the players' physical and mental fitness,'' said Kiran, who has been with the Indian team since 2009.
Long working hours
For Kiran, who studied sports physiotherapy in Australia, the biggest advantage was knowing the majority of players for quite a long period of time. "As a result, I know how the body reacts for each individual player. Of course, with back-to-back matches, it was strenuous for the players and support staff. We had to manage men's and women's team [that competed in the Uber Cup] too. We had to work overtime. It was 24-hour duty as we had to ensure that players are fit for the next match,'' he said.
According to Kiran, the players are very conscious of their bodies and careful with their fitness. "But it was different in this Thomas Cup. The players were emotionally drained out. The matches were tough and they had to go through a lot of emotions apart from physical stress. In fact, after the semi-finals, we had to work on the players till late in the night. Sometimes, they had to sleep without proper food, but they never complained. They were disciplined soldiers, there were smiles and good camaraderie among the team members."
Kiran pointed out that as a physio, he has to also take care of nutrition and physiological aspects. "Srikanth's movements are much better now. He is fitter and stronger. We worked on his speed and endurance. However, we had to be careful with Prannoy as he had come out of injuries. There were specific exercises for him. Our job was to keep a strict vigil on the diet of different players. The coach's coordination is very important.  I'm happy that no player complained of any pains or injuries."
Chirag Shetty needs rehab
On doubles player Chirag Shetty, Kiran said: "He wore a belt for his back, but that did not affect his performance. He will be in a rehab programme for next six weeks. Satwik is robust and physically strong." Come to think of it, Indian badminton is also robust and physically strong!