Chennai's 16-year-old chess prodigy R Praggnanandhaa capitalises on Magnus Carlsen's blunder to stun world champion for the second time in three months; coach Ramesh calls it a morale-boosting victory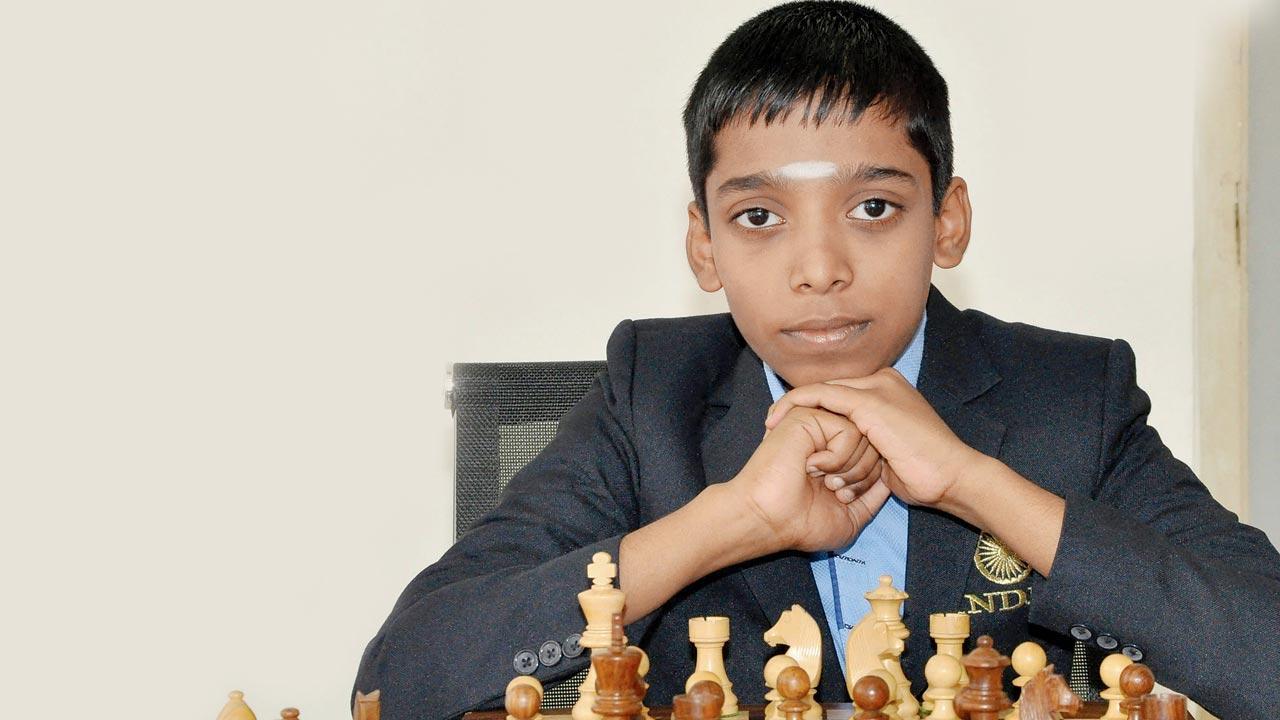 Rameshbabu Praggnanandhaa. Pic/ AFP
What are the odds that a consecutive five-time reigning world chess champion crashes to defeat twice in the span of just about three months to a talented teenager rated more than 100 points below him? Appears highly improbable, but then, 16-year-old Rameshbabu Praggnanandhaa, hailed as one of the child prodigies, has this uncanny knack of creating upsets when least expected.
Late Friday night, Praggu as he is affectionately called, had the proverbial midnight oil burning, not to study for his ongoing board exams, but for sort of an encore, defeating Carlsen in the fifth round of the Chessable Masters Online Rapid Chess tournament, earlier being on the winning side in February at the eighth round of the Airthings Masters, another online Rapid tournament played then.
An indifferent start on the first day and there were not many takers for Praggu in this encounter against Carlsen.
Going the Spanish way
Praggu, wielding whites, went the Spanish way and the periodic exchange of pieces hinted that this game would reach a deadlock without much drama. 
However, super coach RB Ramesh, who has been training this prodigy, was keenly following the game, had a different take on the proceedings and commented: "Praggu was dominating from the opening phase in this game. In mutual time scramble, Praggu missed a few promising continuations and the position equalised."
Down to a rook, two pawns and a minor piece each, Carlsen with just few seconds left on his clock, blundered on the 40th turn with a knight move which had his opponent immediately trapping the knight. With no compensation for the knight, Carlsen promptly resigned.
Quick moves
Praggu, on the other hand, confessed to his coach that he was more keen on keeping time on his clock and belted off a few quick moves, which probably lead to a few misses. 
The youngster is in the midst of his Class XI examinations, but did not want to let go the opportunity of playing in such an elite field. Praggu is part of the India 'B' team for the Chess Olympiad scheduled for late July at Chennai.
If it may be recalled, Praggu had pulled off an upset win against Carlsen with Black pieces in a Tarrasch game lasting 39 moves earlier in 
February.  
There are 16 players in this exciting format event where the Top-8 after a round robin, would advance to the knockout stage. 
Praggu has kept his chances alive to progress to the knockout stage as he is in fifth place after Day Two. 
Wei Yi is leading the tournament while Carlsen is trailing in third place. Another Indian Pentala Harikrishna, a former child prodigy is in seventh place while Vidit Gujrathi is trailing in 13th place.
Praggu, a fighter on board, was not exactly pleased with the way the extra half point landed on his lap, but then, "a victory is a victory and it will give a good morale boost to Praggu," concluded coach Ramesh.