Sift Kaur Samra and Ashi Chouksey clinch team silver and individual gold, bronze at Asian Games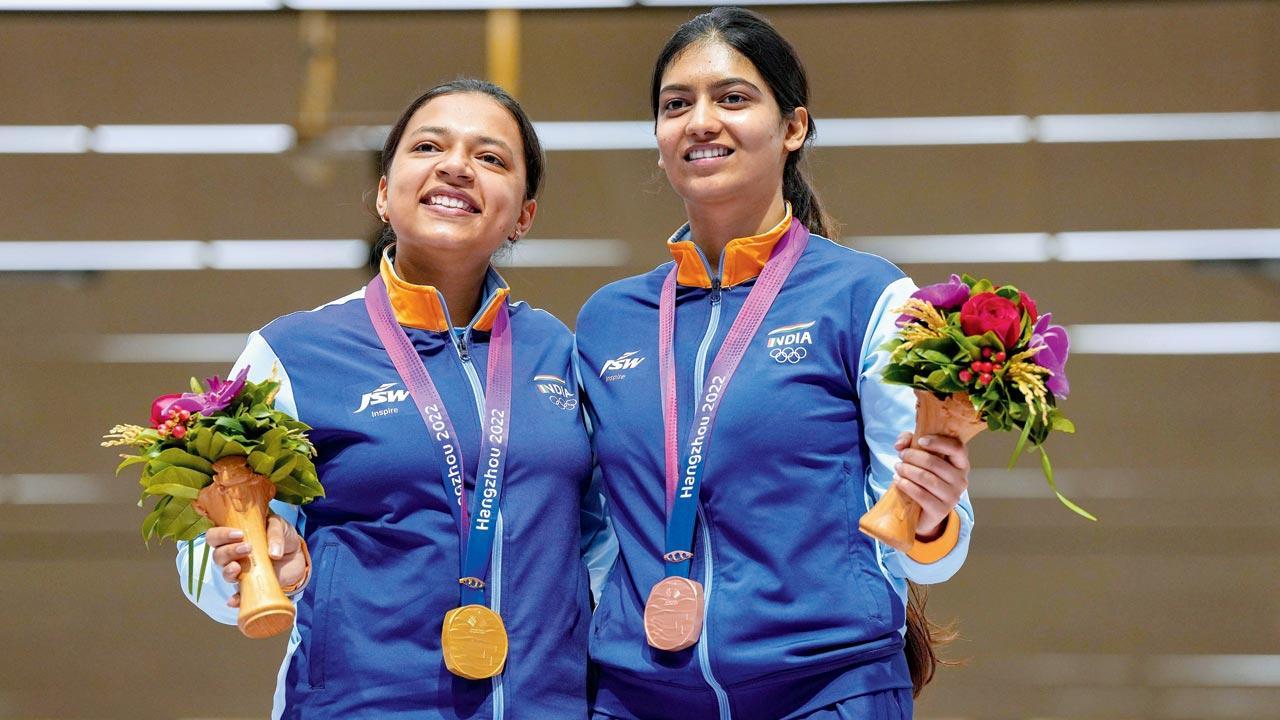 Gold medallist Sift Kaur Samra (left) and bronze medal winner Ashi Chouksey at Hangzhou, China, yesterday. Pic/PTI
Listen to this article
Red hot riflers thank stars for not picking MBBS, IAS
x

Sift Kaur Samra and Ashi Chouksey's rifles were smoking hot at the Fuyang Yinhu Sports Centre on Wednesday, when they first won a team silver in the 50m rifle 3-position along with Manini Kaushik and then went on to clinch gold and bronze respectively in the individual event. Interestingly, both girls are thanking their stars for choosing shooting over prestigious career options in MBBS and IAS respectively.
Samra in particular, was in red hot form, first setting a new Asian Games record of 594 in qualification and then creating a new world record of 469.6 in the final.
Chouksey tallied 451.9 for the individual bronze, her third medal at these Games, having bagged the 10m air rifle team silver a day earlier.
ADVERTISEMENT
Tough choice
Immediately after her gold medal feat, Samra, 22, who was a medical student at the GSS College in Faridkot, Punjab, before quitting it after a year, said, "My parents wanted me to be a doctor and I even secured a MBBS seat, but due to shooting commitments, I found it tough to pursue it."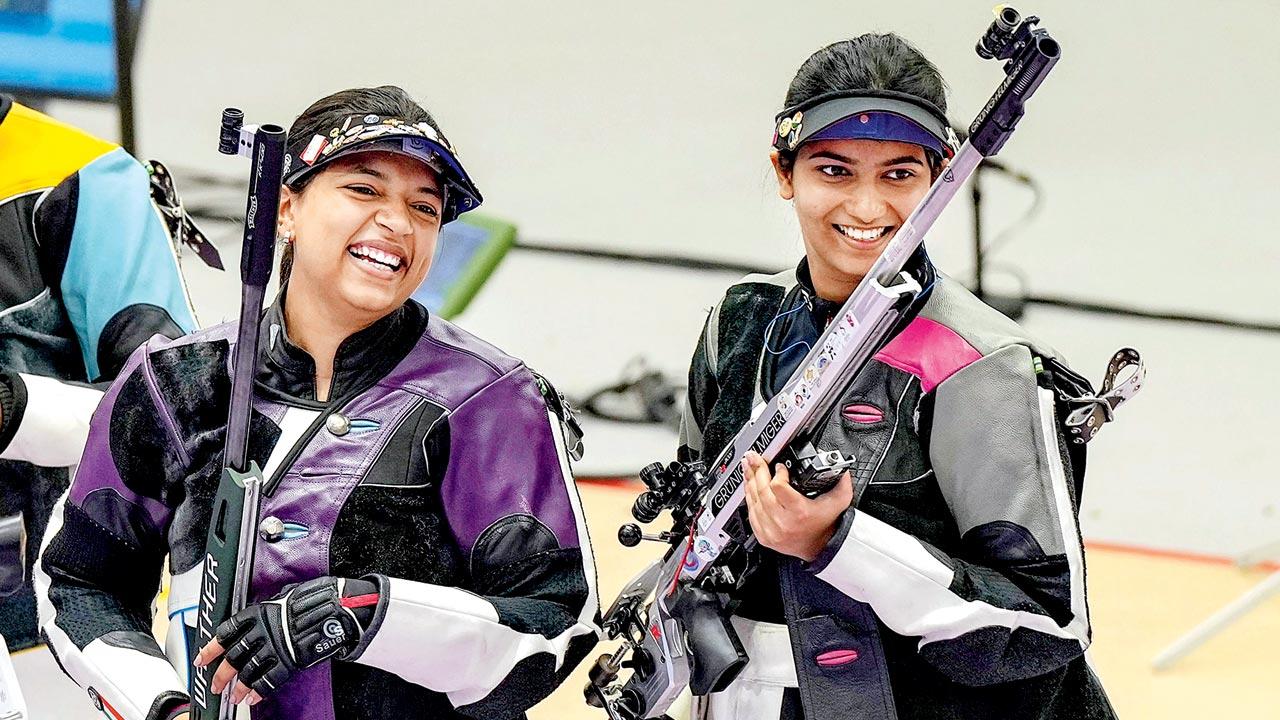 Gold medal-winner shooter Sift Kaur Samra (left) and bronze-medallist Ashi Chouksey after the 50m rifle 3-position final yesterday. Pic/PTI
Chouksey, 21, who started shooting in 2017 in Pachmarhi, Madhya Pradesh, said, "No one in my family is from the sports background, so my parents wanted me to take up IAS. I was not in favour of it though and instead, joined the NCC [National Cadet Corps], where I shot so well for a beginner that the Colonel there advised me to take up professional shooting."
Also Read: Teen Titas the toast of India!
Samra was so dominant in the final that her gold medal-winning score was a whopping 7.3 points more than China's silver medal-winning reigning world champion Zhang Qiongyue. Also, she shattered the existing world record by an impressive 2.6 points. In fact, she was so focused on her target that she didn't even realise that she had shot a new world record. "I didn't know that [world record]. I was just focusing on my shots and was thinking that I have to win this because we hadn't won an individual gold at this Asian Games so far. So, I wanted to be the first to win an individual gold," said Samra, who is currently pursuing a Bachelor of Physical Education and Sports degree from Guru Nanak Dev University, Amritsar.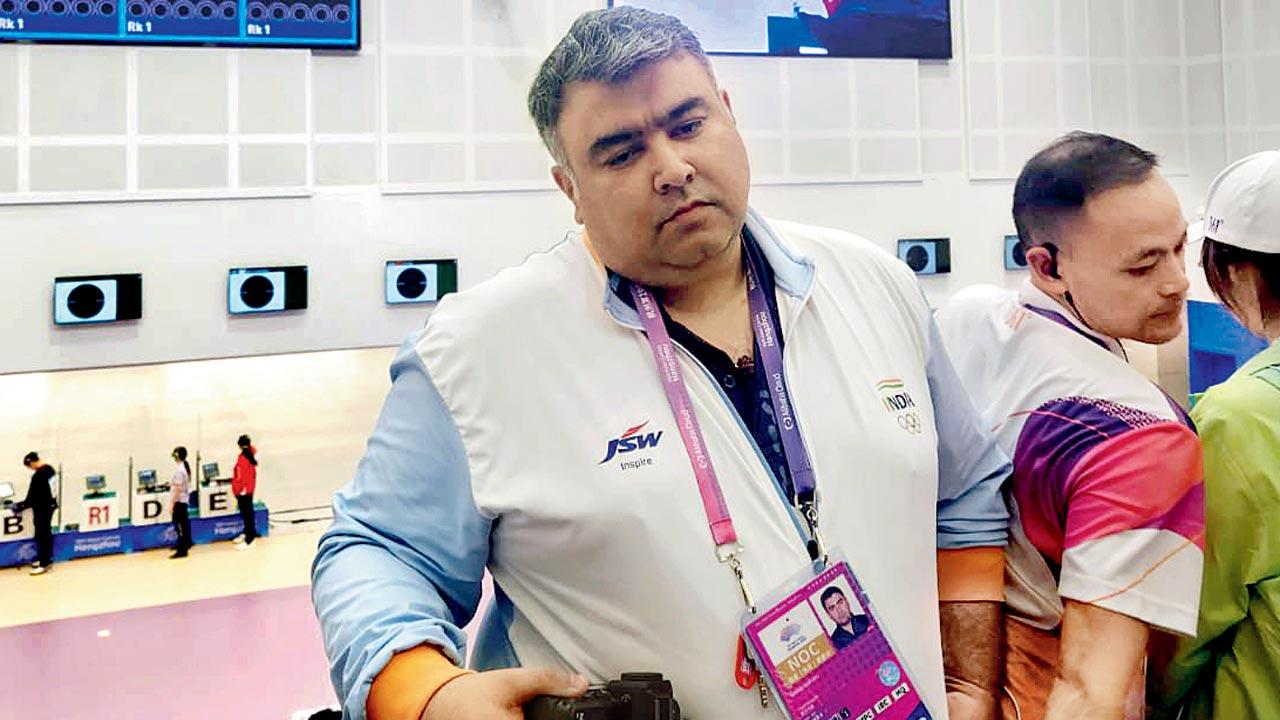 Gagan Narang at Hangzhou yesterday. Pic/Ashwin Ferro
'Hats off to Sift and Ashi'
India's Olympic bronze medal-winning shooter Gagan Narang, who is also Vice-President of the Indian Olympic Association, aptly put these shooters' career choices in perspective. "When I qualified to shoot for the Olympics, even I had a tough choice to make on whether to shoot or pursue my MBA. I chose shooting while many of my friends were planning international courses and careers. So, hats off to Sift and Ashi, and their families, for standing by their daughters, who have proved that they made the perfect career choices," said Narang, who was seen excitedly capturing Indian shooting's golden moment with his camera throughout the tense final.
"Exciting news! Mid-day is now on WhatsApp Channels

Subscribe today by clicking the link and stay updated with the latest news!"
Click here!