An excerpt from a new biography on Sanjay Dutt revisits the time when the troubled actor struggled with substance abuse, even as his mother, Nargis, lay in coma at a hospital in New York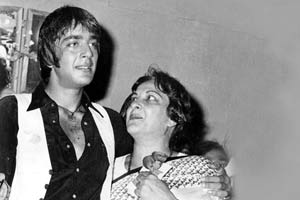 Actor Nargis Dutt shared a close relationship with Sanjay. When she came out of coma after three months, the first person she asked for, was her son. File pic
Nargis Dutt fighting for life, Sunil Dutt shatters' screamed the headline of film weekly Screen India. "We were in a state of panic," said Sanjay [Dutt]. "We couldn't believe that this was actually happening to us. It was a crazy nightmare. Something that happened in films or in novels or to someone else... When dad signed the papers giving the doctors permission to operate [on] Mom, I dreaded the fact that it could mean he was signing her death certificate. It was horrible!"

Ranbir Kapoor is playing Dutt in a biopic on the actor's controversial life. The movie, which is being directed by Rajkumar Hirani, is slated to release in June this year
As Nargis's severe internal bleeding continued, the doctors had to open her up to stop the haemorrhaging. But her body couldn't take it and Nargis went into a coma. The doctors suggested more surgery but feared Nargis might die on the operating table. Sunil [Dutt] felt helpless. He was all alone and didn't want to take these decisions unilaterally. He asked all three children to come to New York immediately.
Knowing how critical his mother's condition was, Sanjay had tried to drop his drug habit for a few days. But the withdrawal symptoms were too painful to bear. So while the Dutt family was going through hell, Sanjay was resorting to substance abuse every now and then. The drugs had complete control over him and made him do reckless things. When he had to go to the US with his sisters, he wondered how he would keep his supply going. He didn't want to go into withdrawal again. What Sanjay did next still makes him sick to the stomach. "When I think about it I can't believe it. I carried something like thirty grams of heroin in my shoes, and my sisters were with me," he recalled in a TV interview.
View gallery - Sanjay Dutt: 24 photos of the Bollywood star you may not have seen
Sanjay has no memory of how he walked through immigration and customs and got out. What if he was caught? It would have been catastrophic for the Dutts at an already precarious time. The three siblings went straight to the hospital. Nargis was on life support, hooked to numerous tubes and machines. Sanjay was speechless seeing his mother like that. His eyes brimmed with tears. "The only thing left for us to do was to pray," says Sanjay. "We found a gurdwara, a masjid and a mandir in New York City. All the doctors used to laugh at us. Dr Fortner even told us that if Mom survived, he would convert himself into a Hindu."
Sunil Dutt prayed constantly. He would circle the hospital building, doing endless parikramas in prayer. Every morning Sunil Dutt and the kids used to go to the hospital from their rented apartment in the city hoping for some good news. But Nargis did not come out of coma. There was nothing the Dutts could do. Days would pass in a blur of hospital duties. If someone made a valiant attempt to rally the others, a stray tear would slip and pull everyone back down. "All of us were crying. Dad had gone berserk... At that moment I wanted nothing in the world - no money, no films, no stardom, no glamour, no guns, no friends - only my mother... How could I sit there and watch her go away? I was so helpless, I felt impotent," said Sanjay.
The trauma was too much to bear and Sanjay would try to retreat into his drug-induced cocoon. "I used to hide the heroin under the bed in the apartment in New York, and one day I couldn't find it. I came to know that dad had it. And I had the guts to go up to him and say, 'Give me my drugs back.'" Sanjay's behaviour shook Sunil to his core. Sanjay later recalled with deep regret that he was even disallowed from donating blood for his mother because of his addiction.
The family was in New York City for months, but Sanjay had to return to Mumbai to finish Rocky. "I couldn't believe I had to come back and finish Rocky, sing a song and do all that stuff when my mother was in coma. But the show has to go on," he later said. Gulshan Rai, the producer of Rocky, was jittery that the project was stuck and the dates that the actors had earmarked for the film were going to waste. Sunil had to ask his film-maker friend Raj Khosla to step in as director of the film. Patiently, over several phone calls, he explained all the scenes to Raj, shot by shot, and requested him to take on the film where he had left it.
As the months passed, Nargis underwent seven surgeries in total. The doctors would frequently tell the family to "let her go away in peace". But Sunil and the children refused to give up on Nargis. And then a miracle happened. Sunil used to lovingly hold Nargis's hand for hours on end. One day he felt her pressing his hand. Almost three months after she went into coma, Nargis opened her eyes. Everyone in the hospital started calling her "the miracle lady of Sloan Kettering".
When she came out of coma, the first thing she asked was, "Where is Sanju?" Sunil proffered an excuse and phoned Sanjay to take the first flight out of Mumbai. When Sanjay finally arrived, Sunil told Nargis he had a surprise for her. "She closed her eyes and I walked in and I just said 'Ma?'" Sanjay said. "Her face just changed. She was so happy - she was crying and she held me. Her hands were shaking. She just wanted to come back home." Nargis was desperate to catch up and wanted to know everything about what was going on in Sanjay's life and career. Most of all, she was really looking forward to finally seeing Rocky.
Also read: Rajkumar Hirani's Sanjay Dutt biopic to release on June 29, 2018
Excerpted with permission from Sanjay Dutt: The Crazy Untold Story of Bollywood's Bad Boy by Yasser Usman, published by Juggernaut Books
Catch up on all the latest entertainment news and gossip here. Also download the new mid-day Android and iOS apps to get latest updates