After the American designer who serenaded tees and hoodies announced that streetwear's time was up, indie Indian designers inspired by urban-wear aesthetics, declare: it's not dead, only reincarnated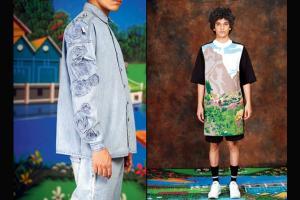 Homegrown label Huemn carries immense street cred but its co-founder says, all they do is make relevant, handcrafted, effortless clothes
When American designer Virgil Abloh shared an alluring idea about streetwear's influence over the fashion world, his stirring argument seduced an entire generation into believing that wardrobe basics like logo T-shirts, XL hoodies and sneakers were the new luxury. The founder of Off-White and artistic director of menswear at Louis Vuitton seems to have a read on what's next. During a recent interview to Dazed, he was asked what he thinks will happen to the "idea of streetwear in 2020s", and his response was based on hard facts and common sense. "Wow. I would definitely say it's [the idea of streetwear] gonna die," he said, "Like its time will be up. In my mind, how many more T-shirts can we own, how many more hoodies, how many sneakers?"

Abloh's view has supporters in Mumbai. "It was bound to happen," says designer Nimish Shah, creative director at Bhaane. "Streetwear was so strong between 2012 and 2018 that it won't be an exaggeration to call it the trend that defined the last decade. But, when a trend lingers for too long, it births an alternative movement."
So what next? Shyma Shetty thinks that we are about to see a new period of sobriety. "Streetwear defined by baggy shapes has been around for far too long. Fatigue has set in." Shetty is the designer and co-founder of Huemn, a homegrown label with immense street cred. "We didn't set out to be known as a streetwear brand. Our clothes have always been relevant , handcrafted and effortless, and people automatically slotted us in the category. Personally, we'd rather stay away from labels, and make clothes."
Shyma and Pranav
For 2020, Huemn revisits feminine contours, along with the charming appeal of denims via handmade embroidery, and cutwork and frayed detailing. "We've done silk dresses after a few seasons. The idea is that a woman does not have to necessarily dress androgynous to assert her voice; she can even do it when wearing a dress," says Shetty. For the denim collection, they have experimented with embroidery for the first time, and collaborated with artists from Kashmir, along with photojournalists and illustrators whose work has been translated into luxurious pieces of wearable art.
Narendra Kumar
Much of streetwear's success comes from the widening cultural schism and the fundamental shift in the power balance between brands and consumers. Young consumers who earlier looked at curated fashion spreads in magazines for self-validation were suddenly empowered by social media to choose and shape their own tribe, culture, identity, and then spread this culture among allies. The outsider became the insider aka the influencer. Narendra Kumar thinks, "In a sense, streetwear emerged as a counterculture with the right amount of activism. It's why streetwear was never a transient trend, but an ongoing commentary on our socio-cultural anthropology."
In a sense, streetwear emerged as a counterculture with the right amount of activism, says Narendra Kumar 
While culture has multiple meanings in the streetwear context, at the heart, it is a suite of authentic traits we inherit and also choose to reject or embrace. It consists in part of the clothing. It is something made and consumed, in socially revealing ways. When Shah joined Bhaane in September 2018, he had a clear plan of how he wanted to work the cultural spurs of the street into the clothing line. "The spirit stays street, but it's always done with finesse. In time, I realised that street style does not flatter all body types. People who didn't even play sports wore oversized, graphic tees! I can't wait for the trend to phase out." In its place, Shah thinks, we will see a neo-classical take on streetwear—all about refinement but with the ease of athleisure. "Oversized, the keyword for streetwear, will be replaced by '70s suits, '80s shoulders in the high-shine company of satin and sequins," he says.
Nimish Shah
Kumar, after a meditative pause, explains that street style—once a subgenre—has become as significant on catwalks as in political protests, pop culture and underground activism. Introducing us to the reason why he launched FKNS (Fake News), his 2017 haute streetwear label, he says: "In order for me to last for the next 20 years, it was imperative to understand the pulse of the market, what the youth wanted. FKNS was a planned move in that direction."
Nimish Shah of Bhaane predicts a neo-classical take on streetwear which is about refinement but with the ease of athleisure
And as the trend flourished, so did its appeal among Bollywood stars and their curated 'airport-looks' dominated by hoodies, oversized sweatshirts and drop-crotch track pants.
Virgil Abloh. Pic/ Getty Images
He adds, "The West might be experiencing a fatigue, but the trend has only just arrived in India. But yes, there is a shift in how we design streetwear. It's not dressing up head-to-toe in sweatshirts, joggers and sneakers, but a mix; like say a casual blazer thrown over athleisure joggers."
Catch up on all the latest Mumbai news, crime news, current affairs, and also a complete guide on Mumbai from food to things to do and events across the city here. Also download the new mid-day Android and iOS apps to get latest updates