A new art space at Chapel Road lets you browse through curated Parisienne paintings and Portuguese statues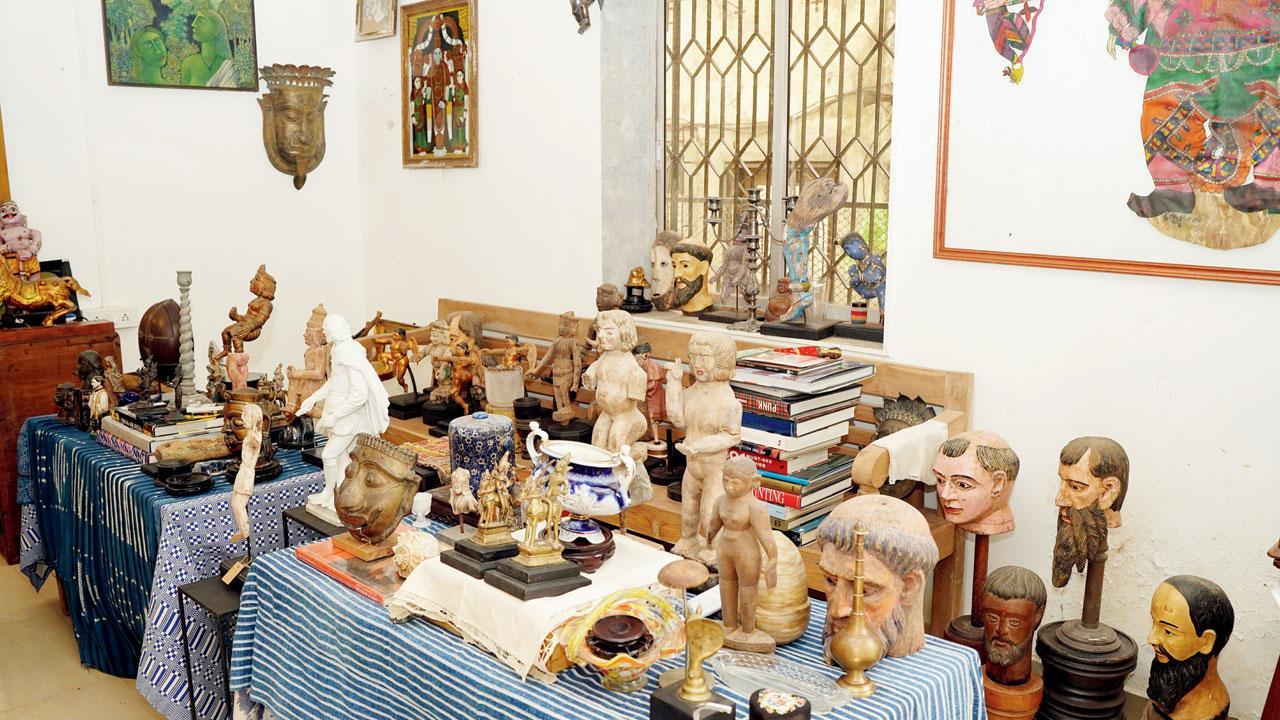 Design studio Beg Borrow Steal has a little known art space, with an eclectic mix of statuettes, china, and rare paintings. The art space serves as fashion stylist Pranav Sood's personal archive of travel curios, which he has collected over the years from all the places he has been to. Pics/Aishwarya Deodhar
Listen to this article
This new Bandra art space lets you check out Parisienne paintings and more
x
The name 'Beg Borrow Steal' comes from my profession. As a costume designer and fashion stylist, when I need something for a shoot, whether it's a dress or a pair of heels, I just want to beg, borrow, or steal the item I need the most," says fashion stylist Pranav Sood.
mid-day caught up with him at his cozy design studio, which he has set up with his business partner Krisna Kutty. The studio started in 2012 as a clothing rental store for vintage enthusiasts and antique lovers, so that they could browse through Christian Dior collectibles, designer sunglasses, and the occasional Italian painting. The art space came later. "I've always loved collecting art," he explains. "There came a point when I thought to myself, 'Why don't I open a store? I have way too many things.'"
ADVERTISEMENT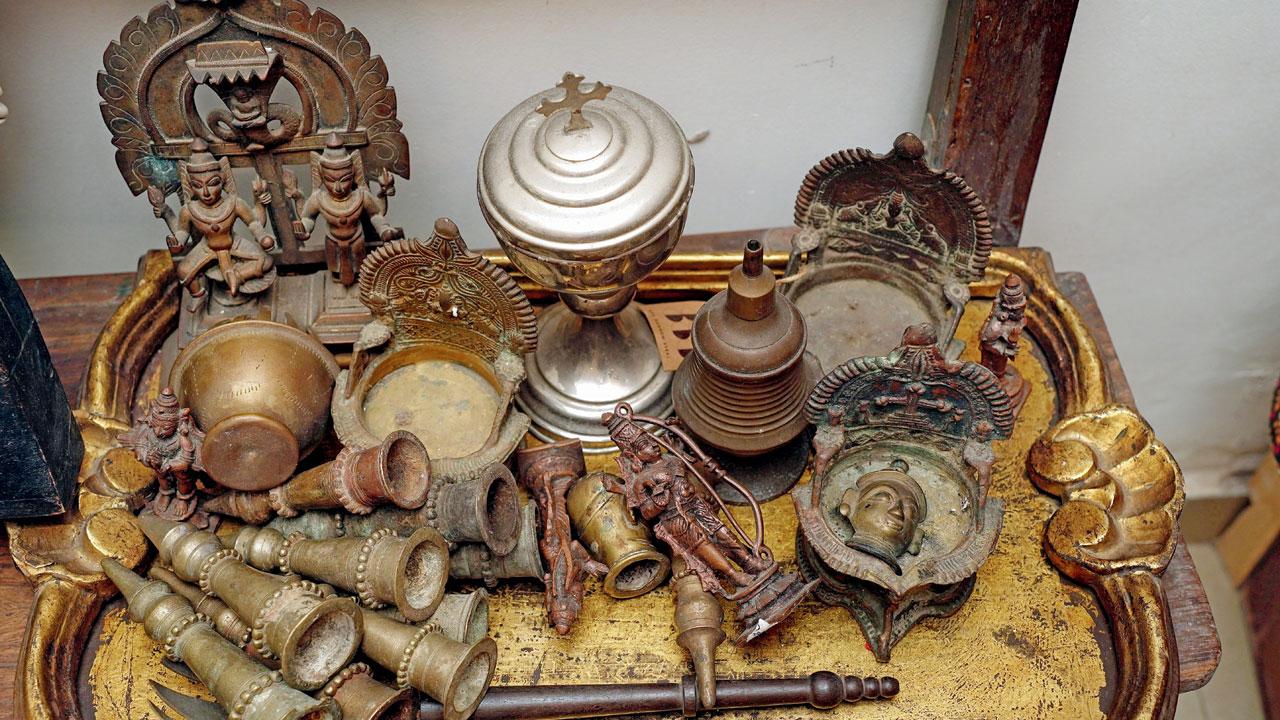 The interiors of the design studio hark back to a very Mardi Gras-eque theme, with colourful rainbow hats, sparkling silver masks, and chunky accessories and jewellery laid out casually in glass cases, on top of books like Dior, The New Look Revolution and Claude Monet's biography. Located in a small space on Turner road, the vibe of the place can only be categorised as organised chaos.
The sister studio, on the other hand, is all artistic confusion. Sood treats it as his own personal archive for storing his collections, which range from European paintings to chinaware to candlesticks. All of the curiosities are contained in a two-room space in one of Chapel Road's interior lanes.
French drawings from Paris, Portuguese head saints, and porcelain statuettes find places of pride in the small, musty space. Fat hardcovers on subjects ranging from Italian paintings to an edition of 501 Must-See Movies repose on a wooden bench, with figurines and heads of Christian saints staring out at the viewer. Sood informs us that he is especially fond of European art and loves collecting thrifted items from the places he happens to visit. "I love Christian art, crockery, old portraits, tapestry, tiles, and different kinds of beautiful things," he says.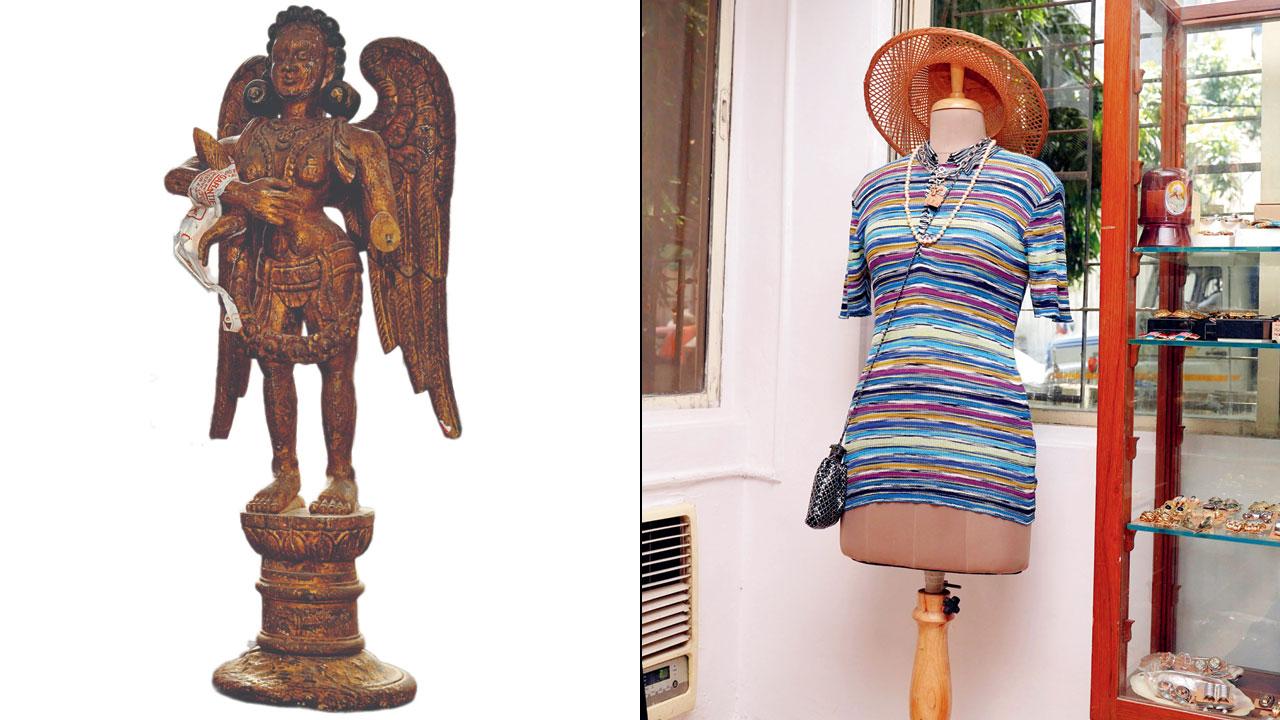 The studio is only for private viewing by prior appointment, as vintage art has a limited audience
Ask him what is the secret to discovering so many unique items and he says it's all about the sourcing and research. "Pre-loved items are really celebrated abroad, whether it is Europe or the States," he muses. "They appreciate the sentimental value of art and vintage objects, and I see that happening with India as well."
The studio is open only for private viewing, by prior appointment. When we ask Sood the reason behind this, he says it's because only a limited audience enjoys buying and curating vintage pieces. "Out of a hundred, only 20 will be interested. And out of 20, only 10 will be potential buyers," says Sood, who also offers the antiques on display for sale. "It's all very personal and subjective."
"It's the love and passion for antiques that keeps me collecting," he signs off. "And beautiful things of course—whether it's modern art, gilded objects, or just a pair of vintage glasses."
WHAT: Beg Borrow Steal Art Gallery 
WHEN: 11 AM to 7 PM
WHERE: Beg Borrow Steal, Bandra
TO RESERVE APPOINTMENT: 98921 98209
"Exciting news! Mid-day is now on WhatsApp Channels

Subscribe today by clicking the link and stay updated with the latest news!"
Click here!