Filmmakers and Censor Board members have always been at loggerheads. Now it looks like the matter has reached a boiling point. In the light of Censor Board chief Rakesh Kumar's remarks on the content of Bollywood films, we bring them together for a sparring match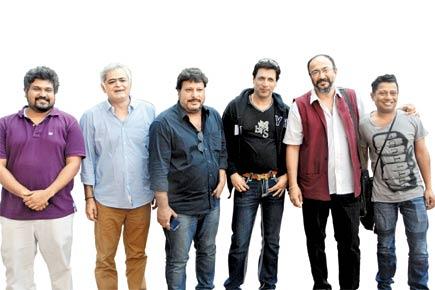 Bollywood, filmmakers, Censor Board, Interview, Vasan Bala, Hansal Mehta, Tigmanshu Dhulia, Madhur Bhandarkar, Anjum Rajabali and Onir
There is growing contention among many Indian filmmakers about the allegedly arbitrary functioning of the nation's Censor Board. Their contention: the Board is biased towards big banners. Moreover there is a growing perception that the Censor Board shows no clear method in its madness and this lack of transparency and logic in their decisions is both frustrating and infuriating.




Sunday MiD DAY brought together five talented, successful and vocal film makers, Madhur Bhandarkar, Tigmanshu Dhulia, Hansal Mehta, Onir and Vasan Bala to a civil slugfest with Anjum Rajabali, a senior member of the Censor Board.  They discussed, debated, argued (warning: the heat generated often crossed maximum temperatures recorded in sub-Saharan Africa) and finally shook hands. Excerpts from the two hour debate: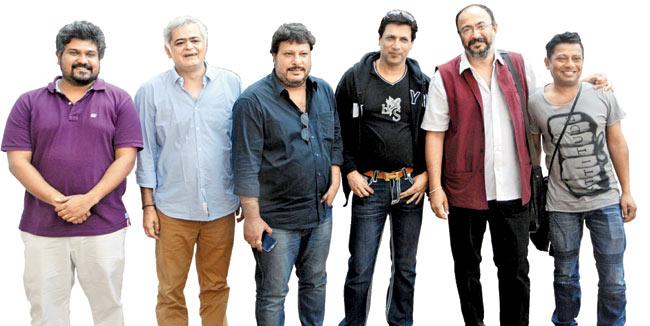 (From Left to Right) Vasan Bala, Hansal Mehta, Tigmanshu Dhulia, Madhur Bhandarkar, Anjum Rajabali and Onir

Sunday MiD DAY (SMD): Hansal, you recently filed an RTI against the Censor Board about unfair treatment to your film Shahid. What motivated you to do that?
Hansal Mehta: My biggest grouse is that the Censor Board's decisions are arbitrary. I don't want to feel cheated.  Some acts were deemed as violent in my film. But similar shots have not been categorised as violent in another film. There is a lack of uniformity and transparency. Some of the rules are outdated. Shahid went back for certification for satellite rights three months ago, but we are still waiting. I am told that after I went to the media and expressed my anger on Twitter, they finally watched the film.

SMD: Anjum, do you think the Cinematograph Act or the CBFC guidelines are outdated?
Anjum Rajabali: They definitely are. Hansal, your anger is valid. Consistency is an issue. When an expert panel is called in, they bring their own prejudices, which is not the way to watch a film.
HM: Why can't there be transparency about the committee members who are deciding the fate of a film? Why are names  not revealed?
AR: That cannot be done. Imagine the extent of corruption it might lead to if every filmmaker comes to know the name of the person who is giving his film a certification.

Political Interference
AR:  Let me explain. According to the Censor Board guidelines, there should be an advisory panel apart from board
members. And 66 per cent of these members have to be nominated by the chairperson of the Censor Board. Sadly the truth is that the Union I & B Ministry doesn't allow this. It often dictates the choices. As a result we have political party members as panel members who make their decisions according to their prejudices. Tigmanshu Dhulia: Oh yes, I got an SMS from a senior member of a national political party, who told me that he was now with the Censor Board so to let him know if I needed any help.
AR: Exactly. They come with a certain agenda. But don't blame the board alone. In the recent past we have invited stalwarts of cinema such as Yash Chopra, Mukesh Bhatt and people from the film guild, asking them to talk to the ministry so that the board is allowed to decide panel members. Why aren't they helping?
Mahesh Bhatt is in regular touch with the ministry. Why can't he lead talks about freedom of expression?
With regards to transparency, I agree that the reasoning for a certain certification should be told to the filmmaker. It should be put up on our website. The board and the panel members have to be made accountable.
TD: Do you realise that filmmakers are a scared lot now? Our money is at stake, we want to be sure we get satellite rights because that's where most of the returns come from.
MB: Now every script is written thinking kisko kab bura lag jaayega…(who will feel bad and when)
TD: I make films with the only thought that this film has to get its satellite rights sold. The Central Board of Film Certification (CBFC) is scared of offending any communities and linguistic groups, etc. So what do we do?
AR: No. There is a difference between fear of offending a community and having the sensitivity of not wanting to offend a particular community. There are films, which reinforce bias against a particular community or gender…to censor such films is our responsibility. Also I reiterate that the CBFC should be given complete autonomy to choose 2/3rd of the members of the panel. And filmmakers will have to help us instead of complaining. In the US and other countries, people within the film industry form the panel and give certifications. Only in India do political party members get involved in everything.

Regressive and closed?
TD: I want to bring another issue into focus: Why is there no uniformity and consistency from the CBFC when it comes to certification? Kabhi Alvida Na Kehna was about extramarital affairs and it got a U/A certificate. My film on the same subject Sahib Biwi Aur Gangster had some steamy scenes so I got an A certificate. Fair enough. But I could not sell the satellite rights. So when I was making a sequel to the film, I made sure there is absolutely no sex scene, no exposure. Still I was given an A certificate. I was close to tears.
AR: My advice in such cases would be to go to the revising committee and file an appeal.
MB: With my film Dil Toh Bachcha Hai, there is this character who has affair with a girl and her stepmother. I was told I would get an A certificate. I told them about this film called Katha, which was made in the 1970s and had the same theme. The board's was, "those were different times." Aren't we supposed to be progressing with time? We seem to be regressing...
Onir: Even if you give us the A certification, why can't these films be shown on TV after 10 pm?
AR:  I agree. You remember how Doordarshan used to show films from international festivals after
10 pm? The truth might shock you though. The I&B ministry had agreed to show these films late at night. But your film industry people shot it down. Because that would mean lesser money in satellite rights as it is not prime time.

Biased towards the biggies?
HM: The producers' lobby you refer to, Anjum, is this elitist lobby...
TD: Yes, the board is biased towards big producers…
MB: Yes, of course
Onir: Otherwise why would a Bombay Talkies get a U/A certificate?
TD: Bhaag Milkha Bhaag had a kissing scene even in its trailer, and that was allowed…
AR: No. I think we are more inclined towards smaller films…
HM: No, that's not true. And this bias makes us to want to stop making movies….
TD:  When CBFC meetings happen, why aren't we called? You call those producers who are comfortable with their position and consequently, make you feel happy too. We are the ones bringing in the change… (smiles) we will come there and protest.
AR: See, we invite the representational bodies. Why don't you guys form an association? You are welcome to barge in otherwise.
TD: That's a great idea. Let's form an association very soon. And honestly Anjum, if you really want to cut something, please cut the item songs. That would stop the producers from making an item song demand in every film.
HM:  Talking of item songs, how did Dhoom 3 get a U certificate? Have you seen the Kamli song? And Agneepath gets a U certification?

Mistakes and the way ahead
AR: I publicly say here that Agneepath getting a U certificate was a mistake.
TD: Ah! So you agree there is bias...
AR: I don't think there is deliberate bias. I think now we are more liberal about the kind of films that get through.
HM:  (laughs) like Grand Masti...
AR: Like I said, I agree certain things have slipped through… like Agnipath and Grand Masti
Vasan Bala: I think the solution could be that we have a gamut of certification and not only U, U/A and A.  If a studio asks me now what I am making, I will say I am making a U/A film. That's the only call we seem to be taking.
AR: I suggest you send a letter to the chairman of the board, and a copy to me. On January 29, we wil have the board meeting and I will definitely take these complaints and suggestions up
ADVERTISEMENT
"Exciting news! Mid-day is now on WhatsApp Channels

Subscribe today by clicking the link and stay updated with the latest news!"
Click here!