The party among sustainability conscious and clean eaters promises to be rocking this year. Here's why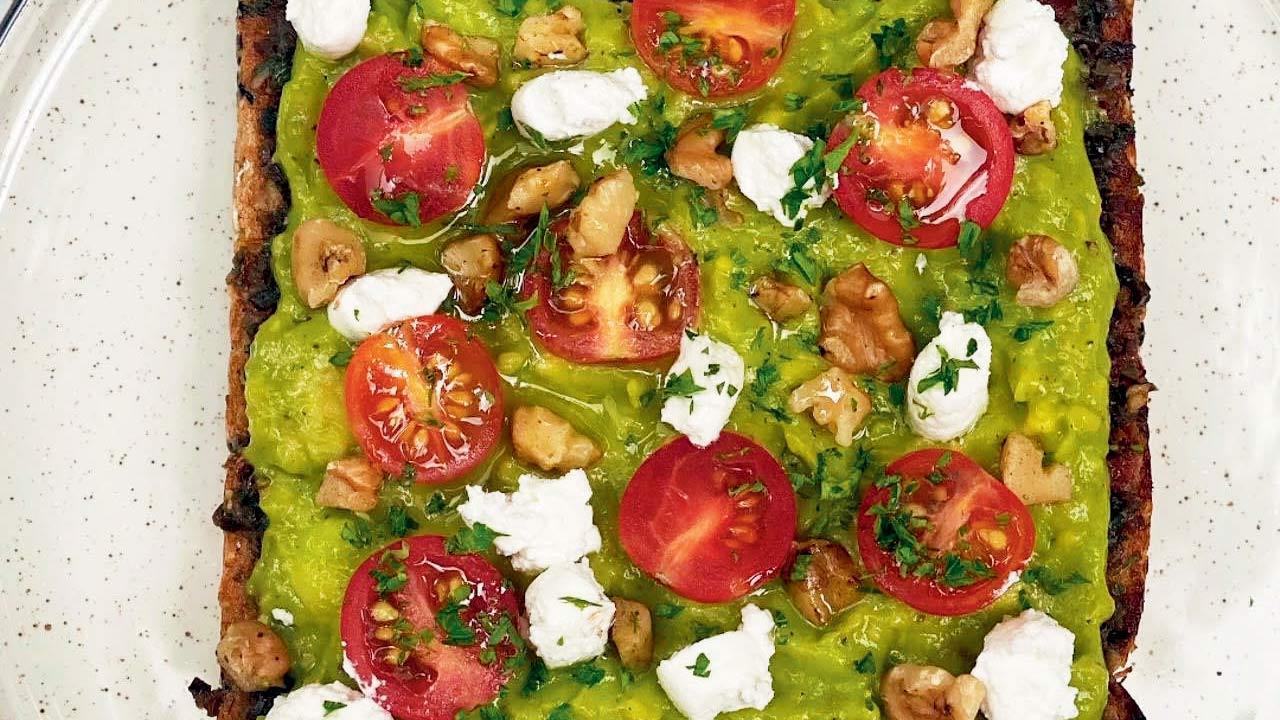 Deconstructed Sushi Avocado Bowl and Avo Toasts
Sujata Biswas gives us an excited chirp when we tell her that Sunday mid-day is looking for sustainable ideas for the festive season. "It is difficult but not impossible. This topic is really close to our hearts," says the co-founder of Suta, a sustainable fashion label. Her tips are easy and adaptable, and will earn you some gluten-free brownie points among your eco-loving guests. 
Pick a gift that will last long. Give someone a gift they will cherish and use again and again. This will discourage a use-and-throwway of life. "For example, at my wedding, a friend asked me what I wanted and I asked for spoons that I was yet to buy for my kitchen. The horse show piece someone gave me is long broken and forgotten."
Find a local, indie brand to back. Mindful shopping is better than end minute buys where your options are limited and choices hasty. If the brand happens to be one that supports indigenous people or communities and fair price, even better. 
Rummage for pre-used gifts or socially conscious everyday use. At one party, we asked friends to gift us old plants or preloved gift items they wanted to give away. Pack them in newspaper, the ultimate symbol of purposeful recycling." For a return gift, she once gave bottles of bio-enzymes or natural cleaners to decontaminate the home, and encouraged guests to read up its usage. 
Make your own décor. She's known for the terrace parties she hosts and often paints newspapers to make them into buntings. "It looks even better [than the store bought ones] and offbeat."
Order from home chefs not fancy restaurants or serve a home-cooked spread. It's most likely that they will use local and seasonal ingredients, making the meal one with a lower carbon footprint. Potluck is also a great option. It's the car pooling of dinner parties. 
Turn large plant into Xmas tree. Why buy synthetic and expensive Christmas trees that you'll dust and use once a year when you can decorate a plant in your home with little buntings and fairy lights? Any large plant with firm stems can work to hold decorations. 
Sweet & Savoury
Order-in clean grub   
Green Therapy Company menu supports the wellness of your body, mind and the environment. The dishes are fresh, local, sustainable and available in vegan options too. Get your gang together for a smoothie party and throw in a gourmet salad bowl tossed in their house dressing. The Christmas special menu has a flat 25 per cent flat discount. If you want our suggestion, try the Deconstructed Sushi Avocado Bowl and Avo Toasts.
Call: 7710063463
To order: order.greentherapycompany.com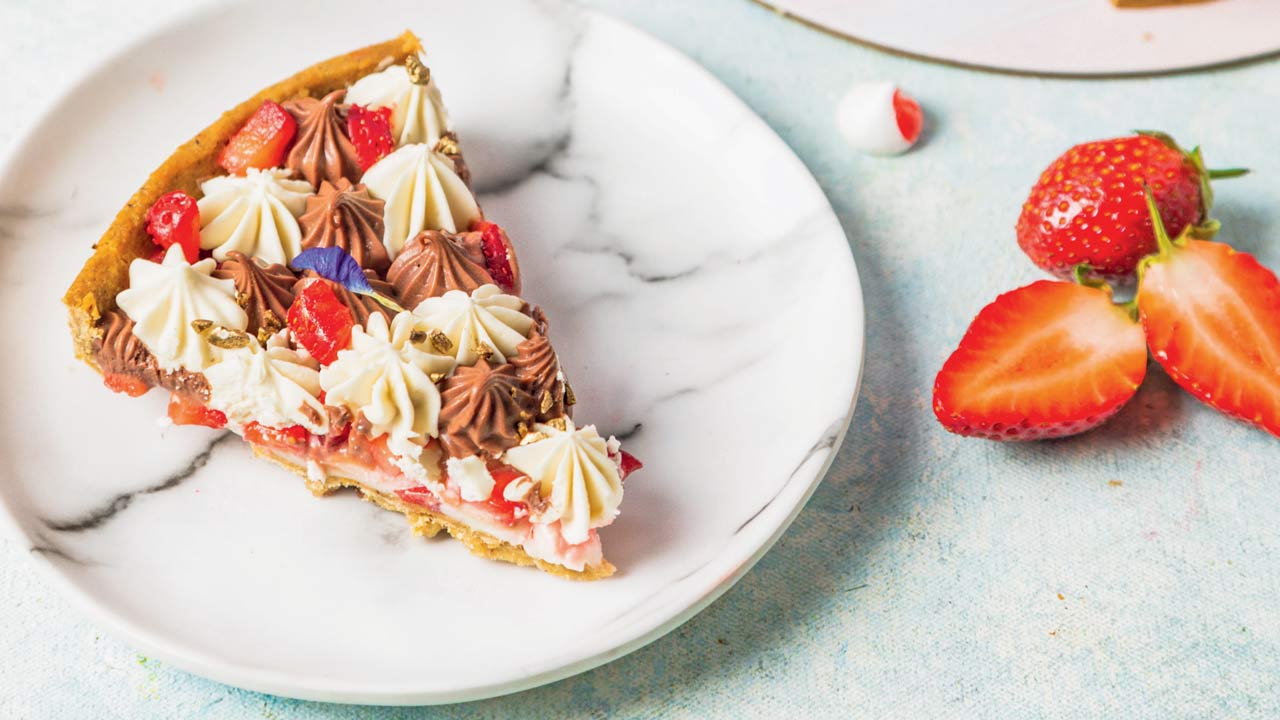 Cake that's good for you   
Play the Santa who brings in the sweet at the end of your festive dinner. An Ode to Gaia has plant-based, gluten-free and refined sugar-free delights to satiate every palate and dietary restrictions. If you have a really picky request, they will customise it for you. Choose from a box of strawberry overload that contains Berries and Lemon Ricotta Cheesecake, Strawberries and Cream Tart, Dark Chocolate Brownies with Fresh Strawberries and Strawberry Shortcake. 
This patisserie has sustainability on its mind. 
Price: Rs 1,400 
To order: anodetogaia.com ; @anodetogaia, Instagram
Cookie indulgence   
Yogisattva and Saloni Kukreja have created a limited-edition vegan, gluten free and refined sugar-free cookie menu with quirky flavours like You Make Miso Happy, which have Miso caramel cookies made with organic sorghum and almond flour, white miso paste, almond milk and unrefined coconut sugar. Their seasonal special is the Ginger Snap with ginger molasses cookies. 
Price: Rs 699 for a box of six
Call: 9867455009
To order: shop.yogisattva.com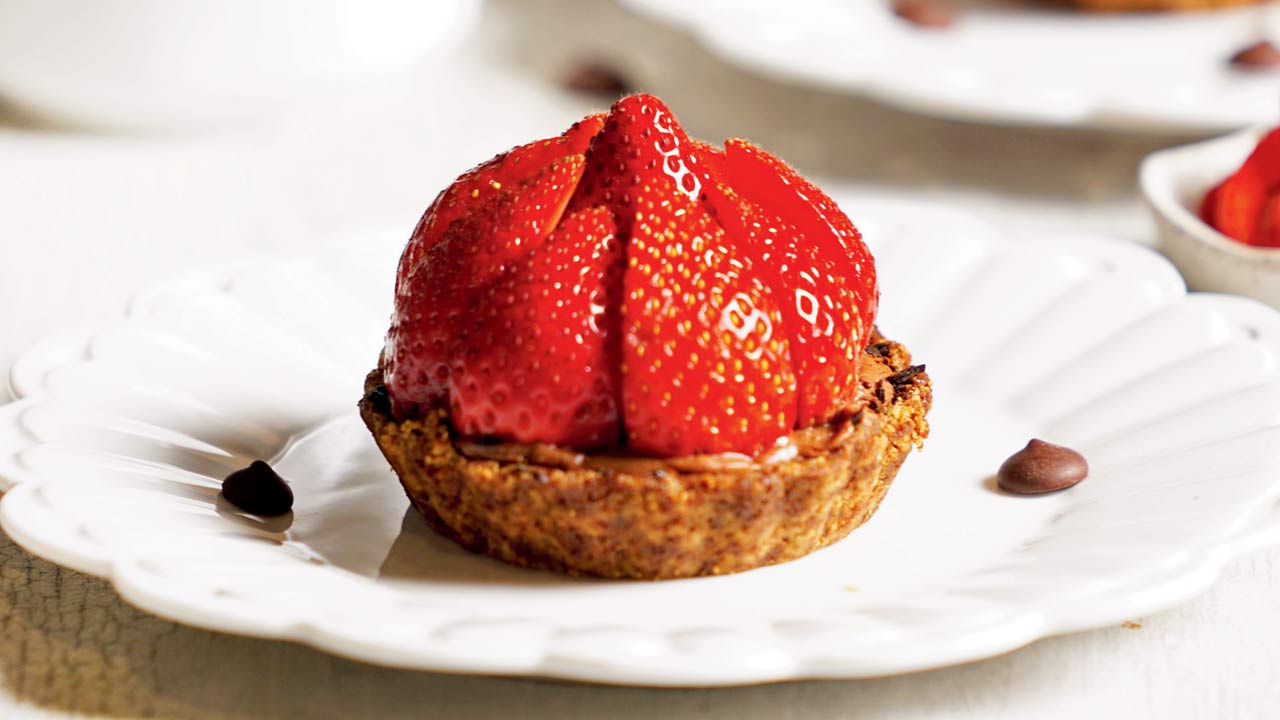 In the pink of spirit  
The smell of warm pies and desserts makes a celebration complete. All your vegan and gluten-free desires will be met at Seeds of Life, a healthy café for mindful eaters in Bandra and Juhu. From their 'berry' sweet Strawberry Menu, Strawberry Chocolate Tart, Almond Strawberry Cake and Strawberry Chocolate Swiss Roll, a wholesome Banana Strawberry Smoothie and a yummy Strawberry Smoothie Bowl meet dietary restrictions and food choices.
Where: Dine-in, Delivery and Take Away at Bandra & Juhu Outlets
Price: Rs 200 onwards
Call: 9653336089
Drinks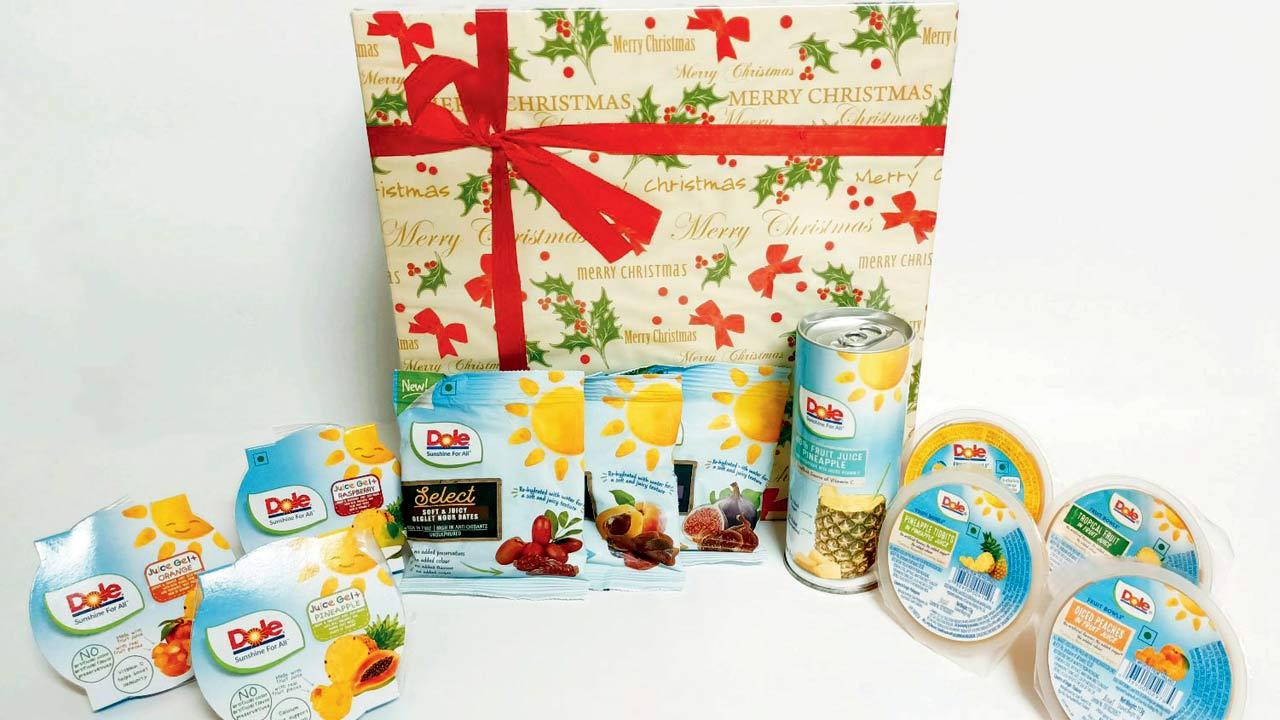 A dollop of health    
Ditch sugar-laden cookies or cakes, and opt for all-natural, preservative-free dried fruits, juice gels and fruit bowls. The Dole Christmas hamper comes with 4 single fruit bowls, 3 single jellies, 3 packs of dry fruits (50g each) and 1 pineapple juice can, with fresh fruit concentrate. They have no added sugar, colour or preservatives. 
Price: Rs 1,599
To order: Dole.amozon.in or @dole.sunshine.in, Instagram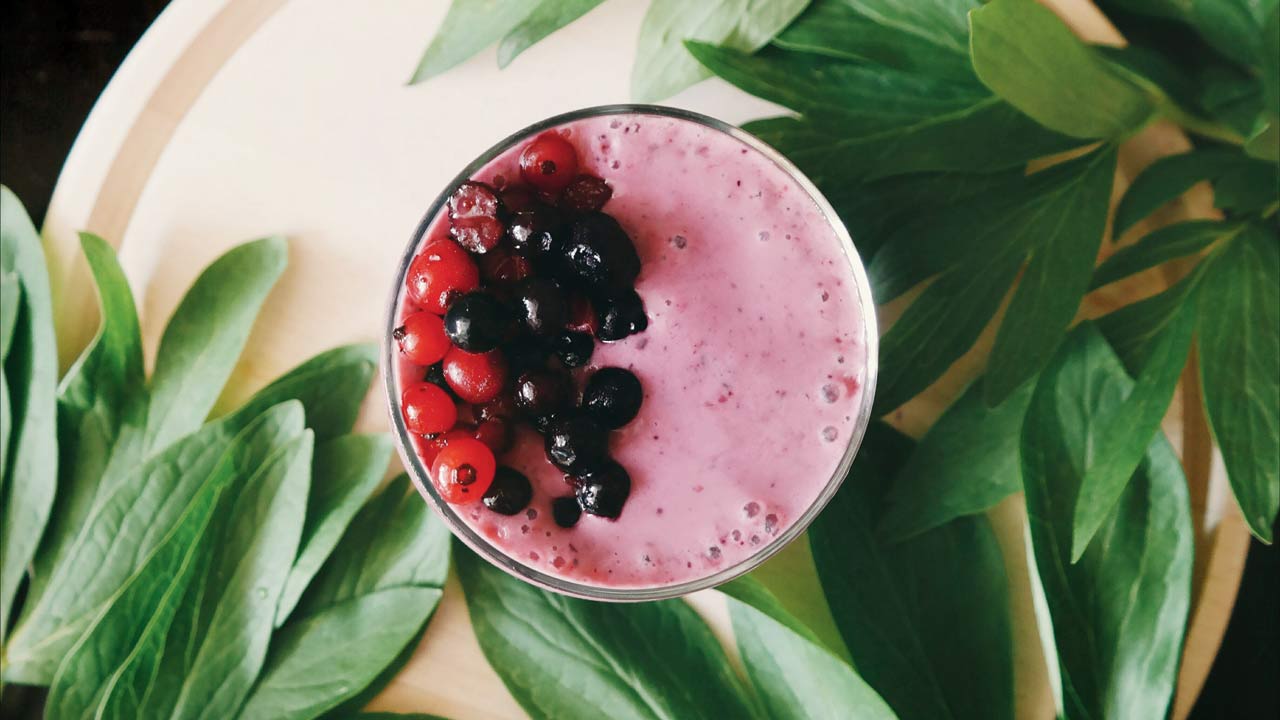 Neki aur pooch pooch   
Now, even milk has got flavours. Christmas and New Year Specials pours include Organic Strawberry Almond Milk, Organic Blueberry Almond Milk and Organic Raspberry Almond Milk. These can be customised too. 
Price:  Rs 200 for 250 ml; Rs 700 for 1L
To order: 9821821818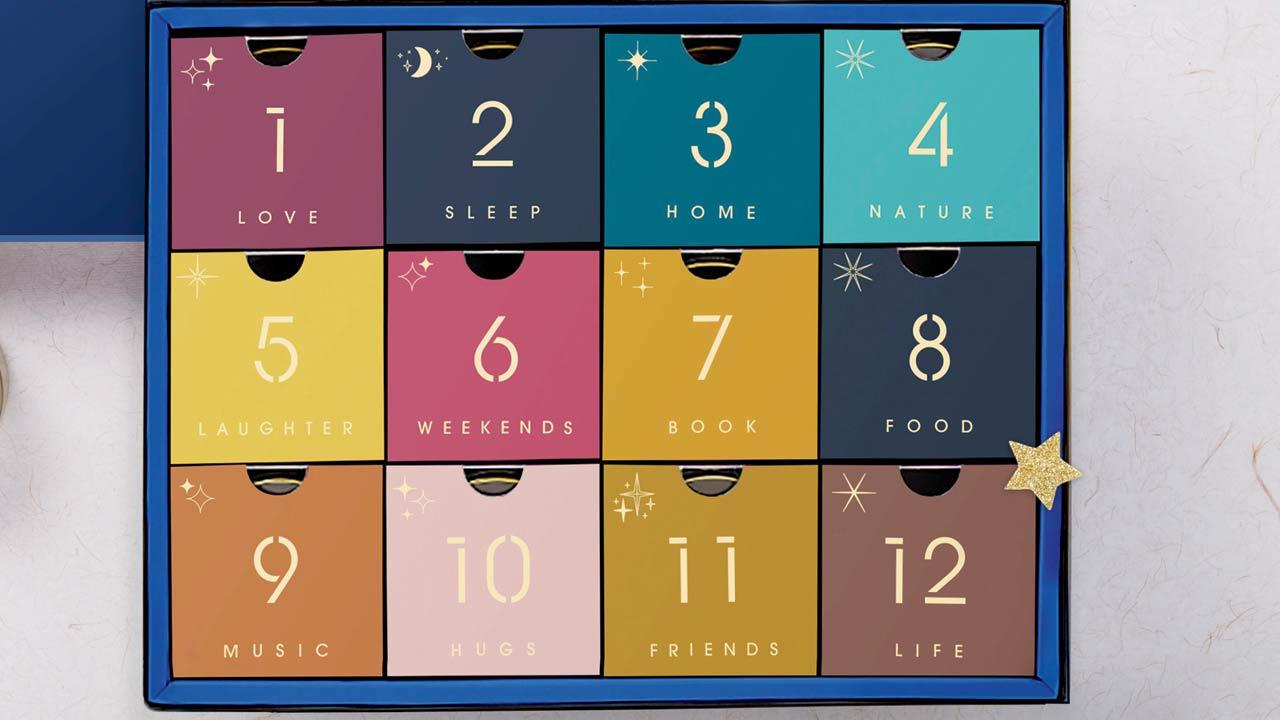 Gratitude with a tea   
It is the perfect time to brew a cup with closed ones, or send someone warm wishes with a teabox. Gratitude Box by Teabox contains 12 flavours, including Organic Rose Green, Organic Mint Green, Kashmiri Kahwa Saffron Green and Organic Darjeeling Green. The box has been made from a durable eco-friendly paperboard. 
Price: Rs 2,239
To order: in.teabox.com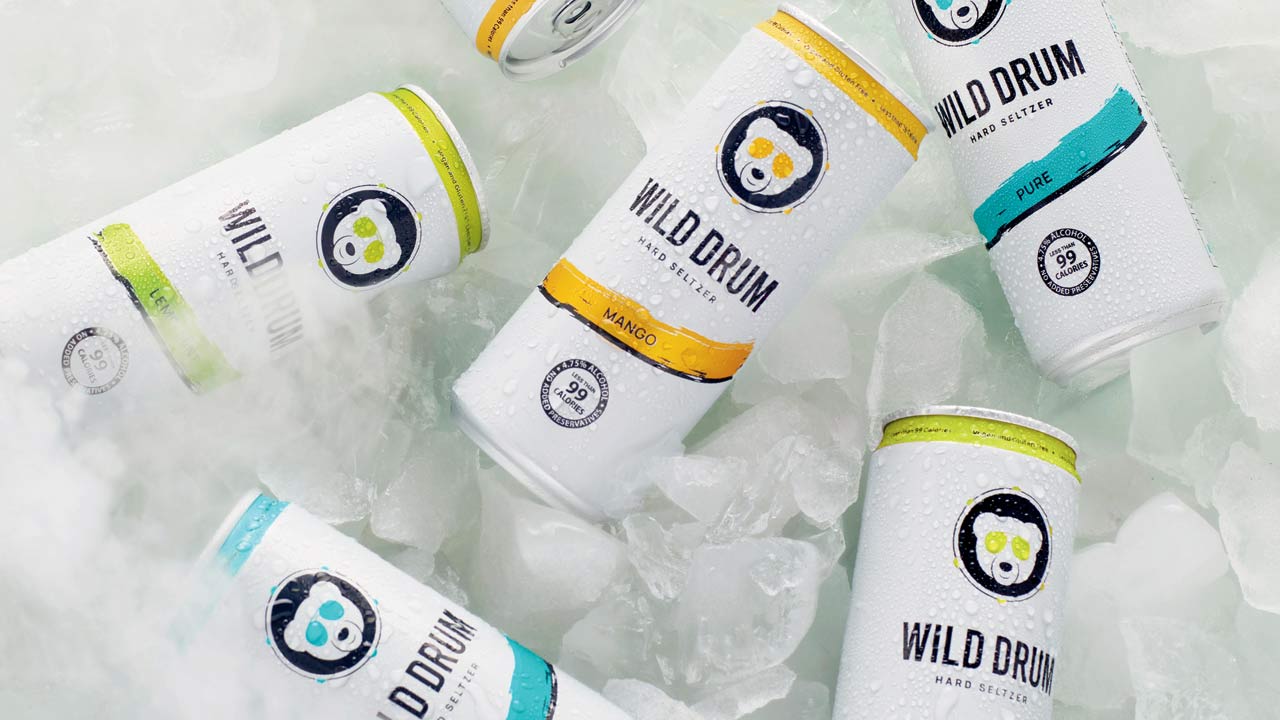 Seltzers count the calories   
The festive season makes it difficult to make the right choices, but it's great to see niche products flood the market. Wild Drum has released low-calorie alcohol beverages that are vegan, gluten free in three flavours—pure, mango, and lemon-mint. If you must know, they are 99 calories per serving. 
Price: Rs 150 for 330 ml can
To order: Available at leading stores
Gifts and Hampers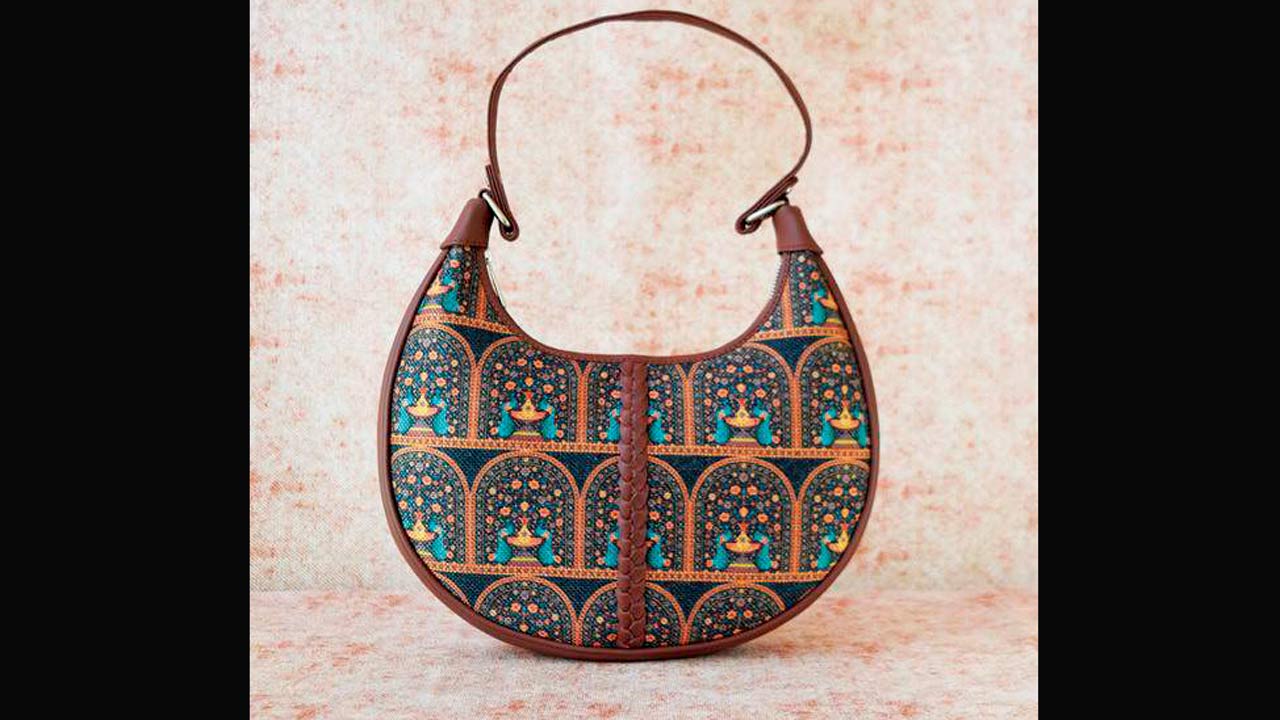 Bags go vegan too     
Bags go vegan too. Yes, you heard it right. All Zouk laptop bags and handbags come in handcrafted with Indian prints and modern functionalities. 
Price: Rs 999 onwards
To order: zouk.co.in, @zoukonline, Instagram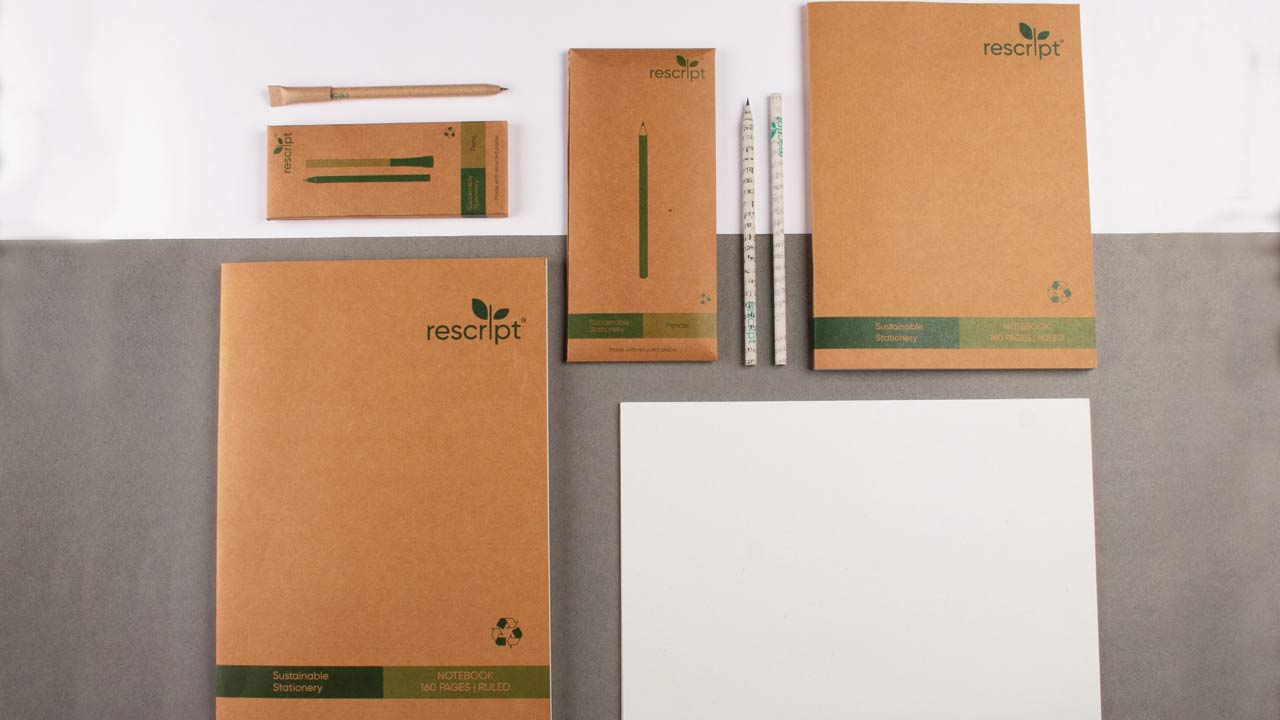 Discarded paper stationery  
We love our diaries and planners but we are always worried about the wastage. Rescript Stationery, started by Ashutosh Ananth and Naren Raj, uses only discarded paper as raw material to manufacture their products. From 95 per cent plastic free pens, recycled copier paper, notebooks and pencils, this gift hamper is going to make your sustainable living friend happy.
Price: Rs 415 (stationery kits)
To order: www.rescript.in; @rescript_stationery, Instagram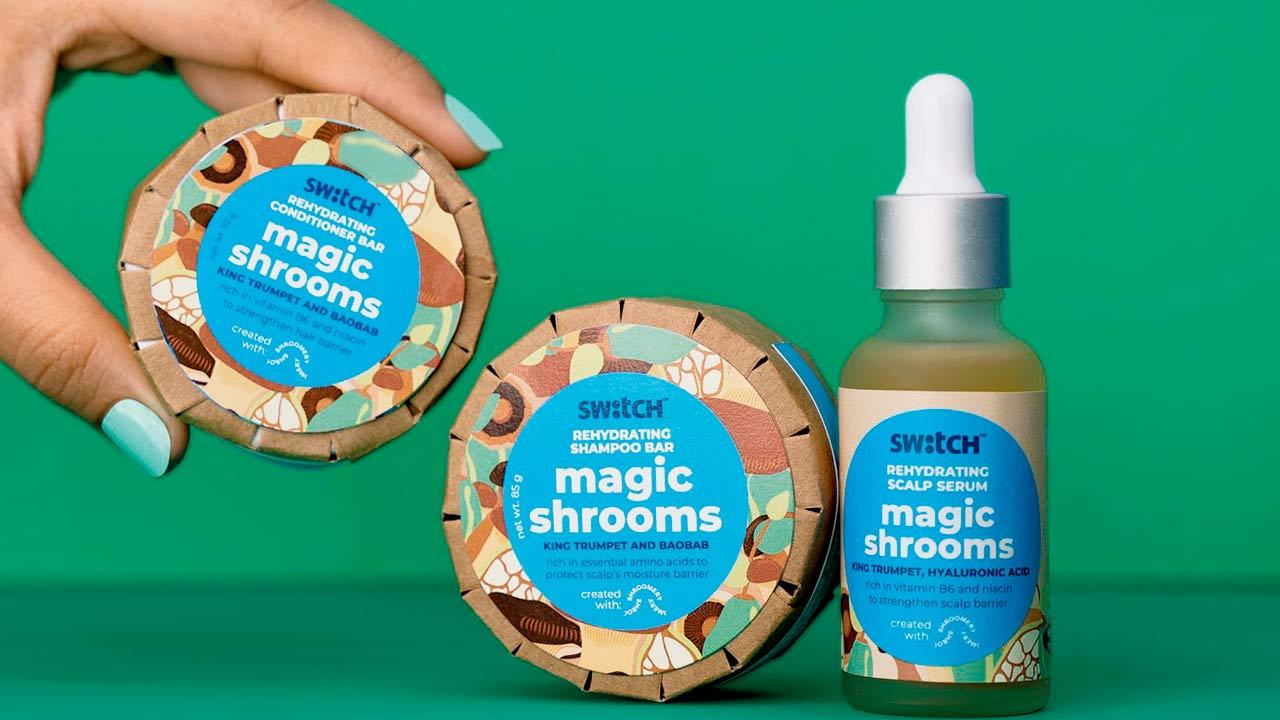 Make a conscious switch     
Self-care has been the word of the year and with The Switch Fix, you can keep the wellness of the planet in mind too. The clean and conscious personal-care brand offers body butters, scrubs to shampoos and conditioner bars. One of their quirky collabs with urban farm Shroomery includes Magic Shrooms line that includes shampoo and conditioner bars, scalp serum and hair mask.
Price: Prices start Rs 439 
To order: theswitchfix.co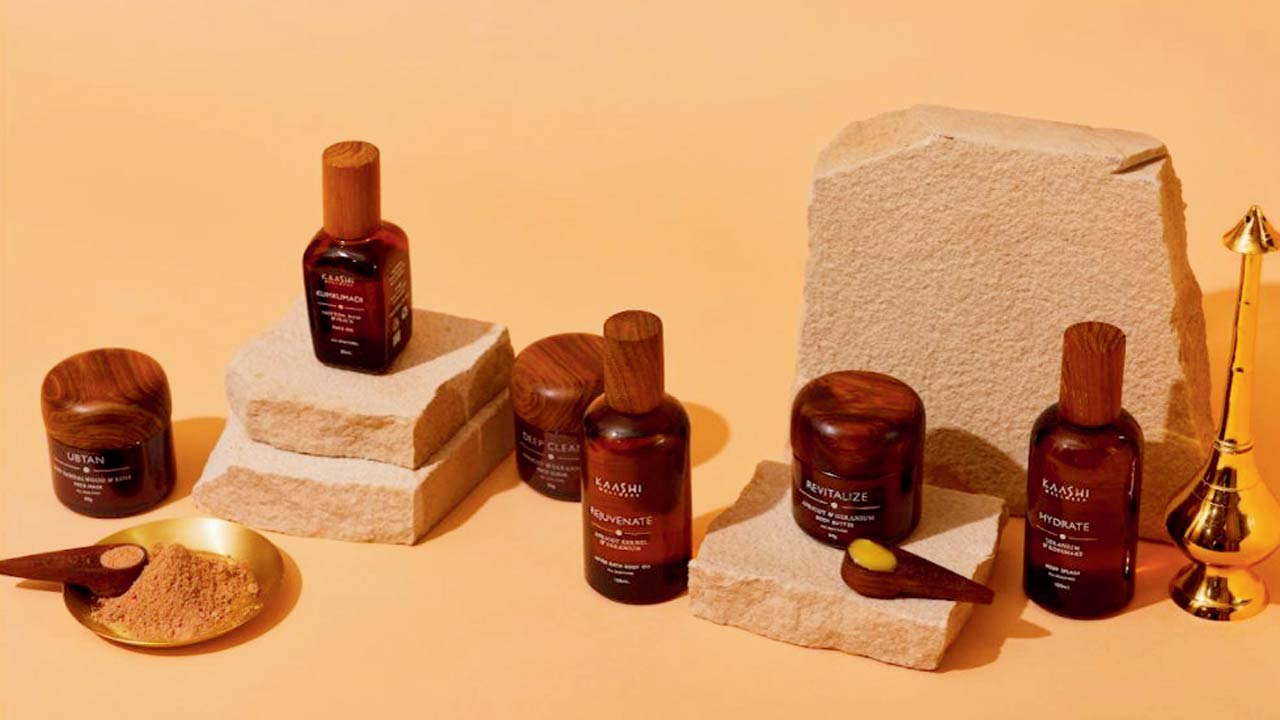 Luxury that's responsible     
It's the season to by jolly but not at the cost of your health. Kaashi Wellness has curated beauty and tea hampers that have bath soaps, body oils, and their signature energy drink mix of powdered spices, nuts and seeds. Their Kashmiri Kawa is spiked with high-quality saffron. 
Price: Rs 2,100 to Rs 3,000 
To order: kaashiwellness.com ; @kaashiwellness, Instagram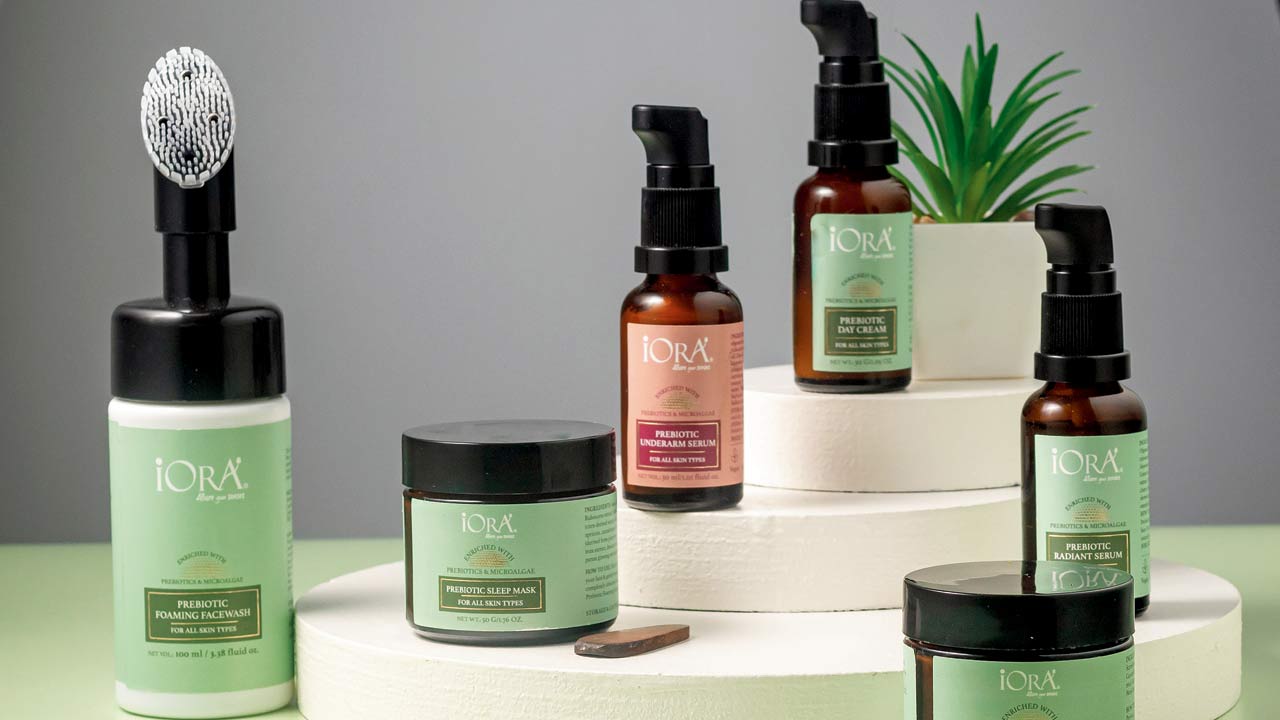 Prebiotic skin care   
iORA a  luxury self-care brand that deals in a range of skincare products that are sulfate, parabens, artificial preservatives  and colour-free. All are made from organic ingredients and are vegan too. Pick a prebiotic foaming face wash, a prebiotic glow mask or prebiotic radiant serum for that perfect gift. 
Price: Rs 599 onwards 
To order: All major e-commerce portals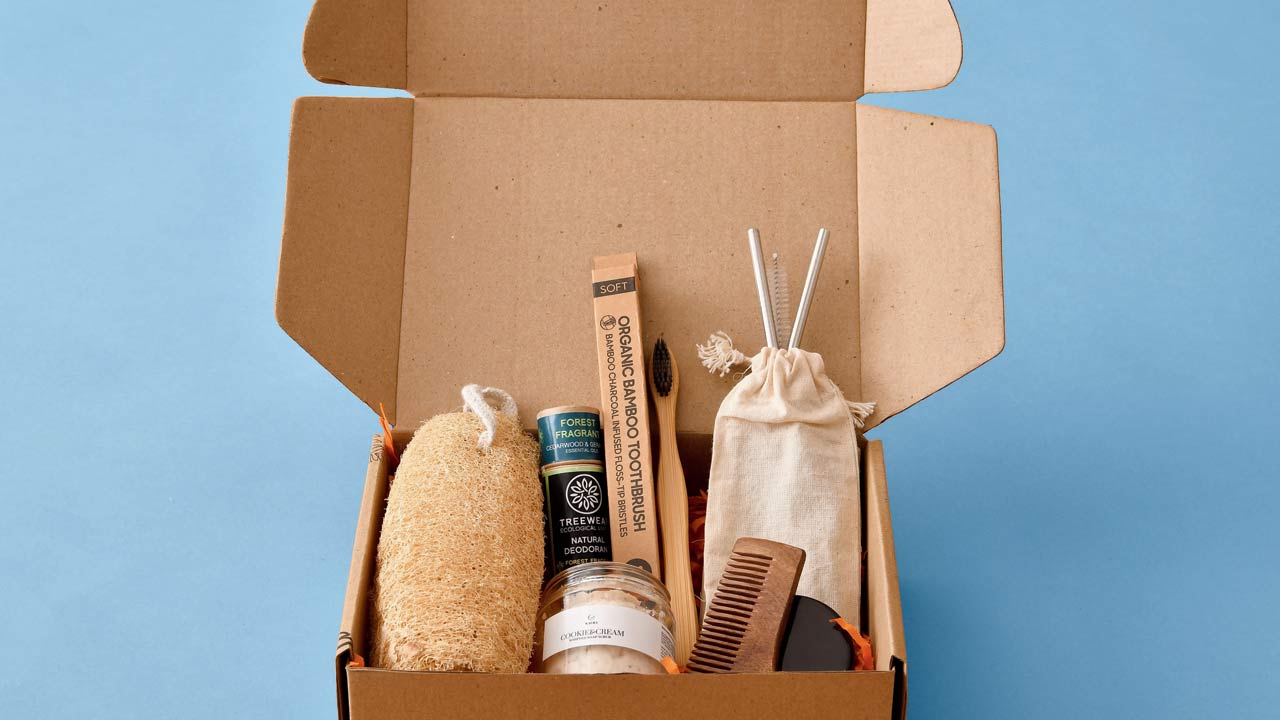 It's Verth it     
Verth means We Are Earth and it aims to make a sustainable lifestyle accessible and affordable. India's first eco-friendly and zero plastic subscription box is a curation of a few handpicked eco-conscious products that are delivered right to your doorstep. Their packaging is zero-plastic and 100 per cent biodegradable. 
Price: Starting price Rs 799 
To order: www.verthbox.com