As senior journalist and educator RN Bhaskar puts out his biography of Gautam Adani, we ask him about the various controversies surrounding the world's third-richest man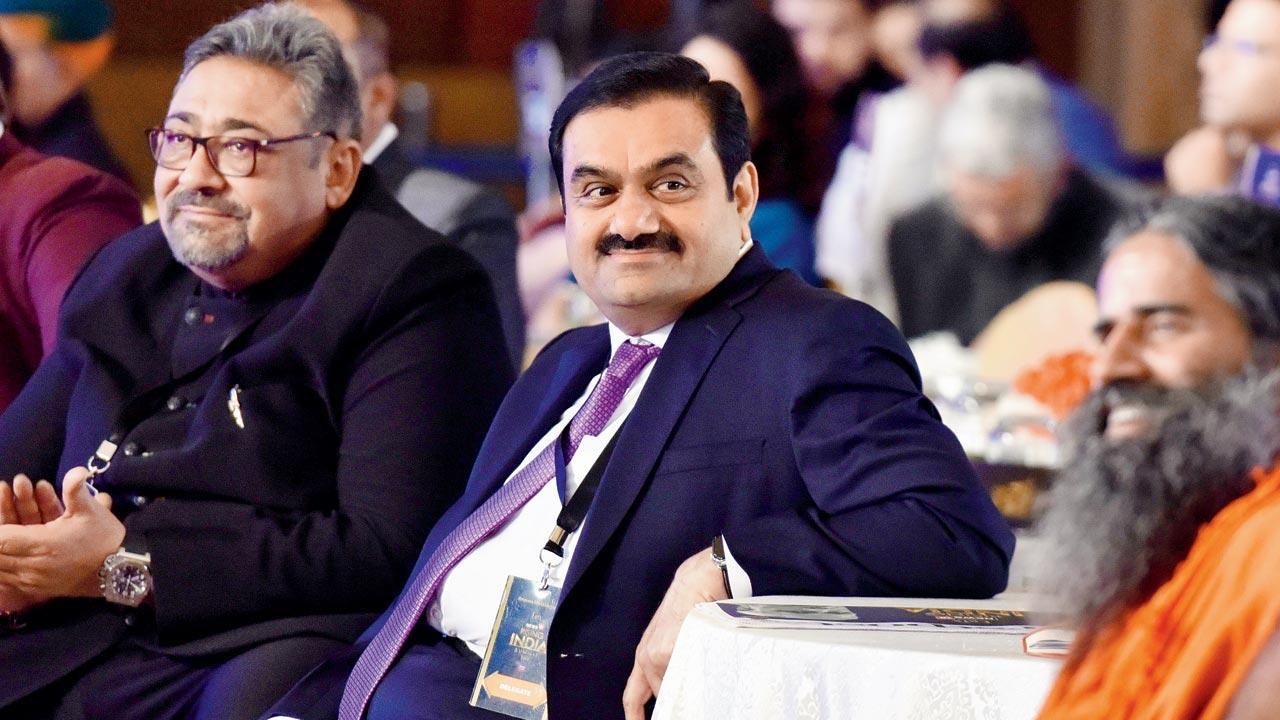 Gautam Adani: Reimagining Business in India and the World talks about Adani, the family man, the controversial Mundra port and the strategies behind some of his biggest projects. Pic/Getty Images
In 2007, senior journalist RN Bhaskar wrote an article titled 'The Man Who Could Change India'. "Last year," says the educator and researcher, "I looked back at what [industrialist] Gautam Adani had done, and realised he had indeed changed India. My title was prophetic."
The groundwork for his soon-to-release biography, Gautam Adani: Reimagining Business in India and the World, started a decade ago. Members of the Adani family and senior executives requested Bhaskar to write a book to mark the Adani group's chairman founder's 50th birthday in 2013.
 "They wanted a small 150-page book for family and friends," says Bhaskar, who sensed an opportunity.  "It gave me a front-row seat to his life, and access to family and key management members."  Gautam Adani: Game Changer was released in 2014, and it talked about his 'toofani' childhood and how he orchestrates an annual pilgrimage for the whole clan—five siblings, their spouses and children, among other things.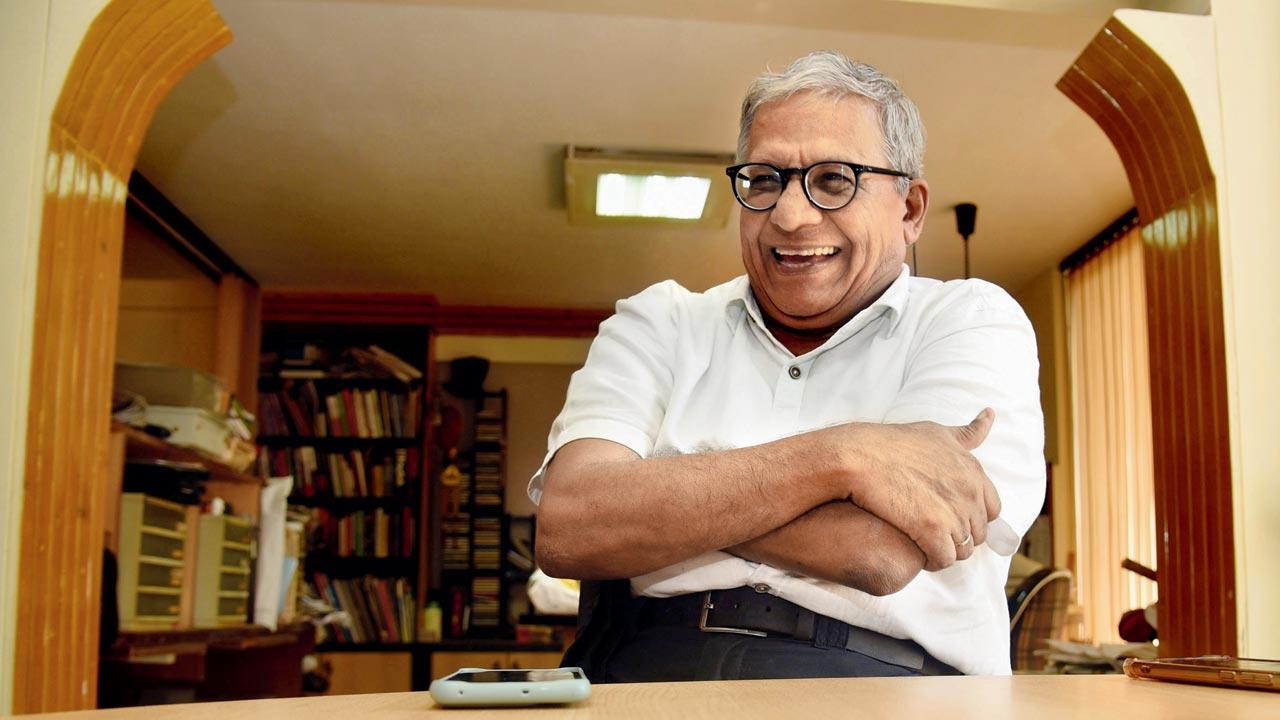 Senior journalist RN Bhaskar first wrote about industrialist Gautam Adani in 2007.  His first book Game India: Seven Strategic Advantages That Can Steer India to Wealth made a brief mention of Adani. Pic/Sameer Markande
"A couple of years later, when Adani began making international headlines, I knew it was time for a second book," says the senior journalist. "By 2020, I was working on it seriously and Penguin [publisher Penguin Random House] got in touch." When he requested permission to write the book, the Adani family and 
executives refused.
"When industrialists don't give permission, [and you still go ahead], there are risks. They could impose a stay on the book," says Bhaskar who decided to continue writing, but without antagonising the family and core team. "A year ago, I told the family that I am going ahead with the book, and a manager demanded the manuscript. I replied with a strongly-worded email and copied Gautam Adani on it. I mentioned the topics I hadn't touched upon, but said I would write news articles about them. I would send questions for these, and they would be bound to answer and share documents."
This caught Adani's attention, who called him for a meeting.
"It was very cordial," he says. "I asked whether I had misrepresented him in the 18 years we'd known each other. I also pointed out that someone was bound to write a book on him, and there was no telling how responsibly it would be done." Adani asked how Bhaskar would tackle some crucial topics. "I also told him I have criticised some government policies. He asked me if I was writing about Australia [Carmichael mine and rail project]. I told him that I had written only a few pages. He requested a whole chapter on it. When I told him that I don't have enough documents, he instructed his team to give me what I needed. When the big man green lights a project, nobody comes in the way."
The book describes Adani as a family man, covers the Mundra port at length, and touches upon his business strategies. 
Excerpts from the interview. 
What did you find morally challenging about Adani?
I touch upon a couple of instances and there were more that I wanted to cover, but by then the book was at the printers. I don't agree with his decision to enter the media business. It's dangerous because his success lies in being friends with everyone. Mundra [port] was cleared by Chimanbhai Patel [former CM of Gujarat]. The Railways project was cleared by Nitish Kumar [Bihar's CM]. [Prime Minister Narendra] Modi came only in 2000, as Gujarat's chief minister. So while Adani's exposure to him has been longest, he has been friendly with all ministers. He negotiated a deal with Mamata Banerjee [West Bengal CM], and another one with [Ashok] Gehlot [Rajasthan CM]. He even struck a deal with Sheikh Hasina [Prime Minister of Bangladesh].
Another grey area is the gas-distribution service, of which he is the largest player.  Adani has the largest energy terminals, a huge pipeline and a vast network—he is definitely going to make big bucks. The problem is that a 2015 Supreme Court verdict assures that the regulator, Petroleum and Natural Gas Regulatory Board [PNGRB], won't interfere with pricing. What else does a regulator do? The government should have disputed the judgment.
You say the Mundra Port deal was exceptional in two ways: It might be the only one where he bought a shareholder out; And it was won without an open tendering process. It is alleged that he got it dirt cheap…
When he started work on Mundra, project planners told him that it would cost him thousands of crores. He asked when he could make money from it; the answer was once it was ready. Then he asked for the littlest thing he could do to generate revenue, the answer was a small jetty, which would cost him around R50-60 crore. The jetty began making money [by transporting coal]; it funded the next thing, and so on. He spent very little from his pocket; everything was accrual. And, he did it in a record time of three to four years.
Mundra was an old jetty nobody used. Much of the area was marshy land, under brackish water, and some of it was used as salt pans. Nobody wanted it, and therefore, it wasn't worth much. He made a presentation to the Gujarat government to convert it into a port, with the state holding 26 per cent equity share capital. In 2006, the state government divested its holdings at a price of R120 a share against its original investement of R10 a share, it was a good profit. Nobody lost money. 
 
He is said to win many projects without undergoing a tender process… of being the prime beneficiary of Modi's largesse.
A tender enters the picture when an opportunity presents itself. There was no opportunity at Mundra; he created it. Defence projects do not invite tenders.
He told Mamta Banerjee that he would create 10,000 jobs in her state if given Haldia port. But Tajpur [port in West Bengal] was an open tender, and he was the highest bidder.
Every other deal has been struck through open tender or market competition; he bought 5G bandwidth like everyone else—through auction. But, he bought a smaller bandwidth to set up captain networks. The next stage is building operative villages around it and going large. It is a brilliant strategy at low cost.
Adani does not like paying big money up front. Even for his Australia deal—a $1.5 billion project—he negotiated a forward payment of $500 million and a $2 per tonne royalty-based arrangement for 20 years in exchange for 7.8 billion tonnes of coal. This would be paid after the project started making money. This strategy saved him from bankruptcy when the project was stalled for 10 years. 
Just a couple of months ago, a Sri Lankan official alleged being pressured to award projects to the Adani Group. What about other such allegations?
Adani bought the rights to a port terminal in Colombo, which could prove to be the best transhipment port one could have asked for, especially for ships that move from Africa to Australia or Japan or other eastern countries. Efficiently, without saying a single word, he would be taking business away from the international Chinese port of Hambantota. Does this benefit India or hurt her? 
For a power project, he must have requested one government to speak to the government of another country, which is very common. When a big foreign deal is discussed, they need government cover to ensure their interest is protected.
A review said the book lists what the Adani group has done for the nation. As a journalist, how do you view this statement? Let me put it this way: Modi is the PM. He wants food security, and Adani wants to be a big player in agriculture. Both of them see eye to eye. Is that wrong for business or the country?
I was completely against the three agriculture laws Modi tried to push. I even wrote a series of articles on them. [But] a government sometimes requests a powerful industrialist's help with a project, and Adani is one good implementer. Wherever he goes, he first safeguards the local schools with local government approval. He brings in management techniques, without changing the faculty, measures outcomes and makes a chart of the teachers' core abilities. The result is so good that parents pull children out of private schools and enroll them in Adani-managed government ones. He has done this with almost  6,000 schools. And the numbers are growing. If a man does something for education, and consolidates his relationship with the state, what's wrong?