An upcoming exhibition turns to Angela Ferrao's socially critical sketches laced with humour to make a comment on the threatened Goan identity and infra onslaught on its culture and landscape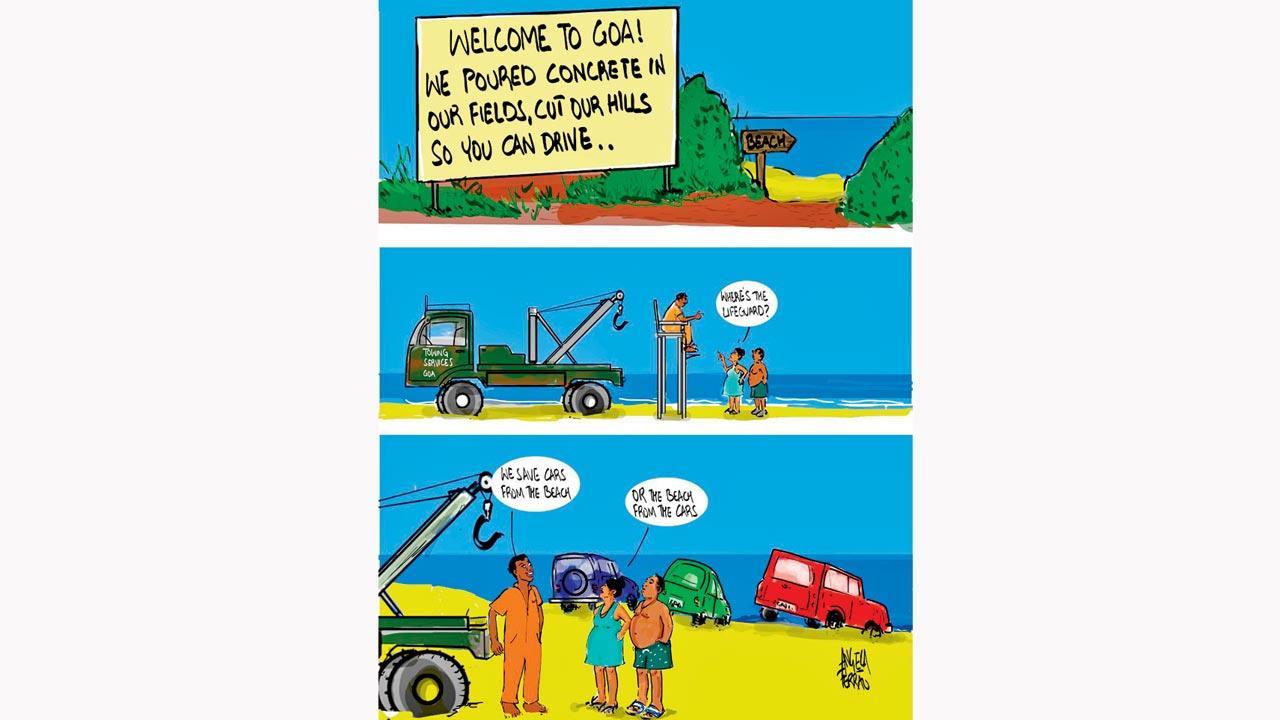 Beached cars 
Ask satirical cartoonist and illustrator Angela Ferrao what spurs her social commentary, and she says she wants to "hopes to amplify issues that affect local communities close to home or elsewhere". The resident from Siolim in Goa began to focus on cartoons in 2011, and now uses the skill to address politics and environmental activism. Her works are set to be exhibited at an upcoming exhibition at Gallery Gitanjili in Panjim-Pousada next month, titled The Uninvited.
For the cartoonist, presenting a counter-view to existing beliefs about the beach state and its people, especially its Goan Catholic population, is priority. "It's my take on my community," she says. "The kind of gaze that Goa and Goans are portrayed through—a hedonistic, loose place where you can come and go —through my work, I want to remind people of the presence of a thriving local community that is often forced to comply with the cultural and environmental changes imposed by builder and tourist lobbies." The idea for the exhibition birthed when Benedito Ferrao, professor of English and Asian & Pacific Islander American Studies at William and Mary College in Virginia, US, wrote a comic book which she illustrated, and brought into perspective the view of Goa being "colonised" by the modern-day invaders, or commercial entities.
ADVERTISEMENT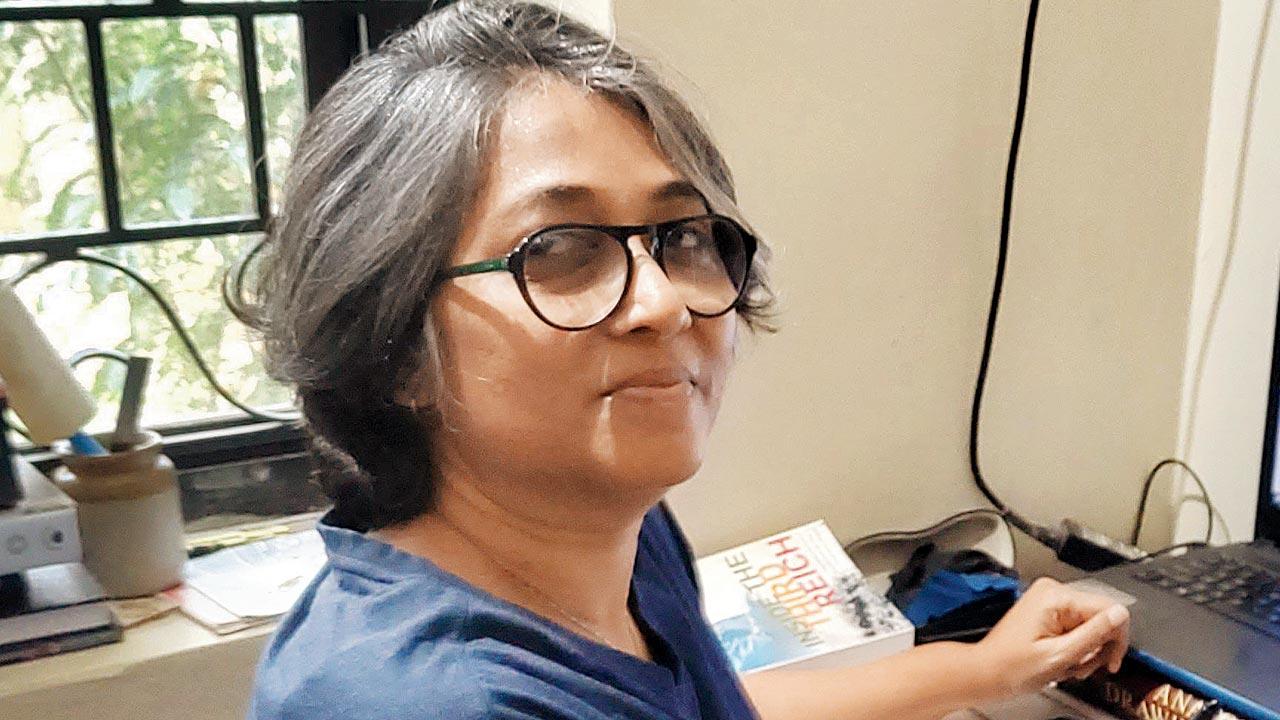 Artist Angela Ferrao
Ferrao says that this touristy portrayal of Goa, marketing it as a desirable destination for pleasure-seekers, is at odds with what the native Goan thinks of the homeland. This divergent viewpoint creates an "othering" of Goans, even as they are perceived as unmotivated and complacent.
Can her work be viewed from a point of defense, we wonder, a defense of the real identity and life of the Goan people? "Maybe," she says. "I like to comment on things I can see and defend. This exhibition is about creating a space for Goans, in Goa."
Beached cars 
In Goa, all roads lead to the beach—literally. Beached cars is about the new Goan one sees in the state: one that has fancy cars and the latest vehicle. These vehicles are seen making their way towards a rave party, a new club that's the happening thing in town, or a five-star hotel. Some even insist on driving down to the beach, where they get stuck and have to be "unbeached". The influx of pleasure-seeking touristers zipping along is viewed as a sign of modernity and progress, but in reality, it is valuable land that's cut up and spliced apart to make room for this so-called progress.
The Queen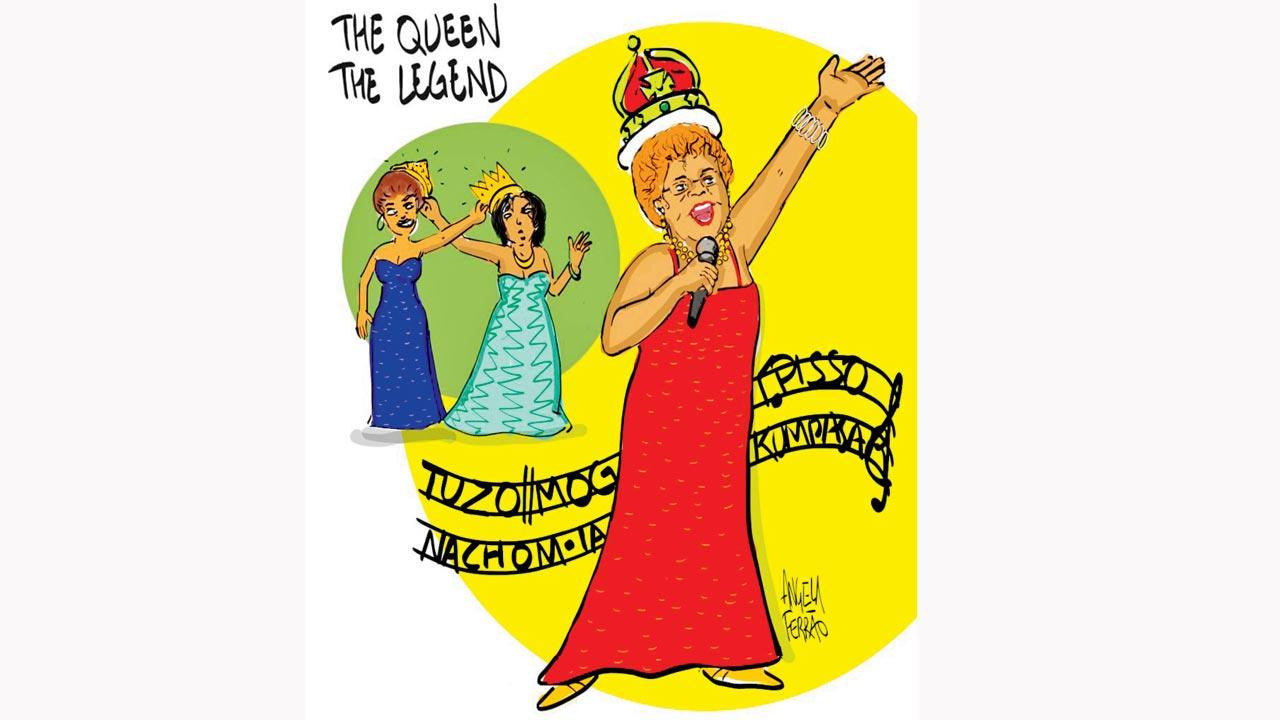 The Queen, The Legend is a music personality who is dear to all Goans, whether they're from Goa or live in other parts of the country or world. She can still rock the floor and continues to be relevant and shine. Now 79, yet still going strong, Lorna is still listened to and loved with fervour. Referred to as The Nightingale of Goa, the singer, whose real name is Lorna Cordeiro, started her career at the age of 19 and became a well-loved figure whose voice is sure to be heard at engagements, anniversaries, and weddings. 
Road that divides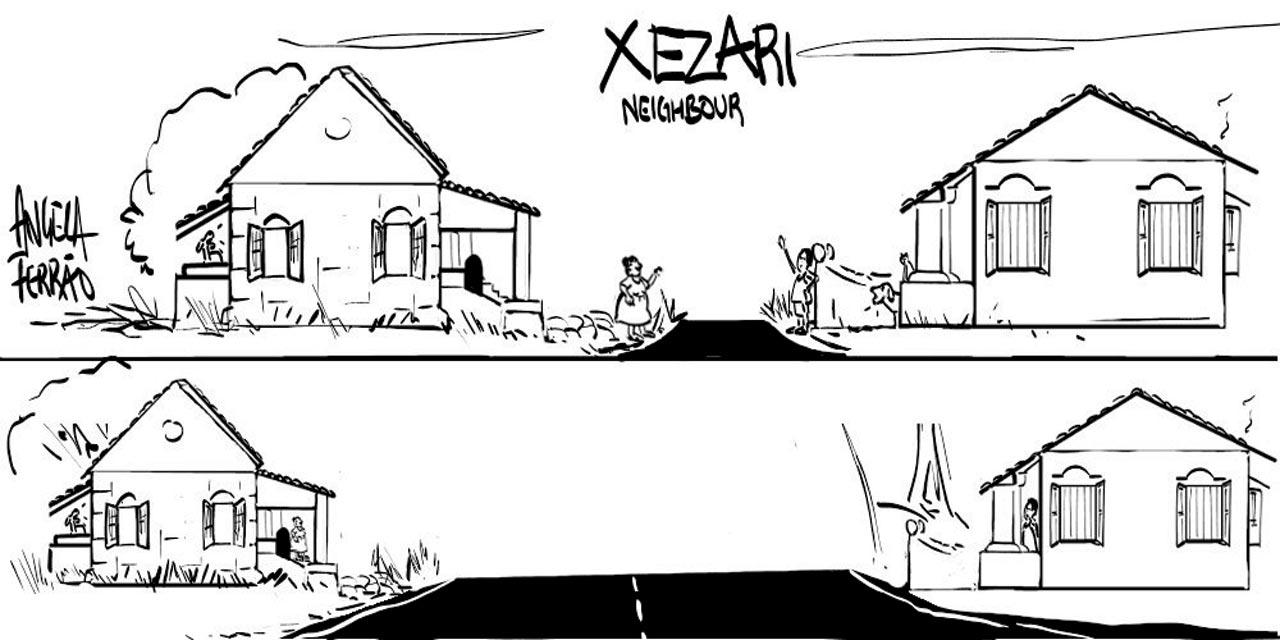 Xezari Concanim  means neighbour. This cartoon shows how development has driven apart communities. Broad roads have cut through villages, breaking apart centuries of closeness.
Let's play, not fish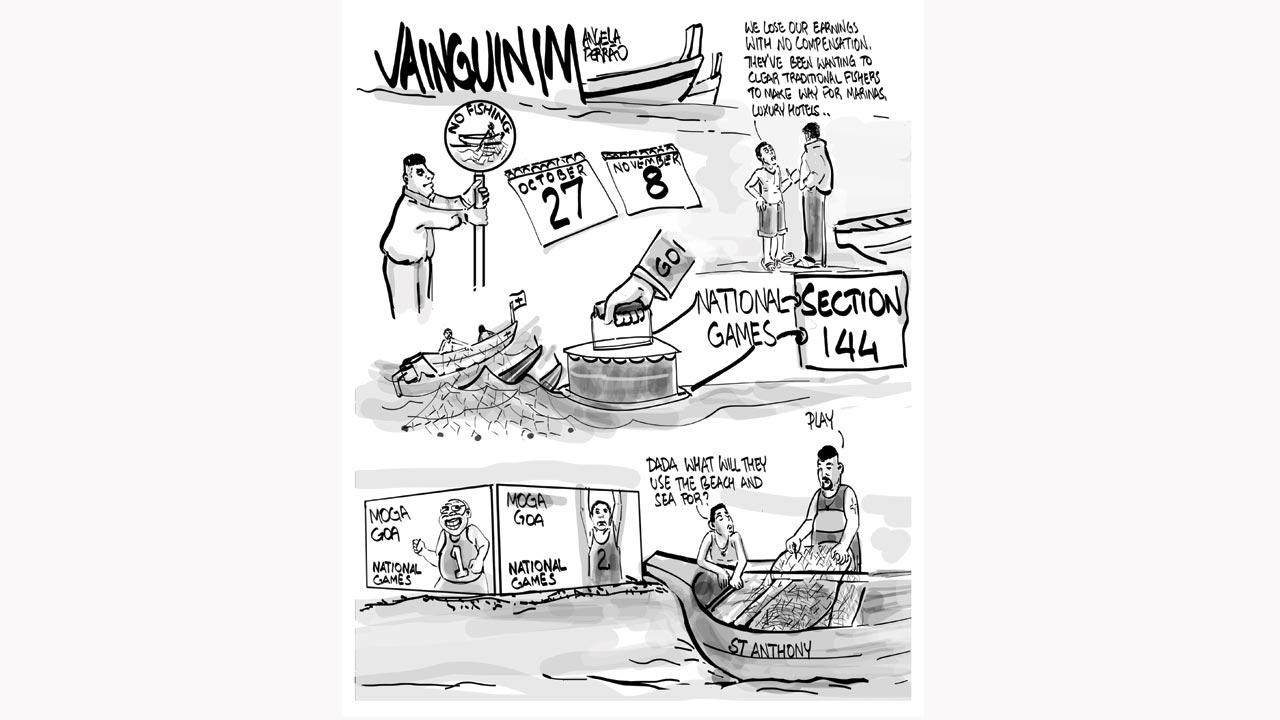 The siege of the fishing communities concerns me deeply.  Goans love their fish , and the marginalisation of the fishing community also threatens our way of life. Traditional fishers or ramponnkars were banned from fishing during the National Games.  (The Captain of Ports department asked the fishermen at Vainguinim beach to relocate their canoes away from the beach for 20 days for the smooth conduct of the National Games). 
Goa Tourism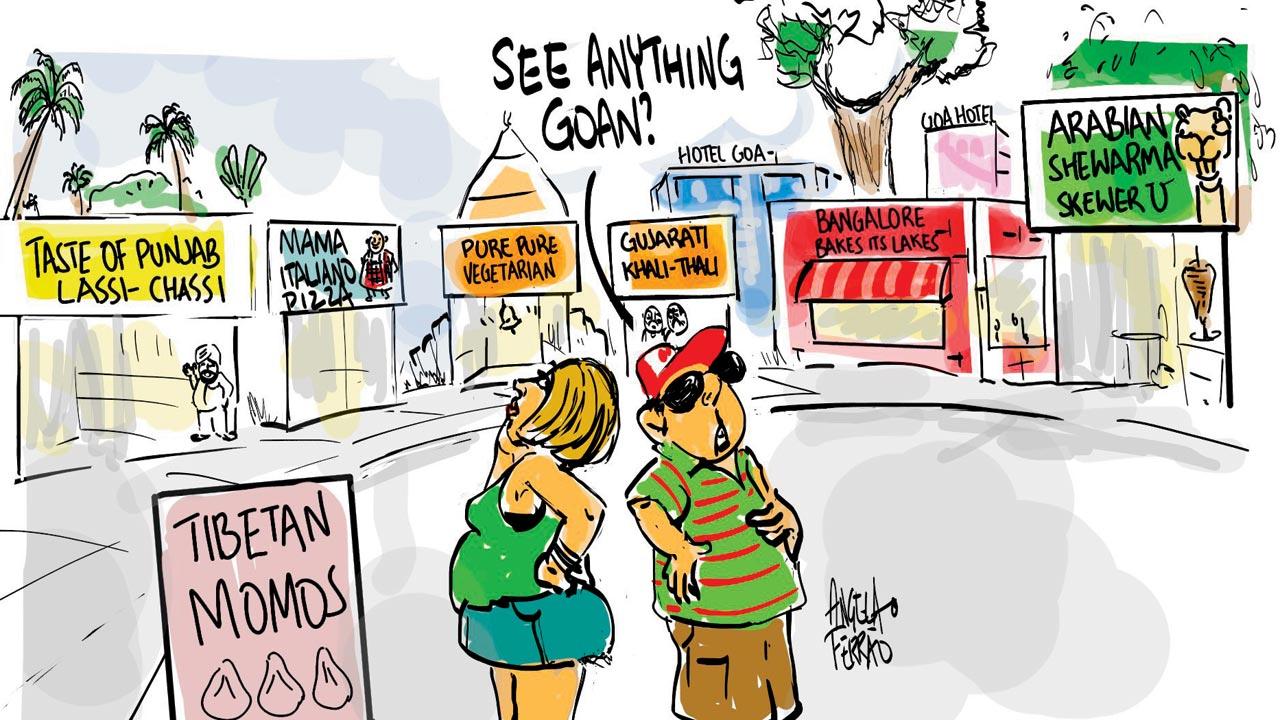 A lot of people come to Goa to experience the local cuisine of the state. For that same reason, businessmen and restaurateurs have sought to colonise the food culture of Goa to cater to these diverse set of tourists arriving from different time zones and countries. Tourists who come to Goa in the hope of getting a taste of local food have to contend with the cosmopolitan nature of the food scene, which now features inter-continental and global influences. The real flavour of Goa is lost within this hubbub of influences, while in reality, authentic Goan food is inexpensive as well as a delight to experience. This cartoon features tourists in search of the elusive Goan cuisine.
"Exciting news! Mid-day is now on WhatsApp Channels

Subscribe today by clicking the link and stay updated with the latest news!"
Click here!