With the transport ministry working on new rules to create a 'right type of horn' that may just include the sound of musical instruments, experts say capping decibel levels during manufacture is what's needed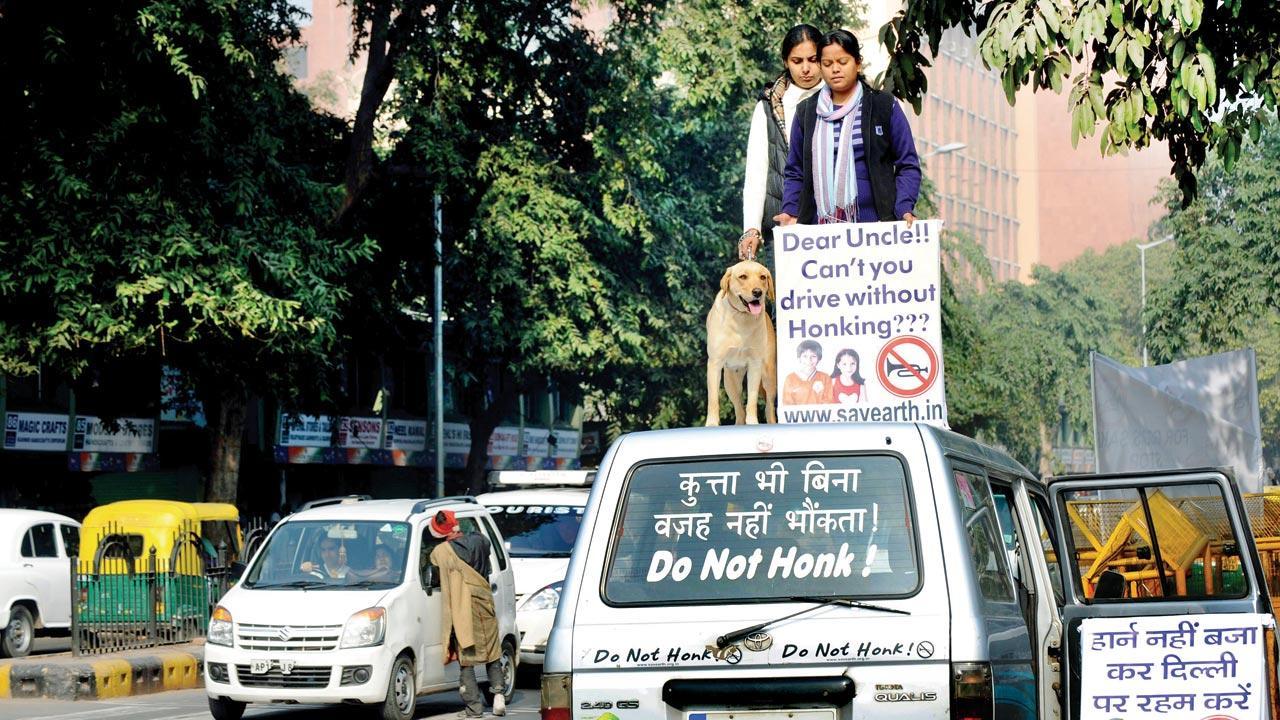 Activists and college students stand on the roof of a car as they hold a banner proclaiming 'No Honking Day' on a street in New Delhi. Pic/Getty Images
Noise can drive Jayraj Salgaonkar, co-founder, editor and publisher of almanac Kalnirnay, up the wall. "I've always been extremely sensitive to sound," he says, adding that a loud sound is akin to an electric shock. Silverware clashing or a remote control dropping to the floor are enough to leave him startled. It's the reason why he decided to collaborate with the Indian Institute of Technology Bombay (IIT-B) to develop what he calls the Oren, a horn-usage metre. This was five years ago. The white plastic box has a numerical keypad and comes with a pre-paid limit. The metre is fixed in the car and measures the amount of electricity the horn draws from the battery. "You measure it and you pay for it," explains Salgaonkar, who has been researching the technology for a decade. Indians are quite money-minded and this will be the only way they'll learn to use the horn sparingly, he thinks. 
Traffic policemen are worse affected by noise pollution. In 2019, Dr Sarika Verma conducted an audiometry evaluation on 588 traffic policemen across eight Indian cities. "Traffic cops are typically exposed to loud noises for a minimum of eight hours a day. We found that 54 per cent of policemen had some level of hearing loss which they were not aware of," she says. Pic/Sayyed Sameer Abedi
ADVERTISEMENT
Salgaonkar is working towards patenting the innovation. Meanwhile, he is pleased that honking is back in public discourse, thanks to an announcement by the transport ministry. 
Last month, Union Road Transport Minister Nitin Gadkari announced that they are working on new rules to make the vehicular horn sounds more soothing. He lamented that even though he lives on the 11th floor, and does pranayama for one hour every morning, vehicle horns continue to rattle him. He wondered that instead of the horns being cacophonic, what if they sounded like the tabla, the violin, sitar or flute? "Getting horns to sound like musical instruments is a whole different story. What I'd like to take away from Gadkari's statement is that we need to do something about getting people to honk less," says Salgaonkar.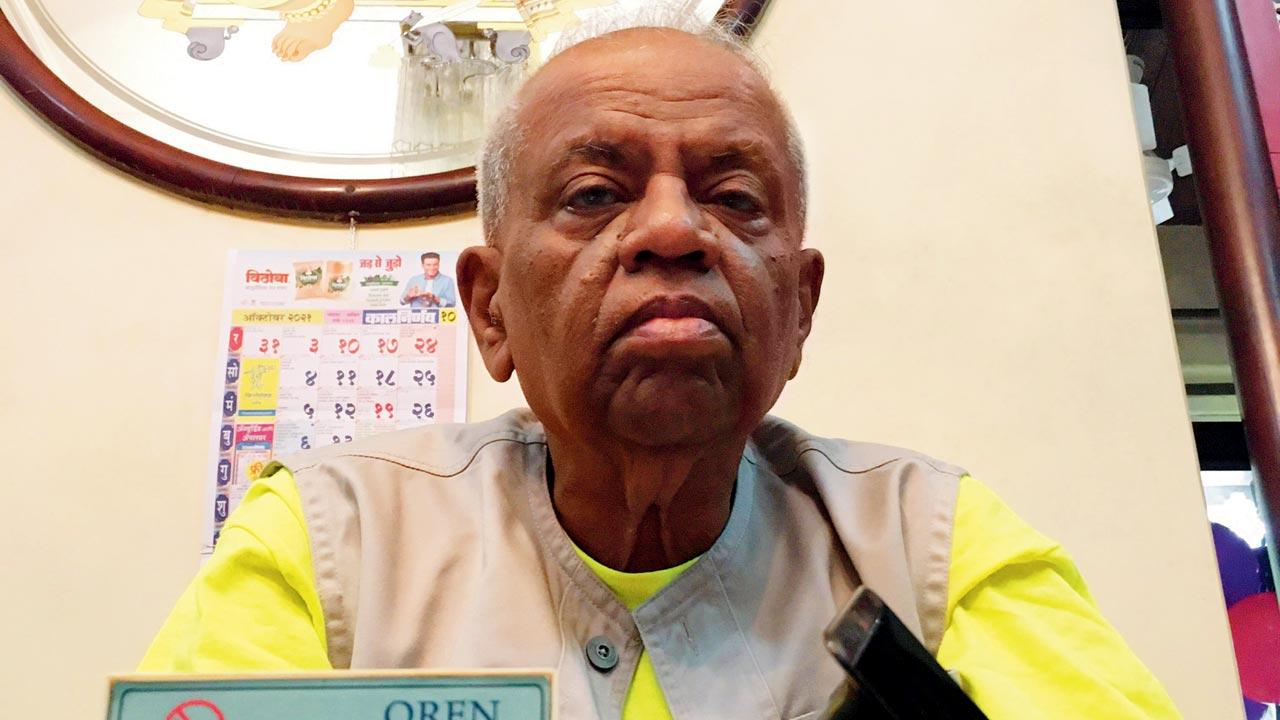 Jayraj Salgaonkar, Kalnirnay founder, publisher and editor, created the OREN horn-usage metre five years ago, which is pending a patent. Pic/Atul Kamble
Despite advancements in technology and innovation, and cars becoming faster, safer, and more fuel-efficient, the humble horn remains rather neglected. "The horn is essentially a safety feature that alerts those around the driver and is found on the oldest to the newest vehicles with little to no modifications," says Jehaan Kotwal, co-founder, HumSafer Driver Safety App. "There have been very minimal changes in terms of design due to the costs associated with it." According to him, the right type of horn is typically one that is used rarely, at a level loud enough to alert, but soft enough so as not to disrupt or disturb. As per Central Motor Vehicle Rules, the noise range for horns is currently fixed between 93 decibels (dB) and 112 dB. 
But there is confusion in this country over the very purpose of the horn, thinks Sumaira Abdulali, environmentalist and founder of the NGO Awaaz Foundation, who has been fighting a war against noise pollution in Mumbai for two decades. "In India, people honk while celebrating festivals, and New Year's eve. We use it to convey emotions." Having said that, introducing a musical horn will only make matters worse, she feels. "Think of 10  different types of musical horns going  simultaneously on a busy road," she laughs.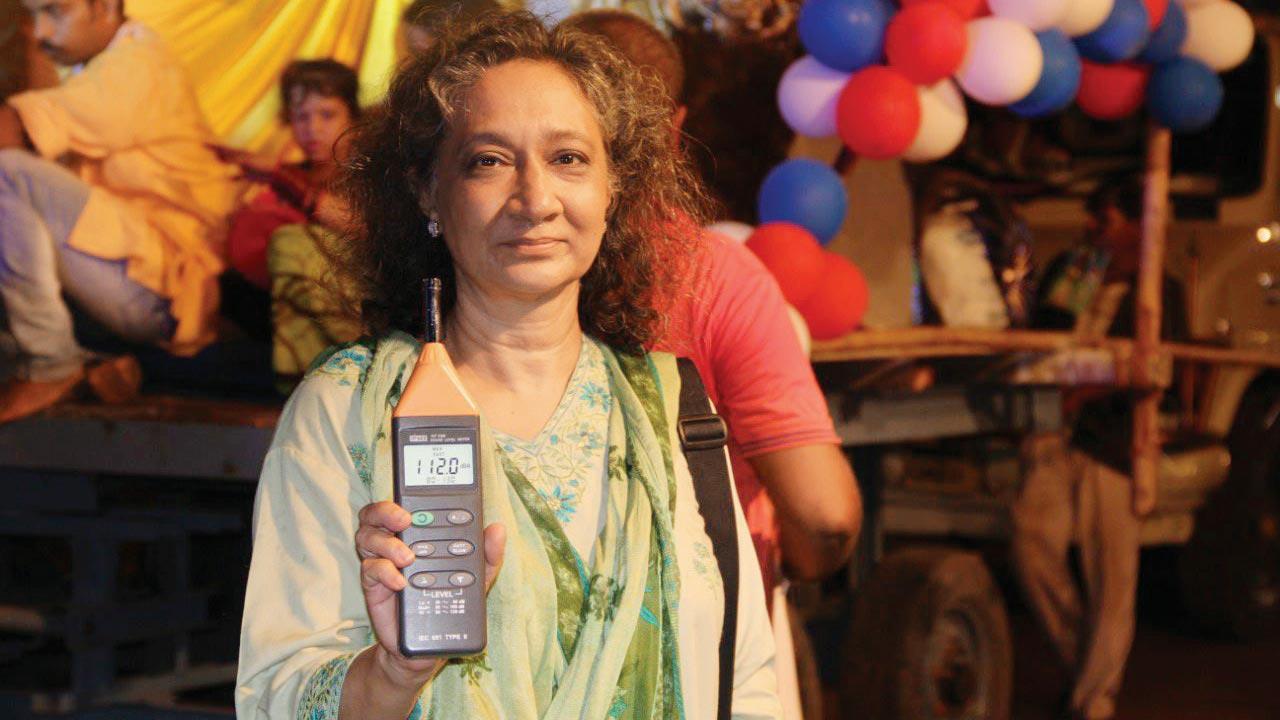 Sumaira Abdudali
In a recent study titled, What Do Car Horns Say? An Overview of the Non-Verbal Communication of Horn Honking, Jathla A Mahmood from the Department of English, Al Iraqia University, Baghdad, sheds light on horn honking as an effective channel of non-verbal communication that expresses far more meanings than just aggression and road-related messages. A section in her study is devoted to honking culture in different countries for which she has referenced material from blogs and reports over the web. "In India, horns are more loquacious," she writes.  "They are as important as, if not more important than, the brakes. Neil Miller [in his blogpost titled, Do you speak air horn?] gives a long list of horn honking patterns [in India]: the single, the double, the triple, the repeated triple, the big blast, and their meanings. Some of these meanings are "I am here", "please don't be dumb …", "I am upset that traffic has not moved …", "I am more important than you; get out of my way", "I am literally about to hit you", and for large vehicles, a honk means, "I can do whatever I want because I am massive". Car horns are so many in India that Gary Runn [in his blogpost garyrunn.wordpress.com] calls it a "horn honking culture" because he has never heard as many varieties elsewhere. He explains that for a foreign passenger, the experience can be "frightening" and "confusing"." Abdudali agrees. "It's invariably the noise and smell that hits you when you step out of the 
airplane in Mumbai."
Back home in Iraq, Mahmood says, they have "a mix of long and short horns, with each having a distinct meaning. "Here, a typical example that is seen a lot in Iraq is when a driver waits for another driver to turn his car around on the road. As soon as the driver turns the car and clears the way, he will 'beep' a 'thanks' that will be answered with a hand wave, a head nod or even another 'beep' as if saying 'not at all'," she writes.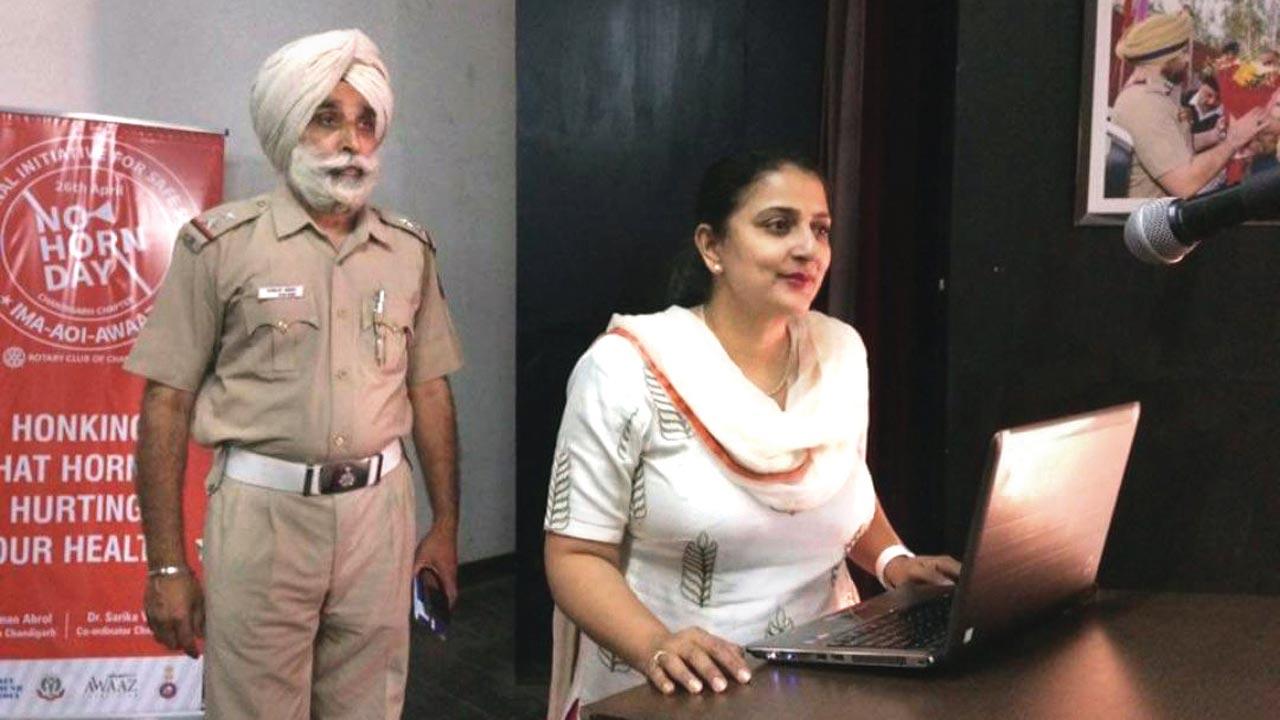 Dr Sarika Verma giving a talk to the Chandigarh traffic police. Subsequently, the administration enforced a penalty of R2,000 for unnecessary honking in the city
Dr Sarika Verma is a Gurugram-based ENT surgeon and National Convenor of National Initiative for Safe Sound. She has practised driving without honking for four years. In 2019, she conducted an audiometry evaluation, a noninvasive hearing test that measures a person's ability to hear different sounds, on 588 traffic policemen in eight Indian cities. "Traffic cops are typically exposed to loud noises for a minimum of eight hours a day. We found that 54 per cent of policemen had some level of hearing loss which they were not aware of." In 2017, she had conducted a similar programme in Chandigarh, which led the administration to enforce a #MakeChandigarhHonkFree campaign.  More than 50,000 "I Will Not Honk" stickers were distributed among the general public, along with ads and appeals in leading newspapers. "They also enforced a penalty of Rs 2,000 for unnecessary honking," she says.
While normal spoken voice ranges from 50 to 60 decibels, the range of normal automobile horns is 90-112 dB. "Exposure to sounds more than 85 dB can cause irreversible damage to our inner ear. Which means every time you blow the horn, you are damaging your own hearing." She has petitioned the government to intervene in manufacturing and reduce the sound level to less than 75 dB. "We must also educate children, aged six to 12, so that when they start driving, they will use the horn sparingly."  
This year alone, the total production volume of vehicles in India was around 22.7 million units. "Retrofitting a new horn on old units is going to be a Herculean task, not to mention an expensive ordeal,"  says Kotwal. What's practically achievable he thinks, is doing away with the "honk then drive" attitude and adopting a better driving etiquette. "This can only be accomplished through a concerted effort of various stakeholders, including the industry that manufactures them, governments that impose rules, and the end consumers that see the value of honking responsibly. In addition, heavy fines on rule-breakers and a monthly limit to horn usage for new vehicles are other tactics that can be used to discourage unnecessary horn usage."
Interestingly, Sikkim is the only state to have imposed a complete ban on honking. "I don't understand why  the rest of the country is not willing to emulate something that already exists," says Dr Verma. 
90-112
The range of normal automobile horns in decibels in India