We may have missed the World Menstrual Hygiene Day last week to meet them, but for Neerja and Advaitesha Birla, any day is good to talk blood, sweat and tears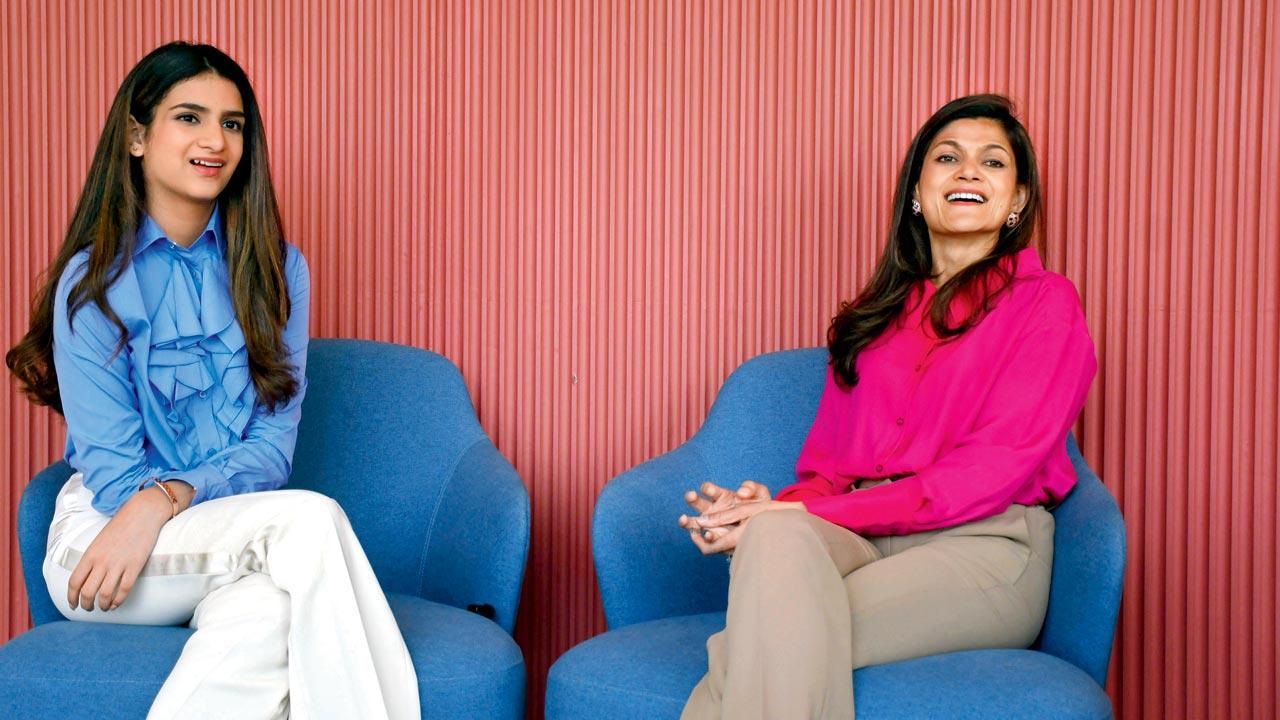 Advaitesha and Neerja Birla in conversation with mid-day at the ABET office. Pic/Ashish Raje
She's only 19 when she sits in front of us, and already a year-and-a-half into project Ujaas which works to drive away the darkness surrounding menstruation. She is Advaitesha, the youngest of the three children in educationist Neerja and chairman of the multinational Aditya Birla Group, Kumar Mangalam Birla's nest. We meet at the head office of the Aditya Birla Education Trust, of which Neerja is founder and chairperson. 
We are keen to know what drove a 17-year-old to think of dispelling shame and secrecy around periods when everyone else was probably thinking of the next start-up idea mixing AI, sourdough bread, hand-ground coffee and Korean pop. 
ADVERTISEMENT
Neerja says that at four or five years of age, Advaitesha held an exhibition-sale of DIY arts and crafts projects she made to raise money for a charity. Family and friends were invited and enough funds were raised to buy a fridge for Seva Sadan that distributes ration to the needy.
What kind of home environment gestates this sort of ambition?
"Talking about periods is commonplace at home," says Neerja, "as is having discussions about the realities of life. I want my children to be grounded individuals with a realistic view of life. There has to be a balance."
Advaitesha says she has learnt to be empathetic and charitable from her elders, whom she wishes to emulate. She was close to her great grandmother Sarala Devi Birla, who'd take her along on philanthropy trips to an India she was yet to meet. Yet, it was still uncommon for her to find out about girls being isolated during that time of the month; about the use of ash and cloth for pads; the skipping of school. 
"One of the things we heard was that if an animal eats a discarded sanitary pad, the user becomes infertile," she says. Which is also why she is aware that it can get as dastardly as being killed by a brother who mistakes blood from menstruation for sexual activity. A 30-year-old security guard in Thane killed his 12-year-old sister after he spotted blood stains on her clothes from her first period. Advaitesha knows what she's up against.
"I grew up listening to myths about menstruation and at first it confused me; then I was intrigued to find out the truth. Conversations with my mother helped me demystify these fallacies," she says.
Ujaas, which means light in Hindi, educates about menstruation in three age batches, increasing the details of the biological changes with higher age groups. It also informs about options—sanitary napkins, cloth pads, menstrual cups—and provides access to them. There is still hesitation to use anything intrusive, such as tampons and cups, but that's to be expected.
"I grew up at a time when people considered periods as an unclean time for a woman," says Neerja, "it was not something I wanted my daughters to grow up with. I instead spoke to them about the importance of periods and helped them focus on their health, which could mean eating the right foods. I talk openly about skipping a workout or my mood." 
And because these conversations took place in the presence of her middle child and only son Aryaman, there is now a menstrual leave policy at Aditya Birla New Age, which he helms. "We also offer menstrual leave at Aditya Birla Education Trust because 80 per cent of our workforce is women," says Neerja, "But despite having only 20 per cent women in their workforce, such a policy is commendable!"
 And how many days is it? "Well each person's cycle is different, isn't it? It could be a week for some…"
Mother and daughter sound ideas off each other, requesting opinions on marketing plans and logo designs. Neerja's veneration in the mental health space—she is also founder of MPower, along with older daughter, singer Ananya, that provides holistic solutions for mental health and well-being. This is also an open conversation at home.
"There is an overlap between mood swings and depression during menopause and the shame and fear surrounding menarche," says Neerja. "The term PMS only came into existence during my generation— [until then] we hadn't linked mood swings, depression or physical illness to hormonal imbalance."
All of this is now tackled effectively by team Ujaas who prepare children of grades five to eight for their first period and conduct sessions for students of grades eight to twelve on what to expect about the biological changes in the body. "At first the boys react, behaving surprised, embarrassed and even uncomfortable," says Advaitesha, "then they get curious and want to know why the girls can't do housework, or work in fields or have to skip school." The fact that this is a natural cycle and that it can be so physically draining comes as a surprise to boys who have seen their mothers not going into the kitchen and temples on some days, without knowing the actual reason.
The biggest learning for Advaitesha has been that permission for these sessions needs to come from the top—from principals and trustees of schools. "At first, they are not convinced how much of a difference a session can make," she [Advaitesha] says, "[Because] So many have come and attempted the same thing before us. However, there are also instances of teachers saying they found the session helpful and request it for another class or school."
As we interview the Birlas, this writer is on her first day, with heavy flow, dammed by a cup and period underwear. She's fervently hoping she doesn't stain a chic, dusty pink sofa. Unimaginable that these two chic ladies could have working girl troubles such as these. 
What's their soothing routine, un dino mein? "I need the hot water bottle, I crave salt and I refrain from a strenuous workout," says Neerja. "Pizza is my comfort food," says Advaitesha, "That and not getting out of bed."