Yes, we are talking Malayalam, but so is much of the OTT content universe, where cinema from the South is smashing popularity records among pan-India audiences. And with Hindi content in sleep mode, viewers are saying, subtitles zindabad!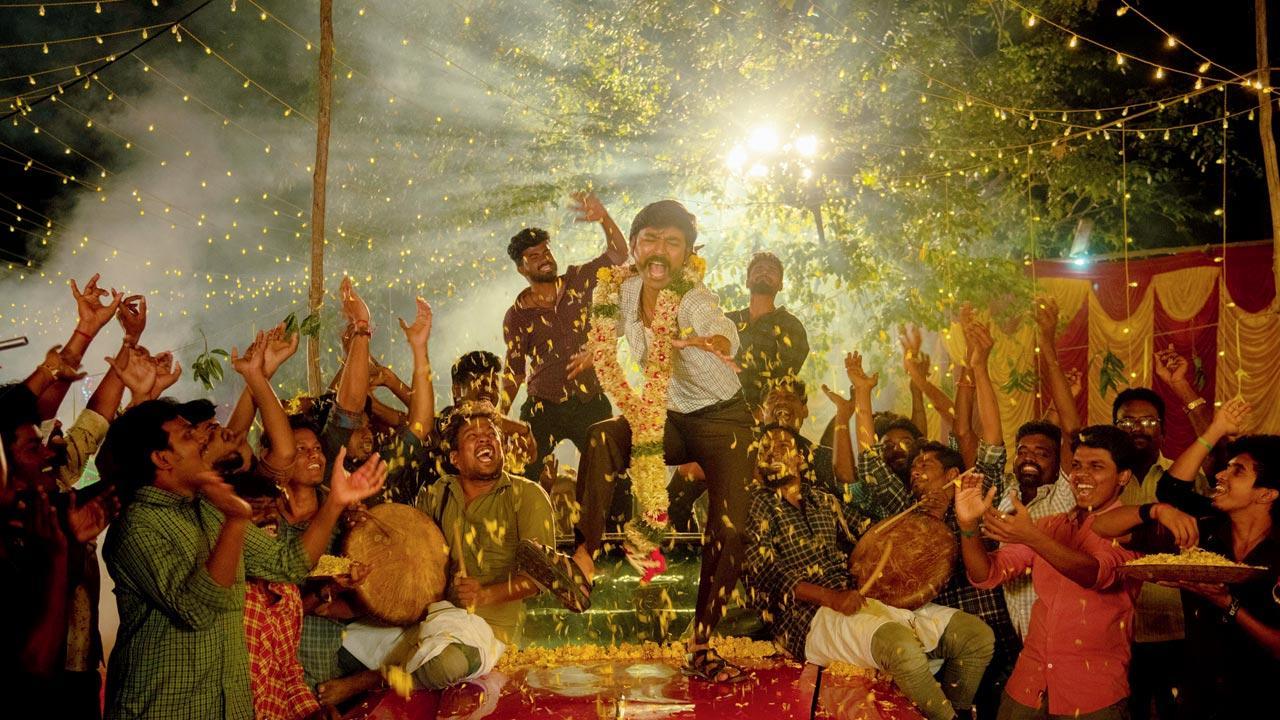 Releasing on Netflix on June 18 is Dhanush's Jagame Thandhiram, the story of a clever, carefree gangster. In the freezer since 2020, the Tamil film will now also see dubbed versions in Telugu, Malayalam and Kannada.
Why is a Malayalam film that released in theatres two years ago, being watched now across India, including by those who can't make sense of it without subtitles? The makers of Kumbalangi Nights are all but making notes in their gratitude journal. The story of a dysfunctional family of four brothers, the feature looks at their strained relationships with care, and traces their journey to a moment when they realise the importance of family. Lead actor Fahadh Faasil is now part of drawing room conversation in Mumbai and Delhi after the film dropped on Amazon Prime Video last year during the lockdown, with English subtitles. "It's not even new!" exclaims Shailesh Kapoor, founder and CEO of Ormax Media, a firm that track trends in the Hindi and South Indian film industries. "Urban audiences across the country are getting a taste of South Indian cinema because OTT platforms made it readily available. The language barrier is all but gone. It also helps that Hindi films are not releasing at the same frequency." 
The short story Thangam from the 2020 Tamil anthology Paava Kadhaigal is popular on Netflix, and explores how pride, honour, and sin influence complex relationships of love
The competition to Hindi cinema post-pandemic is not just from Hollywood films, dubbed or otherwise, it's from content that's being produced in our backyard. The frightening appetite for regular and new content created by the hours in the day that the pandemic induced lockdown freed up for most viewers who were working from home, and not distracted by leisure options outside, has meant that Indians have gone beyond the comfort of Hindi and English. Korean dramas have been the rage for a while, and Spanish shows like Money Heist have trended over a year. A mind-bending German show like Dark, has also found takers. So, why wouldn't films made in Tamil, Telugu and Malayalam, attract the viewer? Interestingly, the curiosity perhaps piqued by grand dramas like the Baahubali franchise is now traversing more nuanced terrain as smaller, breakaway films are finding fans. "What works for Malayalam cinema is its realistic portrayal of life. On the other hand, the grander Tamil and Telugu movies are also doing well. We have been tracking social media and doing online reproach and realise that a lot of the good word is being spread between friends. Word of mouth has been critical in the popularity of regional cinema," he adds. 
This, coupled with a generous marketing push by the platforms, has been key. 
Ramesh Bala, film industry observer
One of Amazon Prime Video's most recent popular offerings has been The Great Indian Kitchen, a Malayalam film that follows the monotonous life of a young  progressive dancer, who marries into a prestigious traditional family and encounters deep misogyny and patriarchy. Director Joe Baby portrays this, largely through the glorified Indian tradition of cooking. Soorarai Pottru, a story of a young man with lofty dreams of starting his own airline service, has also done well. Netflix has got titles like Ala Vaikunthapurramuloo (Telugu), Kannum Kannum Kollaiyadithaal (Tamil), Kappela (Malayalam), and Uma Maheswara Ugra Roopasya (Telugu), that have made it to the Top 10 list based on viewership across India. 
Hotstar has offered its members Tamil blockbusters like Sulthan, and the romance, Thozhanda. 
It even has it's own Hotstar special Tamil thriller, November Story, starring Tamannah. 
Aarkkariyam (Who Knows) is a Malayalam mystery comedy made during the lockdown, and is a story set against the backdrop of the lockdown. Starring Parvathy Thiruvothu, it released this year across seven streaming platforms
Mumbai-based YouTube movie reviewer Sucharita Tyagi puts it in perspective when she says, "I started watching regional movies firstly, because there hasn't been a Hindi release for a while, and we have all this time on hand. Secondly, a lot of my audience includes cinephiles, and when they began suggesting that I watch South Indian cinema, I did. The Great Indian Kitchen blew my mind. I have watched many more since then, and even though I had no knowledge of them being around before the lockdown, I am now enjoying the process of watching and reviewing them."
Also Read: The Family Man 2 Web Review - Bolo: Jai Sri-kant!
 
This flip to South cinema has been helped by the stunning growth of OTT platforms in India in the last two years. In 2021, according to consultancy firm Omdia (which excludes subscriptions from bundled offers), as of December 2020, Disney+ Hotstar had 18.69 million subscribers, a big jump from 5.36 million in 2019. Amazon Prime Video had 5.83 million subscribers—up from 4.34 million in 2019—while Netflix added more than a million paying users to reach 3.08 million subscribers in 2020. The subscriber count of Zee5 and SonyLiv stood at 2.7 million (up from 1.99 million) and 1.81 million (up from 6.5 lakh), respectively, in 2020. With numbers as high as these, if new Hindi content isn't available to support and pump up viewership, the platforms are only going to look elsewhere. Pratiksha Rao is Director-Content Acquisition, Netflix India. She tells mid-day that, in addition to Hindi films, the channel has noticed that members have discovered and fallen in love with non-Hindi language features. She specifically mentions Paava Kadhaigal (Tamil), Pitta Kathalu (Telugu), to Nayattu (Malayalam), Mandela (Tamil) and Cinema Bandi (Telugu). "We are excited to bring Dhanush- starrer, Jagame Thandhiram, to our members on June 18, which will be soon followed by the highly anticipated anthology film, Navarasa, helmed by Mani Ratnam and Jayendra Panchapakesan," she reveals, saying that subtitles and dubbed versions have both helped regional movies find new viewers. Women centric films are particularly popular, she adds. "This golden age of entertainment in India has opened up lots of opportunities and inspired writers and directors to build stories around female characters. It has also empowered more women creators to bring their unique perspective to the stories they want to tell. Our members have been inspired by complex, strong, layered female characters in the Netflix Tamil anthology Paava Kadhaigal (Tamil), and our Telugu anthology Pitta Kathalu." 
Suriya Narayanan, vp, Aha
Telugu actress Lakshmi Manchu, who starred in Pitta Kathalu, which got together multiple stories about a variety of brave women, is now working on producing a Telugu movie, directed by a Malayalam director. She says it's all happening because of the OTT boom. "Everything has become more accessible. It would have been very tough to go watch a regional movie in Mumbai before the pandemic. You would have to find a single screen that was showing it, and that too only for a few days after it released. Now, we [regional talent] are everywhere. It has opened up avenues for actors as well. Tamil and Telugu productions have typically catered to those who like drama, while Malayalam films have appealed to an audience that digs cerebral content. What this new access is also doing is giving the rest of India an entry and insight into our culture." 
Colour Photo on Aha app is about a dark man who is in love with an upper class girl
Like Manchu, Parvathy Thiruvothu hopes that OTT platforms continue to offer space for regional movies to thrive. Her Malayalam movie Aarkkariyam, released on Amazon Prime during the lockdown, and was about the lockdown. "It was well received. I think good movies are finally getting the viewership they deserve. This movie, which is set against the backdrop of the lockdown, and has a meditative quality in its treatment, released across seven different platforms!"