India's first openly trans woman designer on her journey from Swapnil to Saisha Shinde, and meeting confidence on the other side of emotional struggle and surgery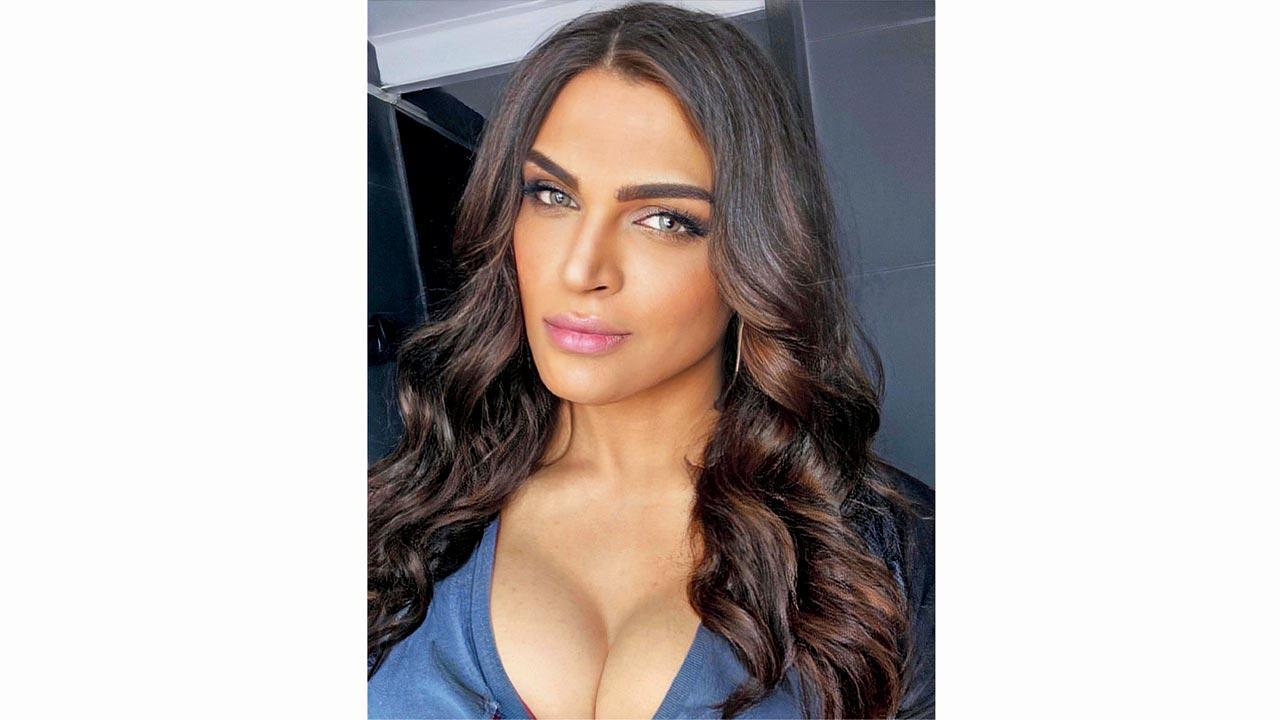 Saisha Shinde is in the midst of the gender reassignment procedure and hopes to complete the process by November 2021 when she turns 40
When the boys at Wadala's St Joseph's High School catcalled Saisha Shinde (then Swapnil), "aye, baila", it stuck like stubborn chewing gum on his psyche, translating into low self-worth. "They bullied me because I was shy, and had feminine features. Those were the worst years of my life," she says in a detailed interview since introducing herself on social media this month. The church on the school premises became a refuge, where she would wait in a corner until everyone else had left for the day, her cue to leave campus minus abuse.
Coming out as a gay man in her early 20s coincided with studying at the National Institute of Fashion Technology. "After spending much of my school life feeling like less of a man, I decided to make my behaviour and appearance hyper masculine. It was a 100 per cent conscious decision. We are talking of the early '90s when gay men were reduced to a caricature," she says.

Lakme  Fashion Week show in 2010 spotlighted high-octane glamour. Pic/Getty Images
This year, on January 5, Shinde introduced himself, as her—Saisha, 39, a trans woman. Born male, Saisha says she felt like a woman for as long as she can remember, detesting cutting her hair and preferring to play with dollies. In her 20s, she admitted to herself that she was attracted to men and accepted the gay or male homosexual identity. But seven years ago, with the help of therapy, Saisha realised that she suffered from gender dysphoria, a fundamental incongruence between a person's assigned gender and expressed gender. She says it's in the last six months of 2020 when she was able to achieve full clarity—"I am a trans woman."
Before the big reveal on social media, life was not complicated for Shinde as a gay man. "I come from a privileged family and was financially sorted as a designer. It was easier to live in denial, but I realised that something was not right. That I had to finally live for myself. My friends didn't know that I was wearing makeup and heels and dressing up behind closed doors. I was living between genders; I felt like a woman who dressed up as a man in rugged boots and a stubble, not the other way around."

Swapnil Shinde with Sunny Leone at  Lakme  Fashion Week Summer/Resort show in February 2020. Pic/Getty Images
When it was time to tell her parents and colleagues, she was in a fix—not because she was worried how they'd react, but, would her parents get it? "I was struggling to find the right terms in Marathi, to articulate what I was feeling and who I was going to be."
Born and raised in Dadar's Hindu Colony, Shinde moved to her own independent flat in Wadala at the age of 24. Her entrepreneur father manages a chain of restaurants in the city, including the popular Rishi at Dadar East station. Her mother is an artist and homemaker. "My father is extremely liberal minded. He has always been there for me, from buying dolls when I was a child to supporting my career in fashion, and standing by me when I decided on gender transition, even having a say in the doctors I would consult." It was tougher for her mother. Shinde says she took a day to come around. "She couldn't recognise me when I met her dressed as a woman for the first time. She helped me choose a new name [the designer shares the name Saisha with her niece]. We now exchange tips on hair and makeup," Shinde laughs.
She was keen to see how her staff would react. "Sir, aap bahut badal rahe ho!" observed someone at the design studio. Shinde held a meeting to share her decision, explaining the transition process to the team she had worked with for years. "They were happy for me. They now call me, ma'am."
Saisha, the designer label, made a debut at Lakmé Fashion Week (LFW) as part of the Gen Next class of 2006. Since then, her label has been known for red-carpet gowns, cocktail dresses with nipped waists and hemlines ending a little shy of knees. She knew how to make women, all women, look glamorous including Bollywood stars Kareena Kapoor, Deepika Padukone and Aditi Rao Hydari. Now, it's her turn.
But it was at LFW in February 2020 that Shinde's design compass took a turn of sorts, mirroring perhaps her state of mind. Fittingly titled, Not-The Cool Girl, the collection was immediately less commercial and explored gender fluidity. "By October 2019, I had reached a point where I was ready to go ahead with the gender transition. I am also in the midst of reinventing my label. Next, I plan to do a live show, expressing my new identity. I want to walk the runway and take a bow as Saisha," she shares.
It's evident that fashion provided Shinde the strength and expression platform. "But the Indian fashion industry does not support a great deal of openness. On the face, it is welcoming but how many designers do we know who have come out as gay? And what about women? Are there no lesbian designers in our country? They continue to believe that coming out will harm their image," says Shinde, quickly bringing up praise for Anjali Lama, the transgender model from Nepal who was born Nabin Waiba. Shinde hopes her coming out encourages the LGBTQA+ community to speak their truth.
She has completed 40 per cent of the gender reassignment procedure, and by November 2021, when she turns 40, she will be done. The process started with repeated sessions with psychiatrists Dr Neha Shah and Dr Armaan Pandey, followed by hormone replacement therapy with endocrinologist Dr Dheeraj Kapoor at Kokilaben Dhirubhai Ambani Hospital, and skin and hair treatment at Metamorphosis Clinic. In between she made time for voice modulation training. Next, she hopes to see a doctor in Belgium for facial feminisation surgery (a process of subtraction in which trans women have their masculine features—hairline, jaw and brows—reduced and remodelled).
And with that, Shinde admits it has taken a lot of professional help for a "handsome", broad-shouldered 6.2 feet tall man to become a woman. "My genetic physiology may not eventually allow me to appear like a 'delicate' woman but I will be an out and proud woman nonetheless, who will publicly wear makeup and heels. Mala bhiti nahin ahey."
The team behind Swapnil-to-Saisha
Dr Neha Shah psychiatrist
We follow the WPATH (The World Professional Association for Transgender Health) guidelines that promote highest standards of health care of transsexual, transgender and gender non-conforming individuals. It's typically a slow process, which entails sessions with the psychiatrist to decide if the trans client meets the criteria for gender dysphoria—a new term to replace the diagnostic term Gender Identity Disorder. Our main role is to dispense information. We provide various options for transition, from a simple name change to full sex reassignment, while talking them through the depression and anxiety. Education around sexuality is wanting in India, and ideally, it's at the school that we should be discussing this. However, the passing of Transgender Persons (Protection of Rights) Bill by the Indian government in 2019 has helped dispel some myths and change mindset.
Dr Dheeraj Kapoor head-endocrinology, Kokilaben Dhirubhai Ambani Hospital
Trans clients who are interested in hormone replacement therapy (HRT) to transition from male to female are given two different sets of injectable and tablet medication—female hormones and anti-male hormones. It's dangerous to buy hormone replacement medications off the internet. A hormone specialist is the best person for prescribing and monitoring HRT doses. Before the gender replacement surgery, the doses tend to be high and reduce post-operation. We saw two new clients every day [before the pandemic], and have worked on about 100 trans clients in total, most of them aged 20 to 40 years. It's heartening to see parents accompany clients; it makes the process considerably smoother. A significant shift towards awareness and acceptance has occurred in the last three years; and it's the media, traditional and social, that's played a big part.
Mariya Jawrawala head of operations, Metamorphosis Clinic
We work with trans clients in areas of permanent facial hair removal, skincare, body contouring and facial feminisation surgery (FFS), and they constitute about seven per cent of our overall customer base across Mumbai and Delhi. We encourage hair removal prior to FFS for optimal results. It is a slow process entailing a number of sittings along with counselling, but most clients are in a hurry for quick results.