Vegan cookies made without fuel or fire in Jalna district are preserving the environment while helping women from the local community to find jobs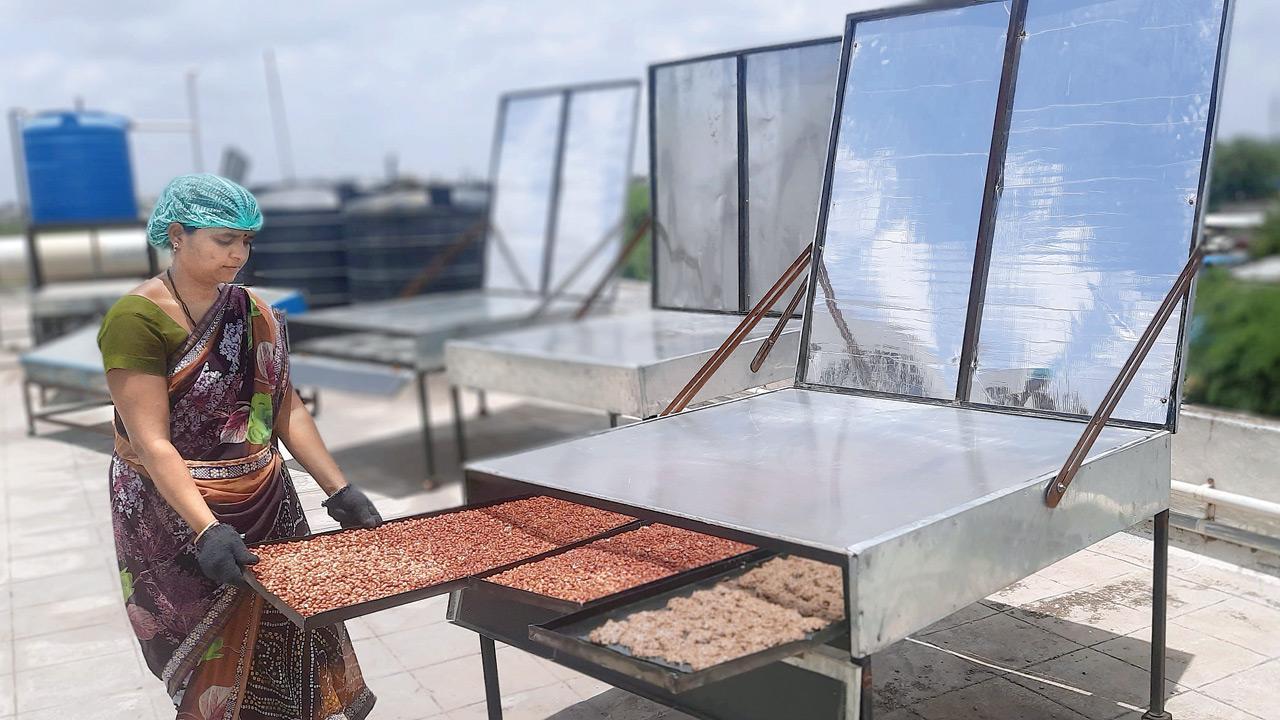 A local baker from Jalna wheels the vegan cookies into the solar oven
Every time a parent brought in their child for a dental appointment, Dr Minal Kabra would hear them worry about sugar intake and their perennial hunt for foods made with sugar substitutes. It prompted her to experiment with a batch of refined sugar-free cookies. She tried this in a solar oven, a new and improved version of the yesteryear solar 'peti' called Sunwings that her IITian husband, Vivek, innovated in 2016. "I first cooked with a solar oven when I moved to Jalna after marrying Vivek. My mother-in-law had been solar cooking since 1989. We used to make all our meals in it," recalls Kabra. In working with the old model, the challenge was to keep tracking the sun and move the oven around as per its movement. "Sunwings is an advanced version of a solar cooker that has a glass tube, a cooking tray and a parabolic reflector to concentrate the sun rays and build high temperatures. It has a thermometre probe, and usually a charged oven will be at 230 to 250 degrees Celsius. There is a thermal storage battery, which needs to be exposed to the sun for 30 minutes."

Using solar energy for baking prevents 5 gm of CO2 for every cookie that otherwise would have been emitted from traditional fuel-fired ovens
ADVERTISEMENT
Embedded with a preheated set up, it then starts to give off continuous heat and can run from morning till 4 pm or  5 pm. After the sun sets, you can still cook dal chawal in the leftover heat.
In December 2019, she launched Kivu-Kingdom of Good Food, a sunbaked vegan cookies food tech startup to create a healthy, alternative snacking option, with her business partner Vaibhav Dugar who heads sales. Kivu, a fusion of Japanese "Chi or Ki" and French "Vu", means channelising your inner energy for greater good. 
They are now available in 60 retail stores across 14 cities and have over 800 customers online.  
The SUNWINGS Solar Oven
They have a manufacturing capacity of 30 kg per day. 
Using solar energy for baking prevents five gm of CO2 for every cookie that otherwise would have been emitted from traditional fuel-fired ovens, explains Kabra. They now produce cookies in five flavours, including chocolate-coconut, oats chocolate, rajgira-coconut, cinnamon wheat and ginger lemon jowar made with jaggery and are preservative-free. Most of her patients are also farmers, and so she made them an offer: "Give me clean ingredients and I will buy directly from you". "They always face the issue of finding the right price in the market. This arrangement turned out well."

Dr Minal Kabra
For now, Kabra has two women bakers from the village and is looking to partner with more rural women and create a larger impact. The Kivu model is similar to Lijjat Papad, where they don't employ women but partner with them and give them a fixed percentage from the revenue.  "Because the pandemic entailed transport delays and lockdowns, it drew our attention to the online ecommerce space," says Kabra, adding that it turned out well with the brand now available on online retail stories such as Vegan dukan, Wellversed, Amazon and Flipkart.
To order: www.kivu.in
"Exciting news! Mid-day is now on WhatsApp Channels

Subscribe today by clicking the link and stay updated with the latest news!"
Click here!