With timut, a Nepalese pepper, being hailed as the next big condiment, Mumbai chefs tell Anju Maskeri why it's perfect time to pick their own spice heroes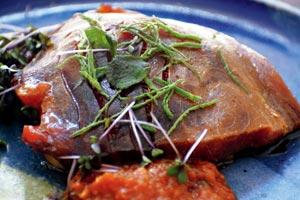 Timut
At: The Clearing House, Ballard Estate

Pastry chef Husna Jumani sources timut from the Northeast. Pic/Bipin Kokate
ADVERTISEMENT
It's not often that you come across a dessert with pepper. It's for this reason that Husna Jumani, head pastry chef at The Clearing House, decided to experiment with the timut, the popular Nepalese pepper, in their Greek yoghurt pannacota. "I had already tried using other varieties of pepper, so I thought timut would be a great addition because the flavour is pronounced. It is spicy, with hints of grapefruit," says Jumani, who sources it from the Northeast.
However, it's an ingredient that can work either way, she warns. "If used with the right combinations, it can elevate the dish like no other. Else, it will overpower the other ingredients." Apart from being a tricky ingredient, it's also an acquired flavour. "When people eat it, they might not recognise it or might not realise it's a spice. It has a spicy yet fruity undertone."
Green peppercorn and krachai
At: Izaya, Nariman Point
When restaurateur Farrokh Khambata launched Izaya last November, it wasn't just a new fine-dining address he was looking to introduce. What he also wanted to do was offer the diner an innovative range of spices. "It gets boring to cook with basil and bird eye chilies, when you are talking Thai food. I wanted to give things an overhaul," he says. He sought recourse in the aromatic, fresh green peppercorn, plucked from the Piper Nigrum vine, and the krachai or Chinese ginger, both found in Southeast Asia.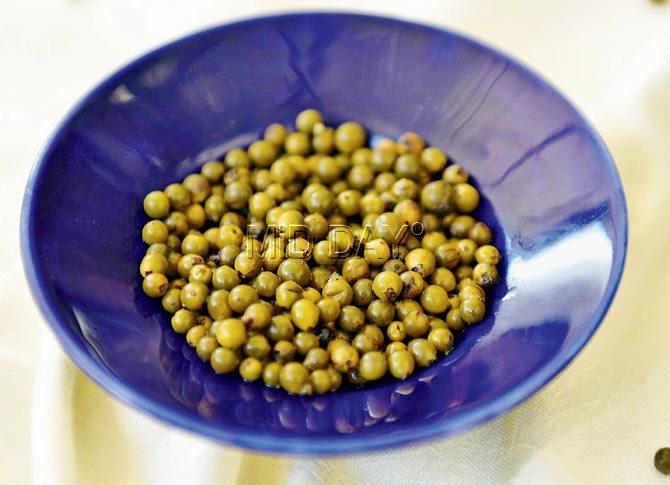 The green peppercorn is added at the end
At the restaurant, krachai finds its way into a sauce that accompanies the Australian barramundi or sea bass fillet, and the green peppercorn makes an appearance in the yakitori style-grilled chicken. Both are crushed on stone and added to the dish at the end.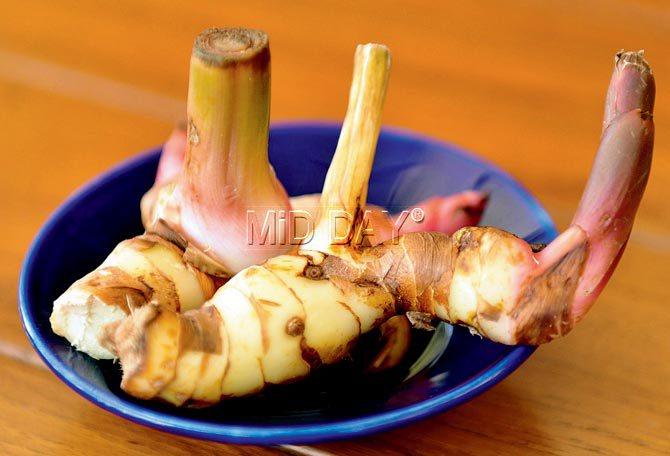 Thai ginger. Pic/Bipin Kokate
"Certain spices like kadi patta require oil to bring out their essence, but not these," Khambatta adds. What gives these flavouring agents an edge is their freshness. "When it's in season, we use it fresh, which means that they have a short shelf life. But our dishes won't be the same without them."
Ajamoda
At: Olive Bar and Kitchen, Bandra

The lifecycle of the ajmoda plantsown at the restaurant. Pics/Ashish Raje
A couple of months ago, one of the chefs at Olive Bar and Kitchen, stumbled upon ajamoda or wild celery seeds on a trip to Kolkata. Curious, he decided to plant it and see what comes of it.
"It's only been four weeks since we decided to use it as a brine for the tuna jerky, because of its intense flavour," says head chef Rishim Sachdeva. A well-known Ayurvedic medicinal herb, the ajamoda belongs to the ajwain family and is native to West Bengal. The restaurant sources it from Vrindavan Farms in Palghar.
"We braise it and add it when the brine goes from warm to cold," he says. Interestingly, the guests have taken note. "Those who have tasted the dish have made it a point to tell us that there's something unique about the taste."
Pasilla Oaxaca
At: Xico, Kamala Mills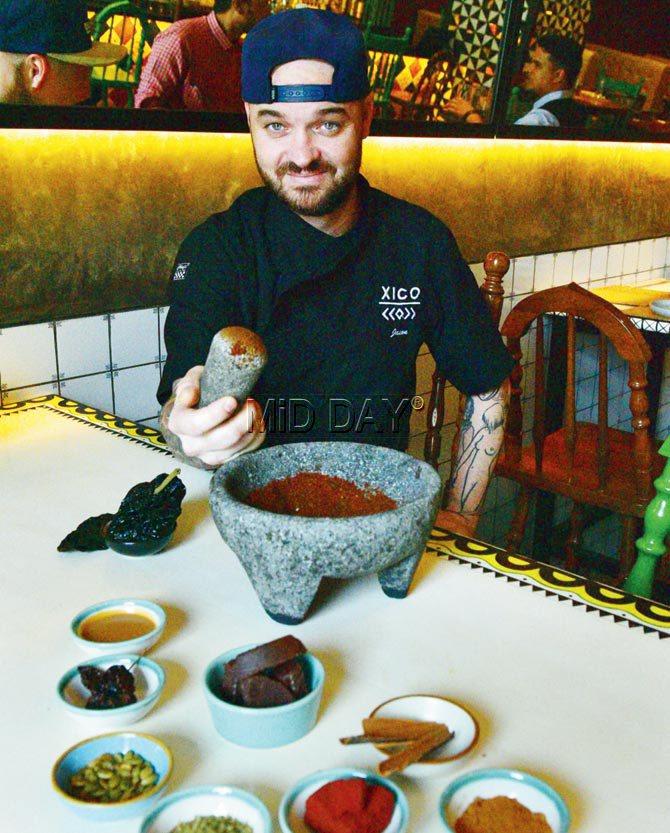 Chef Jason Hudanish with a range of spices at Xico. Pic/Bipin Kokate
Chef Jason Hudanish wanted to introduce the pasilla Oaxaca at Lower Parel's Xico for more reasons than one. "It's a dark red chill — smokey and fruity with a heat level that is sharp but not overwhelming. Also, it can be used in just about anything — soup, stew, rice or salad," he says. What works against it though, is that it's fairly expensive and not readily available unlike the more common pasilla pepper, a dried chili used in traditional Mexican mole sauces.
The pasilla Oaxaca is produced only in the hilly Oaxaca region of southern Mexico. Here, it is used to make the hearty tortilla soup and borracho salsa, their table side sauce. Apart from pasilla Oaxaca, you'll also find that the achiote, a red paste made from grinding Annatto seeds with oregano, cumin, cloves, allspice berries, black pepper and salt. "It's powerful and pungent. We use it in the slow roasted pork, but warn people before serving it," he says.
Peela Masala
At: All Elements, Khar

The peela masala has been concocted using 12 different spices. Pic/Bipin Kokate
All Elements might be a young, two-month old café, but the cooking techniques it employs are age old. In fact, the peela masala used to spice up the seafood and vegetarian appetisers, is a legacy dating back three generations.
"My grandmother, Harbans Bedi, created this spice mix using 12 ingredients that she would source from local shops in Mazgaon. For me, she's the real mistress of spices," laughs proprietor Gudiya Chadha. The ingredients include star anise, coriander seeds and clove, among others. Understandably, the flavour is strong and hits you the moment you open the lid of the container. "A pinch is all you need. Else, it will overpower the dish."

Gudiya Chadha
Sassafras powder
At: Toast and Tonic, BKC

Pic/Ashish Raje
At Toast and Tonic, most marinades and mixes are prepared in house, using indigenous ingredients. The sassafras powder, therefore, is an exception. Also called a Gumbo filé powder, it comes from a sturdy tree in Louisiana.
At the restaurant, you'll find the powder stored in glass jars. "It is popular for creole and cajun cooking. We use it for both, flavour and texture in traditional gumbo, because it not only thickens the broth, but also lends it an earthy flavour," says sous chef Chirag Makwana. Filé powder is generally added at the end of cooking, or stirred into hot gumbo right before serving. They also sprinkle a pinch on their prawn flatbread for flavour.
Catch up on all the latest Mumbai news, crime news, current affairs, and also a complete guide on Mumbai from food to things to do and events across the city here. Also download the new mid-day Android and iOS apps to get latest updates
"Exciting news! Mid-day is now on WhatsApp Channels

Subscribe today by clicking the link and stay updated with the latest news!"
Click here!