Keen to pick up Gujarati and Marathi, language enthusiast and US Consul General Mike Hankey talks locals, lingo and long-standing partnerships in his first interview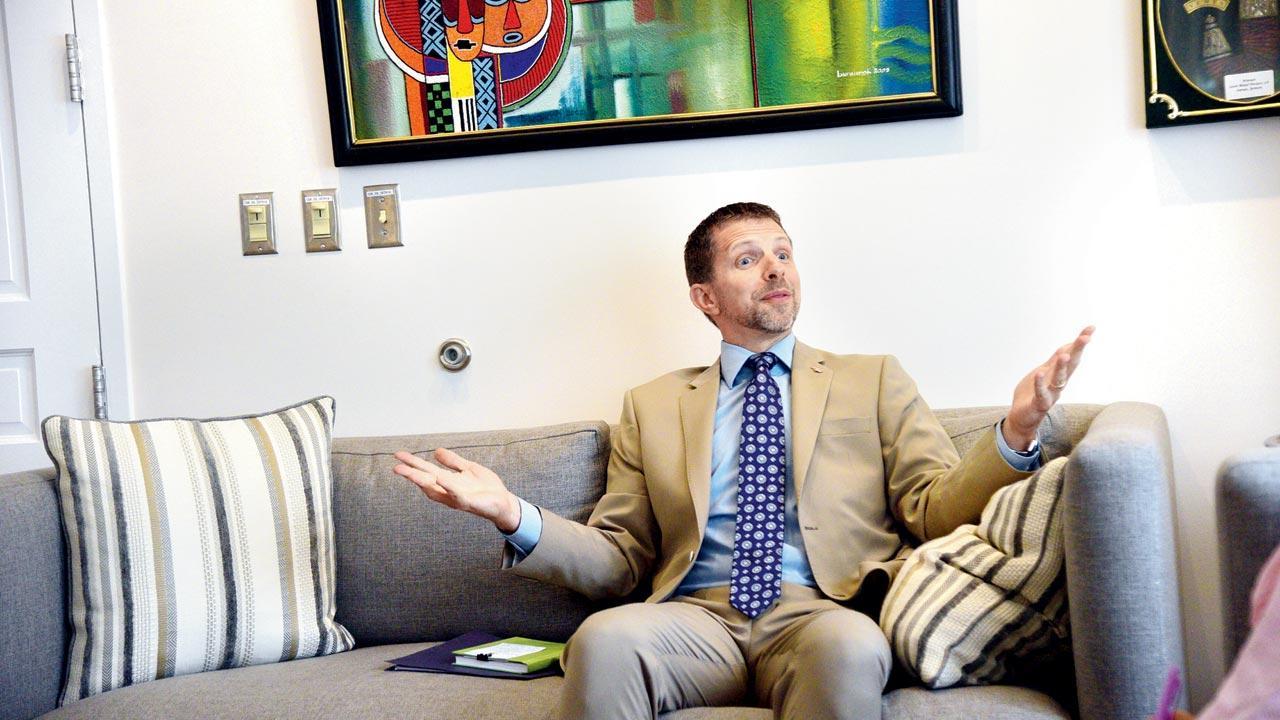 Consul General at the US Consulate General Mumbai Mike Hankey most recently served as Deputy Chief of Mission at the US Embassy in Amman. Prior to the Foreign Service, he worked as a newspaper reporter, as an international affairs editor for a news service covering the United Nations. Pic/Pradeep Dhivar
The India-US partnership is a bit like the crunch of the fafda complementing the succulent sweetness of jalebi. They work extremely well in tandem. It is not surprising then that American Consul General Mike Hankey, who says he is here to strengthen and take ahead a 75-year-old partnership between the two countries, recalled savouring the Gujarati snack on a recent trip to Ahmedabad.
Hankey, who has taken over from outgoing CG David Ranz, likes to feel the pulse of a place by engaging with people on the ground. In this exclusive interview to mid-day, he speaks about his plans for India-US ties, the partnership's place in the global scenario, visa anxiety for Indians and how Mahatma Gandhi's message, especially today on October 2, is a sharp reminder in a turbulent world.
Edited excerpts from the interview
You have been in Mumbai for two months. Any standout observations?
This city is a good representation of how India has evolved in the last three decades. The internationalisation, the way India reaches out to the world, the way the world comes to India—all of this is represented in Mumbai. I have already witnessed the Ashura, Ganesh Chaturthi and Navratri. I have met people from all walks of life, from business barons to Dharavi locals. I had a great experience understanding their lives and how they fit in to the city. For me, it is really important to know the whole range.
You were in India years ago, as a student.
I was in India three decades ago, before the Internet, as an exchange student. I was in high school, studying in Coimbatore. I stayed with a Tamil family. It was a superb experience to understand [the] Indian [way of] life. The expectations from me then were that I had to be ready any time that anybody from an organisation came along to give me a tour; I was expected to go and see India, its business, civil society organisations. I got to tour schools, hospitals, eye clinics, I went down a coal mine, toured plywood factories, tea plantations. I also saw the 1996 elections unfold, the huge enthusiasm on the streets of the campaigners, how everybody was involved in the campaigning. It was exciting and impressive.
You  are a linguist. You know Hindi, Arabic, Tamil, French...
I know a few more. I plan to learn Gujarati and Marathi. In fact, recently, my son and I went to Grant Road near the station, to do some shopping, and my Hindi helped. It was a successful operation (laughs).
With reference to the ongoing Russia-Ukraine war, was the US disappointed with India's stand? Rightly or wrongly, India was seen as not being strident enough in criticising the war.
I think our National Security Adviser Jake Sullivan said it best when he praised honourable PM Narendra Modi. Sullivan said that Modi's remark, 'today's time is not that of war, but of diplomacy' was truly welcomed by the United States.
We hear that you visited Gujarat recently.
I went to Ahmedabad, the Gift City, Gandhinagar. The driving motivation for me and my team at the Consulate is to build on this indispensable partnership that exists between the United States and India. That is the reason we build person-to-person connections. We believe that the US-India partnership is going to be essential to building a world of the next 75 years, in terms of economic growth, women's participation in the economy and society, building a world with a basis in stability, prosperity and the rule of law. We have a multi-pronged approach to build on this partnership. We want to focus especially in Mumbai, on advancing economic, trade and investment connections, and to build collaborative partnerships in education. We want to advance travel to the US. To plan to work together on climate change mitigation issues. 
Wait times for US visas are creating anxiety. Students especially, are going through tough times.
We recognise that the wait time for the US visa is very long. In the last two months, we have brought our staff strength up to pre-pandemic levels. We have prioritised students so that they can get to the USA in time for the start of the academic year. We have put them first in the line. Nearly three weeks ago, we reached a record number of Indian students being issued visas in one year—more than 82,000 students. This makes India the No. 1 sending country in the world. So now, the total number of Indian students in the USA is more than 2,00,000; 20 per cent of all international students are coming from India. So, we put a big focus on this. Nearly three weeks ago, we also welcomed our first post-COVID in-person trade delegation on the topic of education, and, they came to Mumbai first. They came here specifically to talk to students, and build university partnerships. We are witnessing a great hunger for partnerships, of the kind say, where an Indian student begins a degree here [in India] and finishes it in the USA. On the visa front, we prioritise business travellers. Then, those who have a time-bound reason to travel, like perhaps a medical emergency.
On the International Day of Non-violence today, partnerships are the building blocks for the world…
Absolutely. I am looking forward to travelling to Madhya Pradesh, Goa and Chhattisgarh. I went to Mahatma Gandhi's ashram in Sabarmati. On this day, it is important to remember Gandhiji's lessons. The approach he had to creating a voice for everyone in society and pursue non-violence, has a lot of applicability today.