We travel in time to hear stories behind the city's first Ramleela performance and Mumbai's debut Navratri celebration to bring you little-known nuggets of history, authenticity and inclusion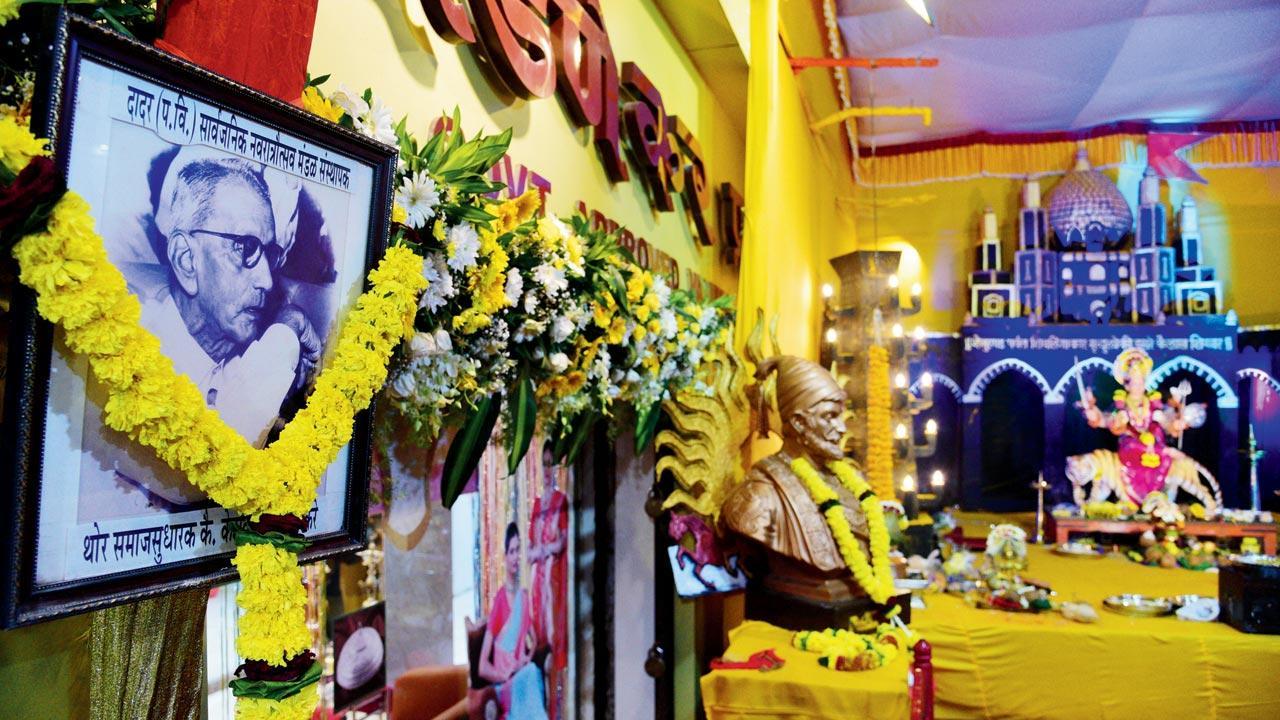 Prabhodankar Thackeray's photo at the Navratri pandal he began in 1926 against caste hierarchy of Ganeshotsavs
What pops up in your mind when I say, Navratri?" Suresh Mishra, general secretary of Shri Maharashtra Ramleela Mandal, asks us rhetorically.
Before we can reply, he interjects, "It is usually Ramleela; but here in Mumbai, it is garba. That was a disconnect for us [natives of Uttar Pradesh in Mumbai]."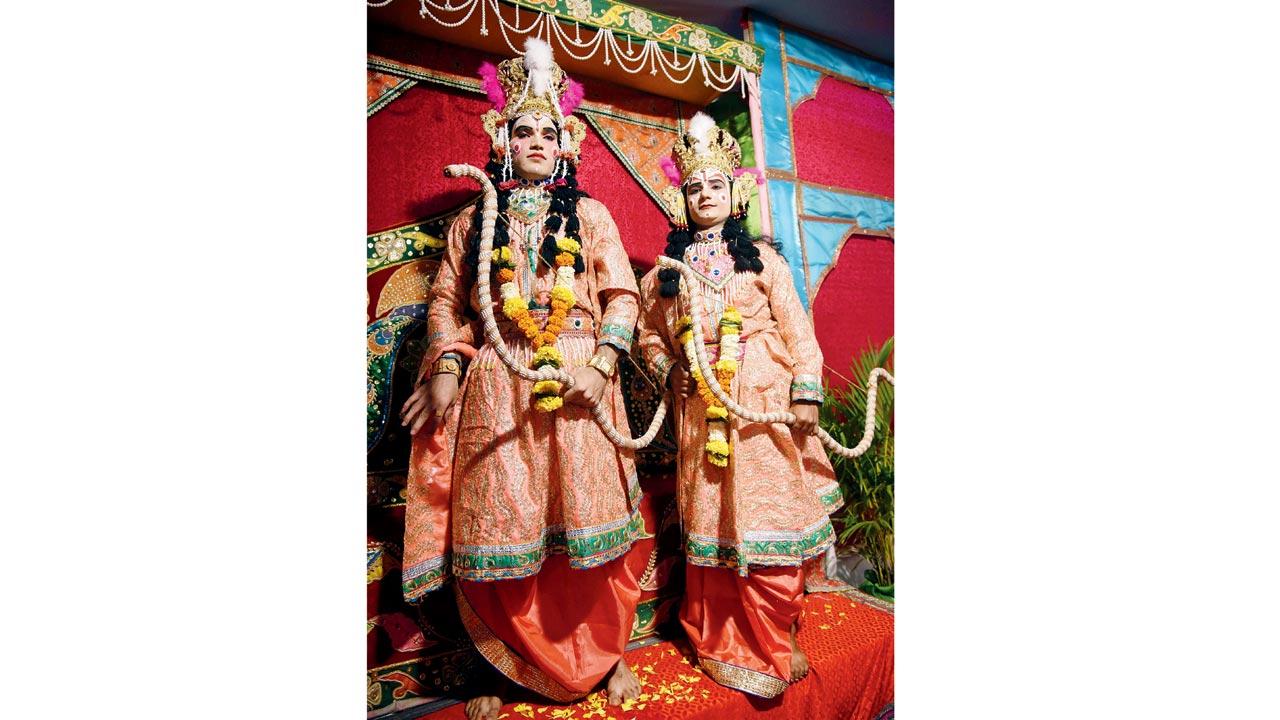 Rama and Laxman take on the stage at Shri Maharashtra Ramleela at Azad Maidan. The performing troop this year has been called in from Mathura after the Ayodhya artistes disbanded during COVID-19. Previously local paanwalas and kali-peeli  drivers from UP,  based in Mumbai, would perform. Pics/Sameer Markande
Both, Mishra and this writer, hail from UP and have a connection with Lucknow where one of the world's oldest Ramleela performances is said to have been established over 500 years ago  by  saint-poet Tulsidas himself. Mishra is also associated with Mumbai's oldest Ramleela, a celebration organised by migrants from North India  who missed watching the portrayal of Ramayana back home. The Ramleela is a theatrical performance and retelling of the epic Ramayana, which tells the story of the King of Ayodhya, Rama and his virtues. Spread across 10 days, the daily retelling depicts a variety of scenes, and includes a rich mix of dialogue, recital and narration,  performed for a large audience free during the nine days of Navratri. It culminates with Lanka Dahan or the burning of an effigy of Rama's adversary, Ravan, and his empire.   
As the illuminated Brihanmumbai Municipal Corporation (BMC) heritage building looms over Azad Maidan on the third day of Navratri, the historic Shri Maharashtra Ramleela, which is in its 64th year, is ready with its after-dusk offering.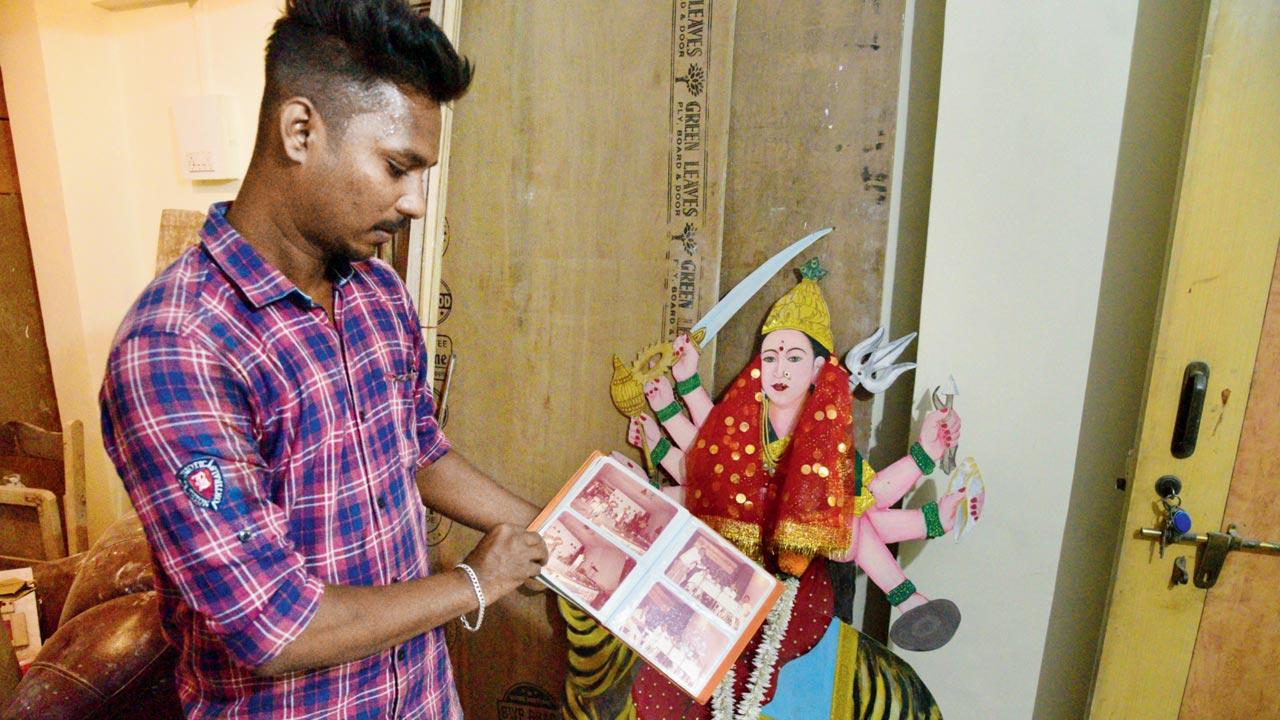 Mahesh Sawant, 24, browses through old photographs of Dadar Paschim Vibhaj Sarvajanik Navratri Utsav Mandal when Marathi and Hindi orchestra, Marathi play and classical music were part of the celebrations. As part of festivities, Bal Thackeray was also made to sit in a dock and answer questions from the community in a friendly spirit.
Modern malaise, however, adds a dampener to celestial celebrations. The approach to the pandal, rues Mishra, is ditch ridden. Borrowing imagery from Ramayana, what else, he says, "This year, we had to make a Ram Setu over puddles of water to better the approach to the pandal. Our pleas fell on deaf ears. We have for long demanded a single window permission system for Navratri celebrations like it is done for Ganeshotsav. Sab Ram ke naam pe satta main aate hain aur phir bhool jate hain," Mishra says.
Meanwhile, in another corner of the city, under the shadow of the facade of Khandke Building near Dadar's Plaza Cinema, a group of people are ready to welcome devotees to their modest pandal, which has a rich legacy that goes all the way back to 1926 when social reformer Prabhodankar Thackeray, started the city's first Navratri festivities with a thrust on inclusion.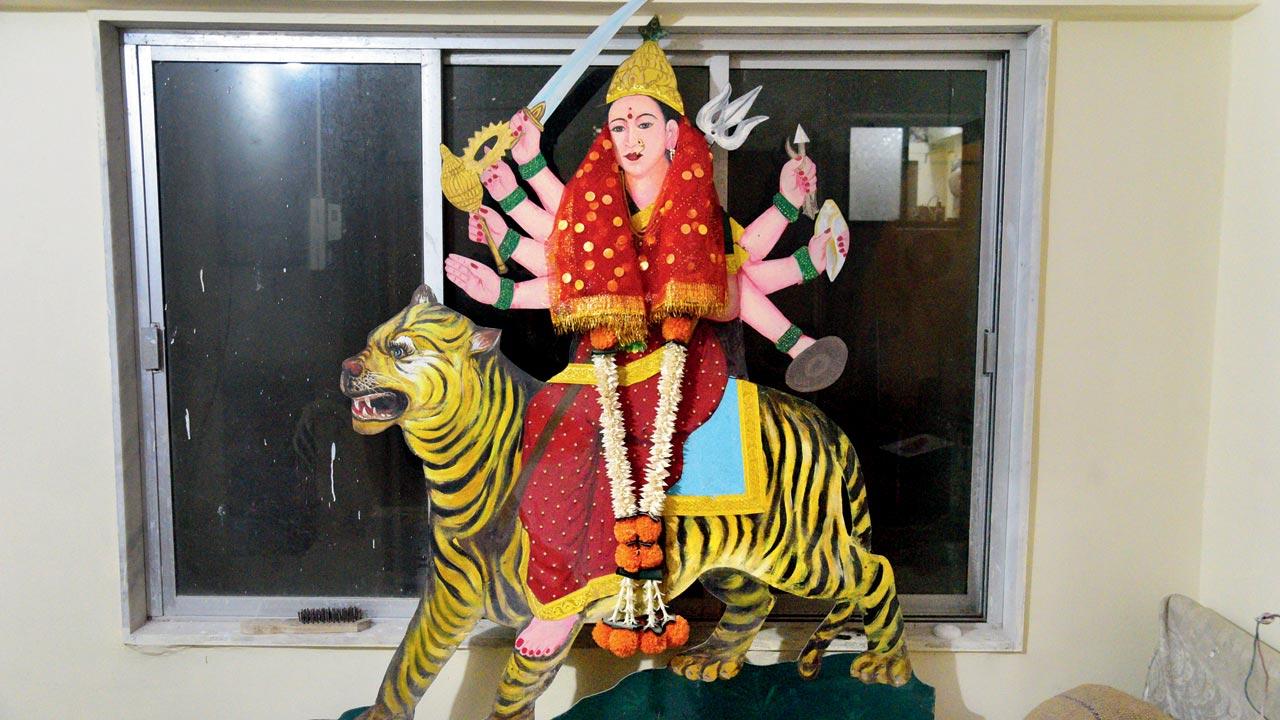 The original painting of Maa Ambe as drawn by Prabhodankar Thackeray in the early 1900s for Navratri celebrations at Khandke building. During COVID-19, the painting was re-touched and was placed at the pandal again after many decades. Pics/Ashish Rane
Just a year later, in 1927, Mishra says his grandfather Pt Shobhnath Mishra arrived in Mumbai from Amethi. He worked as a sweeper at The Times of India building at Chhatrapati Shivaji Maharaj Terminus, before moving up the rungs to become a liftman. His enterprise saw him hustle to eventually become a newspaper distributor. Mishra says he distributed every big newspaper worth its headline in Mumbai, "except the one he worked with." "From Bombay to Badlapur, we ruled for 40 years. My grandfather's story was a rag to riches one. A road in Fort [Karmveer Pt Shobhnath Mishra Marg in Churchgate] is named after him for the community service he did."
Despite the success he saw, senior Mishra missed home. He, like others from Uttar Pradesh who had made this city their own, longed for a taste of its culture, especially during the festivals. "In 1958, he started this Ramleela, as the first in Mumbai, from Goa Street in Fort. In two years, it became a massive celebration that would see swelling crowds. It had to be shifted to its present location in Azad Maidan when the Fort neighbourhood couldn't accommodate any more people," remembers Mishra.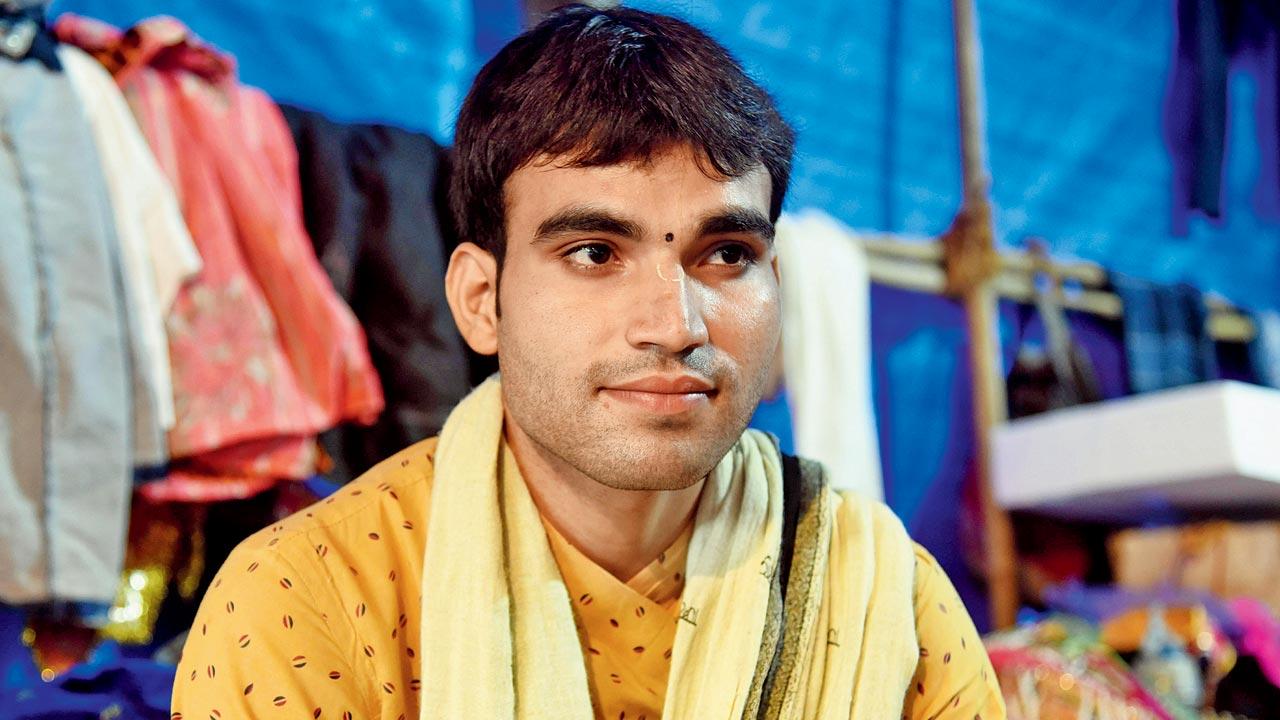 Kapil Dev Bharadwaj, actor and lead, Braj Vrindavan Ram-Krishna Lila
As per the last Census conducted in 2011, of the total 90 lakh migrants in Maharashtra, the biggest group of 27 lakh migrants is from UP, followed by Karnataka (14 lakh) and Gujarat (9.8 lakh).
In the years that followed, the Ramleela grew to include local UPites on its roster—paanwalas and those driving kali-peeli taxis came on board to enact the various characters on stage. "A month prior to the event, which was celebrated back then for 12 days, the commoners of our community in Mumbai, would gather and practice their roles. They were perfect because apart from an innate interest, they spoke the Awadhi dialect to the T, which is the primary cultural nuance of our Ramleelas back home." This collection of local performers, all of whom resided here, was called Shiv Shakti Kala Mandli. They had a successful run from 1977 till 2006. It was the poor man's entertainment, says Mishra. For the next 13 years until the COVID-19 pandemic, the Shri Maharashtra Ramleela Mandal managed to bring down a performance troop from Ayodhya to give Mumbaikars an authentic taste of Awadhi Ramleela. Thousands joined every autumn to watch Rama, Laxman and Sita's story play out before them.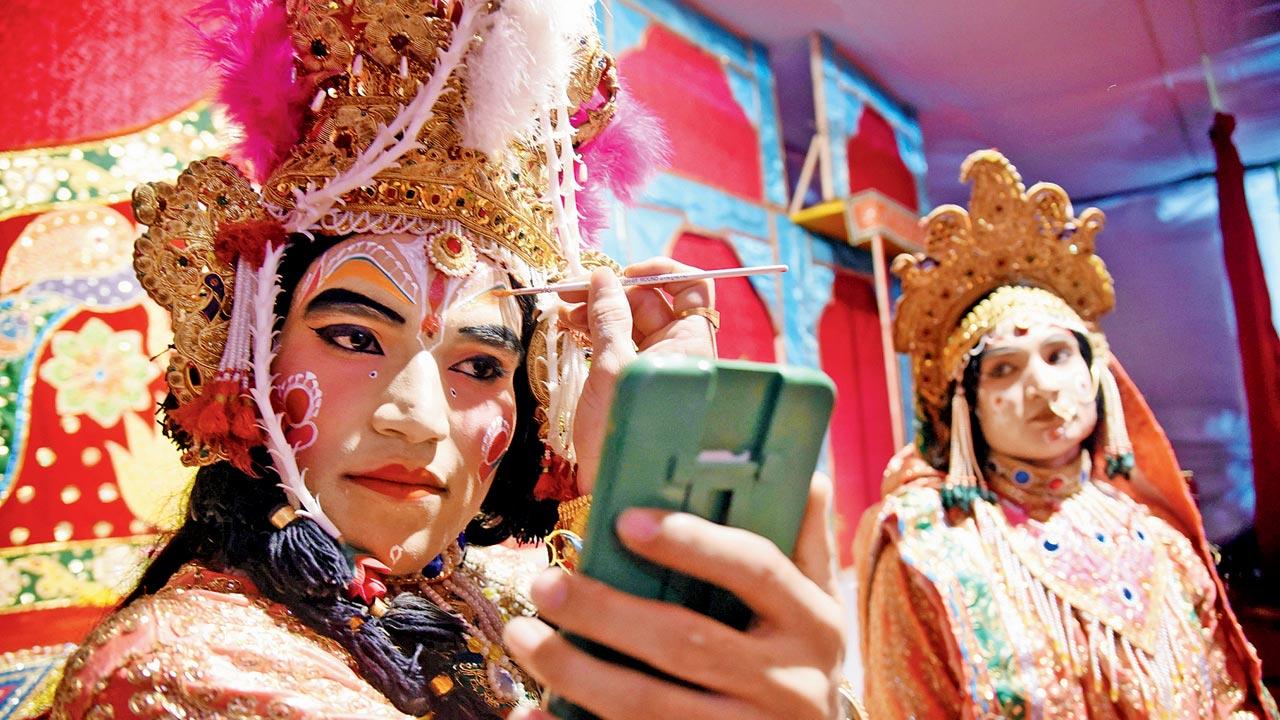 Kapil Dev Bharadwaj, leading the Braj Vrindavan Ram-Krishna Leela, gets ready to perform as Ram on stage as Sita, played by another male artiste, looks on
During the pandemic and resultant lockdowns, however, the Ayodhya mandli was left scattered. In those two years when public performances were banned, the Shri Maharashtra Ramleela Mandal somehow managed to not break tradition and continued to run the Akhand Ramayana for 24 hours. "Committee members became the audience [because we couldn't gather a crowd], but we made sure the Navratri pandal continued," he says. Two years after the crisis, the mandli is still missing some of its members, and the Braj Vrindavan Ram-Krishna Leela from Mathura, the city of Lord Krishna's birth, has been called to helm the celebrations now. Twenty three-year-old Kapil Dev Bharadwaj leads the troop and plays the role of Rama. While it is the troops first performance at this pandal, the group  has been regaling audiences at the other end of Azad Maidan where they have performed with the Sahitya Kala Manch Ramleela for four decades. 
Mishra, however, is partial to his own. "Our Ramleela is special," he declares. "Because we maintain the maryada [discipline] of Ramcharitmanas. No women actors are involved; it is the men who role play. Hum nahin chahte humare darshako ka kisi bhi prakar se bhaav vikrit ho. This isn't a place for naach-gaana where women are dancing on stage, it is a holy act and we maintain this holiness," says a sombre Bharadwaj as he oversees that the actors start getting  ready for the evening in the makeshift tent behind the stage. Twenty six actors and four stage managers have arrived from Mathura for the 10-day folk theatre performance. Their costumes reflect the myriad colours of the rainbow, enhanced by the liberal use of glitter. The stage decor mirrors a leaf out of Ramayana for each and every scene.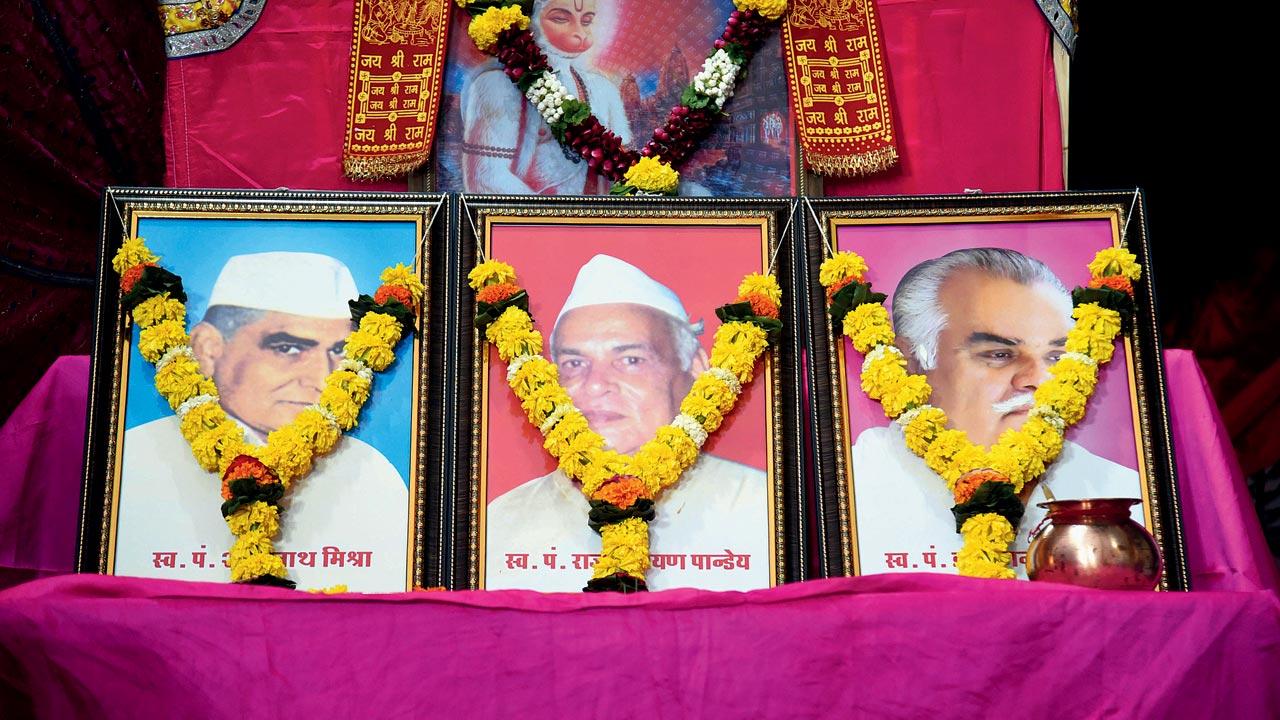 Portraits of founders Pt Shobhnath Mishra (left) and Raj Narayan Pandey, of one of the oldest Ramleela in Mumbai at the Azad Maidan stage
"After we are in costume and elaborate make-up, we recite mantras from the Vedas and do praan-pratishtha of the mukut [crown] before placing it on our head to become Shri Rama, Laxman ji and Sita ji. The mantras and small puja, is similar to what is done of an idol, where we invite the God to reign the idol and take its form. So, after the puja, when we dawn the mukut, we feel Ram ji, or Sita ji inside us; they speak through us. It is magical." Bharadwaj was 12 when he first performed with his father in Mathura; for the past five years, he has played the role of Rama. The troop also travelled to Thailand, Canada and Singapore under his father, courtesy the Indian government, Bharadwaj claims. 
At Khandke Building in Dadar, there is no "dandiya raas". But the pandal is famous enough to attract politicians and film stars. Seeped in history, this Navratra celebration was started by Bal Thackeray's father, as early as 1926. But the Dadar Paschim Vibhag Sarvajanik Navratri Utsav Mandal was registered some 70 years ago, its office bearers tell mid-day. "There is no documented evidence, but it was in this building that everything shaped up for Shiv Sena. Prabhodankar Thackeray instated this celebration and all members of the Thackeray family pay their obeisance to Goddess Ambe at this pandal every year," shares Anand Pednekar, president of the mandal. "The idea was to bring all Marathi and Hindu people together, much the same way Lokmanya Tilak did for Ganeshotsav in Maharashtra. This pandal was for everybody, like it still is today," he adds.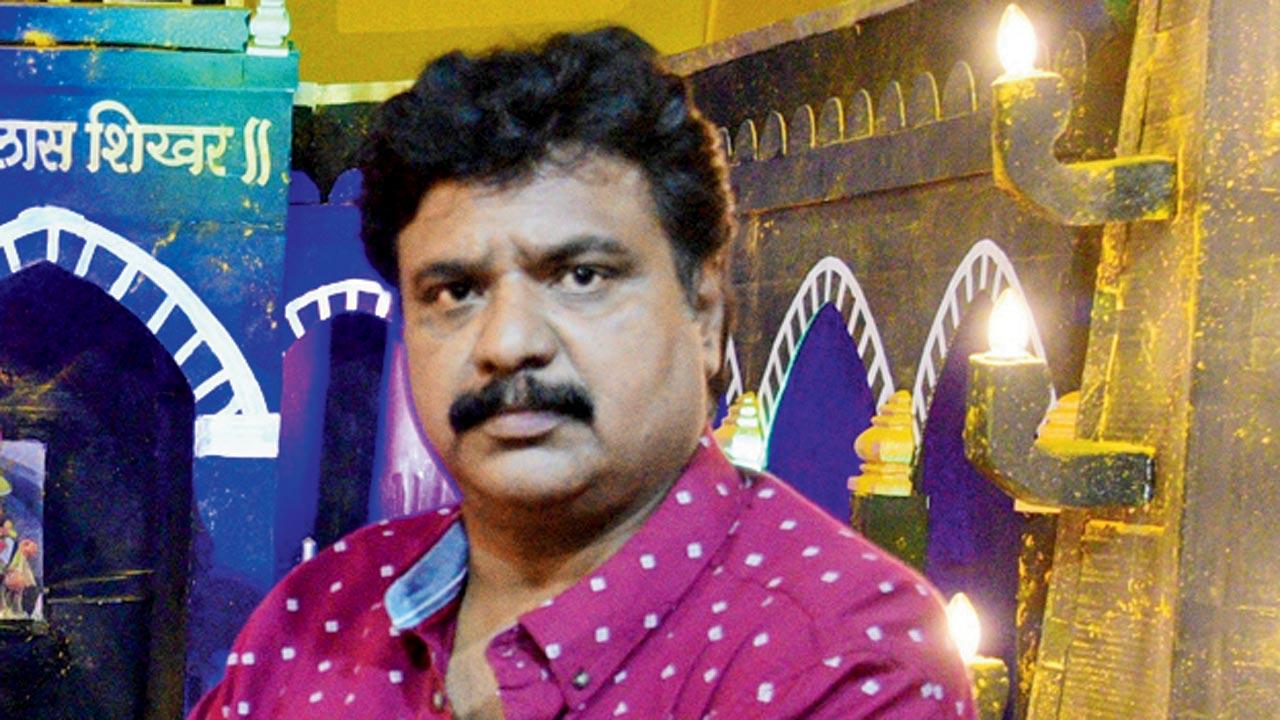 Abhijit Rane, VP, Dadar Paschim Vibhag Sarvajanik Navratri Utsav Mandal
However, history recalls another story, one that is attached to overcoming caste hierarchy. According to Babasaheb Ambedkar's associate Changdeo Khairmode in his biography of the political leader, Dr Bhimrao Ramji Ambedkar-Volume II, Ambedkar had once met with resistance and conspiracy from upper-caste Hindus, when he was invited to speak at a Ganeshotsav event in Dadar. Editor of the website prabhodankar.com, and authority on the senior Thackeray, Sachin Parab says, "The Navratra celebration was started by Prabhodankar, Ambedkar and Raobahadur Sitaram Keshav Bole as a movement against the Brahmanical stronghold of Ganeshotsav in Maharashtra. In 1923, the Dadar Sarvajanik Ganesh Utsav was led and controlled by Brahmins who did not allow Dalits and lower caste members to get involved. Donations were collected from everyone, but the management and office bearers were Brahmins alone. A movement opposing this was started by Ambedkar and Bole. When it was leading nowhere, Prabhodankar who was a reformer, was included. In an answer to the Brahminical Ganeshotsav, the open-to-all Navratra celebrations were started in Khandke Building, which had people of all castes involved at every level."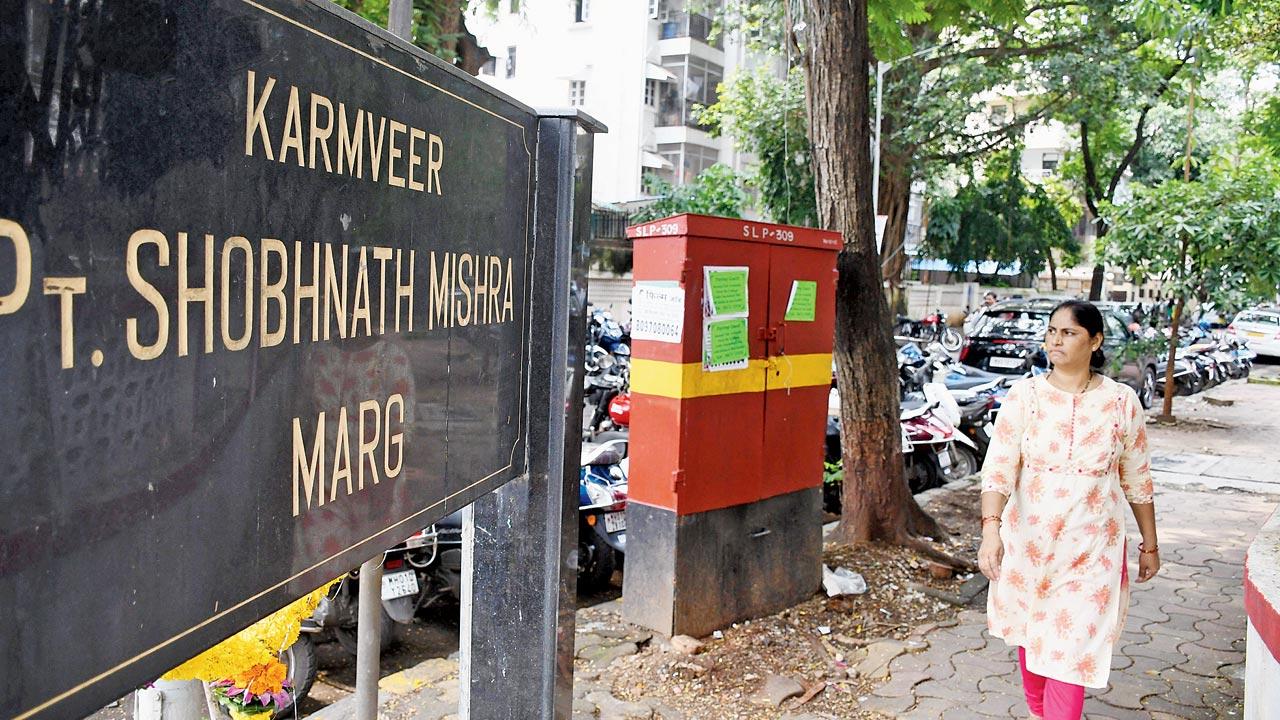 Karmvir Pt Shobhnath Mishra Marg at Churchgate, named after Suresh Mishra's grandfather. A native of Amethi, he began the city's first Ramleela. Pic/Ashish Raje
And when it did begin, somewhere around 1926, Prabhodankar hand-painted a cutout of Goddess Ambe, which the committee members say they have kept safely at their office. "For the longest time, the painted cutout was used during the celebrations, but later we shifted to a pure clay idol. In the two years of the pandemic, we decided to use the cutout again. We gave it an overhaul with fresh paint," says Mahesh Sawant, 24, the third generation member of his family to be involved in the festivities. Sawant, along with other young members, burned the midnight oil after their day jobs to make the replica of the Khandoba temple in Jejuri, Pune, from cardboard, plywood and packaging boxes, which is now the backdrop of the pandal.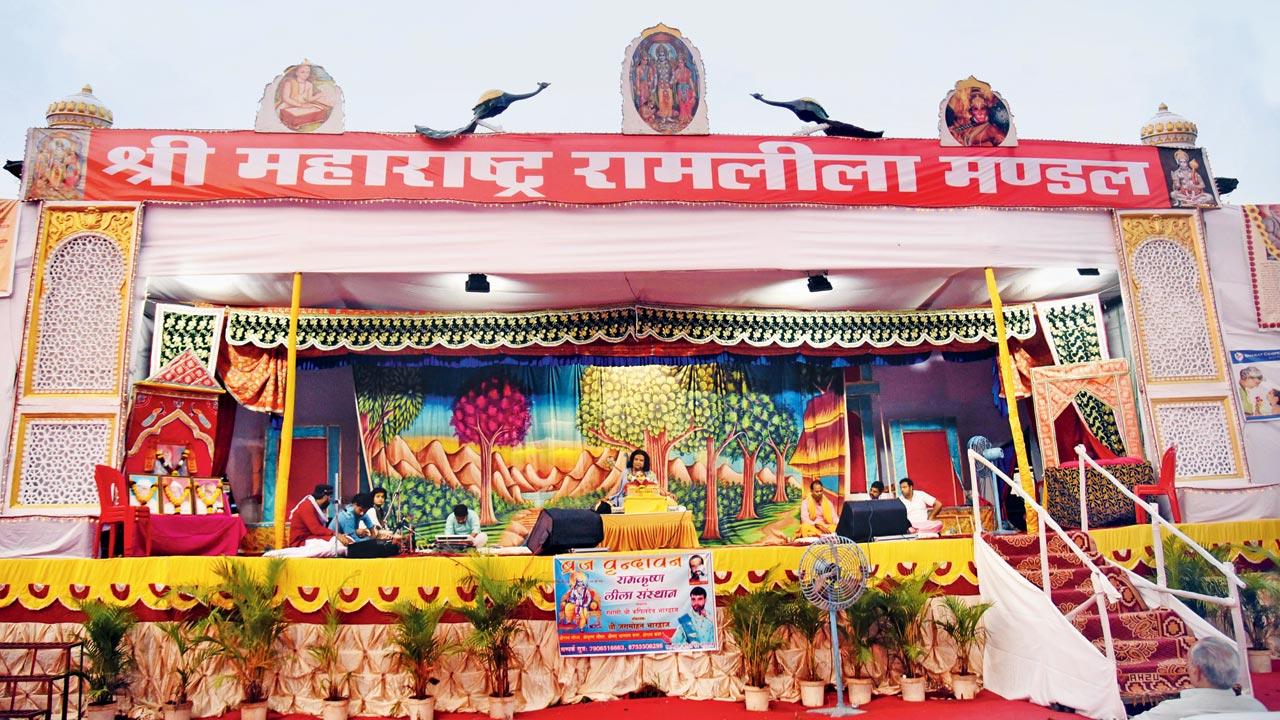 The Shri Maharashtra Ramleela Mandal plays out the oldest performance of the Ramcharitmanas over a span of 10 days at Azad Maidan. Performers from Ayodhya and Mathura are involved in entertaining the North Indians, who are away from home, in Mumbai
Sombre celebrations with a priest performing the evening aarti as devotees join in, now forms a part of the celebrations, but members say that when the mandal was flush with funds and restrictions of space and sound were not in place, the celebrations went from grand to grander with each year. "We used to hold Marathi nataks, a Hindi and Marathi orchestra would also play on stage, there would be classical music, but never dance; that is not part of our tradition. You will still see no man or woman dancing at this pandal unlike elsewhere," says vice president Abhijit Rane. Prafull Potnis, treasurer, adds that in 1976-77, they held a skit-based on the Rajat Sharma-led talk show Aap Ki Adalat. A dock was created and Bal Thackeray was made to take questions from the community members. And he participated in the right spirit. Now, with the 10 pm loud speaker deadline, we keep it low key. But the aarti is done every day."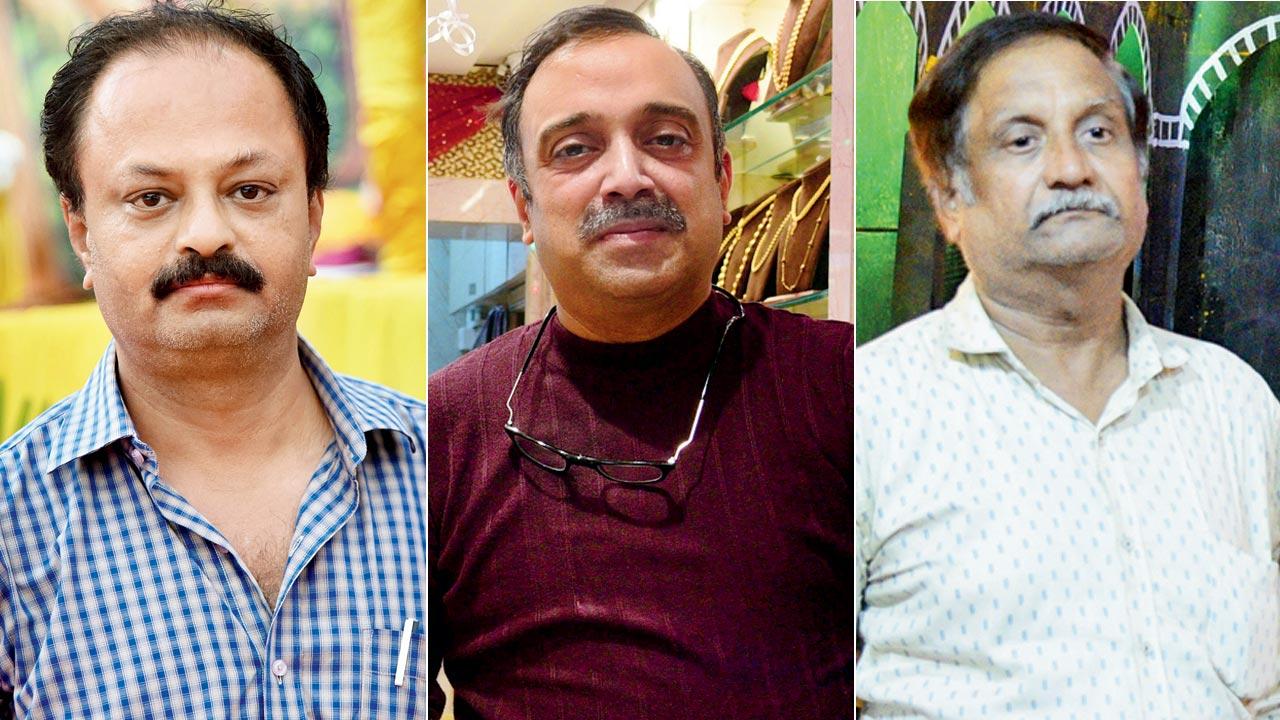 Suresh Mishra, Anand Pednekar and Prafull Potnis
27 L
No. of migrants from Uttar Pradesh in Mumbai, according to the Census of India 2011