In a unique book, wildlife conservationist and elephant lover Nitin Sekar makes a villager the hero, to tell the story of how activism must hinge on shared benefits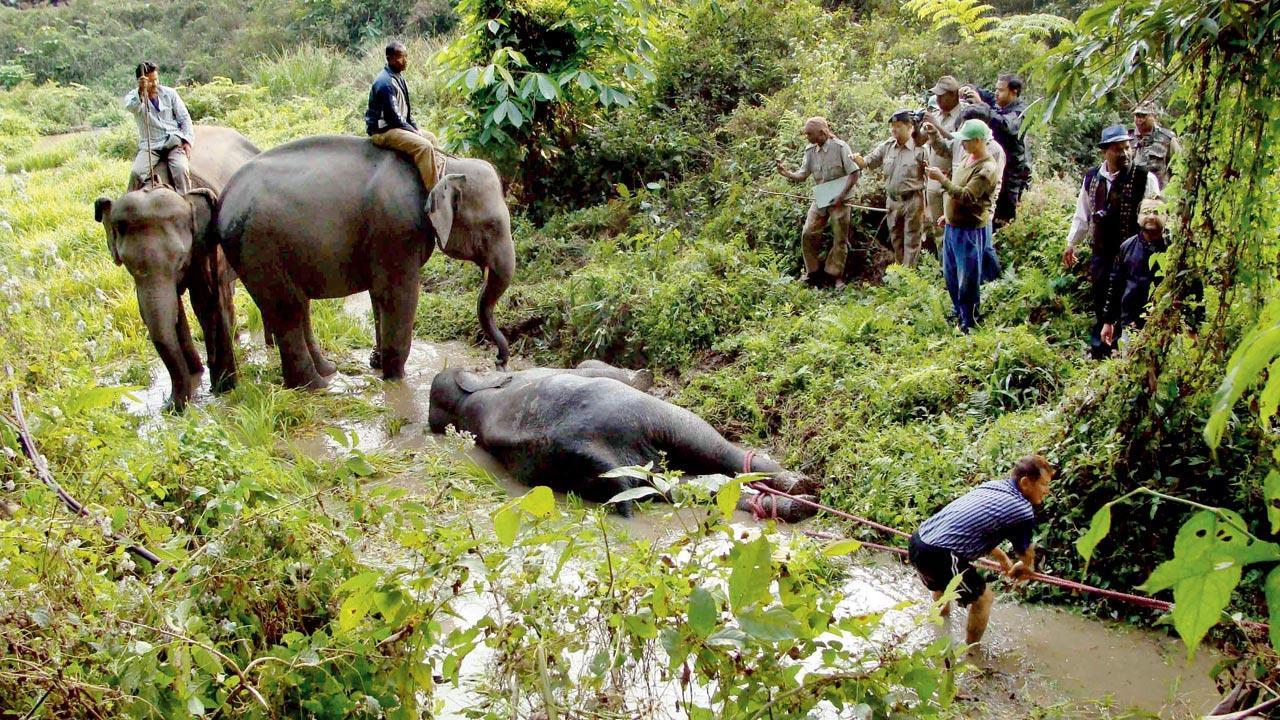 Indian forest workers drag a critically injured elephant calf from marshy land alongside the railway line in the Buxa Tiger Reserve in West Bengal in a file photo from 2013. It's in the same year that Nitin Sekar decide to write a book on his experiences as field researcher inside the reserve. Pic/Getty Images
It was back in 2013 that Nitin Sekar, now World Wildlife Fund (WWF) India's head of elephant conservation, came up with an idea that would become the newly released book, What's Left of the Jungle: A Conservation Story. Having been in the works for close to nine years, the project pivoted from just a retelling of Sekar's own experience as a young field researcher in West Bengal's Buxa Tiger Reserve, studying the role of elephants in seed dispersal, to the story of Akshu Atri, a local villager who lives in Madhubangaon, deep within Buxa, and who becomes Sekar's field assistant and closest friend.
"I realised that the best way to capture the complexity of conservation was through a parallel telling of Akshu's own story. As the book matured, I replaced almost all of my own animal and poacher encounter stories with Akshu's ordeals," Sekar tells mid-day. 
ADVERTISEMENT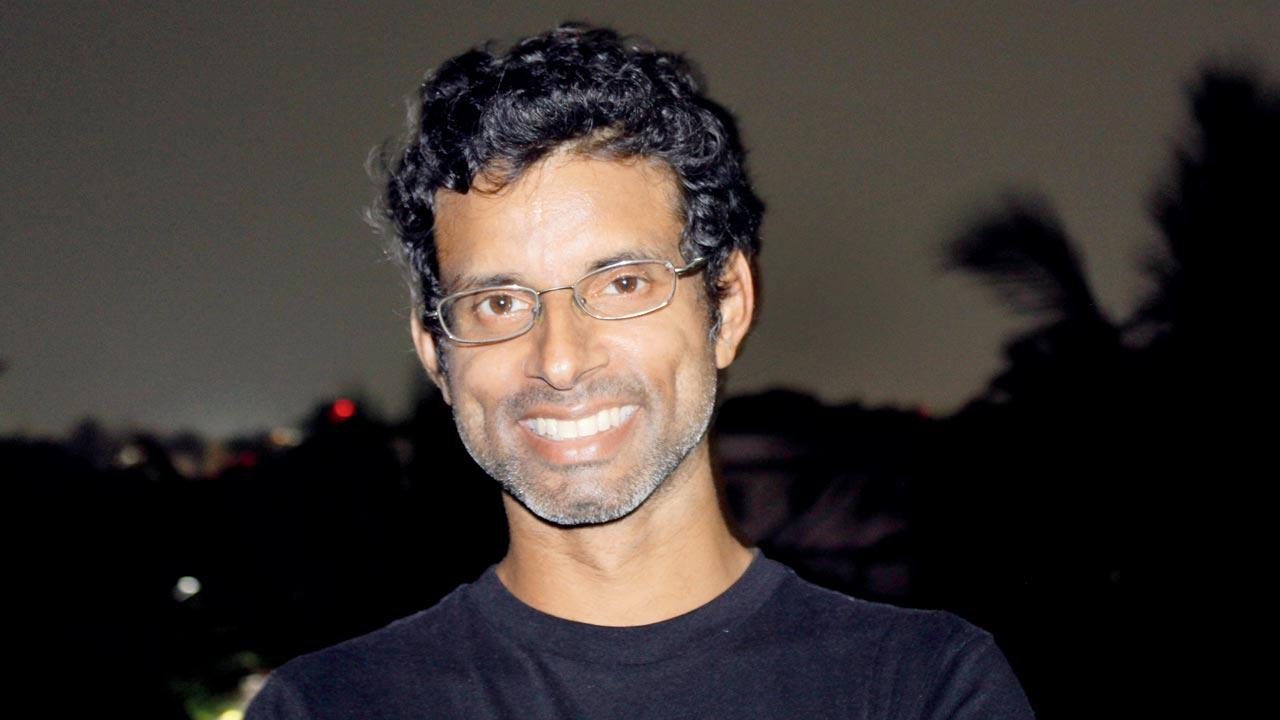 Nitin Sekar
Atri represents the common man, who lives on the borders of national parks and who most closely interacts with India's wildlife. He bears the brunt of conservation methods that don't necessarily take local communities' needs into account. While Akshu grew up feeling a sense of wonder towards the animals of the forest and loves elephants, he can't help but feel conflicted when yet another elephant goes on a rampage through his fields, ruining the crop—his family's only source of income.
Sekar's stories of arriving from America as a Phd student and adjusting to an Indian jungle are interwoven with Atri's ordeals, making the book read like a coming-of-age account. Sekar says that the book provides a holistic portrayal of Indian conservation: while he represents the privileged class, Akshu sits at the other end of the spectrum.
Edited excerpts from the interview
Akshu Atri is the highlight of the book. Tell us about how you constructed his story?
When we had downtime in the field, Akshu would tell me about his past. I spent more time with him in my 20s than anyone else. When I pitched him the idea of this book, he had me come over and spend a few weeks with his family, and we documented as many of his life stories as we could. While writing, I would bug him with bi-weekly phone calls from the US. The most gratifying thing for me is that Akshu likes the book. 
What's your favourite animal moment in the jungle?
I was working with a captive elephant named Dhigambar. His imprisonment was characterised by heartbreaking boredom, but there was not much I could do about it. One day, while I was taking notes next to him, something hit me in the chest. It was an uprooted plant. Dhigambar, apparently bored and looking for a reaction, had yanked the plant from the ground and hurled it at me with his trunk. I remember saying something like, "Nice throw! But this time, throw it higher," and I tossed the plant back at his feet. I put my hand up in the air to see what he'd do. He threw it right back at me, straight into my raised palm. And before I knew it, I was playing catch with an elephant. I would rather that Dhigambar were free, than forced to be engaged with me, but the experience underscored how critical it is that we, conservationists, do our best to ensure that elephants remain the free, curious explorers that they are adapted to be. 
What was it like living in a small hut in the middle of a forest for years, with no idea of the local traditions or language ?
I liked living in Buxa more than living in a place like Delhi or the suburbs of America. Buxa's villages have clean air, more community feeling, less traffic (hurtling buses often scare me more than elephants) than other places. Outsiders like myself survive or fail based on the willingness of locals to guide us.
Outline one conservation myth you would like to bust.
The first is that people believe that conservation is about the well-being of all animals. Unfortunately, the field is focused on only a small number of "charismatic" species. This needs to change. The second is that every species is crucial for the ecosystem to function. Evidence shows that ecosystems can function much the same, despite the loss of many other species. Functional arguments are rarely the best justification for conservation. You talk about different stakeholders in the book, whether it's the poor villagers compelled to steal from the forest, or corrupt officials. 
What's the one important takeaway about conservation that readers must focus on? 
I feel that modern conservation is built on the stories of privileged people trumpeting about their wilderness adventures and bemoaning local people's use of  forest resources. The costs of conservation are concentrated on the marginalised, like Akshu, while the benefits accrue disproportionately in favour of those of us who can afford to go on a safari. If locals benefit more from conservation efforts, they will in turn do more to ensure that officials protect wildlife, too.
"Exciting news! Mid-day is now on WhatsApp Channels

Subscribe today by clicking the link and stay updated with the latest news!"
Click here!