We know her for her style, her hairstyling, and her tats. But, celebrity hairstylist Sapna Bhavnani has spent the last year tracing her Sindhi roots on film, and her body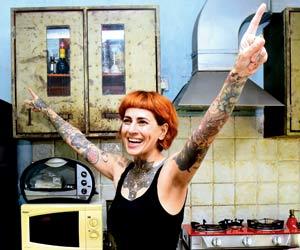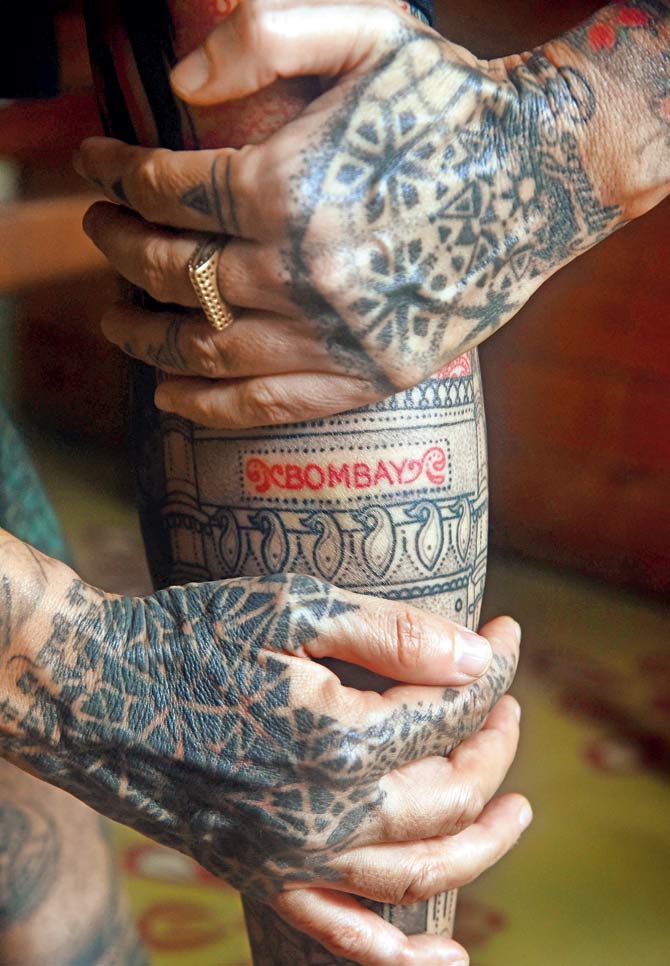 After 75 hours of tattooing, celeb hairstylist Sapna Bhavnani
Commonly known as the Indus, the river Sindhu flows through the city of Shikarpur, and there was once a time, before the Partition, when the Sindhis were cradled in its ebb and flow. In this desert town, in the Sindh province of Pakistan, a full river was enjoyed annually by them, as they swam and savoured mangoes on its banks. The scene unfolds itself in front of us but not in any archival photograph, art house film or famed painting. Instead, we are staring at, and gingerly tracing, the designs on Sapna Bhavnani's thigh.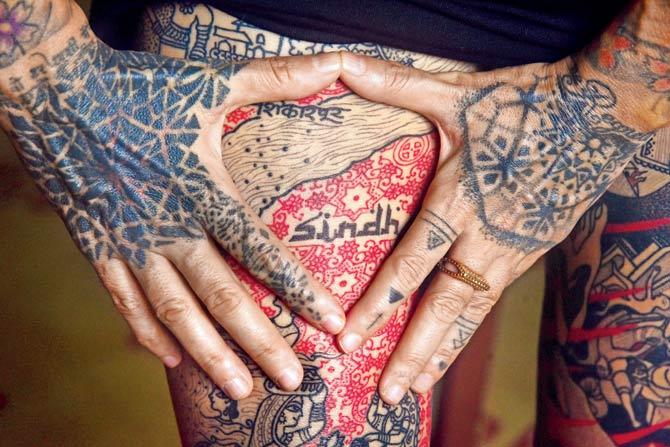 Sapna Bhavnani legs dedicated to the Partition and Sindh, where her family hails from. Pic/Atul Kamble
In the living room of her Bandra apartment, the stylish 47-year-old celebrity hairstylist has hoicked up her black dress as she slowly twirls around to show us vignettes of life in Sindh and the Partition. Her legs have been turned into a canvas, fully tattooed in red and black, for Bhavnani is on a mission to trace her roots. "My research revealed that there isn't any documentary made on the Sindhis which included stories from both sides of the border or spoke of their migration to different parts of the world during the Partition. Look at the Jews. They made sure the world knows what happened to them," she tells us.
A large computer screen behind her with edit cuts is more than a hint of what she has been working on. For about two and a half years, Bhavnani was interviewing people from her community - family, intellectuals and artists among them - who were witnesses to the horrors and the silver linings that the Partition brought along. Her interviews came to a close about six months ago, and editing is underway for her documentary, titled Sindhustan: Lost in translation. "I decided to get the story directly from those who witnessed the Partition. For them to have any memory of those times, they should have been at least five or six years old during partition, making them all over 75 years old," she says.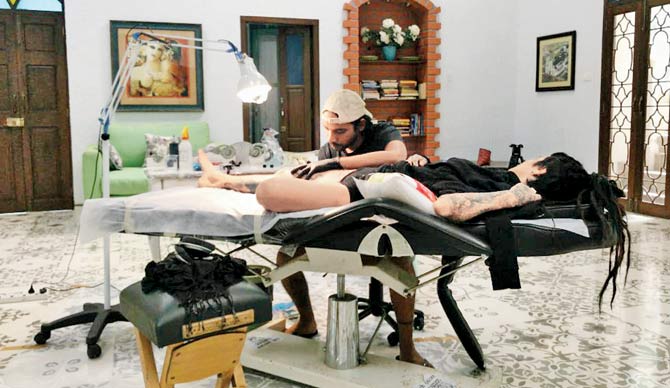 Detail of the tattoo art on Bhavnani's leg depicting life in Sindh
Crossing borders
The idea to make a documentary, to anchor oneself in the great traditions of Sindh, came to her seven years ago, when she was dating a singer, who wrote and performed in Hindi. In a way, he was responsible for Bhavnani recalling her ancestry. She once accompanied him to a Susheela Raman performance at Bandra Bandstand's amphitheatre. "A group of Sindhi fakirs were supposed to perform earlier in the show but were delayed because of visa issues.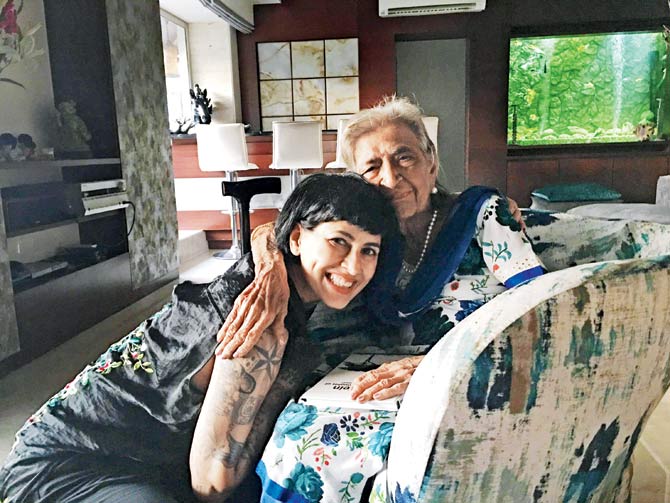 Bhavnani's grand-aunt, who features in the film. Pics/Sapna Bhavnani
However, the crowd stayed on till they arrived and the fakirs' performance gave us goosebumps," she recalls. What stayed on with her wasn't just their music, but the thought that her Sindhi connection was begging to be heard. "I had returned to India after living for 14 years in America, and I had no clue about my roots. Up until the performance, Sindh was Sindhi kadi and a mention in the national anthem. That's it!" she says. Furthermore, there was the mixed parentage to deal with - the elders in her family hails from Sindh, Baloch and Multan, and the idea of a lost homeland only added to the migratory past. "Sindhis are like magic! It's as if we are there and we are not," she exclaims in her characteristic punk-diva manner.
The visa trouble that the fakirs faced, and many a Pakistani artiste travelling to India encounters even today, came to haunt Bhavnani too. With no relatives in Sindh, nothing helped, not even a tweet to Pakistan's High Commissioner to India. However, as she scrubs through her edit, there are interviews and landscapes shot in Sindh, even Hajam Para in Shikarpur, where her father grew up, before migrating to then Bombay. To her luck, a Pakistani musician, who has collaborated on the film, and who faced similar visa problems, offered to shoot on her behalf in Sindh. Their production meeting needed to happen in Nepal, however, where access wasn't an issue.
All the while, Bhavnani hesitates to give us the musician's name, or those who have featured in the documentary. She keeps her fingers crossed that the documentary won't provoke accusation from zealous nationalists. "The name of the documentary comes from the river Sindhu. When the Persians came, they could not pronounce "se", so Sindhu became Hindu and Hindustan, which should have been Sindhustan," she explains.
A museum of memories
Bhavnani is not being divisive; she is just enthusiastic about her ancestry. Today, beside her workstation, there is a basket brimming with the best of Sindhi poetry, like that of Shah Abdul Latif, at whose shrine in Bhit Shah, in Sindh, the fakirs Bhavnani had once heard in Bandra, sing regularly.
The witness accounts in the documentary are interspersed with her latest acquisitions - the tattoos on her legs. As we admire the elaborate art, she points to the Sindhis swimming in the river, and says, "You can't say who's Muslim and who's Hindu here. There is no concept of 'Hindu' Sindhis or 'Muslim' Sindhis. We are one community. These [what's drawn on her] were my grand-aunt's memories. She has passed away since, and I am glad that I got to speak to her."
Call her legs a calendar of memories, a map of the subcontinent or a visual story etched on skin, but Bhavnani says she is a museum now. Her legs tell tales, and seem divided, the right about Sindh, and the left about the Partition. But, on Bhavnani, they are brought together through a medley of madhubhani and ajrakh, two art forms that are drawn from India and Sindh respectively. Doe-eyed madhubani figures wade serenely among ajrakh motifs, and will remain there forever.
As admirers or curious onlookers, we are familiar with Bhavnani's many tattoos, especially her heart chakra that bursts like a flame across her collar bones. But, her legs' tattoos are precious and ones that she has kept out of public eye as long and as well as she possibly can. But, the price of beauty, and history, is high. This art activism came with 75 hours of tattoo work done in just 10 days in one go - the kind of intensity that the body can often break down under. "I had set up a temporary tattoo studio at a healing centre in Goa, with tattoo artist Yogi, who is originally from Dadar. Let's just say, it was painful. I had a doctor visiting me every day to check my pulse," she says.

The documentary shows the process she endured, which, she says, is only metaphorical. "The pain I experienced is only a fragment of what my family and community have been through during the Partition," she says. However, through suffering, there is healing. "None of the people in my documentary and in these tattoos have spoken with hatred or regret. Even though they left everything behind and moved all over the world, their love for each other is intact. For instance, my grand-aunt studied at a medical college in Ludhiana during the Partition, and spoke of a Muslim dhobi who wrote a letter to her to assure her that her family was safe back home. This is just one instance of the many you will hear," she says.
The river Sindhu could have the capacity to wash over all sorrow, and it does so even on Bhavnani's body. It winds its way down her leg, ending in a state of grace. How exactly does it do so? We will leave it to Bhavnani to show it to you.
Catch up on all the latest Crime, National, International and Hatke news here. Also download the new mid-day Android and iOS apps to get latest updates