Later this week, Chandigarh-based Heritage Lab comes to Mumbai to help create space on Wikipedia for female artists. And, no, you don't have to be a geek to participate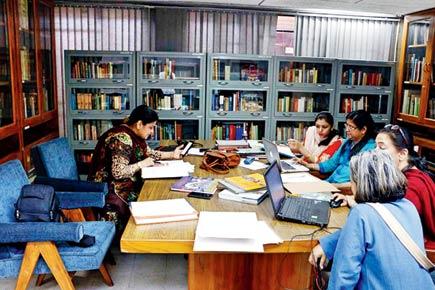 Mrinalini Mukherjee at MS University, Baroda1969. PIc/source: Jyoti Bhatt. Courtesy: The Baroda Archives project, Asia Art Archive
The late Mrinalini Mukherjee, who fashioned the most sensuous sculptures out of hemp, is a name that Indian art history cannot afford to miss out. Mukherjee, who passed away in 2015, was notable for her iconic figures — at once robust and curvaceous — inspired by goddesses, vegetation and archetypal forms. Her works are part of collections at Tate and New Delhi's National Gallery of Modern Art. It should come as a surprise, then, that Mukherjee got a Wikipedia page only about a fortnight ago.
ADVERTISEMENT
A full list of her exhibitions and biographical details are just a click away now, thanks to a daylong event in Chandigarh called the Art+Feminism Wikipedia Edit-a-Thon. The event, organised by a non-profit called Heritage Lab, hits Mumbai on April 29 at Lower Parel's Piramal Museum of Art, where artists like Damyanti Chowla, Sunayni Devi, Nilima Sheikh and Madhvi Parekh are set to get Wikipedia entries. The Edit-a-Thon is an attempt to make the free online encyclopaedia a space where women artists from India can find equal representation as their male counterparts. "It is easy to find an artist like Amrita Sher-Gil on Wikipedia. She had an edge over others as she was declared a National Treasure artist. But, what about the remaining female artists?" says Medhavi Gandhi, who founded Heritage Lab in 2015.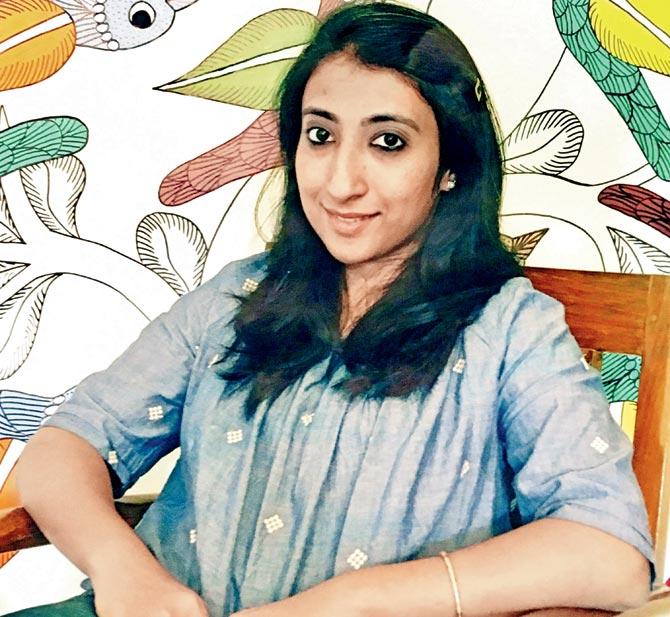 Medhavi Gandhi

The feminine touch Gandhi, an MBA graduate who has been working towards improving the visibility of the arts and museums, has partnered with the Art+Feminism Movement (art.plusfeminism.org) to bring this Edit-a-Thon to India. The global movement, which started in 2014 in the US as "a conversation between four friends who wanted to create meaningful changes to the body of knowledge available about feminism and the arts on Wikipedia", partners with interested individuals and establishments the world-over.
Cultural theorist and curator Nancy Adajania says, "The Euro-American art worlds have become more vocal in recent times about the under-representation of women artists in art history. Museum exhibitions and publications on women artists are addressing this issue. In India, we have long had very prominent women artists, whose work has been well acknowledged. We need to ensure that global public platforms such as Wikipedia reflect this."
At a time when having a Wikipedia page seems to be the easiest, and the most obvious, Internet resource, what's stopping our artists from getting one of their own? "Editing a Wikipedia page is a gendered activity, with most of it being done by male users. There is a misconception that using a Wikipedia dashboard requires a knowledge of coding, but that's not the case at all. It is important that diverse sets of people add their research to these pages," says Gandhi, who was introduced to editing the online portal through members at Art+Feminism.

At the Edit-a-Thon in Chandigarh's Government Museum and Art Gallery, participants create a Wikipedia page for Sheela Gowda 
Adajania says that the last decade has seen major publications on women artists such as Nalini Malani, Amrita Sher-Gil, Arpita Singh, Nilima Sheikh, Navjot Altaf and Sheba Chhachhi, among others. "Our publishing scene is definitely improving. However, in some cases, outsized and expensive publications can be a deterrent to those who are really interested in art," she says. Many of these publications, however, are housed at reputable museums across the country. The last two Edit-a-Thons that Heritage Lab organised at the National Museum, New Delhi, and Chandigarh's Government Museum and Art Gallery saw students, journalists and teachers use research material and publications housed in these museums' libraries. It is also, as she puts it, an important way for museums and their resources to connect with the virtual user.
"Several people asked us if this was an event meant for women only. It is for anyone who is interested," Gandhi adds. Did any art historian sign up? Not yet, says Gandhi.
What does the under-representation of women artists on Wikipedia say about the art milieu in India? Artist Sharmistha Ray, who draws on queer politics in her works, says, "If you look at the most significant pool of India's 10 galleries of established and emerging artists, the representation of women artists stands at about 36%. If you look at the international percentages of the gender split at major galleries, it's far less positive. So, overall, I would say India is in a better place. That's not to say it's a perfect balance yet."
As for Wikipedia, she adds, "It's not the measure of an artist by any standard. It's great if there's a bigger effort being made to represent women artists, but I would like to think that a Wikipedia entry is not the ultimate validation of an artist's legacy."
"Exciting news! Mid-day is now on WhatsApp Channels

Subscribe today by clicking the link and stay updated with the latest news!"
Click here!