Guilty of having solo monologues about your thoughts and feelings? You are not alone. As studies and experts suggest, it is healthy for you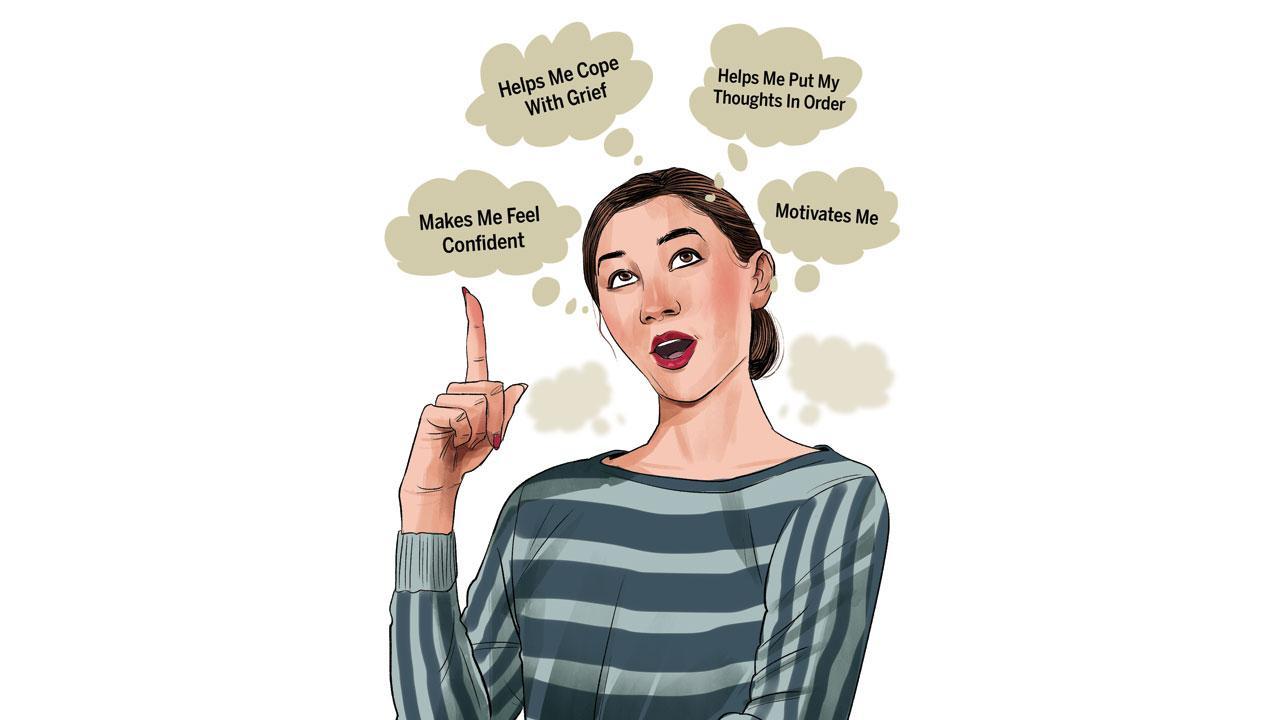 People who talk to themselves say that it helps them organise their thoughts better and gives them a structure. Illustration/Uday Mohite
If you have ever noticed people mumbling and talking to themselves on the local train, or at office hunched over their desks, don't dismiss them as being a bit off. Neither are they reciting a chant or a prayer. They are, in fact, trying to make sense of all that's happening in their lives. And they claim it helps them in many ways.
The habit of talking out loud to yourself is called as "self-talk". According to the study, The Effects of Positive or Negative Self-talk on the Alteration of Brain Functional Connectivity by Performing Cognitive Tasks, published in nature.com in 2021, self-talk can improve cognitive performance.  Mental health professionals are now saying, that as batty as it may seem, it is surprisingly good for your mental health. 
ADVERTISEMENT
"Since childhood, this has become a coping mechanism for me. I say things out loud and verbalise what I'm thinking," shares Kriti Priyadarshini-Litoria, a Delhi-based lawyer. Talking to herself about irrational and angry thoughts made her realise that "these are things I am not supposed to be thinking". For Priyadarshini-Litoria, talking to herself is almost spiritual. "It stems from the idea that I am not this body; I am the soul. By talking out loud, I tell my brain to comprehend the situation as I would like to." She feels that this helps steer her brain in a direction that can make the situation manageable for her. "Sometimes, my brain needs to hear what I want to say out loud," adds the 30-year-old lawyer.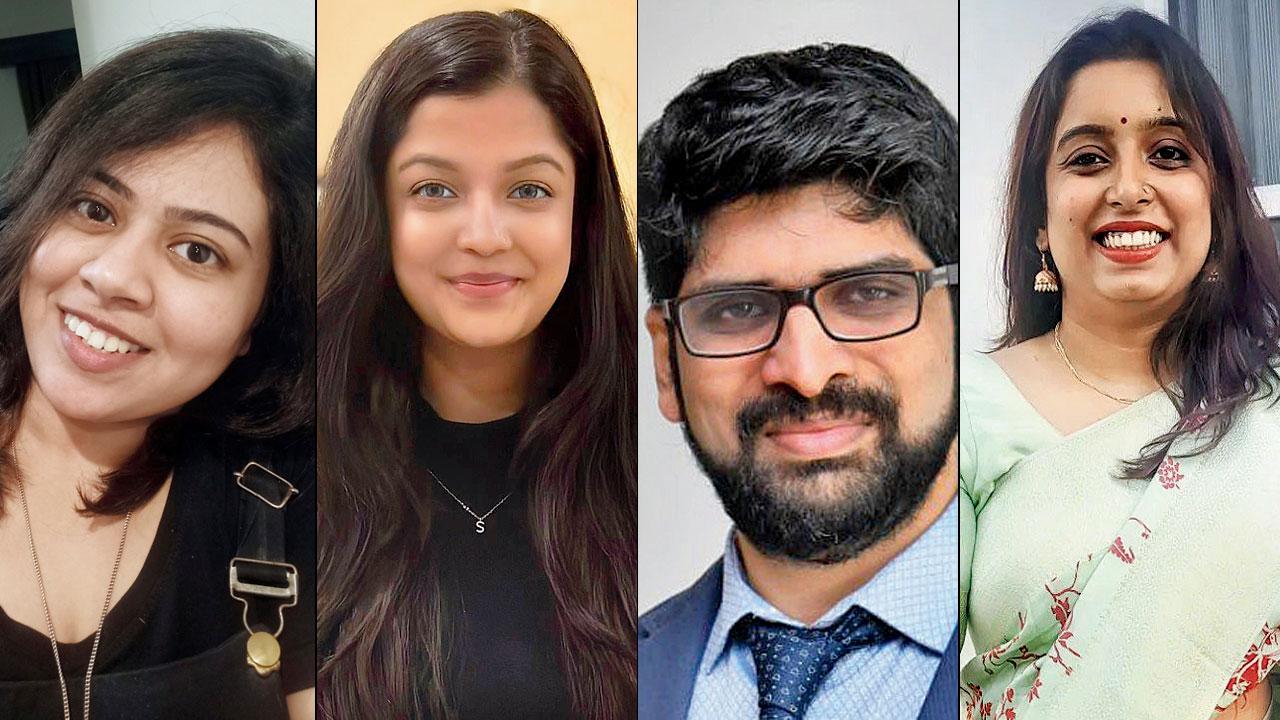 Dharmishtha Dagia | Shivangi Sagar | Dr Austin Fernandes | Kriti Priyadarshini-Litoria
The results of a 2020 study titled, The Role of Self-Talk in Predicting Death Anxiety, Obsessive-Compulsive Disorder, and Coping Strategies in the Face of Coronavirus Disease (COVID-19), revealed a positive relationship between self-talk and Premium-centered coping style. 
Kandivli-based Dharmishtha Dagia, who runs a PR and celeb-management agency, is also a practitioner. She claims that reading something out loud helps her register and understand things better. "Instead of making notes in my head and going through it mentally, talking out loud helps me organise thoughts better," she adds. Dagia is also a guest lecturer and says that practicing the lecture by reciting it loudly helps her register and gain an understanding of what she will be saying. She falls into the kind of category that does not shy away from talking to herself loudly in public. "I often speak to myself in my office and people around ask me what I said, but I respond by telling them the truth. Mostly, it is figuring out what I have to do, or what is remaining on my list," she says.
Priyadarshini-Litoria is still cautious about doing it in public. She is only comfortable when she is alone in a room. She believes that these are personal thoughts that she wouldn't want to discuss in front of anyone else. "By putting thoughts into words, I am able to put them in order and thus help myself get out of the situation." She also shares how she has been able to overcome the loss of her grandmother couple of years ago by verbalising her grief, which others would not have been able to understand. "This has been my coping mechanism and has helped me deal with many difficult situations," Priyadarshini-Litoria adds. 
As an introvert, Dagia says that it also has helped build confidence. She started conversing with herself  in 2017, when she first started conducting lectures. "I was very nervous," she recalls. "But it has helped me format my lectures better. It has given me a sense of confidence and improve my speech as well. The kind of words I use, the way I explain... now I don't fumble as much as I used to." Dagia has now made this a ritual before meetings. "If you keep thinking inside in your head, it becomes chaotic, so saying it out loud, helps me calm myself." 
But there is a thin line between batty and positive self-talk. Priyadarshini-Litoria says that is aware that this may be perceived as a mental illness by some, but she realises the difference between that and a positive coping mechanism.
Dr Austin Fernandes, Consultant Psychiatrist and De-Addiction Specialist at Dr LH Hiranandani Hospital Powai, says that self-talk can be positive as well as negative. It helps prepare one for a situation and reduce anxiety. He believes it can help people with anxiety and depression. "Sportsmen and their coaches use [positive self-talk] a lot," he says. However, Fernandes believes that, "it is difficult to do this publically because there isn't much acceptance. Mental health is still a taboo so one should not expect people to accept self-talk immediately".
Shivangi Sagar, who is counselling psychologist and co-founder of HopeQure, a mental health platform, believes that self-talk is almost a survival mechanism as it motivates and encourages people when they feel isolated and don't have enough people around to offer encouragement. "Since ancient times, people have often considered talking to yourself as hallucinating. But, now, we are aware of mental health issues and don't form that association any more. But, people still judge." She says that self-talk helps in making decisions as it structures the information in the brain in a more organised way, but could be is dangerous if it is negative or if the person feels like they are talking to another person. "There are instances of people hallucinating. In such a situation, it could signal to a deeper problem," explains Sagar. "But positive self-talk can boost your mental health."