Neeraj Chopra's Olympic Gold was the eventual mark that every winner in the recently concluded Bombay district athletics meet aimed for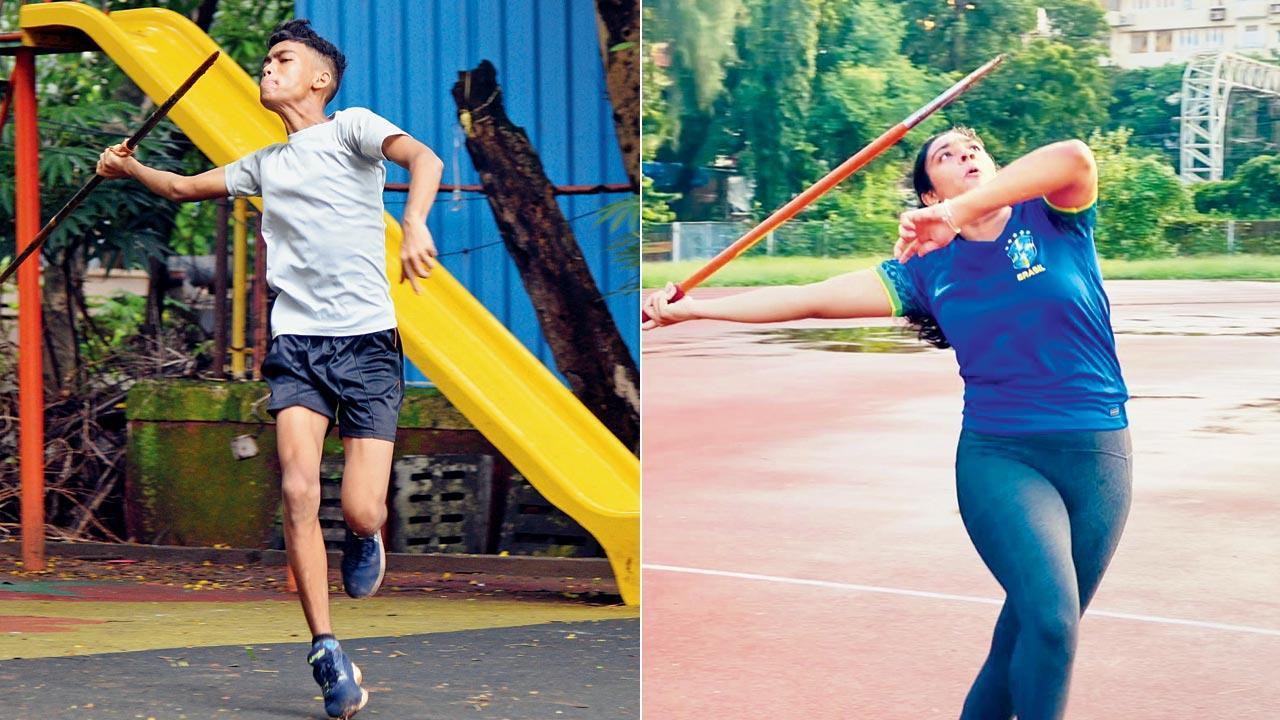 Nitesh Kami, U-14 winner during a training session in Malad. The 13-year-old studies in Class VIII at BMC's MPS Hindi medium school in Malad. Pic/Satej Shinde; (right) Colaba resident Hansika Vasu (Bombay City U-20 winner) is in her second year and is pursuing Bachelor of Arts in Multimedia and Mass Communication (BAMMC) at HR College
Olympic gold-winner Neeraj Chopra has not just made javelin throwing cool, but also inspired many to follow in his footsteps. There is a rise in demand for coaches and more participation in the sport, which has been a part of the Olympics since 1908 for men and 1932 for women, within the city and state.
"We started javelin throwing for children only three years ago," attests Arthur Fernandes, General Secretary, MSDAA (Mumbai Suburban District Athletic Association). "We've had it for years [for teens], [but] in the last few years, we would get around 12-13 entries in each category. This year, we received 38 entries for boys and 29 in girls."
ADVERTISEMENT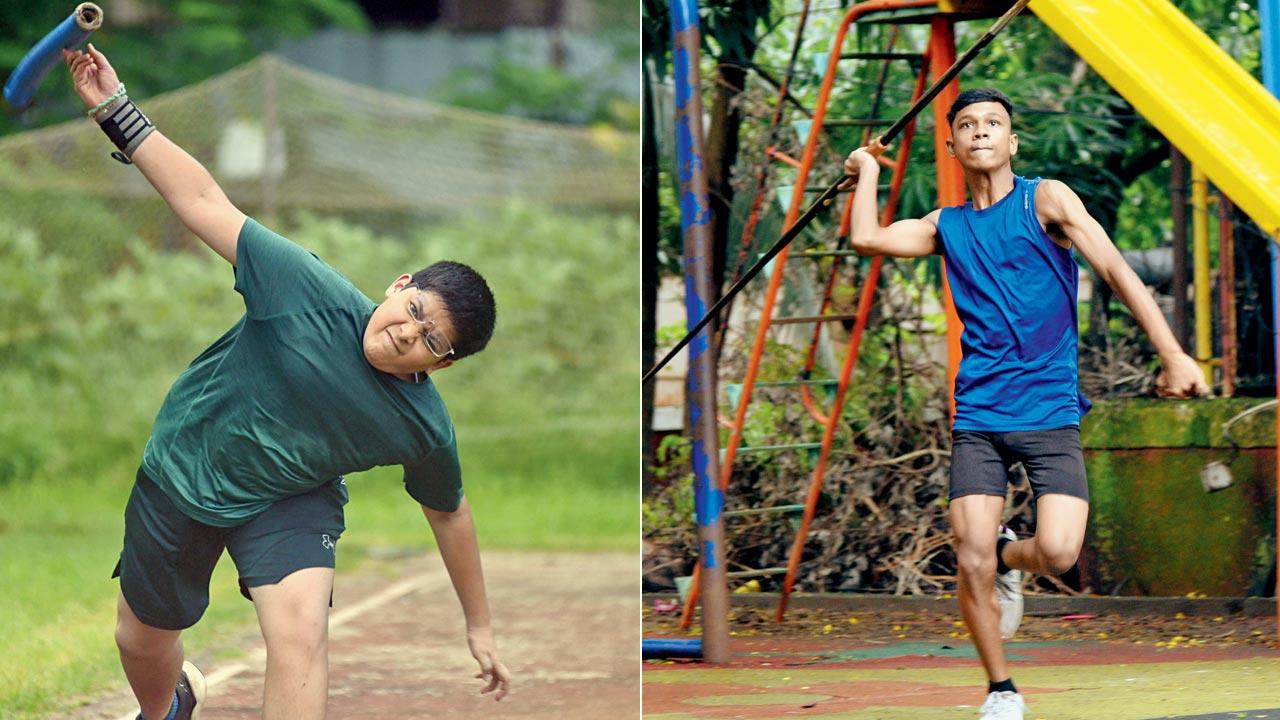 Om Chopra at University Sports Pavilion in Marine Lines. Pic/Atul Kamble; (right) Sanjay Ram, U-16 winner of Mumbai Surburban in a training session at Kurar Village, Malad (East). The 15-year-old studies in Class 10 at BMC's MPS School Hindi medium school in Malad. Pic/Satej Shinde
The gold winners at the recently-concluded MSDAA Meet and the Bombay City District Athletics Championships all idolise Chopra. Prisha Nitin Wasnik (U-14 winner suburban) hopes to make as big a mark as Chopra with the help of her coaches Harishankar Yadav and Swapnil Gujar. Bombay City Girls U-14 winner Nayomi Sirvala from Dadar was inspired after seeing a fellow athlete throw the spear when she was barely five years old, but had to wait till she was 13 to train in the sport with Ravindra Kumar of Sprinters Sports Club.
Mahalakshmi resident and Bombay City boys U-16 winner Aayan Zohar Furniturewala's photographer mother Manmeet Bhatti noticed him throw the javelin exceptionally at an inter-school event when he was still in Class V at Golden Spiral School in Parel. Like Sirvala, he was too young to start training for it; he began being coached at Sprinters Sports Club last year. Brother-sister duo Om and Tiya Chopra—Om is the Mumbai City boys U-14 champ, and Tiya topped Girls U-16—started training only a couple of months ago. "I am so glad we managed to both win gold in the first district meet we participated in," says Wadala resident Tiya, "I was doing track before and wanted to try a field event. Seeing Neeraj throw 89.94 m at the Stockholm Diamond League in 2022 inspired us further." Both siblings train under Dhanalakshmi Jamil Khan at the University Pavilion, Marine Lines, thrice a week. She also teaches them at their JBCN International school in Parel, which is where she spotted Tiya's aptitude for javelin and running, and Om's for javelin and shot put. She pushed them to participate in the district meet where they won.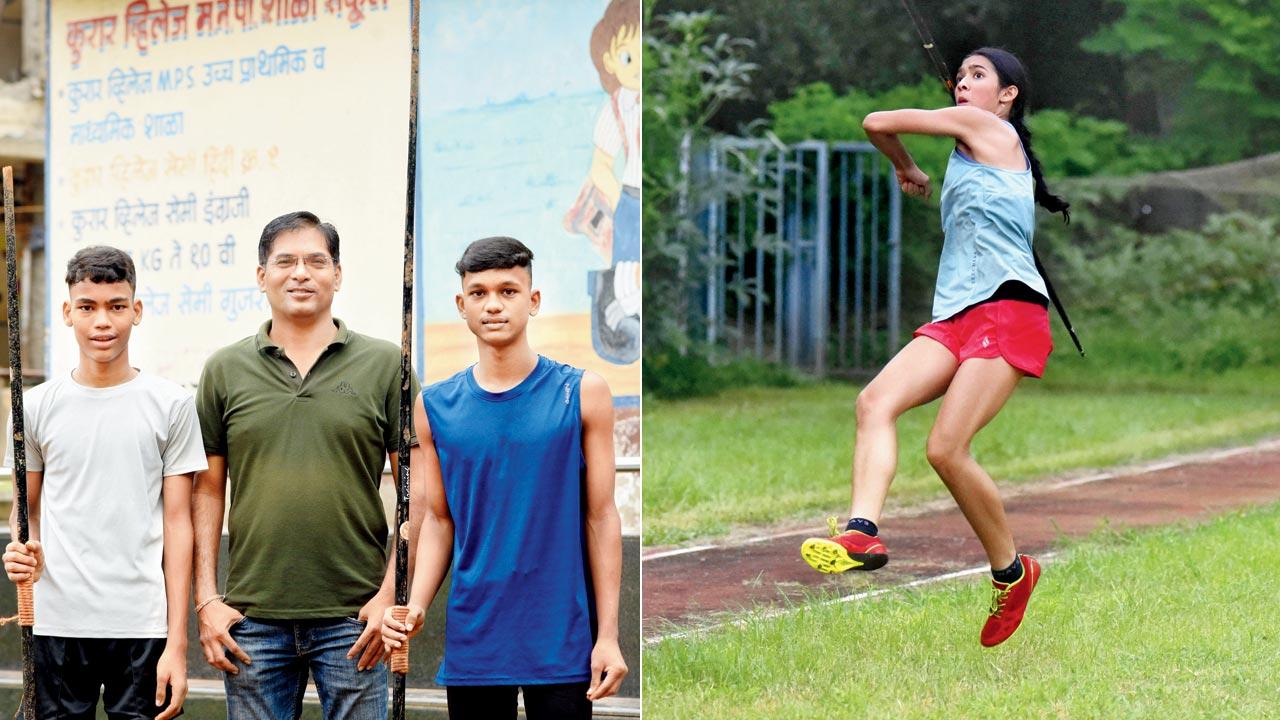 Nitesh Kami (left), Sanjay Ram (right) with their physical education teacher Nitin Bawner. Pic/Satej Shinde; (right) Tiya Chopra at University Sports Pavilion in Marine Lines. Pic/Atul Kamble
Sirvala was drawn to the sport, and is driven to excel, by the feeling of freedom it imparts: "I saw a senior javelin player having so much fun during training [at the sports academy]. But since I was barely five or six [years old], I had to wait until recently [13] to learn to throw the javelin. Coach Ravindra [Kumar] helps me."
Hansika Vinit Vasu from Colaba had to wait out the COVID-19 pandemic enforced lockdown to throw till her arm got sore. "Javelin has been on my mind for three years," says the Bombay City U-20 winner, "I got to learn it only three months ago. I am a national level shot put player, and since I also do discus [throw], I couldn't simultaneously learn the javelin because there could be injury issues."
Kandivli lad Ashutosh Bind, Bombay City men's U-23 winner, is fuelled to excel just like his idol Chopra, through averse circumstances. "I was learning shot put and discus," says the 21-year-old, "[until] Neeraj brought in a craze for javelin. My father, Rajbal, works in a garage and was initially hesitant about me becoming a professional athlete. We have financial constraints. To help, my younger brother, 20-year-old Pankaj, started working at a petrol pump. My coach [Dinanath Maurya at Priyadarshini Sports] helped me switch to javelin four years ago. Ashutosh has come a long way since not winning any medals early in his sporting career to staying at the Sports Authority of India [SAI] in Kandivli. Things changed for him after winning bronze in shot put in 2016-17 [district meet]. I also hope to win laurels for the country."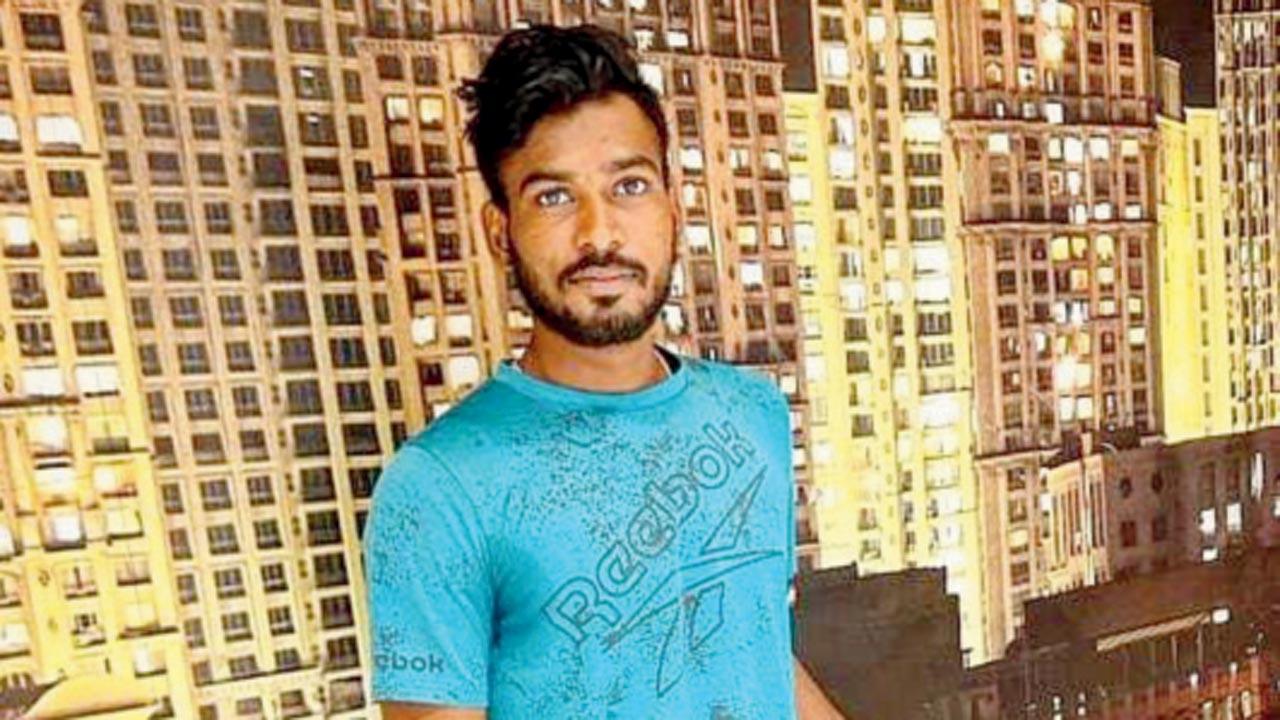 Bombay City men's U-23 winner, Ashutosh Bind, is from Kandivli and is doing his Bachelor's in Physical Education from Nagpur University
Tannishta Dineshkumar, 20,  the Bombay City women's U-23 winner, has had a similar journey. Five years ago, her coach Virendra Yadav observed that her body type was suitable for javelin throwing. Since then, there has been no looking back. "I started shot put and discus in Class VI [at Udayachal High School in Vikhroli]. Virendra sir then sent me to Vijay Shetty. Since I was into discus throw, adding javelin to the list was not possible and I shifted to it when I was 15. I have been following Neeraj much before he became a national craze. He's been my idol since his U-20 days when his 86.48m effort won him the World Championship title in 2016, and he also created a new U-20 world record by beating Latvia's Zigismunds Sirmais' 84.69m." Dineshkumar is a third-year psychology student at SIES College in Sion. 
Apart from these winners, there are those in the wings, disappointed: They won't be able to participate in the state meet to be held at Dervan in Chiplun from September 30 to October 1 due to lack of Athletics Federation of India's (AFI) UID, which is mandatory to compete at state and national levels. "The last date for junior state athletic meet entries was September 23 at first," says Fernandes, "but was extended to September 25, 5 pm sharp. Those who submitted after the closing date cannot participate. It's unfortunate but AFI rules have become very strict."
He says though there is a rise in the interest in the sport, "there is a lot that needs to be done at the grassroot level [ensuring athletes have the equipment to train. Not like a few who enrol the names without any practice and come directly to the ground]. We struggle to get kids javelin. Also, because of the UID issue, many athletes could not participate in state meets."
Like Sanjay Ram and Nitesh Kami who received their UID cards on September 26, a day after the closing date, since they couldn't afford to pay the required fees of R500. As a result, they will not be able to compete in a state meet to be held at Dervan in Chiplun from September 30 to October 1 in U-16 javelin and U-14 age groups respectively; Nitesh's father is a watchman. Both boys, aged 15 and 13, study in BMC-run Hindi medium schools in Kurar village, Malad East.
"We tried talking to the state organisers," says their coach Nitin Bawner, "but they did not accommodate our request. Despite winning gold medals, these kids won't be able to take their skills to the next level." Now, they will have to wait till next year and will compete in U-20 and U-16 respectively.
"Exciting news! Mid-day is now on WhatsApp Channels

Subscribe today by clicking the link and stay updated with the latest news!"
Click here!