In a bid to ensure financial security to all, insurers and banks have decided to provide health covers and joint accounts to same-sex and live-in partners, but a lot of work still needs to be done on the ground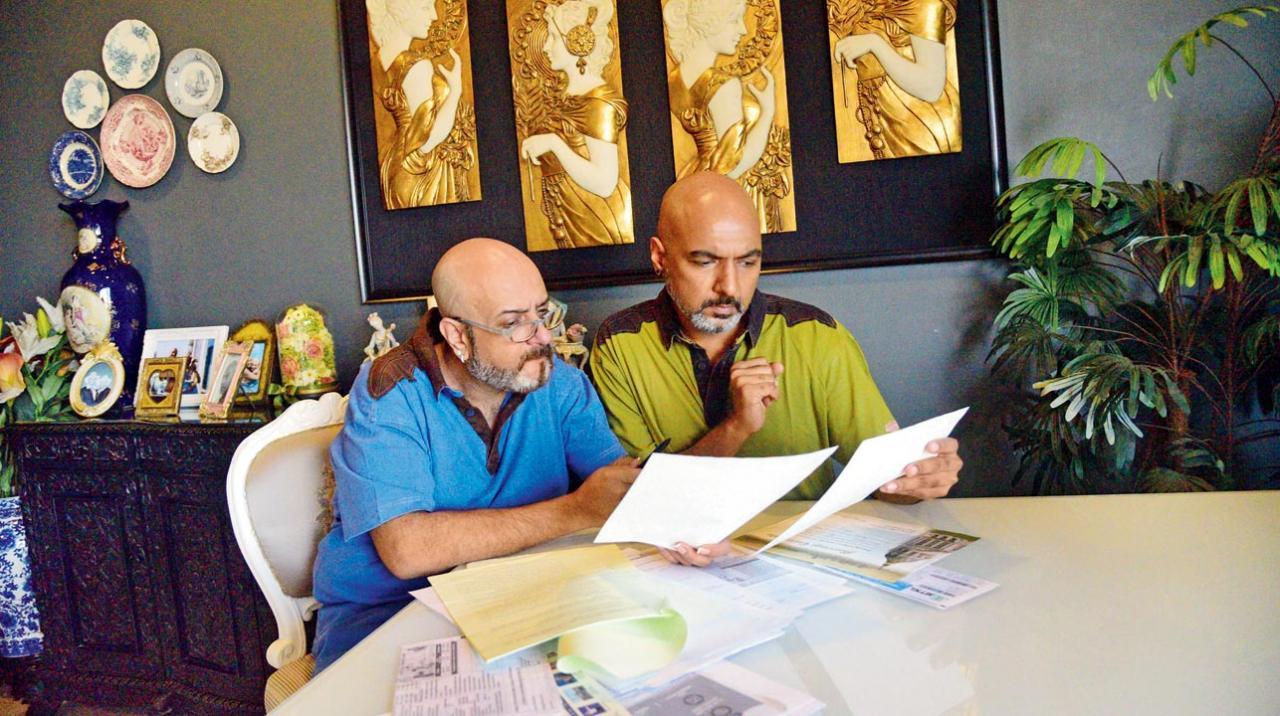 Mumbai-based couple Vishaal Asrani and Jiji Subi say that they had to sign a partnership form as co-directors of Vishaal Asrani's Institute of Performing Arts, to start a current account together, as they weren't allowed to have a joint account. Pic/Pradeep Dhivar
It's been a first of many firsts for Vishaal Asrani and Jiji Subi. Earlier last week, the Mumbai-based gay couple, who've been together for 19 years, got their first life insurance policy. "It's our only policy together," shared an emotional Asrani, over a telephonic chat. Twelve years ago, this would have been unthinkable, admits Subi. The pair had, for the longest time, struggled to get a joint account. "We were always asked about our relationship, and to show proof of that," says Subi. While the couple was married in San Francisco in 2008, in the "pre-Decriminalisation of Section 377 era", this wasn't considered a legal proof. To avoid further hassles, Subi who was in the Air Force, continued his account with a nationalised bank, while Asrani had his own independent one with a private bank. But worried about their money falling into the wrong hands, in the wake of something unfortunate happening to either of them, they decided to  sign a partnership form, as co-directors of Vishaal Asrani's Institute of Performing Arts. The couple then started a current account, with each other as nominees. "It was still not a joint account," says Asrani, adding, "And we were still not given the status of a couple."
Recently, the same bank reached out to them, asking if they were keen on investing in a savings insurance plan, which had a "low premium and offered great returns". "I made it clear that I would only opt for the plan if my partner was allowed to be a nominee and identified as my spouse. And lo and behold, they agreed," Asrani shares. While he is overjoyed, he says, "this is something that should have been our right from the very beginning. I shouldn't have had to prove my relationship to anybody." 
ADVERTISEMENT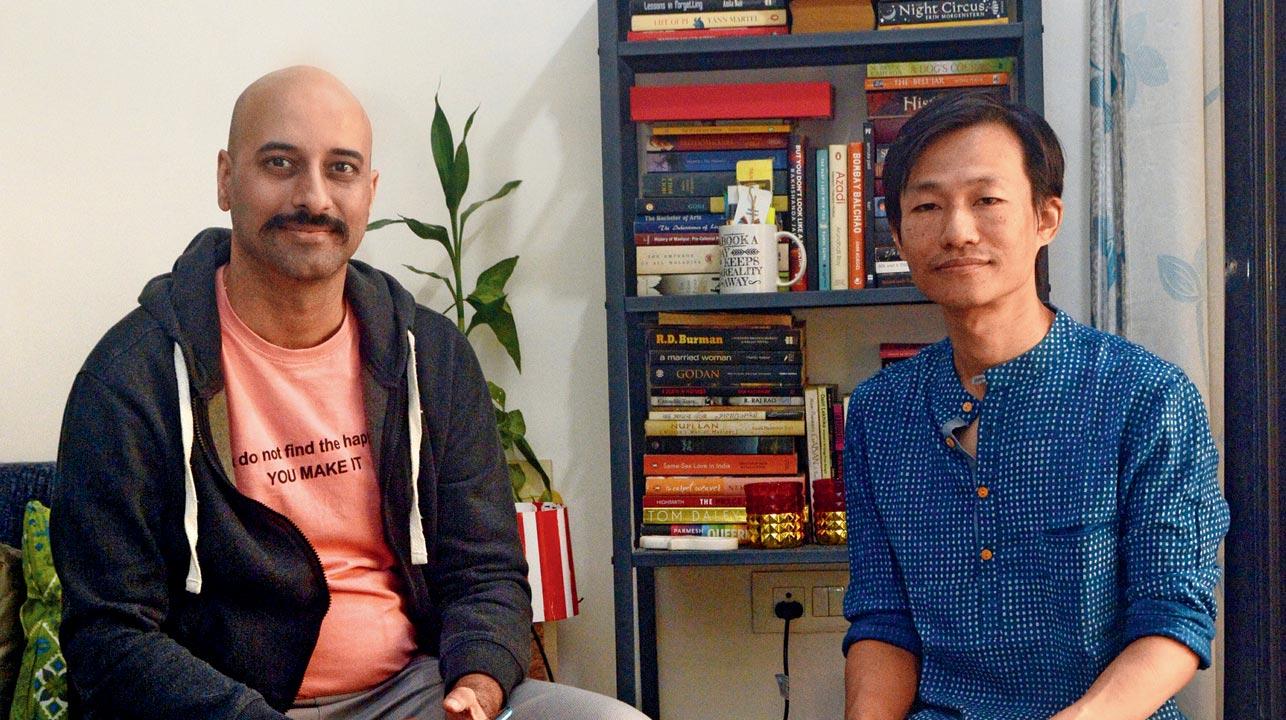 Mumbai-based radiologist Dr Ajay Nayak who lives with his IT consultant partner Rosun Rajkumar got a joint account made in 2021. "I had to still explain my relationship with my nominee when I went to the bank. By default, I am asked, 'Acha, aap madam ke saath joint account khologe'. It's a process of coming out again, and that too, to a stranger," he says. Pic/Satej Shinde
Banks and insurance companies are finally seeing merit in this argument. Over the last year or more, several financial institutions have announced ease of starting joint accounts, and providing health covers and term insurance to same-sex and live-in partners.
Sanil Basutkar is co-founder at Healthysure, an employee welfare platform, targeting SMEs to make insurance and healthcare affordable and accessible to the Indian workforce and their families. In September 2022, the company announced that it had started including LGBTQiA+ partners under their Group Health Insurance plans. "There was a logical reason for why same-sex partners were not earlier covered under these policies," says Basutkar. "When you mention a spouse as a nominee in a policy document, from the legal standpoint at least, nobody would abuse the policy, as it's a relationship recognised by the government. Over the last couple of years, with the startup environment maturing, and companies too trying to emulate a global standard with respect to health coverage, LGBTQiA+ partners slowly came under its umbrella," he says.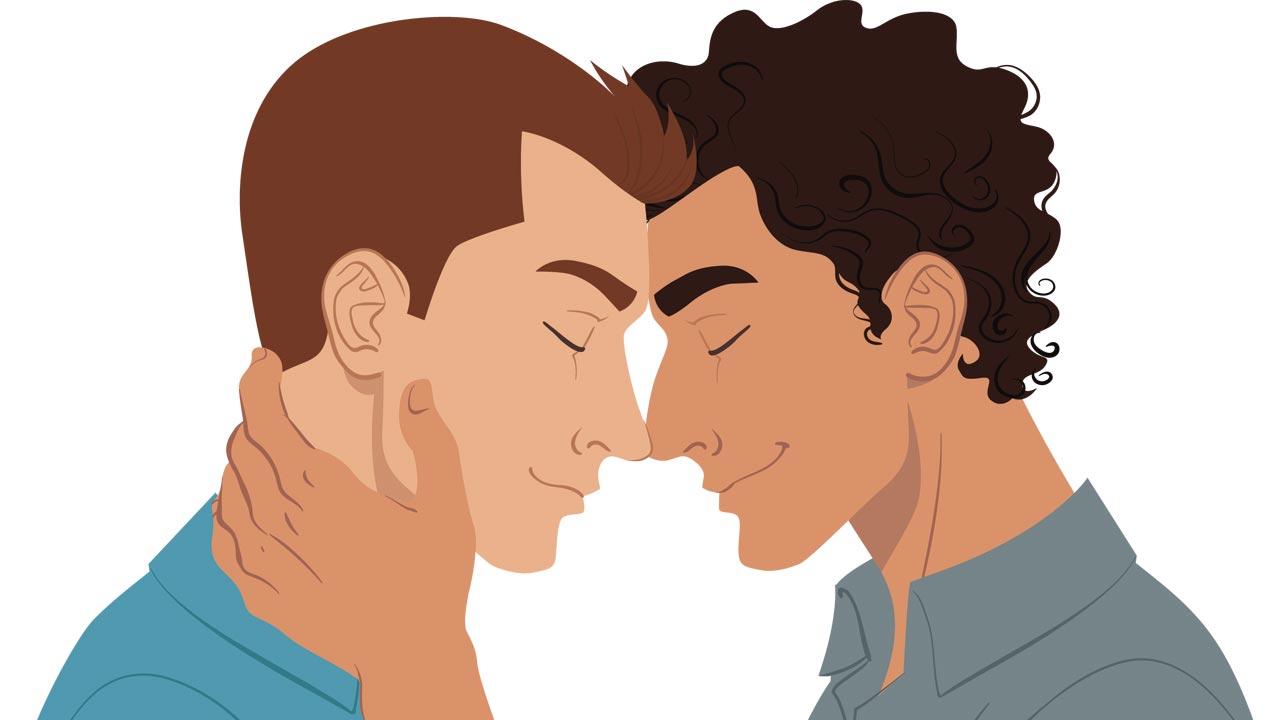 Aditya Bagarka, head of Strategy and Innovation at Plum, an employee health insurance startup, agrees: "People-first startups like Unacademy, Fi and TheMathCompany were some of the first to offer LGBTQ+ covers. Attracting young talent requires companies to be more inclusive, and that is one of the reasons why we see more of them willing to offer these benefits." Basutkar says when the plans began rolling out, insurers charged additional premiums on top of the regular coverage to safeguard their underwriting risk. "This was also only limited to the group insurance cover," he adds. Things have changed in the last few months, especially with the post-pandemic focus now being on employee wellbeing. "Some companies are now considering coverage to same-sex partners in the retail health insurance sector as well," he says.
A case in point being Future Generali India Insurance Company Limited (FGII), which at the start the new year, announced expanding its definition of "family" across all its retail health insurance offerings, to include LGBTQiA+ community and live-in partners. In an email interaction with mid-day, Ruchika Malhan Varma, chief marketing officer, Future Generali India Insurance Ltd, said that it's during their internal research, and interactions with the LGBTQiA+ community and influencers that they were able to understand the challenges and constraints faced by the community. "In the context of insurance, one would be allowed to seek a floater cover insuring them and their live-in partners, only if they could be defined as a 'family'. We realised that the current definition of family under insurance offerings was not helping the cause. Given our commitment towards being strong allies with community, we took this challenge back home, looked at the legalities around same-sex, live-in relationships and took a decision to expand the definition of 'family'," she says.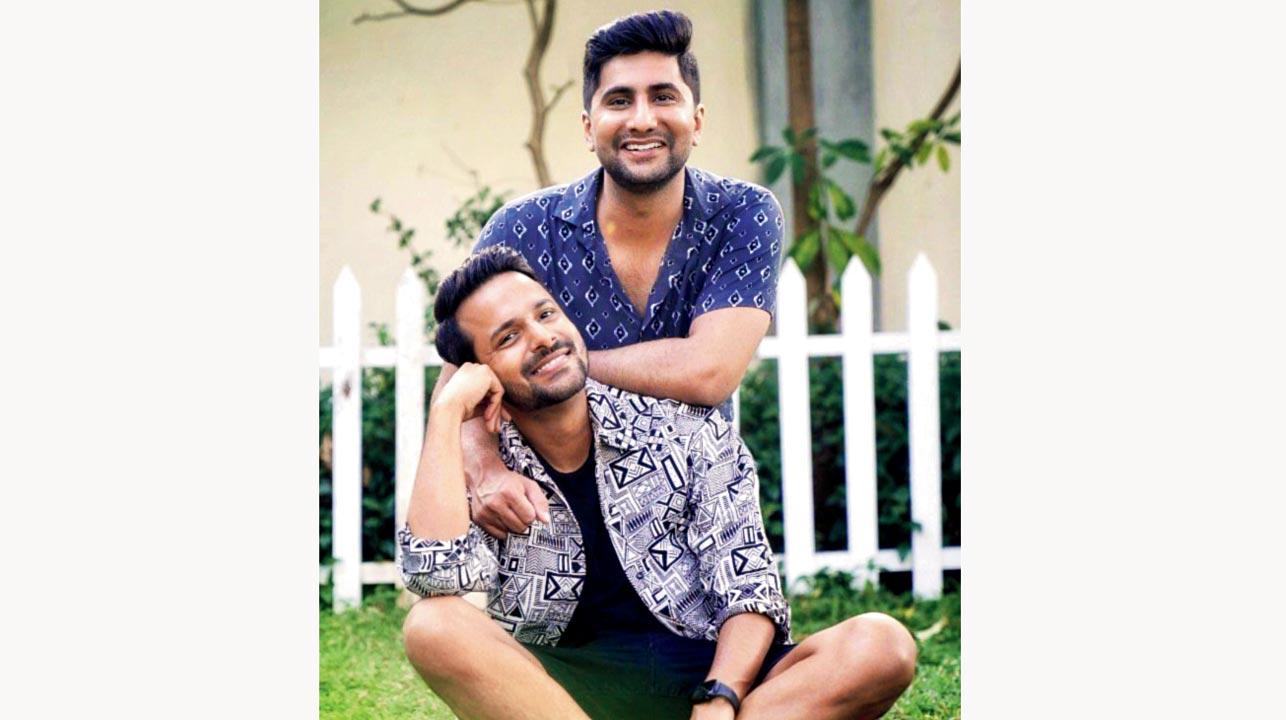 Queer influencer couple and former RJs Yogi and Kabeer from Gurgaon say their companies give out health cover to same sex partners 
Queer influencer couple and former RJs Yogi and Kabeer say they've been fortunate that both their companies give out health cover to same-sex couples. "But in the retail space, it was still not available until now... and so, for the longest time, the mere thought of getting one for ourselves, never occurred to us. We didn't even have the privilege to think about it," they share.
Making queer persons aware about the availability of policies in the market is key. KlarifyLife, an initiative by HDFC Life, uses blog posts and social media to guide people about insurance policies. A post from last year, for instance, addresses how a transgender person can get a term insurance. "Every individual feels the same need to secure their family in their absence.  Keeping these ever-evolving social dynamics in mind, we felt that there was an acute need to promote awareness about term insurance, its benefits, eligibility and other factors, especially for the LGBTQiA+ community," says  Nithin Johnson,  head, strategy, CX transformation (HDFC Life); Founding team (KlarifyLife).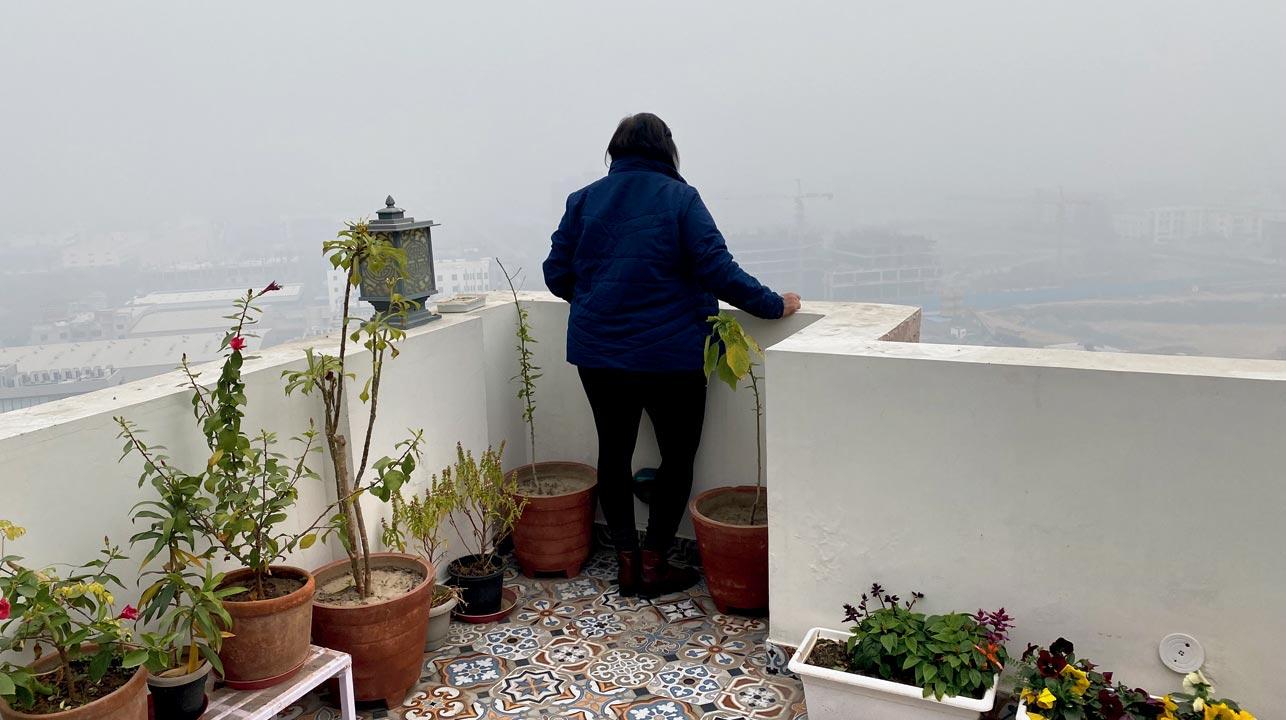 Noida-based Megha M, who has been living with her partner for the last seven years, recently took a home loan to buy a house. But because the loan was in my name, she couldn't add her partner's name in the property documents, even though he contributed a fair bit to buying the house
In September 2021, Axis Bank announced Come As You Are, a charter of policies and practices for employees and customers from the LGBTQiA+ community. "It was part of our Dil Se Open philosophy, and at the heart of it all was embracing diversity, equity and inclusion. As a bank, we are very aware of our responsibility from the wider environmental, social and governance commitment. So, how do we walk the talk? All employees can list their partners for mediclaim benefits, irrespective of their gender, or marital status. [It also covers costs for gender affirmation surgeries and psychiatric interventions]. Customers from the LGBTQiA+ community can list their title as Mx [a gender neutral honorific title] in their savings and term deposit accounts, and can also open a joint savings account or term deposit with their partner, or add them as nominees," Satheesh Krishnamurthy, EVP and head, private, premium banking and third-party products, Axis Bank, tells mid-day.  In December last year, Axis Bank partnered with Tata AIG General Insurance Company Ltd. (Tata AIG), to offer Group Medicare products for its customers from the  LGBTQiA+ Community.
Harish Iyer, VP and head (diversity, equity and inclusion), Axis Bank, says one has to ask why it took such a long time for the industry to come up with these policy changes. "Many same-sex couples have been ostracised by their families and have no financial security whatsoever. It was important to cater to them." Iyer points to a World Bank study, which indicated that homophobia costs India 0.1 to 1.7 per cent of its GDP. "If there's no homophobia, India's GDP will gain just as much," he says. 
Satheesh Krishnamurthy, Sanil Basutkar, Harish Iyer, Aditya Bagarka and Ruchika Malhan Varma
Dr Ajay Nayak is a Mumbai-based radiologist. Nayak and his IT consultant partner Rosun Rajkumar have been together for the last three years. Though both are financially independent, Nayak says, that as a couple they have very little claim over each other's finances. 
"Every time I've got a new policy or opened an account, I have had to make my parents a nominee. But they are in their 70s; after them, whom do I add as my nominee?" he asks. The couple recently managed to get a joint account, after Nayak came across a print ad about a bank allowing same sex partners to open one. While Nayak is all for banks and insurance companies announcing path-breaking initiatives like these, he says on-ground sensitisation is needed. "I had to still explain my relationship with my nominee when I went to the bank. By default, I am asked, 'Acha, aap madam ke saath joint account khologe'. It's a process of coming out again, and that too, to a stranger." 
The evolving set of rules and regulations also make room for live-in partners. And while it's a step in the right direction, a lot of work still remains to be done, feels Noida-based media professional Megha M.
Megha has been living with her partner for seven years. "When we decided to buy a house, we knew we'd do it together, but we didn't take into account the complications that would come with it. Because the loan was in my name, I couldn't add my partner's name in the property documents, even though he contributed to buying the house. Now, he doesn't have an address proof. These aren't things that you anticipate. We have been consulting with a lawyer to find a way to make him a legitimate co-owner." Megha says her company health insurance cover too doesn't allow a health cover for her partner. "But if I was married, the mediclaim would cover even my spouse's parents. When it comes to LTA, I can only claim R15,000, while my colleagues can claim over R50,000, because they have spouses. This affects my tax saving ability as well. There are a lot of these little things which add up eventually, and you just feel that it's not friendly to people who are making decisions that are not conventional."