Will we be smelling different a decade from now? Without a doubt, believe perfumers and flora agriculture experts as flowers and herbs used to make perfumes for millennia are losing their habitat or changing their genetic markers due to climate change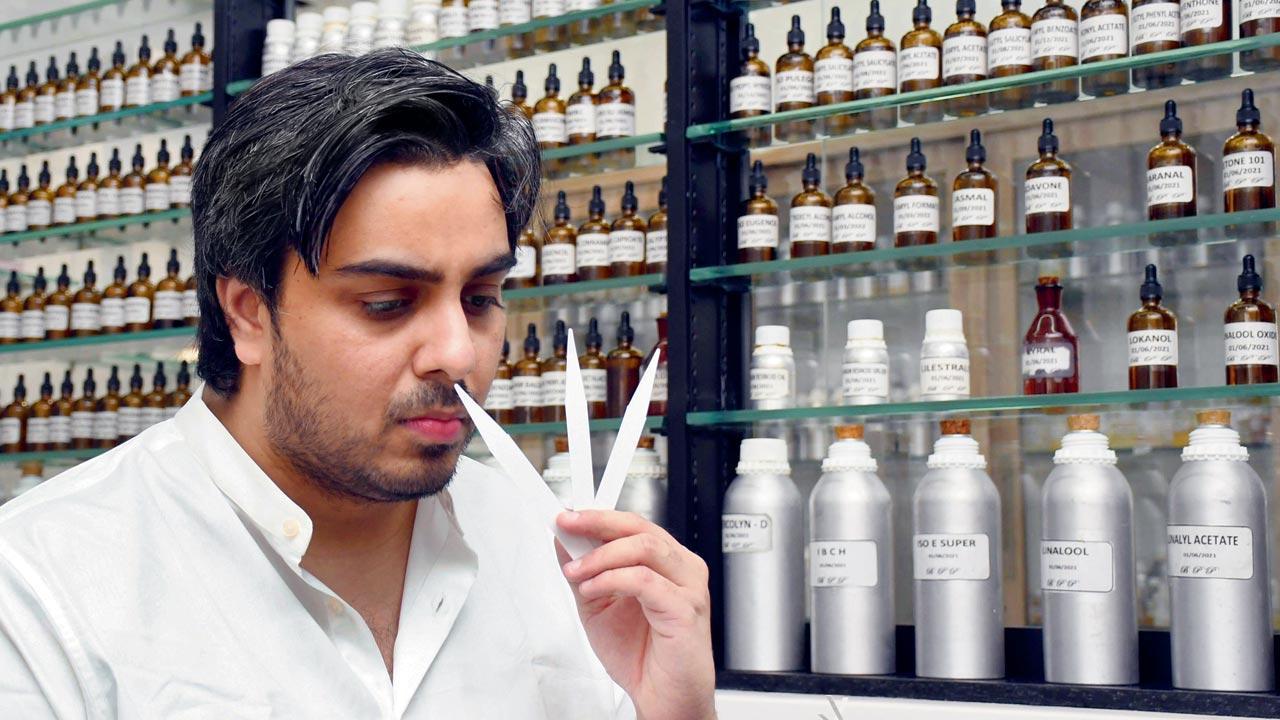 Manan Gandhi of Bombay Perfumery, who poses for mid-day at his perfume lab in Wadala, launched his indie fragrance outfit in 2016. He says that a single perfume is made up of thousands of ingredients sourced from all over the world, and erratic weather is bound to affect at least some of them. Pic/Ashish Raje
Here's an ominous prediction. It may just happen that in a few decades, we may not remember what the whiff of jasmine wafting through the air smells like. It also means we may no longer have fragrances that smell of mogra available on store shelves. 
Destruction of the ecosystem and radical change are affecting the growth of aromatic flowers and herbs. "You have to understand that a perfume is made up of around 2,000 ingredients," says Mumbai resident Manan Gandhi. "And these are sourced from all over the world. Changes in climatic patterns are affecting several of these ingredients."
ADVERTISEMENT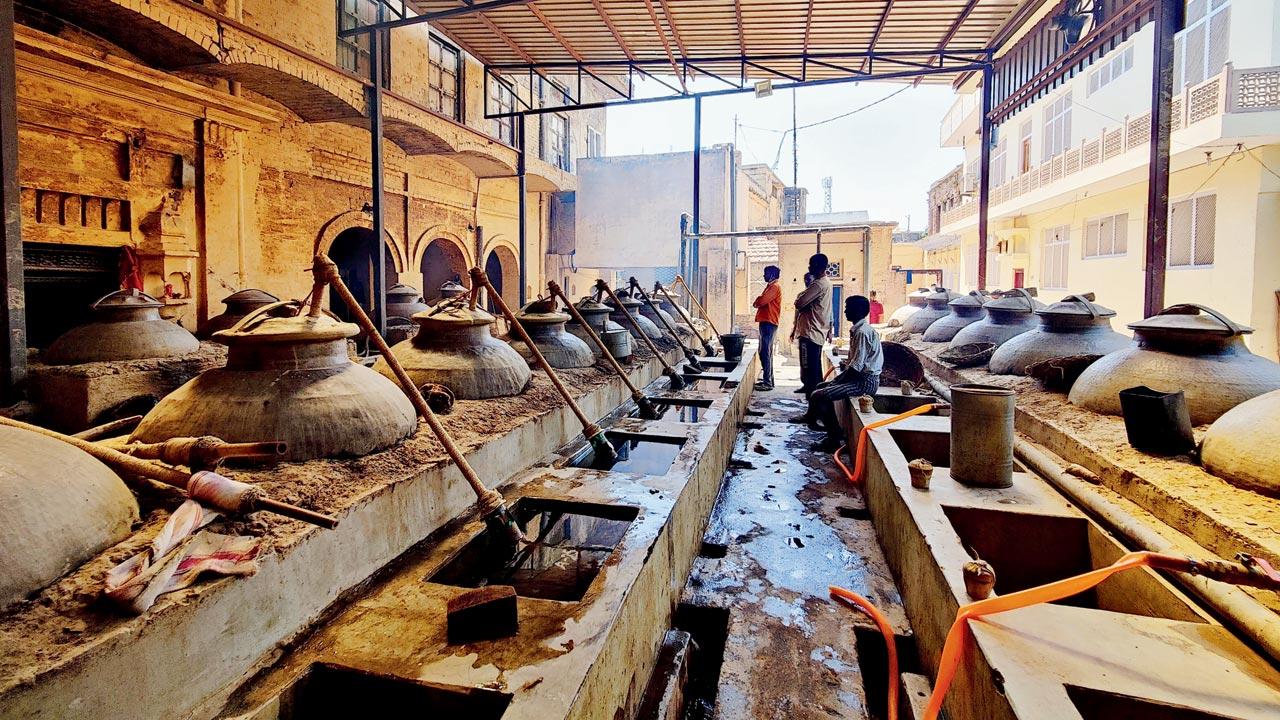 Kannauj-based Boond's thrust is on sticking to the ancient deg-bhapka technique—a slow distillation process where a copper vessel or deg is filled with flowers, herbs and water, sealed with mud, and put on a wood fire. The fragrant steam travels through the bhapka and is cooled in water to become a perfume. The final fragrance is a combination of oils extracted from this process and does not include alcohol
Gandhi, 37, is founder of indie fragrance outfit Bombay Perfumery, which he launched in 2016 and sees sales globally online. South India, where jasmine or mogra is cultivated, has seen whimsical weather, directly impacting the flower's yield. "This year, two nurseries were wiped out because of the rain we received in January and February. This meant that the crop had to be harvested in March and April, when it's much hotter. This change ends up affecting the key markers in the flower," he explains. Patchouli, a bushy perennial herb, was imported from Sumatra in western Indonesia. But, over the years, with the land there turning arid, it now has to be sourced from an island called Sulawesi. "But, this is a different kind of patchouli, which means that the formula and fragrance will change. We might even have to alter the ingredients that go with it."
Also Read: Dare to bare: What's making naked dressing popular in 2022?
Gandhi is referring to a headache that the global fragrance industry, which was pegged at $33.69 billion in 2020 and is predicted to grow to  $40.9 billion in 2025,  is grappling with. And climate change is not limited to a heavier monsoon. According to reports from Europe, erratic weather pattern changes are affecting jasmine production in Grasse on the French Riviera. The extreme drought the area has faced means that the production of jasmine, which here is more expensive than gold, and tuberose, went down by 40 to 50 per cent. This in turn affected the production of iconic bestsellers like Chanel No 5 and Dior's J'adore. For a business that is now inundated with synthetic fragrances, climate change and its consequences mean yet another blow to natural ingredients.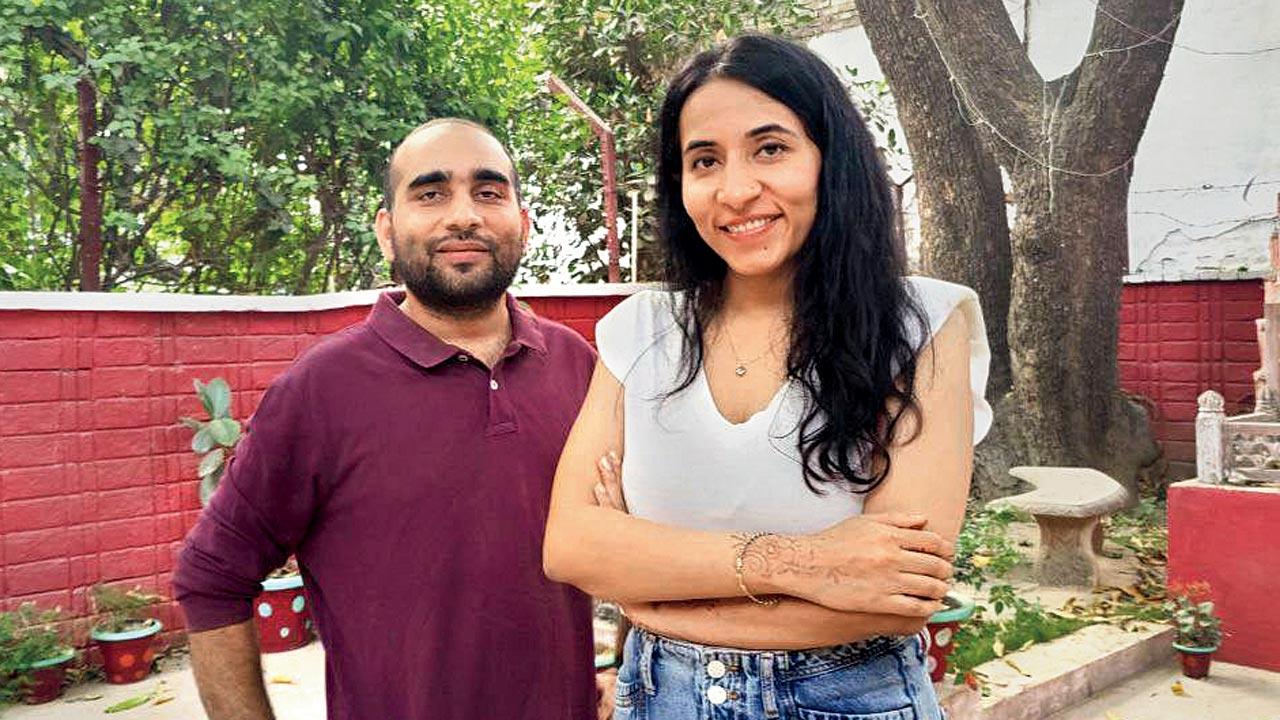 Boond founders, siblings Varun and Krati Tandon
What could save the industry, say experts, is innovation and adapting to newer scents.
In India, the situation, say perfumers, is a shade better. A study titled, Impact of climate change on medicinal and aromatic plants, published in the Indian Journal of Agricultural Sciences, said: "There are now changes in the phenological events of many plant species, such as the timing of plants' bud bursts, first leafings, first flowerings, first seed or fruit dispersal, etc. Studies and records indicate that many plants including MAPs [medicinal and aromatic plants] have started blooming earlier in response to the early occurrences of spring temperatures and weather." It also believed that "India, where climate is largely controlled by an annual monsoon, appears to be experiencing increasingly severe and erratic precipitation. This increase in extreme rainfall events indicates a greater potential for future natural disasters. Experts have claimed that the frequency and intensity of flooding has likewise been increasing in India in recent years, and hailstorms have caused huge agricultural losses. Therefore, such events are to be understood and their impact on MAPs needs to be diagnosed. States like Gujarat and Rajasthan experienced hailstorms and rain in 2006, 2007 and 2008, at times when such events traditionally have not occurred within the past 50 years."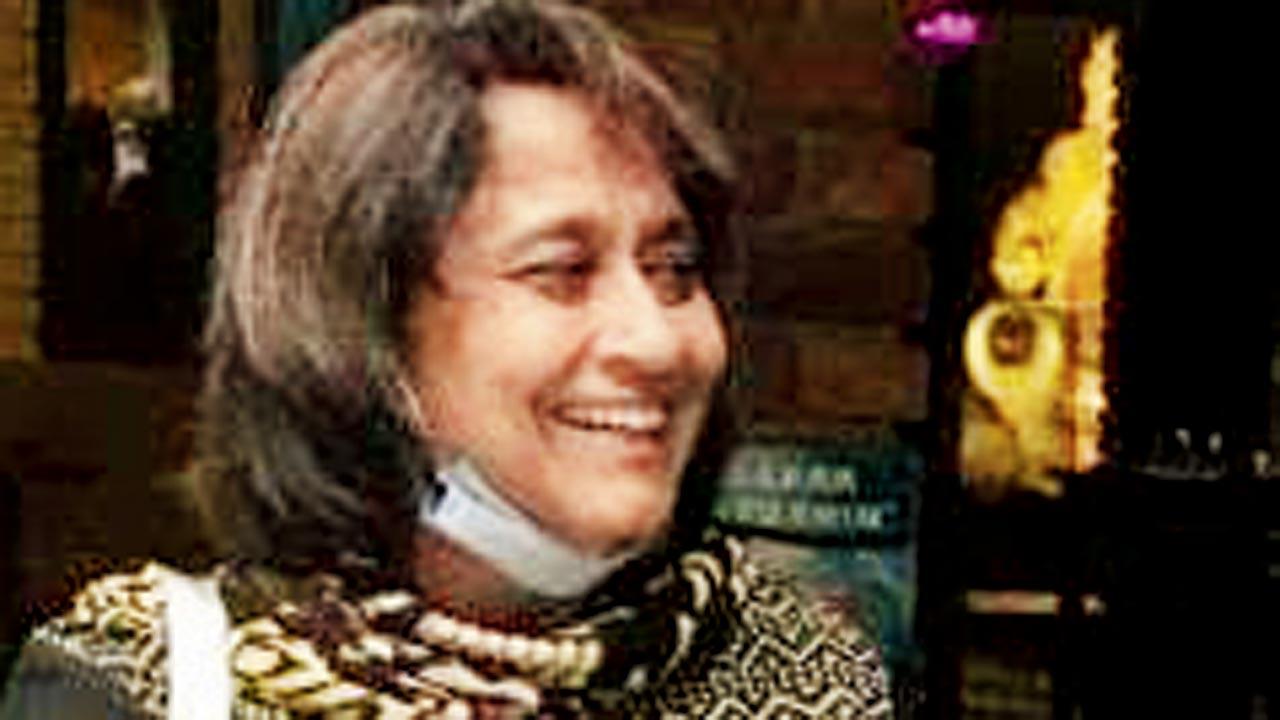 Jyoti Marwah
The report cites the example of heavy rainfall occurring earlier than usual in Northern India and reportedly damaging wild mint (Mentha arvensis, Lamiaceae) crops. A study conducted by Bhim Rao Ambedkar College, Delhi University, in Sikkim, analysed the potential habitat distribution of 163 medicinal plant species that are frequently used in essential oils, in both the current and future climate scenarios in 2050 and 2070. Published in Ecological Informatics, it used the "maximum species distribution modelling" technique that puts together observations of species occurrences, with environmental information, to project future distribution of species. Current species-rich areas are likely to shift by 200 metres and 400 metres in 2050 and 2070, respectively, the study said. Even more worrying is that it stated that between 13 and 16 per cent of plant species in the region are likely to lose their habitat by 2050 and 2070, which means that they can no longer grow where they have traditionally and naturally grown for hundreds of years. 
For Gandhi, innovation means moving to scents that steer clear of flowers and focus on cedar wood, pine and oudh (or agarwood). "We are not as large as Chanel to face extensive challenges, but yes, we too have had to start shifting to more woody scents and mossy notes." It's not surprising that Bombay Perfumery has a fragrance called Chai Musk priced at R4,100, which is a mix of lemongrass, spicy ginger, green tea, warm nutty notes, and musky sandalwood. It also incorporates a "hot milk accord" to make it smell like a fragrant cup of Bambaiyya cutting chai.
A view of a lavender field at the First Lavender Festival in the Himalayas on May 26, in Bhaderwah. Lavender cultivation is new to India and in the last 10 years, it has become a popular crop. In the Lavender Valley of India in Bhaderwah about $75 million worth of lavender oil is extracted. Pic/Getty Images
Ahmedabad-based Rajiv Sheth is the founder of All Good Scents. Sheth, who studied the art of creating perfumes in France and comes from a family that has seen three generations of perfumers, agrees that the worry is immediate and real. The family, who had until now made their perfumes in France, are now finding it prohibitively expensive due to erratic weather. "People are now shifting to India and looking at our rose and mogra, so we are gaining. I have started innovating in my own way—we reconstitute jasmine or lily of the valley in a lab. We make aromatic chemicals that smell as natural as the real thing. Another alternative is creating controlled plantations, like they are doing for agarwood in the Far East," he says of the resin-filled wood from the agar tree that's used in perfumes and incense. This technique refers to growing a plant under controlled conditions and manipulated by human intervention. 
While manufacturers may be looking at alternative scents altogether, agricultural experts haven't lost all hope. Agronomist Sukesh Kumar Sinha, who works with the Mumbai-based flavour and fragrance company SH Kelkar, says that tissue culture and cloning is the way forward. "We are in the business of making perfumes and each of our perfume constitutes anywhere close to 4,000 ingredients, out of which 470 are natural essential oils. Plants like geranium, patchouli and lavender don't grow extensively in India. We source planting material from their traditional growing areas, and clone them. Awareness is then created among farmers about why it's beneficial to switch to these. We also train them in how to extract the oils, and we buy back from them," he tells mid-day. He gives the example of geranium which grows in Maharashtra. "In Leh-Ladakh, we are growing lavender and chamomile, and in the Konkan, we are growing patchouli, citronella and vetiver or khus."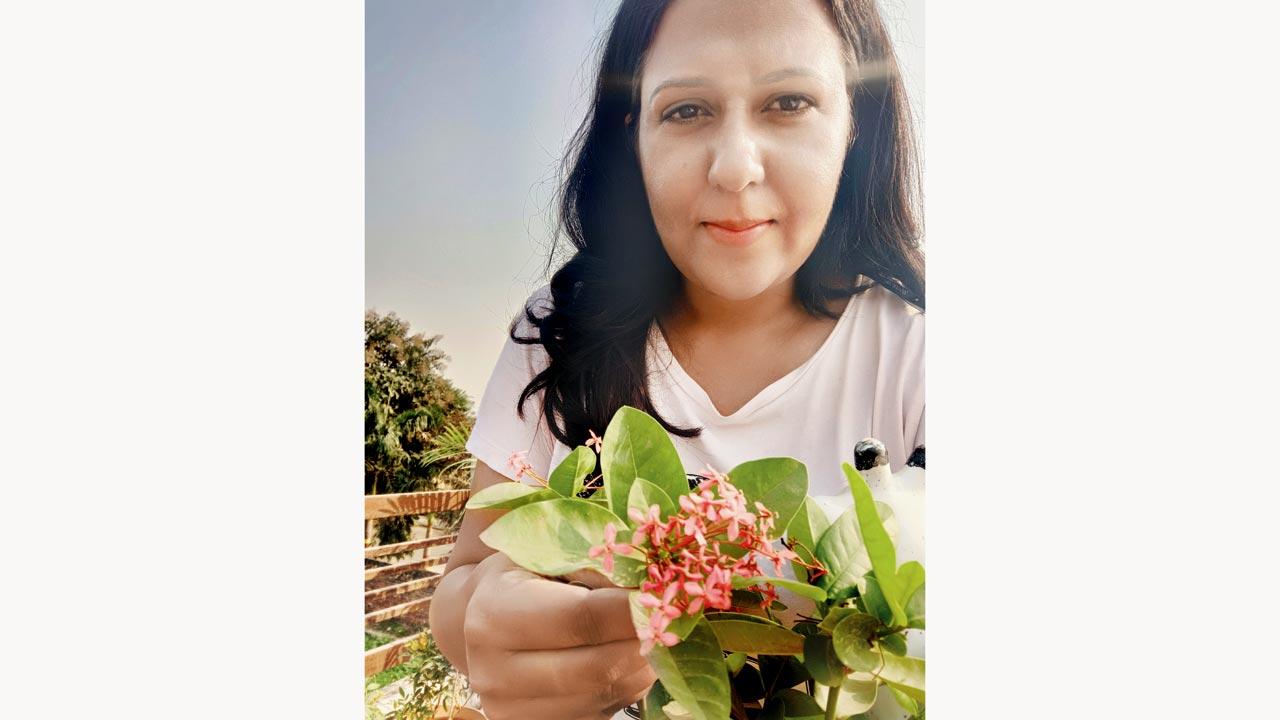 Kamaljit Kaur
Jyoti Marwah, researcher and founder of the Mussoorie Fragrance and Flavours Institute, says that tissue culture could be the only solution left before us. She speaks despondently of losing the lavender crop this year after it rained in Uttarakhand between April and November. "This year, Europe has seen a severe dry spell. When I spoke to my contacts there, they said that the drought-like conditions have even affected wild trees." India, she says, could be the raw materials reservoir the world may turn to, but Marwah says it's going to take thorough research and study to "see what works where". She gives the example of the tests the institute is conducting on how stress effects chamomile. "When we learn how it affects the medicinal herb, we can figure how to mitigate the effect. But this cannot happen right away."
But, it's important we start. In the southern Indian states, many known for their jasmine production, mogra yields have been low due to the early morning frost that has extended beyond the winter months, and pest menace, especially in villages like Vadakarapathy in Palakkad, which sits on the border of Kerala and Tamil Nadu. Since the flower grows well in warmer weather, farmers use this rain shadow area to cultivate it. They bloom within six months, and are profitable, commanding anywhere between Rs 700 and Rs2,500 a kg. A daily output  of 200 gm from one plant can reduce to as low as 50 due to change in weather. 
A tribal woman harvesting Jasmine in Anaikatti, Tamil Nadu. Pic/Getty Images
Kamaljit Kaur, who runs the tea company HerBlend in Munnar, a hill station in Idukki district of Kerala, and grows the flowers she uses in her teas, says that climate change has well and truly arrived. "We have seen less rain, and that has affected the volume of produce even in plants that used to grow abundantly. But, we have options, we simply have to look." She speaks of the junglee kitonia, a plant from the Ixora rubiaceae species. Its fragrance, says Kaur, is mild like tuberose, and has a hint of vanilla.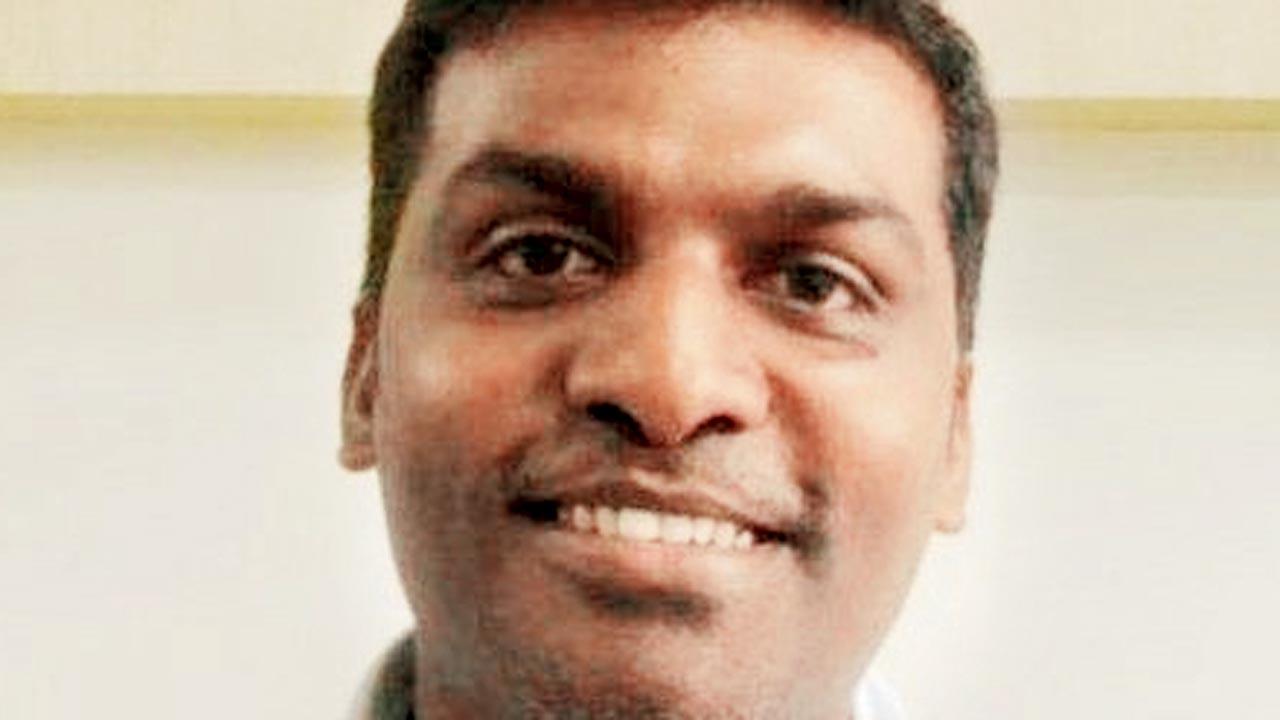 Arawinth Kumar, global procurement manager, Jayanti Spices
But, it is long lasting. "If you rub it in your palm, the fragrance will last for a few hours. They also grow through the year and don't demand much care. Many fragrance companies are now turning to it. The golden shower flower, cassia fistula, in my opinion is better than mogra and chameli. It has a hint of peppermint. We have begun exporting all these varieties to Europe."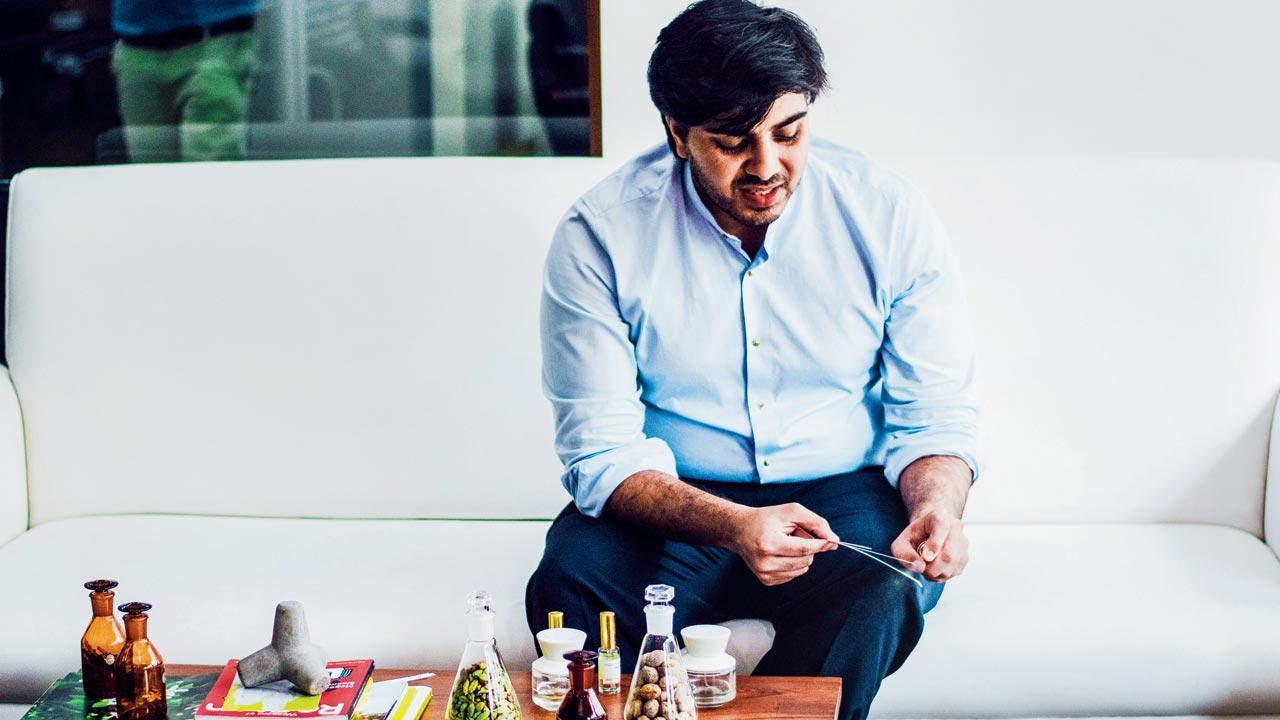 Manan Gandhi of Bombay Perfumery says that they are now turning to non-floral ingredients like oudh
Arawinth Kumar is global procurement manager for Jayanti Spices, a Coimbatore-based agri-business firm engaged in the export of value added spices. The 72-year-old company used to import rosemary, an evergreen, fragrant shrub, from Turkey. They now have turned to Talavadi Hills near Ooty where it is grown. The oil extracted from the herb is used in the pharma industry and in the cosmetic business with high exports to European countries. Because it can withstand drought conditions, is perennial in nature and doesn't attract animals, farmers have taken a shine to it. "Farmers are facing the brunt [of climate change], but they are learning how to adapt," says Kumar, hinting perfumers must too. "Rosemary from Turkey smells entirely different from the crop grown in Talavadi. So, we will have to figure how to tweak manufacture and see if those changes work for buyers and clients."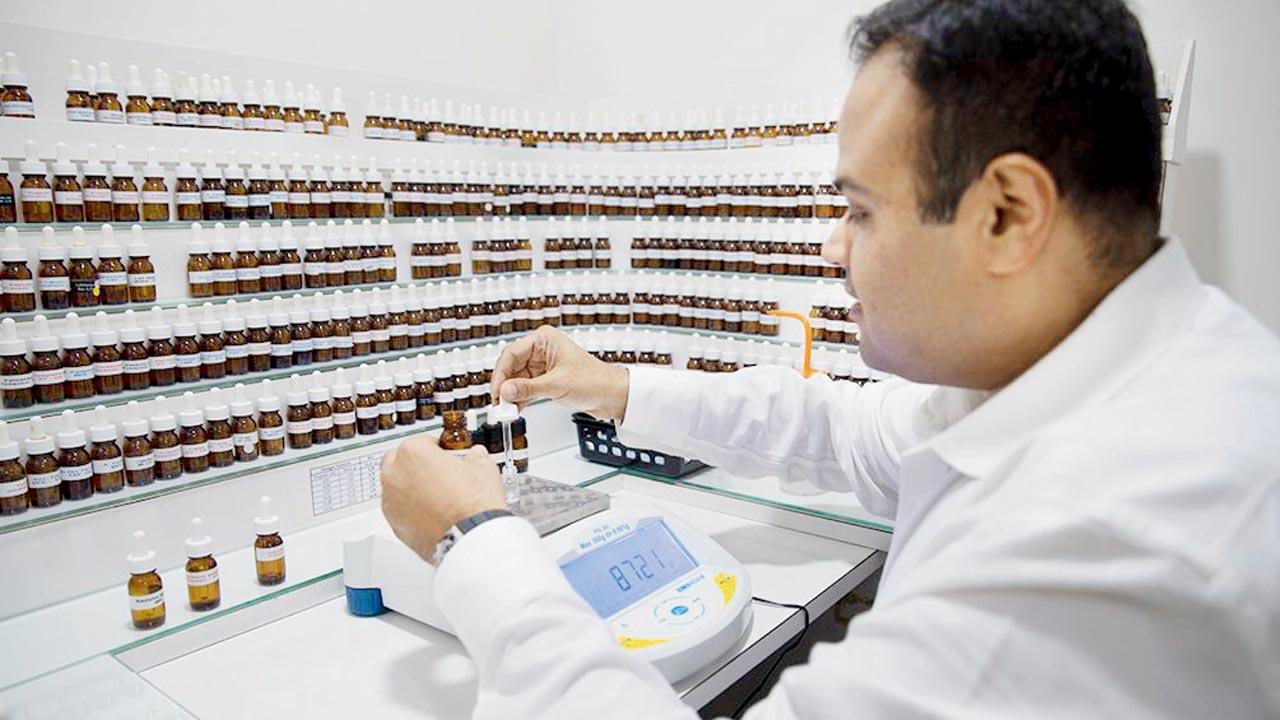 Rajiv Sheth of All Good Scents says that Europe soon may be looking at India for its need for raw materials
For an indie fragrance brand like Boond, which ships perfumes handcrafted in Kannauj, the epicentre of perfume production in India, globally, the key is keeping it uncomplicated. "Yes, climate change is a concern but for smaller brands like ours, the key is to use practices and ingredients that are sustainable. Our creations can be manufactured without electricity even, and we would never want to step in a lab. We use everything that is local," says its founder Krati Tandon, who along with her brother Varun, launched the brand during the COVID lockdown of 2021 after seeing first-hand how the fragrance industry artisans had suffered during the pandemic. Their thrust is on sticking to the ancient deg-bhapka technique—a slow distillation process where a copper vessel or deg is filled with flowers, herbs and water, sealed with mud, and put on a wood fire. The fragrant steam travels through the bhapka and is cooled in water to become a perfume. The final fragrance is a combination of oils extracted from this process and does not include alcohol. While their floral and woody range includes the king of aromatic blossoms, Gulabi or rose and Motiya or jasmine, and is priced between Rs 1,399 and Rs 1,529, their bestseller smells are not of flowers and herbs, but mud (Rs 1,449). "Maati evokes the experience of wet earth smells after the first rain. Who can beat that scent?"
"Exciting news! Mid-day is now on WhatsApp Channels

Subscribe today by clicking the link and stay updated with the latest news!"
Click here!