That they can be trained, and may listen to you. Just don't tell everyone
Gauri the cat is one of Raj Mariwala's 'foster fails'; Nimboo the Mudhol fell in love with her; Mariwala learnt much through her cats, such as Gauri, and followed it with a feline behaviour course from the US. Pics/Pradeep Dhivar
Research shows that cats recognise their name when they are being called, but choose not to respond. And with that, you know the very crucial difference between a human being's most popular companion. If dogs are our best friends, cats are our (sometimes) benevolent overseers.
So, it may come as a surprise that cats can be trained—to do tricks, to come when called, to act in commercials and to, more or less, listen to you. Like dogs, they also undergo behavioural problems such as improper elimination (that's toileting outside the litter tray. No, your cat is not just being an a*******), and getting along with other cats or dogs in the same household.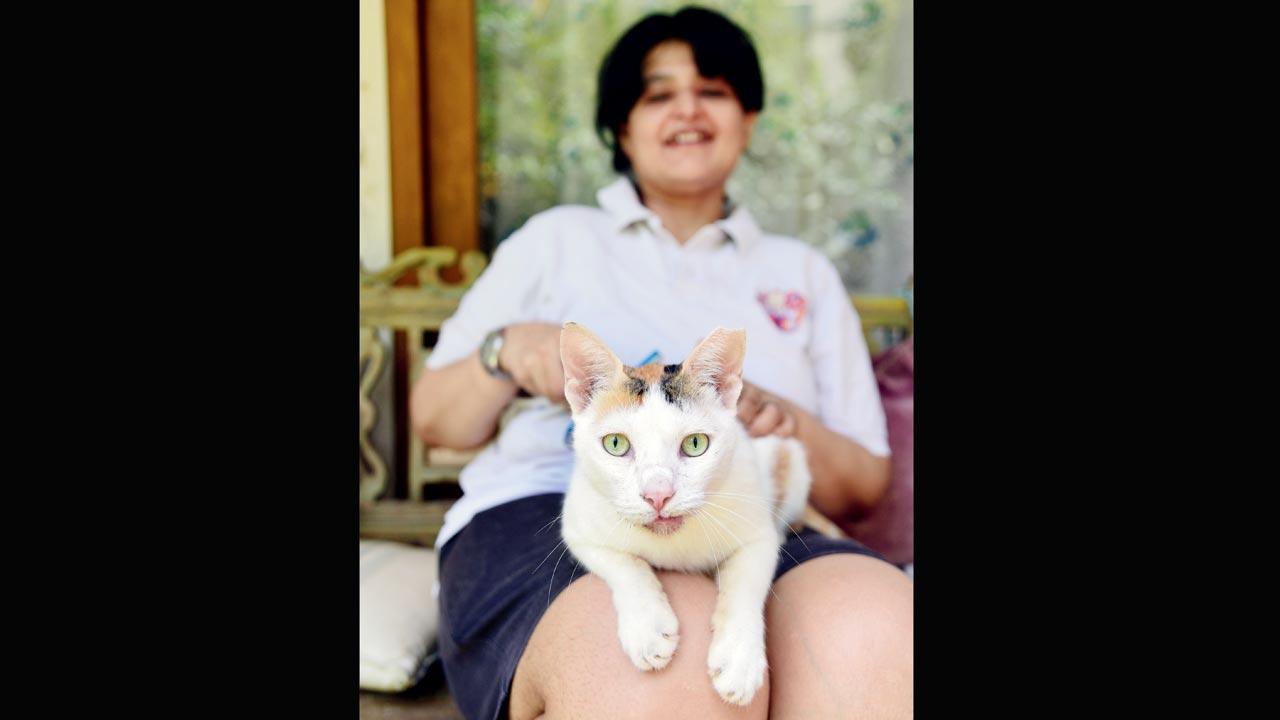 Yet, there are very few educational bodies across the world that tutor individuals in feline behavioural psychology. And so it follows, there are very few feline behaviourists. Mumbai has at least two feline behaviourists, and they've got their hands busy.
Raj Mariwala had been training dogs for five to six years when a little black kitten came into her life. "We hand-fed her since she was a day old," says the Bandra-resident, "And my dog Tequila fell in love with her, so Chom-chom stayed." Raj began getting more requests for fostering cats and many became "foster fails" (a term used to describe the delusion most rescuers suffer from: That they will eventually give the animal away). Chom-chom curiously loves to lounge in a wash basin and swat at the running tap while Raj brushes her teeth.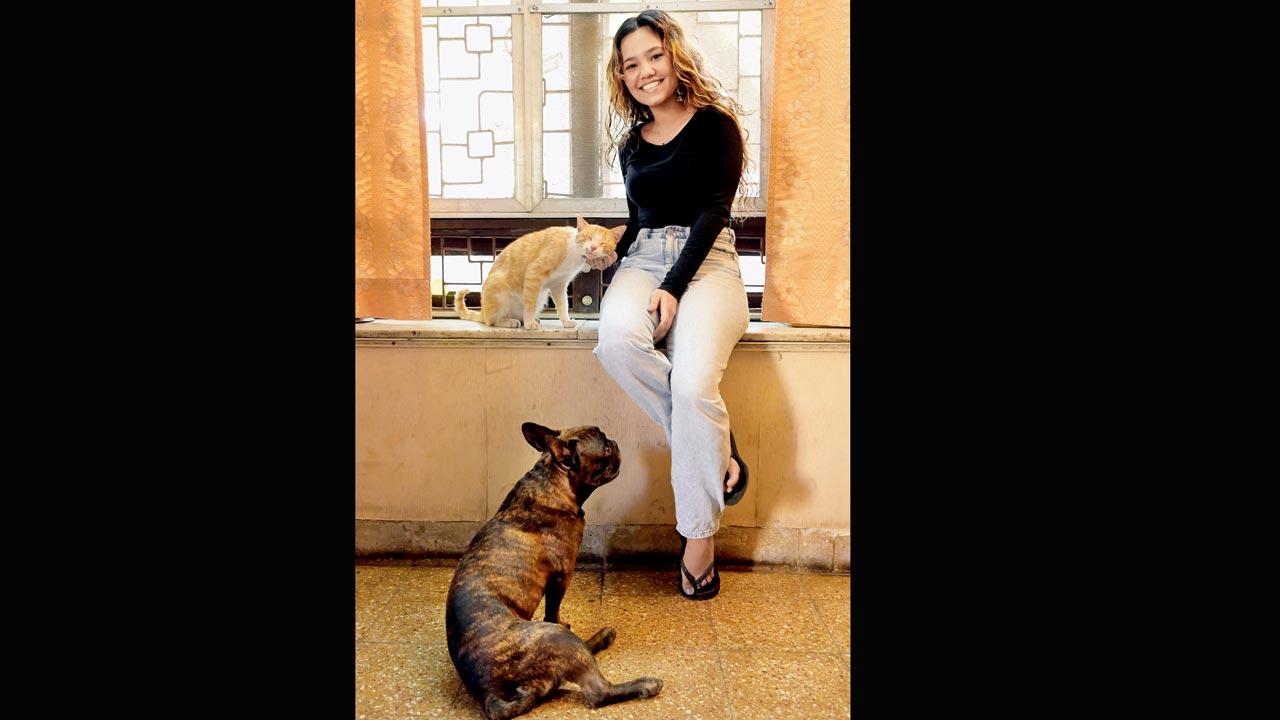 Amanda Tong and Oscar practise some agility training. She trains cats to be accepting of human handling. Pic/Bipin Kokate
Seeing her happy, multi-species household, Mariwala began to help others integrate their pets. "I was learning so much from my animals that I started using my cat to train other dogs to be okay around them; and my dog to teach other cats to not be afraid," says the 42-year-old. To be better informed, Mariwala began looking for courses on feline behaviour. She found only two—one in the UK and the other in the USA.
 "I decided on the latter, since I was scheduled for a holiday anyway," she says. "It was a short course run by the Humane Society with an aim to bring down the number of cats being given up due to behavioural problems." The course has since been discontinued.
When Deeksha Honawar sensed that Kaapi was amiable to learning, she started teaching her tricks
Amanda Tong also found her way into the minds of cats through dogs. The psychology graduate was working part-time as a dog trainer when she came across a course in companion animal behaviour in the University of Lincoln in Britain. It covered dogs, cats, fish, turtles, and other sundry animals that enslave humans with subterfuge. "I chose to focus on cats," says the 24-year-old about her MSc in Clinical Animal Behaviour. Her test subject was Suri, the Spanish cat, whom she taught to play fetch.
On her return to India in 2020, work started flowing to her through a veterinarian. "Dr Brijesh [Raj] would recommend me to pet parents," says the Mahim-resident. "And my work began to grow." Later in the year, she set up The Animal Behaviour Academy. Through the lockdown, she conducted online informational workshops—in partnership with animal rescuer Sib Khushi—on topics such as 'How do I know if my cat is in pain' and 'How to litter train my cat'. With the pet care industry being one of the very few that boomed over the last few years, her timing could not have been better. The industry is estimated to grow at a value of R7,500 crore by the end of 2026 as per a 2021 report by Research and Markets.
A large chunk of both Mariwala and Tong's clientele struggles with coaxing their multiple cats to get along with each other. This could include the introduction of a new cat into an existing clowder or ongoing passive aggression that erupts sporadically. The second problem most cat parents struggle with is house-soiling, something that happens most in multi-cat homes.
 "Cats are a prey and a predator species," says Tong, "while dogs are predator and social creatures. Cats focus on self-preservation and survival, thus like dark, high up places." "You bond with a dog through training," says Mariwala, "While with a cat, they pick up things more easily if they first have a bond with you."
Unlike dogs, who could work for treats, play or just to please their humans, cats are more motivated by play, finds Mariwala. "They have to learn to like human touch, and they can pick up human expression and variation in tone [again, whether they choose to respond to it depends on their astrological forecast for the day]. One cannot be as loud or over-expressive in praise like one would with a dog. Even greetings cannot be over-the-top."
Tong finds it easier to train with a clicker. "It's better to reinforce a behaviour, say a 'Sit', just before it naturally occurs and repeat this as many times as you can," she says. "Your timing has to be perfect, and it's better to try to engage them when they are feeling motivated. Cats also tend to get full faster—they have several small meals a day—so you can only do a few repetitions at a time. Also, if s/he is not in the mood, the cat will just avoid you, turn away or recede into a high dark space away from you, if not swat you. The recommendation is to leave them alone and come back later."
Reading cats needs more careful observation and an awareness of the context. A dog expresses explicitly with its entire body and a range of facial expressions; A cat might just come sit with you. "You have to watch intently," says Tong, "A swishing tail does not always mean annoyance; it can be arousal during play. Pulled back ears, especially when stationary, can be fear or pain related." "It can be as small as a dilated pupil or the twitch of an ear," adds Mariwala, "and they also tend to pick up on the stress in the house just the same as 
dogs. They tend to go into hiding when unwell."
Tong's scope of work includes socialising cats. She holds kitten kindergarten (arguably the second happiest place on Earth; Puppy school being the first) through which she teaches parents how to get Ms Claws to be accepting of human handling, like she would experience at a vet's. She also trained a cat to be in a commercial for a food delivery partner.
 "Tricks, etc. are just the tip of the iceberg," says Tong, "Training should actually be incorporated for a smoother human-cat relationship, such as training a kitten/cat to accept more handling, to make travel less stressful with carrier training. It should involve reinforcing desirable behaviour  and dissipating an undesirable one [using claws, during play, on human hands] or even to help a cat exercise more to lose weight."
The most complex move Tong has trained a cat to do is play Fetch with a ball. Hold your breath: The cat goes through an obstacle course and drops the ball into a glass. One of Mariwala's departed cats could balance on a  moving ball. She's found that they enjoy scentwork (sniffing out objects or food). "I hide treats in one of three toilet paper rolls, and arrange them in a triangle. The cat then sniffs them out," she says. Sits, high-fives, coming when called and spins are commonplace.
Hence proved: Cats can be trained, but they train you first.
Kaapi Cat, the performer
Deeksha Honawar had an inkling that Kaapi, the cat, was clever enough, and more importantly amiable, to be taught tricks. Her cousin Pradnya Hattiangadi is a dog trainer, and Deeksha watched her train her two Weimaraners—Kiss and Rory. "I was familiar with the cue-praise-reward order, and knew to make a hand gesture to support the verbal cue," says the 25-year-old. "I came across an Instagram account where the human taught the cat to sit, etc. So I tried it with Kaapi.
Two-year-old Kaapi got it quickly; the first command being 'Give paw'. "Then I told my family to repeat it a few times a day, and it was down pat."  Deeksha then moved on to others, and soon Kaapi knew 'Roll Over', 'Down' and 'Bang bang'. The last is a complex command, common in dogs, which involves the pet lying down on the floor as if dead, belly up, to the cue 'Bang bang'. It's a bit complex, as each stage (down, belly up, stay like that) has to be taught separately and then linked together seamlessly, technically called reverse chaining. It takes 
a bit of practise.
Now they are working on 'Stay', a valuable command in case of emergencies, and on jumping over things. "Kaapi does not always like to be touched, but loves food," says the Wadala-based graphic designer. "He gets bored if people pet him too much and walks away into a remote corner where he won't be disturbed. If he's in the mood to play, he'll come find you. And he'll run from wherever he is when he hears the rustle of the treat packet."
Just like with dogs, Honawar rewards randomly so that Kaapi performs each time with expectations. With Honawar's parents living in Pune, Kaapi has also gotten used to riding inter-city in a carrier. His favourite games are playing with a ball of crumpled paper or an ear bud. "We usually end each session with play," she says.