A telecommunications graduate from Malad makes money jumping off fixed objects. He's one of the few nurturing a recreation that's just 12 years young in India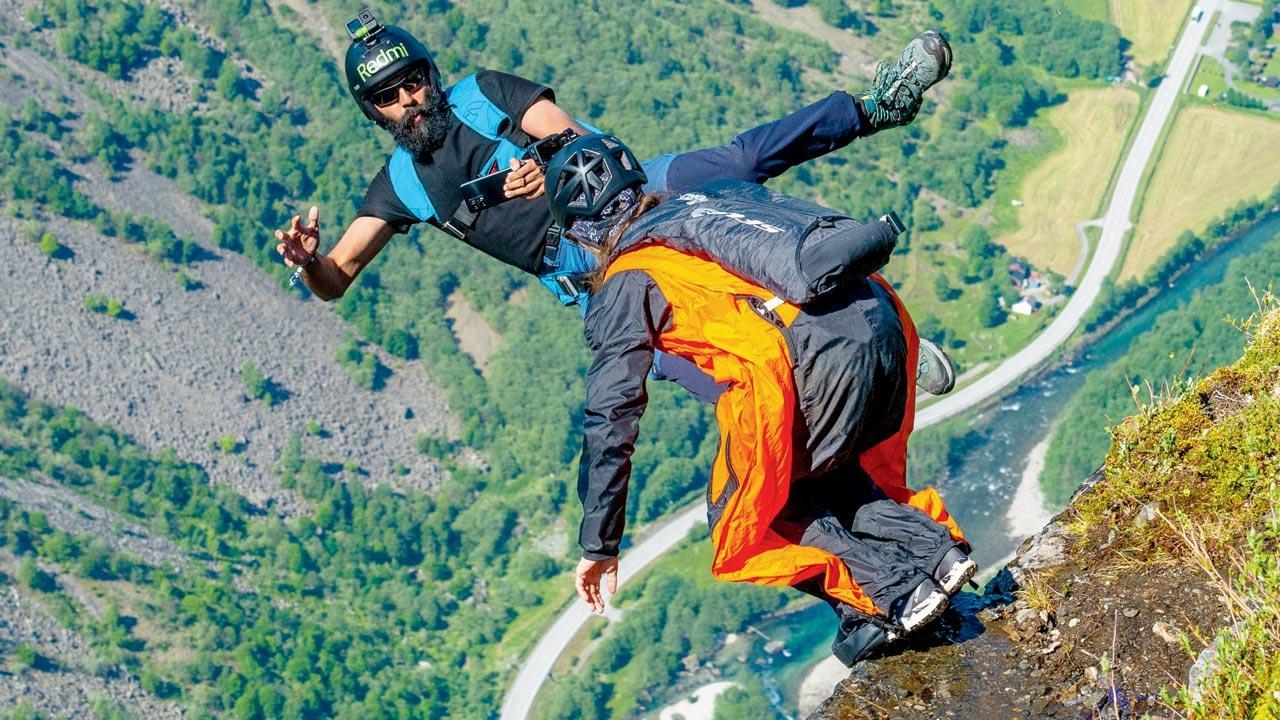 Sajid Chougle jumps into Gudvangen valley in Norway and shoots his companion doing the same. B.A.S.E jumping is believed to be more dangerous than skydiving as air flow does not stabilise motion. Falling at lower speed, B.A.S.E jumpers could tumble. Pic Courtesy/Olav Aga
His Instagram bio reads professional gravity tester; his jaw-dropping social media posts show him jump between cliffs. What exactly does this Superman from Malad do? "I am a B.A.S.E. jumper, which means I leap from buildings, antennae, bridges (aka spans) and the Earth [cliffs] itself," says Sajid Chougle, 39. To put it in simple terms, Chougle jumps off a point, relying on a parachute to descend to the ground. "It is a licensed profession and very safe," he tells mid-day, adding, "While training, your gear has an automatic activation device that pulls the parachute open, if you forget or fall unconscious."
B.A.S.E jumping is a recreational sport that unlike skydiving, which involves jumping out of an airplane, lets you jump off of fixed objects that tend to be less than 2,000 feet tall and descend to the ground using a parachute. It was back in 2010 that B.A.S.E jumping was introduced to Indians when Captain Lt Col Satyendra Verma jumped off a 235 metre-television tower in Delhi, making it the first legal B.A.S.E jump in the country. This was part of the activities planned to celebrate the centenary year of the Corps of Signals.
Chougle's love affair with jumping started 13 years ago when the telecommunications graduate moved to Philadelphia in Pennsylvania, for a job. "I would engage in adventure activities... from something as simple as cycling to water sports. One day, a colleague suggested I go skydiving. I had done a tandem skydive previously [person and instructor are strapped together] but he was telling me about getting serious and acquiring a licence." Chougle went for the Accelerated Freefall (AFF) skydiving training programme, costing $200 and involving 10 jumps. This, he followed by solo jumps, which are cheaper [$25-$30], if you have the gear. "Once you complete 25 jumps a month, you are eligible for a licence," he shares.
Chougle, who has a C licence, says he stopped keeping a record after 400 jumps. "I got the C licence after 200 jumps. This is when people start trusting you."
This is also when he decided that his passion required more time than his day job, so he quit and moved to India in 2011. Since, back then, India didn't have a promising aerosport community, Chougle created e-learning content for corporate houses. It allowed him the time to pursue rock-climbing, mountaineering and B.A.S.E. jumping. It was seven years later that he would embrace aerosport full time. "By then, I had figured out how to make money from it," says Chougle, who creates content for other enthusiasts, helms collaborations with brands and tourism boards.  
Freefall jumps in Goa, Himachal Pradesh, Maharashtra, Telangana and Karnataka are now on his CV. But the most memorable jump was from Konkan Kada, a C-shaped cliff in Bhandardara region of Maharashtra, and off Tranda Dhank, a patch of road on the Old Hindustan-Tibet Road. This jump made him one of the first civilians to achieve the feat in the Indian Himalayas. Outside the country, Chougle makes the most of his passion in Norway, Sweden and Malaysia. "The mountains are huge in Norway [he jumped off the 1,110-metre tall Kjerag]," he says, adding, "In Sweden, I jumped off a windmill, and in Malaysia, off a 40-storey building." Why hasn't he tried a skyscraper in Mumbai? "If you can get me the permission..."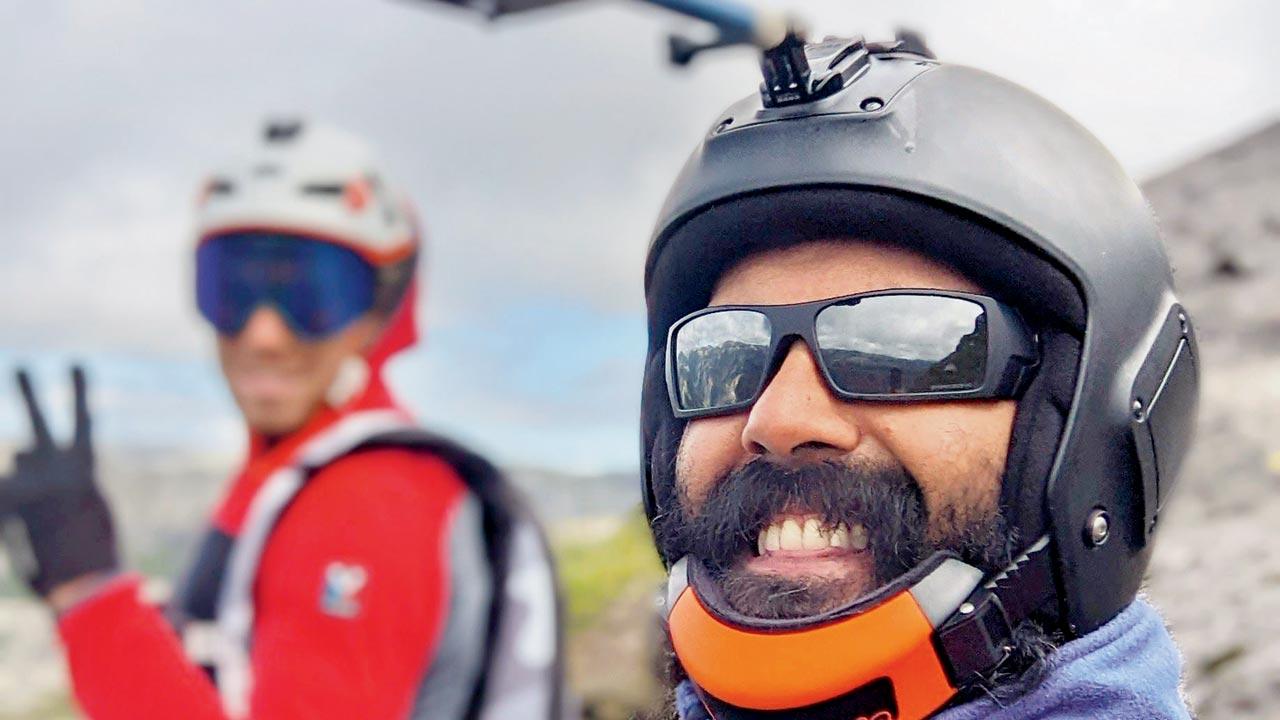 His weekly fitness regime 
According to Chougle, a 30-minute to an hour-long cardio session, which includes skipping, climbing stairs, running and walking, five times in a week is ideal as it helps one stay lean, which plays an important role while flying. This is why he also went vegetarian about a decade ago—his current diet includes boiled and grilled food over fried options. 
Advice for adventure junkies
Go to the US, Russia or a country in Europe to train. Around 100 jumps will cost you Rs 5 to Rs 6 lakh—that's similar to what you'd have to pay in India. It's expensive because it's a resource-heavy activity, needing planes, pilots, trainers and permissions. 
What else can he do?
Wingsuit flying: Skydiving using a webbing-sleeved jumpsuit
Sky surfing: Extreme sport where a skydiver wears a custom skysurf board attached to the feet