Sunday mid-day meets Anantshiv Gopal, who may as well be Mumbai's oldest citizen, to talk to him about the secrets of longevity. Spoilers: There are none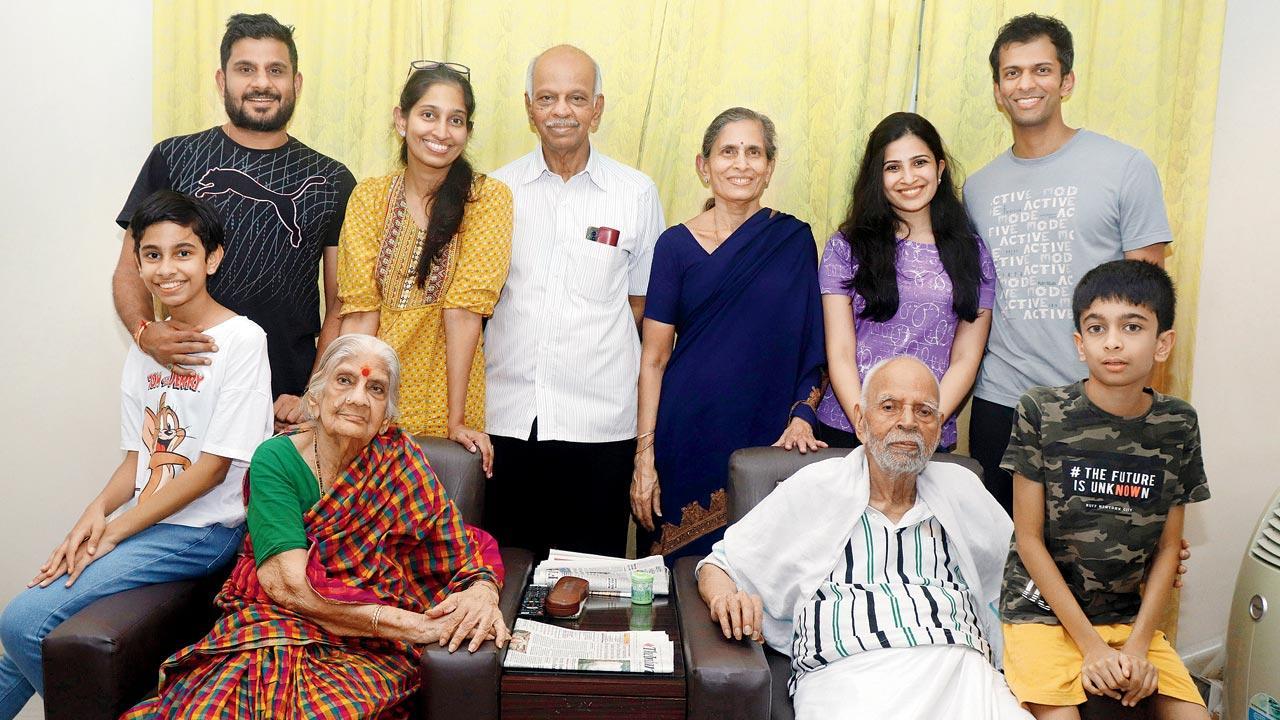 Thangam and Anantshiv Gopal, flanked by their 11-year-old great grandchildren—Avni and Arjun Shetty. At the back, from left: granddaughter Aruna and her husband Chetan Shetty, son Jayaram and daughter-in-law Uma, and grandson Ajay Jayaram, and spouse Soumya Ravi
Listen to this article
'What's so great about being 107?' One of Mumbai's oldest citizens dives into the secrets of longevity
x
In his younger days, when he was just 90 years old, Anantshiv Gopal would travel from Pune to Aurangabad on a public bus for work: To co-ordinate the making of casts for automobile parts. These days, at 107, his biggest regret is that he is not allowed to go out on his own. He walks around the house, is helped by his minder to walk downstairs, and every question we put forth—What was the happiest part of your life, what would you do today if you could, what do you miss the most, all circles back to "I can't move around anymore. What's the point?" Even just five years ago, he would have shouted at this pesky reporter and the accompanying photo-journalist: "What rubbish nonsense." Mellowed, he now just says sternly, "Have you done these kinds of stories before? I think you have enough material now… Please send your report for me to read before you send it to your editor…"
Life, right now, is a strict routine: Just the way he likes it. Rasam rice every day, made from his daughter-in-law Uma's inimitable recipe, reading two national broadsheet newspapers a day, a plate of seasonal fruit cut and peeled lovingly by his middle son, Jayaram Gopal. News, cricket and tennis on TV, though he'll be the first one to tell us, "It's just something to do. I don't retain any information," he says. News, above all, is what he lives for. The global, national, and familial. "These people are kind enough to visit me, and from them I know what's happening in the world and in their lives and our family."
ADVERTISEMENT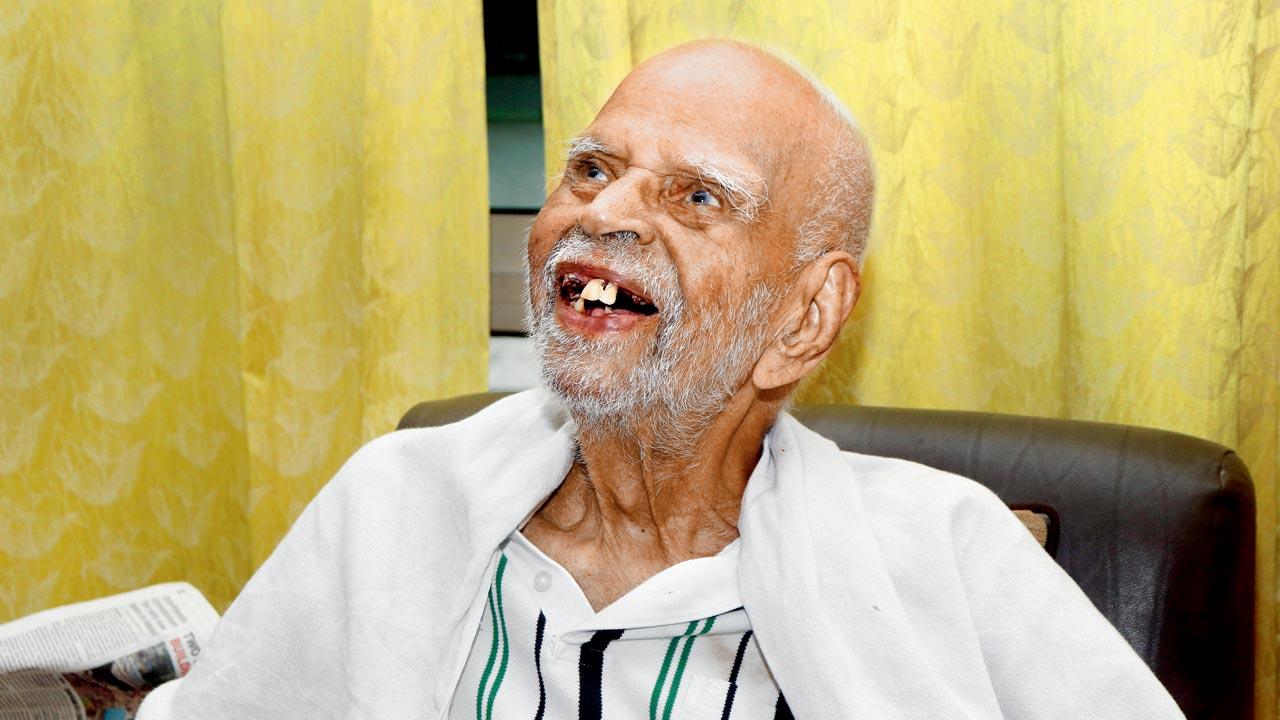 As per his jatakam, the traditional kundali drawn out at birth, A Gopal was born on September 16, 1916. Pics/Anurag Ahire
By these people, he means grandchildren Aruna Shetty and badminton champion Ajay Jayaram, and their families—spouses Chetan Shetty and Soumya Ravi, and Aruna's children Arjun and Avni. He lives with Jayaram and Uma in Chembur, after they arm-twisted him to move closer to them ("luckily," sighs the family unanimously) just before the pandemic. Before that, he and his spouse, now 95-year-old Thangam Gopal, insisted on living independently in Nigri, Pune, till he was over 100 years old.
Aruna fills us in: "My father would have to run over often to help them, and finally, we convinced them to make the move to Mumbai. They would love having us [grandchildren] over. He would feed us, take us to Kayani's [Bakery] and Chitale, fuss over us…" Who is your favourite grandchild?  Gopal, hard of hearing, uses this to his advantage and ignores the question. "He taught me to play cards.. Rummy, 28, 56…," Aruna adds.  
Gopal was born in Kottayam district of Kerala, and the family is from Palakkad, speaking a mix of Tamil and Malayalam. Born on September 16, 1916 (a date reflected in his traditional kundalini or jatakam), his Aadhaar card puts his age at 102. As we speak, we realise that as per the Gregorian calendar, the day of our meeting—16.9.2023—is his 107th birthday. He repeatedly asks his grandchildren why this newspaper representative is here and why he would be interesting to read. Understandably, five to six out of his nine siblings have lived past 90 years of age.
He doesn't remember too many details of his life: After completing Matric, he went to Madras to learn typing. A few years later, in 1938, he found himself in Mahim, Bombay, with an uncle with a job as a typist with Sepulchre Brothers India Private Limited. "Bombay had all the facilities that were beneficial—whatever you wanted, you got," he said. Did he go to the cinema? Did he enjoy nights out? Does he remember seeing British citizens? "Who had the time for all this," he dismisses, "We walked to work to Dadar, or took the train or tram. Did the housework. Cooked and saved money." In 1946, he married his bride, who was 18 and highly educated, the daughter of a lawyer. 
The family is slightly sorrowful that he has lived through epic times that he would surely enjoy, but his brain cannot retain—the Chandrayaan expedition for one. His grandson's sports wins, his 12-year-old great granddaughter's affinity Avni excelling at badminton and track. 
But Gopal is not too bothered. There are still pleasures in life. Getting up at 6 am sharp, and brunch at 12 pm, for instance. And giving grandchildren crisp notes in an envelope on birthdays. The rolling of traditional loose tobacco from Kerala in fresh betel leaf, about five times a day. He pulls one out now, from the drawer near his sofa, and starts the ritual. We take our cue to stop with the questions. 

Also Read: Why sneaker culture in India has taken Gen Z and millennials by storm
"Exciting news! Mid-day is now on WhatsApp Channels

Subscribe today by clicking the link and stay updated with the latest news!"
Click here!