UNESCO honour for Durga Pujo formalises its position as a soft power. Should Maharashtra wake up to Ganpati's global recognition?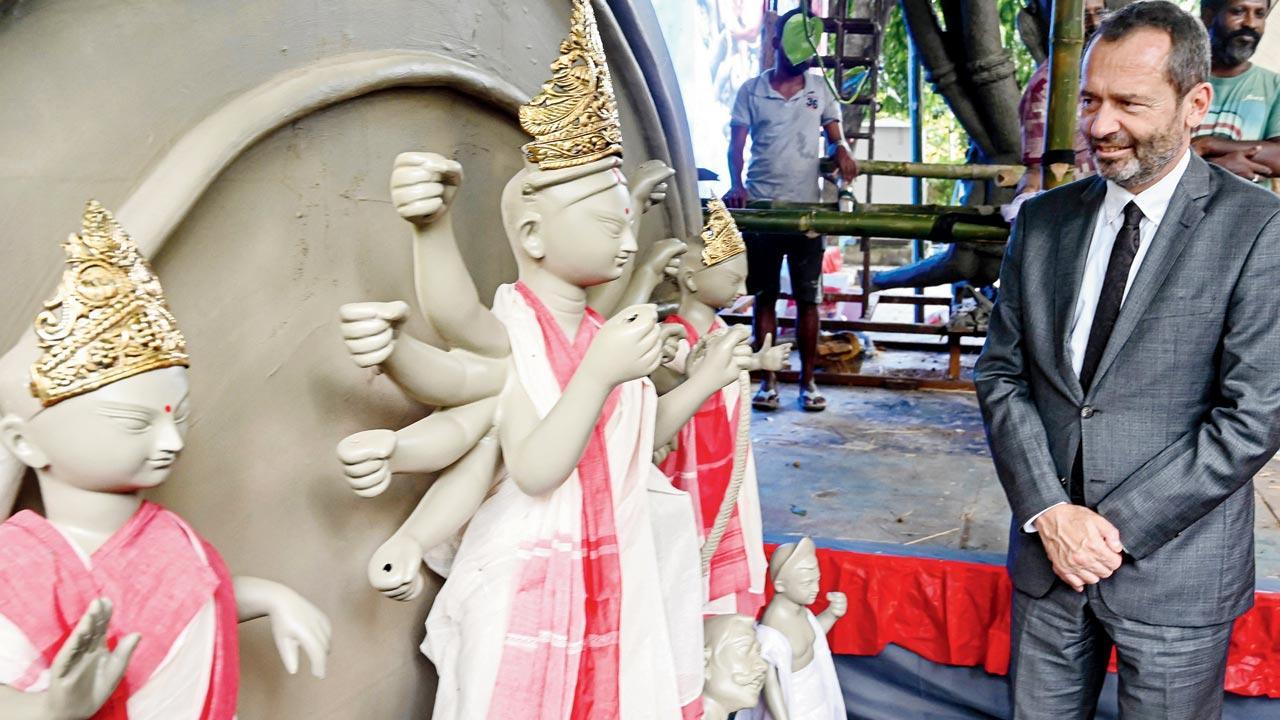 Besides the idol and the decoration, popular art forms such as the alpana (large designs on the floor) and the dioramas that constitute a Durga Pujo pandal were one of the criterion that UNESCO considered while recognising it is of intangible culture heritage of humanity. Pics/Getty Images
When Kolkata's Durga Pujo festival won the UNESCO Intangible Cultural Heritage of Humanity honour in December 2021, Mumbai-based heritage conservationist, Abha Narain Lambah, who was instrumental in preparing the dossier for the Victorian Gothic and Art Deco Ensemble of buildings at Churchgate, that eventually won the honour in 2018, says it came to her, recurrently, that Ganeshotsav also stands a good chance to do the same. 
Durga pujo was granted the honour last year in recognition of the small economy that settles around Ma Durga in the pandal—the food, saree and handicraft stalls; the cultural artistry involved—be it the creation of the idols, the decoration of the pandals, or the musical and dance performances attached exclusively to it.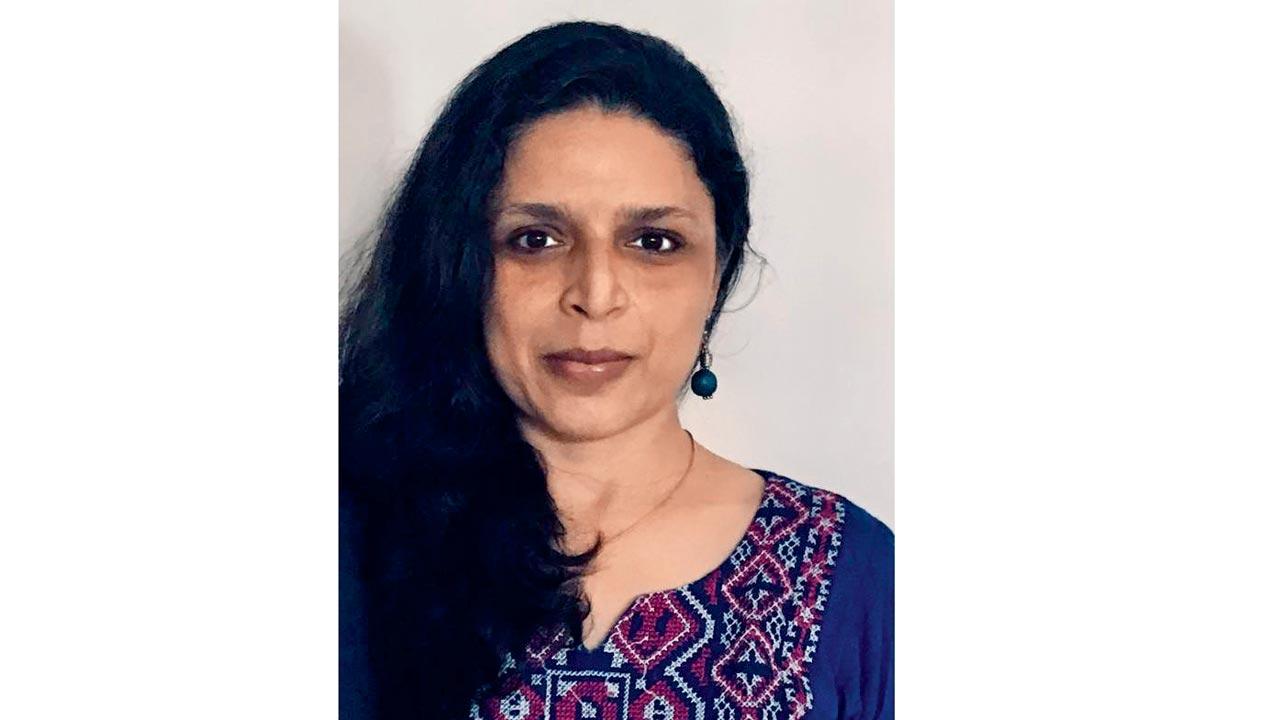 Smruti Koppikar
"Ganeshostav has a very, very strong case," says Lambah, "It is such a public festival, encompassing every strata of society. It reverberates with a sense of optimism and is a continuing tradition that fosters a whole ecosystem of music, food and artisans."
But what does it take to be included on UNESCO's Intangible Cultural Heritage List? The event or celebration must have oral traditions, performing arts, social practices, rituals, festive events, knowledge and practices concerning nature and the universe or the knowledge and skills to produce traditional crafts. With Durga Pujo, this includes dance forms such as dhunuchi and sindur khela, and the musical pujor-dhak that are attached exclusively to the 
celebration.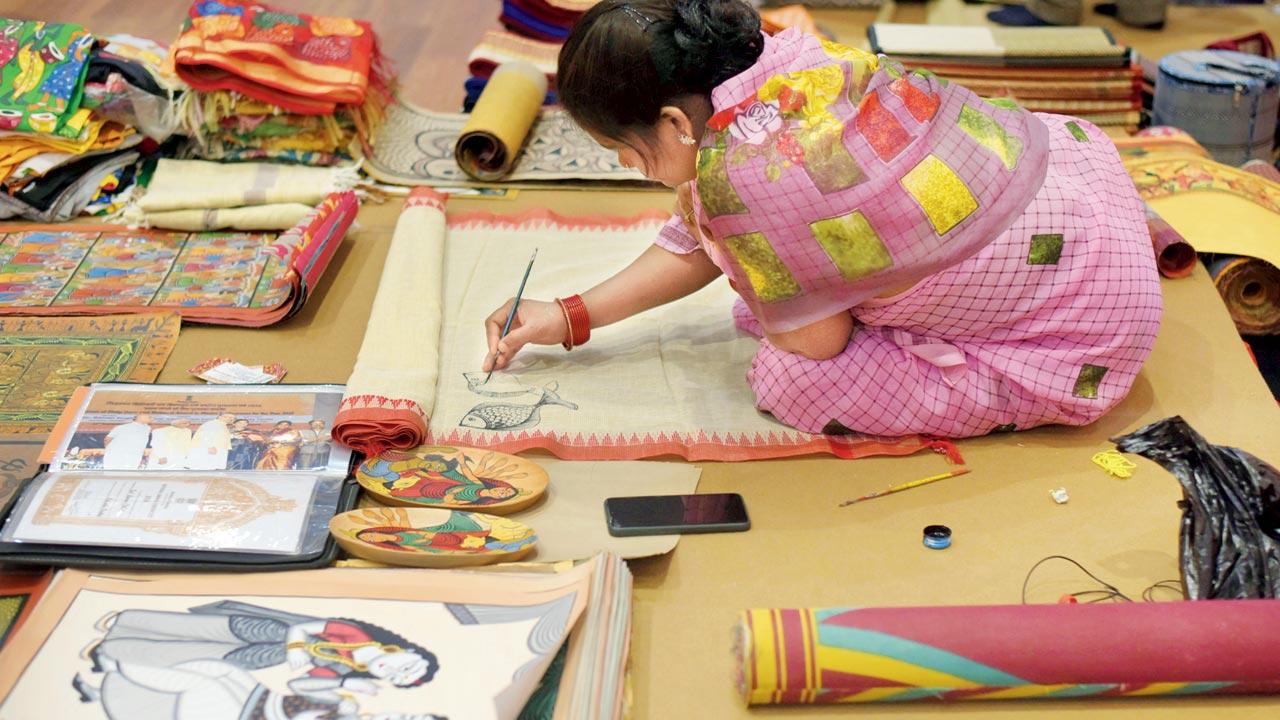 A small retail economy springs around the pandal as stalls sell traditional arts such as patchitra and handloom saris
Ganeshotsav, Maharashtra's biggest religious festival celebrated Lord Ganesha, in the same vein, has the dhol-tasha and lezim tradition with origins in the central part of the state, the oral tradition of the evening and morning aartis and a food heritage of the naivadyache paan (meal offered to the elephant-headed god on a banana leaf) from the coast, and his favourite modak—fried in the Deccan region, steamed in kitchens among the Konkan.
"The pageantry of bringing home the idol and the pomp of the visarjan are such dramatic visual markers," says Lambah. "The sheer size of the sarvajanik idols, the skill of the artisans who make the murtis, the peripheral architecture [the theme of pandal], the ornaments made for Ganpati and Gauri, the kind of dance and music it spins...  all comprise a continuing tradition." Add to this the genesis of its sarvajanik or public avatar as a mode revival of national pride envisioned by nationalist Bal Gangadhar Tilak, the range of music it has inspired even in films, and the scale of annual economic opportunity it offers entire talukas such as Pen, moulds a legacy as tall as Lalbaugcha Raja.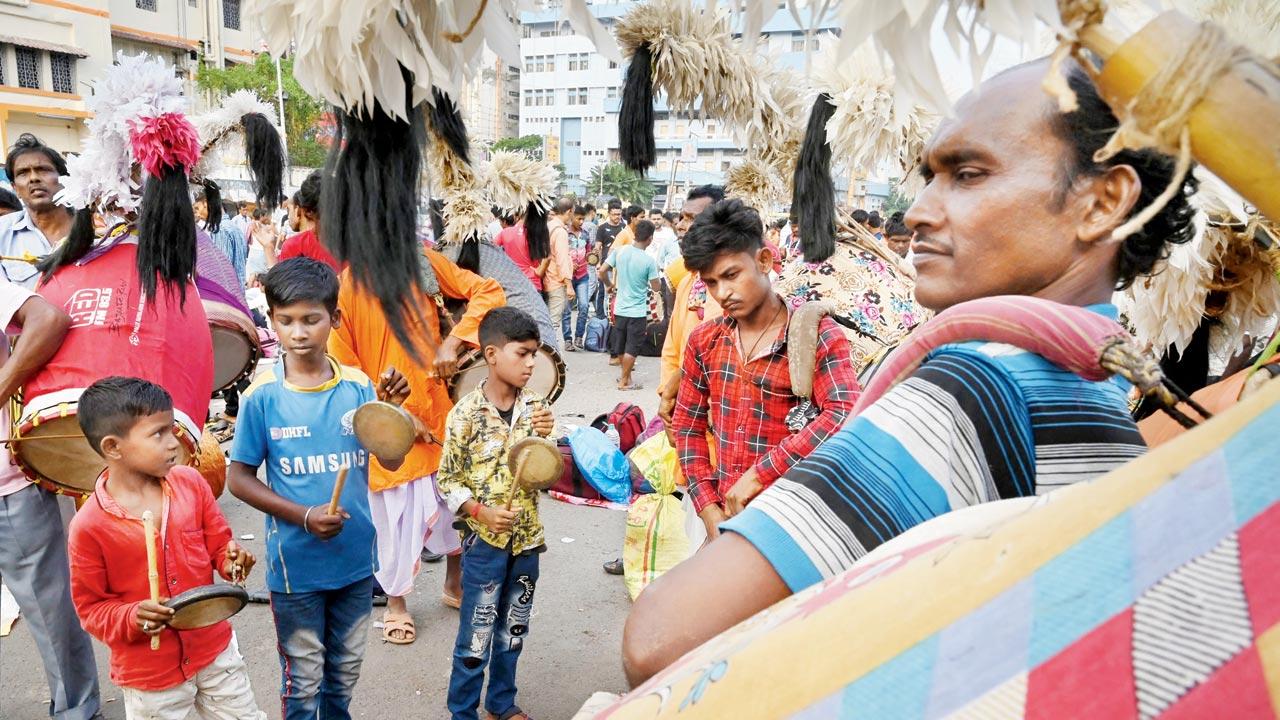 Traditional drummers wait outside a railway station in Kolkata to be hired for pujo. Performance arts such as dhak, sindur khela and dhunuchi are exclusive to pujo
Like all celebrations, there is a divide between the classy and the massy in the art involved in the festival. 
"We make boundaries to organise and understand our world better," says architect and filmmaker Anuradha Parikh, founder and artistic director at G5A. "The privileged define these boundaries, which reveal our biases and preferences. These boundaries embrace art which is a pure, aesthetic expression, and exclude popular culture and art. For popular art, we need to reconfigure the classical rubric. It must be experienced within its own world, language, and connotations. Pop art is vivacious and quicksilver—the quickest to respond to change, the quickest to reflect and embed current reality into its vocabulary. It is a powerful symbol of the present and echoes aspirational stories from the popular imagination. The colours, scale, gold and silver ornaments, and of course the various contemporary avatars of Ganesh, all mirror our collective desire to create bursts of freedom and delight, within our uncompromising daily grind."
Currently, Ganeshotsav is equal parts celebration and concern, especially due to the noise and environment pollution caused by visarjan. Pic/Uday Devrukhkar
The dynamic nature is most vivid in the themes of pandals of both divinities and their response to crises: For instance, Ganesha as an Olympian or eco-warrior, the severe tug-of-war in courts over the push for non-Plaster of Paris idols, the muffling of loudspeakers after 10 pm and the restriction on the height of the idols. In the Devi's pandal, such a response may take the form of a dance performance.
"In our dance drama," says danseuse Sohini Roychowdhury, "we do not show the bull demon [Mahishasura] being killed; instead he is forgiven and transformed. Because we believe today's world does not need to see violence as a solution; rather the need of the hour is forgiveness, empathy and the transformation that comes through it." Roychowdhury's dance company, Sohinimoksha, tells the story of Durga through dance and has performed—as part of UNESCO's efforts to connect civilisations—in Madrid, Austria and Germany. This is the part that dance and performance arts played even within pandals.
There is an opportunity in Ganpati celebrations to move towards traditional arts such as dhol-tasha, and traditional music like natya sangeet and away from Bollywood. Pic/Ashish Raje
"Sindur khela, dhak and dhunuchi, all became part of celebrations in the mid-1800s," says Roychowdhury, "and were ways of community involvement and a pledge for equality. This is also the reason why soil from the home of a sex worker is used to make the devi's likeness. It is said men drop their virtues at a sex worker's threshold, so the soil there is the purest. It is nothing but a symbol of inclusivity".
If Bengal's traditions come from fervour for social equality, Pune's dhol-tasha process was enforced due to a school teacher's insistence on "shista" (discipline) in 1965. As per one report, a school teacher named Dr Vinayak Vishwanath Pendse (nicknamed Appasaheb Pendse) started the tradition in his Pune school Jnana Prabodhini Prashala. He is said to have played the tasha (brass drum) at Laxmi Road to protest a clamp on the use of musical instruments. Later, when he saw the unruliness of the procession to bring in and bid goodbye to Ganesha, he developed a formation headed by a "dhwaj" or flag bearer with columns of instrumentalists behind him.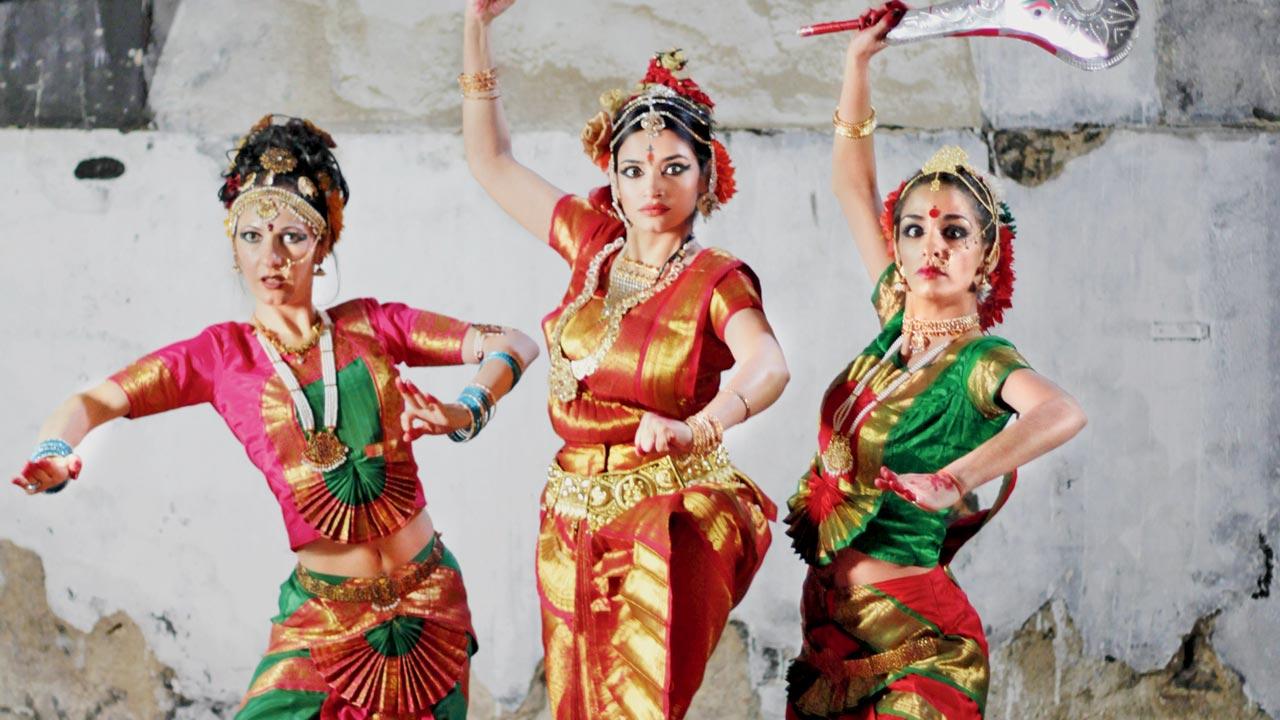 Bharatnatyam exponent Sohini Roychowdhury's dance opera on Goddess Durga, which she has performed on the beshest of UNESCO in Europe, has been adapted to show that Mahishasura if forgiven and transformed by the goddess, and not killed. Rowchowdhury says it reflects the need of the hour, which not violence but empathy.
The tradition is followed more in the Deccan than the coast, but ironically, it came full circle in Mumbai recently. As authorities muffled loud speaker and cacophonic mobile "orchestras" in a bid to reduce noise pollution, revellers found traditional percussion instruments waiting to be played.
Though it's certainly an argument that we don't need an international body—let alone one more influenced by the West—to certify that our heritage is worthy of being saved, recognition by the UNESCO could push Ganeshotsav away from negativity. Currently, the festival casts a shadow of irritation on Mumbaikars (and in ultra urban cities) with traffic snarls, loud noise, ocean pollution during visarjan and general inconvenience. The din before visarjan and the disembodied PoP limbs it leaves behind on chowpatties makes bigger headlines, and stench of commerce surrounds announcements of donations in gold ornaments and money.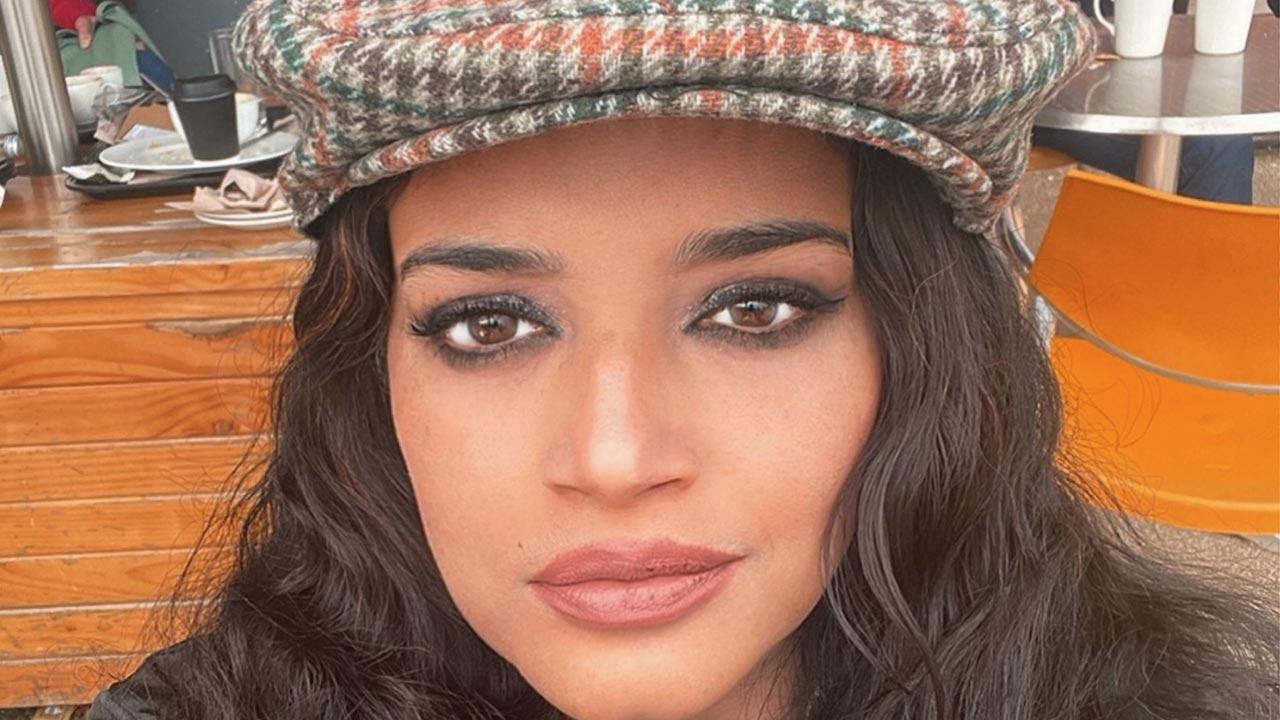 Sohini Roychowdhury
The festival has a much larger economic impact that demands academic and scholarly attention, according to Mumbai-based senior journalist Smruti Koppikar. "All festivals, including Diwali and Eid, have an inescapable economic angle," says the urban chronicler and founder-editor of the online portal Question of Cities. "It pushes people out into the market, and gets people to produce and consume more. Some economic aspects increase more than others. These are not discussed or considered, and needs formal and in-depth study. We don't have clear numbers for it. It's something beyond culture that needs to be taken seriously."
She points out that it influences public and private transport as additional trains, buses and private vehicles are enlisted to take people from cities to their native places. "They used to be headed to Konkan, but now all across Maharashtra," says Koppikar. The festival is more important than Diwali on the coast. Then there's the spike in small, medium and even micro enterprises that take care of the decoration, farsan. sweets, and supply essential raw materials, such as oil and sugar. "An entire consumption cycle kicks in," she says. "Last year, home chefs and cloud kitchens took orders for modaks, meals, and naivedya. People are not likely to order from a restaurant that cooks non-vegetarian or non-Maharashtrian food; they prefer home-based chefs. Some of them pack and ship the delicacies to other countries on your behalf."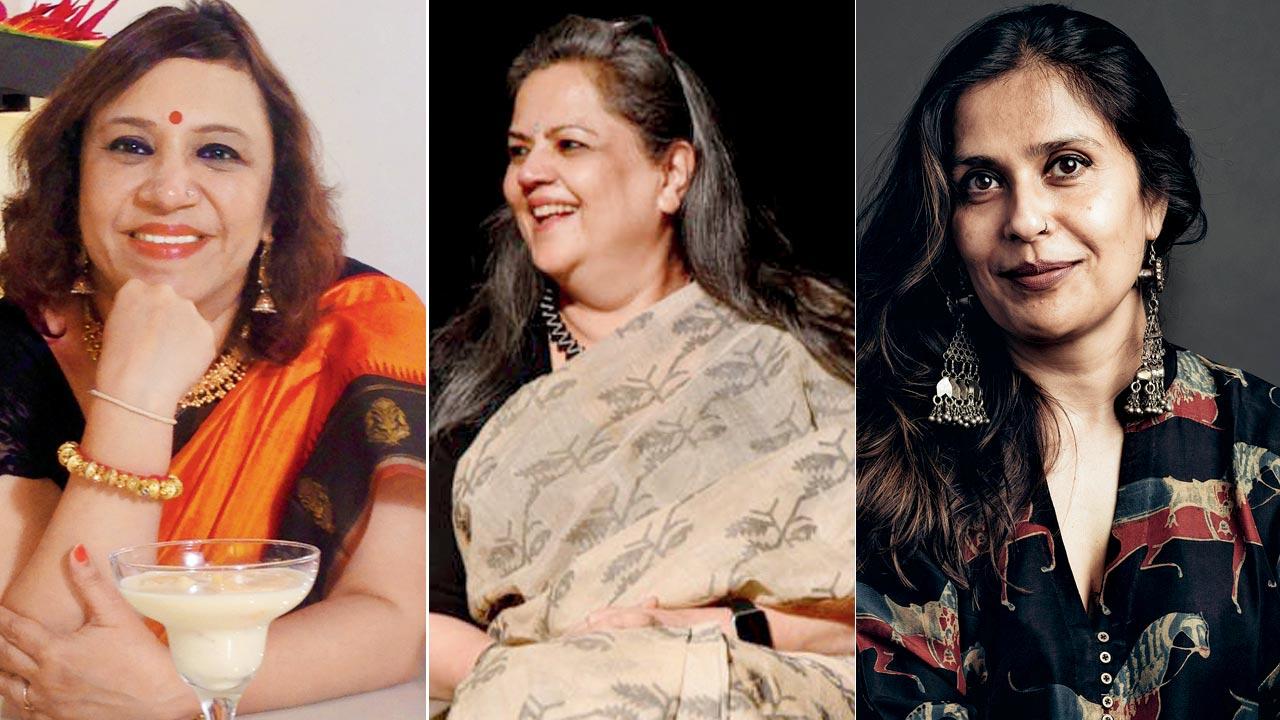 Roopa Nabar, Anuradha Parikh and Abha Narain Lambah
A heritage tag would draw attention to what Lambah calls "soft power of a people or nation". "It's important to document cultural traditions in a fast-paced, transforming world, just like we document things that are tangible. The intangible is vulnerable to fading out or being corrupted. It can be transformed by how one generation passes it on to others."
Fancy labelling would also push towards growing the cultural side of festivities. A Durga pujo pandal in any part of the world is a slice of Bengal with its stalls of street-eats, tant sarees, shakha-pola and other indigenous handicrafts. Ganpati pandals have not focussed as much on the retail potential yet, but a UNESCO stamp could open this up to say, the weavers of the Paithani, Khanachi saree, Narayan Pethi , and makers of home-made peeth, masale like goda and Kolhapuri.
The step before that would be to harness the power of tourism potential, which a tag would help greatly. Currently, it's a disorganised effort. Last year, as regional manager of MTDC in Pune, Deepak Harne organised a tour for 52 tourists from Indonesia and Thailand of the glorious pandals in the city, as well as the Ashtavinayaks in the state. They were brought in by a travel agency. In Mumbai and Konkan, MTDC announced similar packages in 2017 to celebrate 125 years of the sarvajanik Ganeshotsav, but international recognition could turn this into a regular feature. The Directorate of Tourism organised free pandal tours for senior citizens, ferrying a total of 2,194 retirees to six pandals in the Metropolitan area, and in Pune and Nagpur this year.
The number is paltry when compared to the scale of the state's population and draw.
Lambah had said to the press after Mumbai winning the honour that the dossier and efforts were funded by citizens groups and it took a push from three Maharashtra chief ministers to achieve the feat. Art historian Tapati Guha Thakurta, former director and honorary professor at Center for Studies in Social Sciences, Kolkata, who was part of the team that prepared the dossier on Durga pujo for UNESCO, has said that it was a team effort. Clearly, a project such as this takes all-round commitment and perseverance. Reports say that the first application to UNESCO was made in 2012 and was rejected. The team then launched a book in 2015 that discussed the pujos in modern day Kolkata. In August 2018, the Ministry of Culture reached out to Guha Thakurta to work on the dossier, which was completed by 2019. It was finally sent to UNESCO in 2021.
Given the nature of the city, celebrations in Mumbai tilt towards Bollywood even in structure. "A Bollywood singer is invited for the main aarti," points out Koppikar. "Ganpati-themed songs from Hindi films are played before and after the aarti. Is that the best we can do?"
Koppikar would like to make an argument for inclusion of Maharashtrian folk and cultural traditions in performing, and display of arts from different regions of the state to be consciously made part of the Ganesh festival. "Girangaon [the erstwhile mill areas] has the tradition of shahirs [balladeers] , and the state has a larger tradition of powadas. There are other hymns, natya sangeet and abhangs… the template exists. Can we not take something from these?" Even on the community level, song, theatre and dance performances by children tend to centre around films.  "When Ganeshotsav started all the way back in 1893, and when Tilak used it as a tool of political resistance, traditional and cultural tools were used for social commentary," she says.
Marathi media runs contests for best pandals, and inclusion of these elements should be the deciding factor replacing decoration or the height of the idol, says Koppikar. This would also decentralise crowds. "People flock to Lalbaug, Matunga or some other navsacha [wish-fulfilling] Ganpati, and ignore the neighbourhood one. But if the smaller, local pandals had a deeper cultural element, they could draw in the crowds," 
she says.
There's also a culinary heritage that needs preservation. There are foods specific to the festival and they vary across the state. "Bappa is offered panchamrut [made of milk, ghee, sugar, yogurt and honey], panchakhadya [a coarse mixture of dry dates, sugar, poppy seeds, raisins, and dry coconut], and ukdiche modak," says food chronicler and author Roopa Nabar.
"The naivedya paan—comprising panchamrut,  koshimbir [wet salad], fresh coconut chutney, fryums [papad, sandge], two kinds of vegetables [a dry one made of beans and a gravy preparation of gourds], varan-bhaat [dal-rice], five sweets [modak, karanji, laadoo, kheer, sakhar-bhaat]—is served on a banana leaf in the Konkan, while in central Maharashtra, it's served on a thali with deep-fried modaks, a chana-dal savoury called mokla tikhat, and a salad of cucumber, chana dal and fresh coconut. On the second day, Rishi Panchami, the naivedya comprises a preparation involving roots, tubers, gourds layered with leafy greens and spiced with green chilies, coconut and tamarind. It is offered with bhakri and white butter. The Konkanis offer Gauri patoli [coconut stuffed rice flour pancakes], the Gaud Saraswat Brahmins make a bhaaji made up of 16 vegetables called khata, the Chandraseniya Kayastha Prabhus serve her puran poli with katachi amti and bhajani vade [spiced, multigrain puris]; while the Koli community reserve fish delicacies for Gauri, the warrior goddess, as she visits her maternal home. Some of the Kshatriya communities such as CKPs and SKPs [Somvanshi Kshatriya Pathare] offer her a Tikhat Taat [spicy thaali] of non-vegetarian dishes. A separate idol of Gauri is installed for this."
Most delicacies are not replicated by these and other communities nor made during other festivals—no one serves modak at Diwali. This makes documentation critical. Koppikar says that many items have fallen off the naivedya menu over time because the delicacies are too time-consuming to make or the knowledge was not passed down through generations. While a UNESCO tag would give this push to the festival, it can also work vice versa: "Place and nurture these cultural elements, and the tag will follow," thinks Koppikar.