Following ruckus over underreported case count due to sudden rise in home testing for COVID by citizens, experts say RAT over RT-PCR is what we need right now to give Omicron a drubbing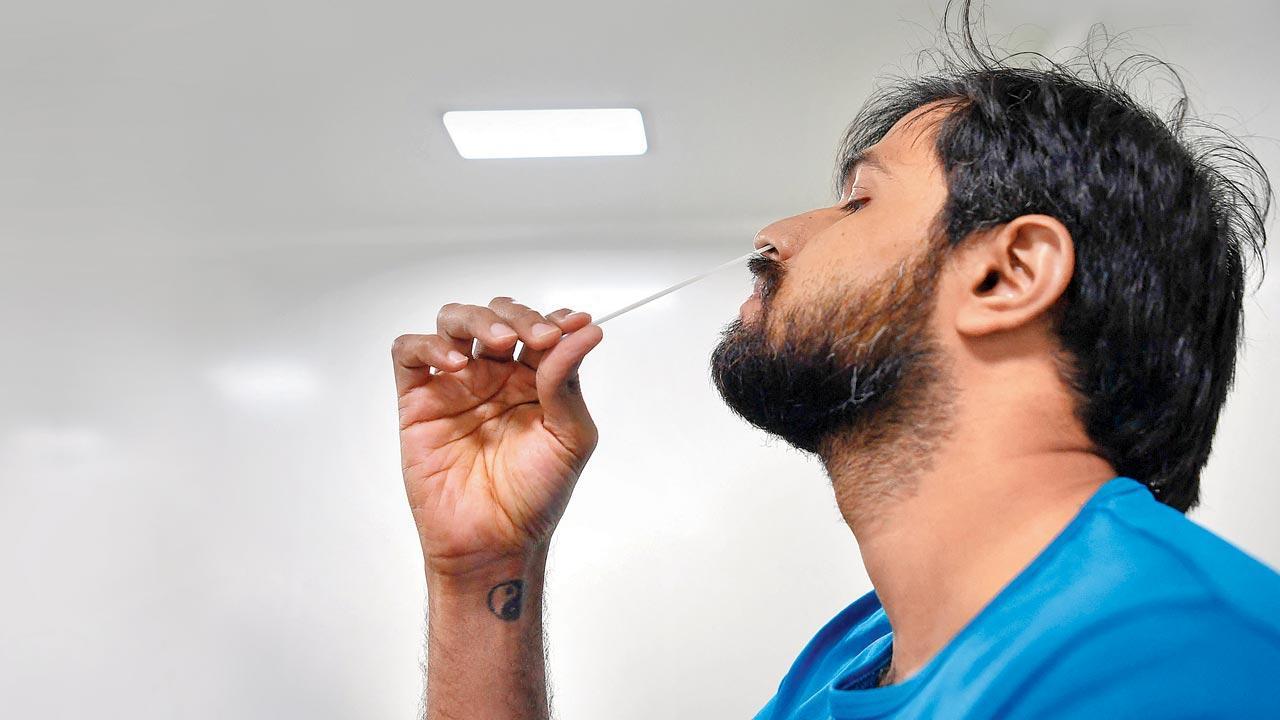 Home-based testing, say experts, is very helpful for people to identify their COVID status immediately, especially the elderly and comorbid patients. Pic/Getty Images
A nippy and incident-free December vacation with family in Rajasthan to bring in the new year, turned nightmarish for publicity professional Arunima, once she returned to Delhi earlier this month. Barely two days later, her father started showing COVID-19 symptoms. Since he was averse to getting tested—mostly out of fear of being quarantined—she decided to buy the self-test Rapid Antigen Test (RAT) kit available at the local chemist. A first for her as well, she remembers following the instruction manual on the product pack to the tee, including downloading the app, feeding in her father's details, and taking a photo of the test result, which revealed he was positive in 15 minutes. 
To be doubly sure, Arunima, who wishes to be identified only by her first name for this story, also got an RT-PCR test done, which only confirmed the diagnosis. By the next day, the entire family, including her mother and brother, had begun experiencing mild symptoms. Meanwhile, her father's worst fears came true, when the local municipal body, on seeing the RT-PCR results, called home, advising that he be taken to a quarantine centre, as he was 69 and had comorbidities. "My physician told us that he could home quarantine; I conveyed that to the authorities," she shares. "But, there was so much panic and chaos at home, that I didn't bother entering everyone's details on the app; we just wanted to know if we were positive, went ahead and did the tests."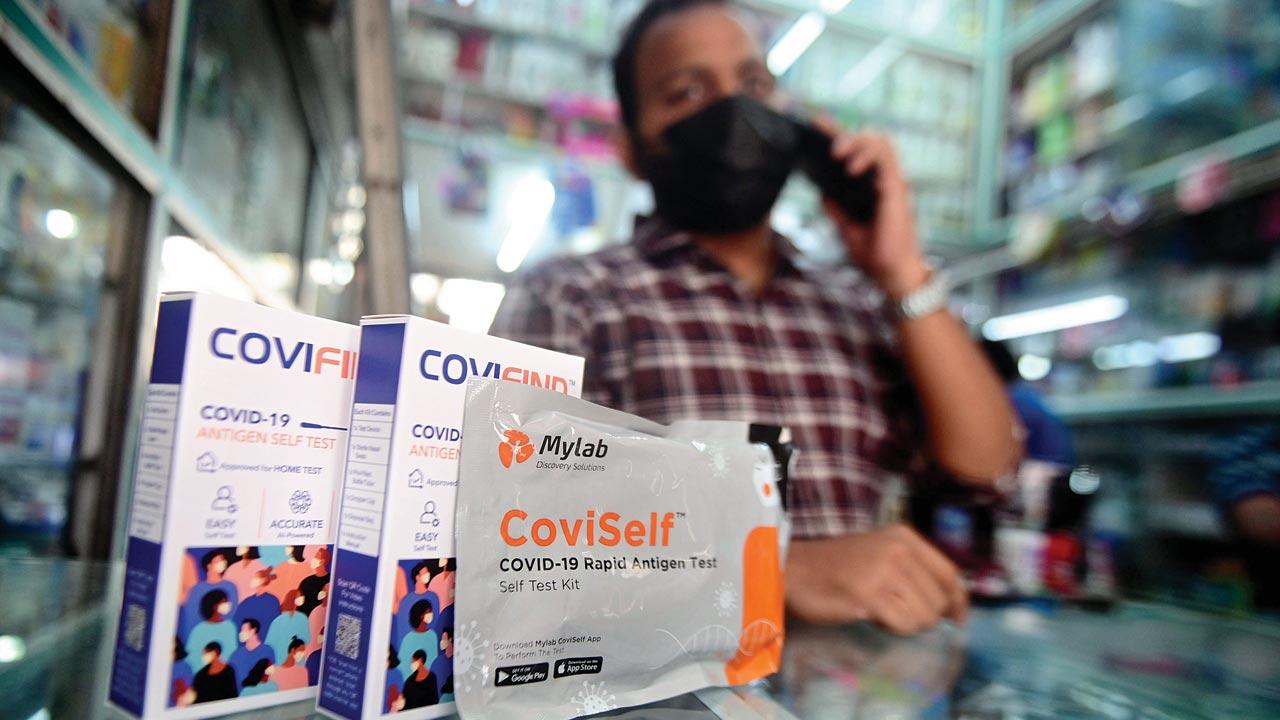 There are several COVID-19 self-test kit brands available in the market, including CoviSelf, Panbio, CoviFind, Angcard, and Ultra Covi-Catch—all priced between Rs 250-Rs 500—that can give results within 15-20 minutes. Henceforth, buyers will have to fill out a form at the chemist entering their name, contact details and the number of self-test kits purchased. These details will be shared with the FDA and BMC. Pic/Bipin Kokate
When symptomatic patients test negative for RAT, they are usually advised to get an RT-PCR to confirm the results. "Since we were positive, and we knew it was definitely COVID-19, we didn't need another test. All of us isolated at home, and took the necessary medication," she adds. With all members in the family slowly recovering, Arunima is grateful that they were able to pick up the infection soon, instead of waiting out for a day to get an RT-PCR done at a path lab. "It helped my doctor provide the right line of treatment and fast." What she was unaware about was that not entering everyone's details on the app, had meant that their data had gone undeclared to the authorities concerned.  
Even as Mumbai's COVID-19 cases saw a drastic drop this week, with positive cases falling from 19,474 on January 9 to 11,647 on January 11, many health experts are claiming that undeclared self-test reports could be the reason for the lower numbers. Dr Rahul Pandit, Director-Critical Care, Fortis Hospitals Mumbai, and member of Maharashtra's COVID-19 taskforce and the National taskforce, says it is "too difficult to say this just yet". "At one point, around 95,000 of these [self-test] kits were sold in Mumbai. But from the data we had, only about 3,000 cases had reported. We need to know what happened to the remaining kits. How many of them were opened and used? How many of them turned out positive or negative?" he says. Having that data, Dr Pandit feels, would add at least 20-25 per cent more cases to the total patient count in the city. "If people diligently self-report, we will get a clearer picture of the current situation."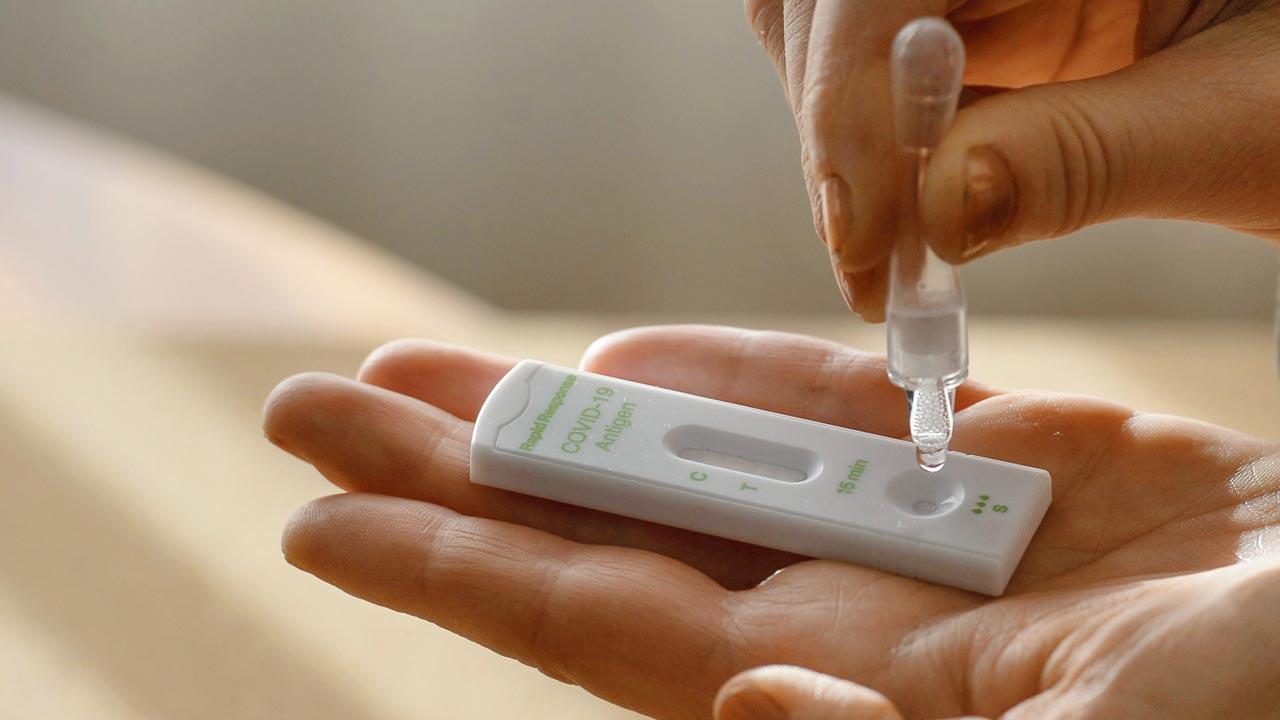 The biggest problem with RAT self-test kits available in the market, according to a government official, is that they don't follow a standardised methodology, and are used by a diverse group of people. Pic/Getty Images
Starting January 14, Dr IS Chahal, Mumbai municipal commissioner, laid down strict guidelines to ensure the recording of home test cases. Accordingly, manufacturers and distributors of these kits, will now have to email information of the number of test kits sold to chemists and other medical stores across the city, to the FDA and BMC. Similarly, all chemists and stores will have to get buyers to fill out a form, which will list their name, address and contact number, and the test kits purchased by them, details of which will also be emailed to the same authorities. While the FDA commissioner will oversee the distribution, the epidemiology cell of the BMC will monitor the data provided by the manufacturers and chemists across the city.
Suresh Kakani, additional municipal commissioner, BMC, says that this is being done to "trace every single positive patient in the city". "After we appealed to Mumbaikars to declare their results, more than 1,07,000 people uploaded their data this week. But our goal is to ensure that nobody is left untraced, even if it is just one per cent of the population. Therefore, we have issued guidelines for manufacturers, wholesalers and retailers to share details with us on our email IDs," says Kakani. "The war rooms will reach out to the people concerned, checking if they have used the kits yet. This is our effort to educate people, so that they don't facilitate the spread of the virus."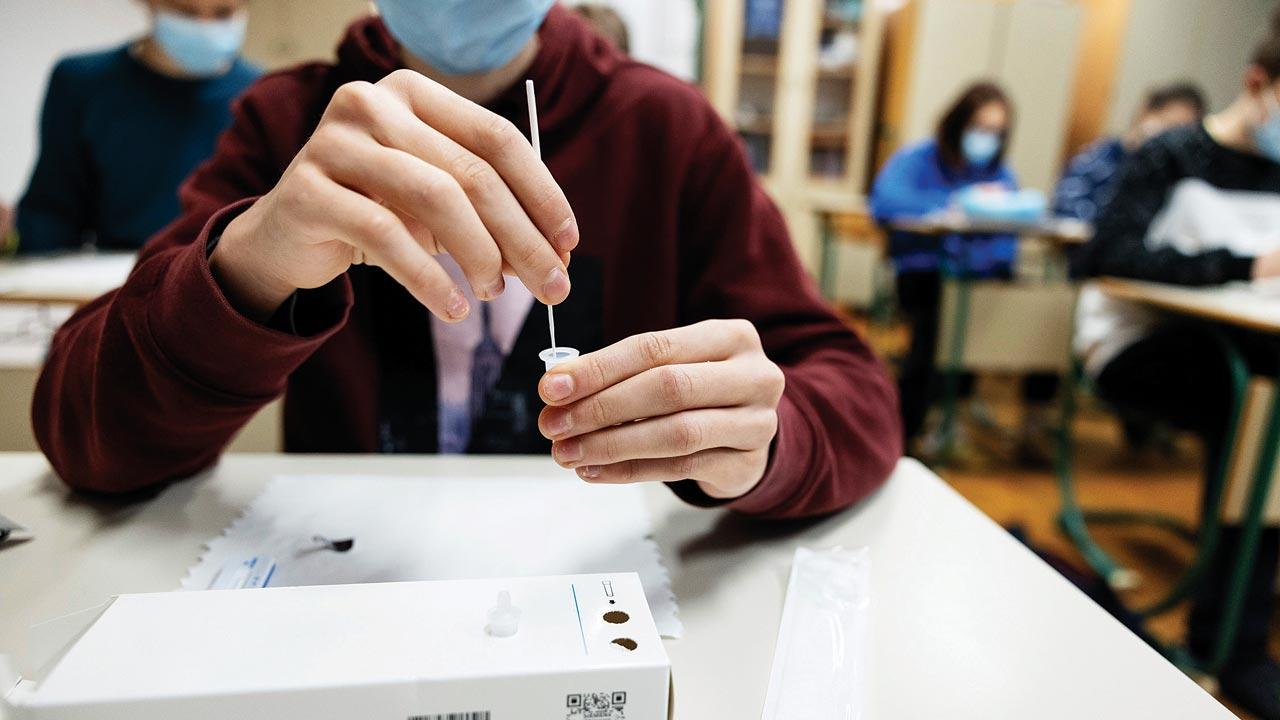 A student self-tests with a rapid COVID-19 antigen self-test kit in a primary school in Kranj, Slovenia. All primary and secondary school children in Slovenia are required to self-test in school three times a week as the country faces a severe outbreak of COVID-19. Experts feel a similar model should be adopted in India as well. Pic/Getty Images
In the US currently, it's the massive shortage and exorbitant price of these over-the-counter self-test kits that appear to be a bigger concern. The Joe Biden administration has been working double time to make this universal mode of testing available to all. According to an NPR report, the administration recently pledged to buy half a billion rapid tests and mail them to all US households.
Speaking with mid-day, Dr Ramanan Laxminarayan, founder and director of the Center for Disease Dynamics, Economics and Policy (CDDEP) in Washington, DC and New Delhi, said that the US is facing huge shortages, "but as a strategy, it is helping". "Home-based testing is very helpful for people to identify their COVID status immediately, especially the elderly and comorbid patients. Sure, we may lose programme information on the number of cases if tests are not being reported back in, but at this stage of the pandemic, the idea of using testing as a pathway to public health tracking and containment is no longer a feasible objective. Rather, we should let people protect themselves and those around them through home testing. Programmatic information is in any case not being made available to the public. There is very little use of this information to stop the pandemic, except to show that there are more cases, and alarming people. I think this is a good transition, and it makes sense for India [to adopt it] as well."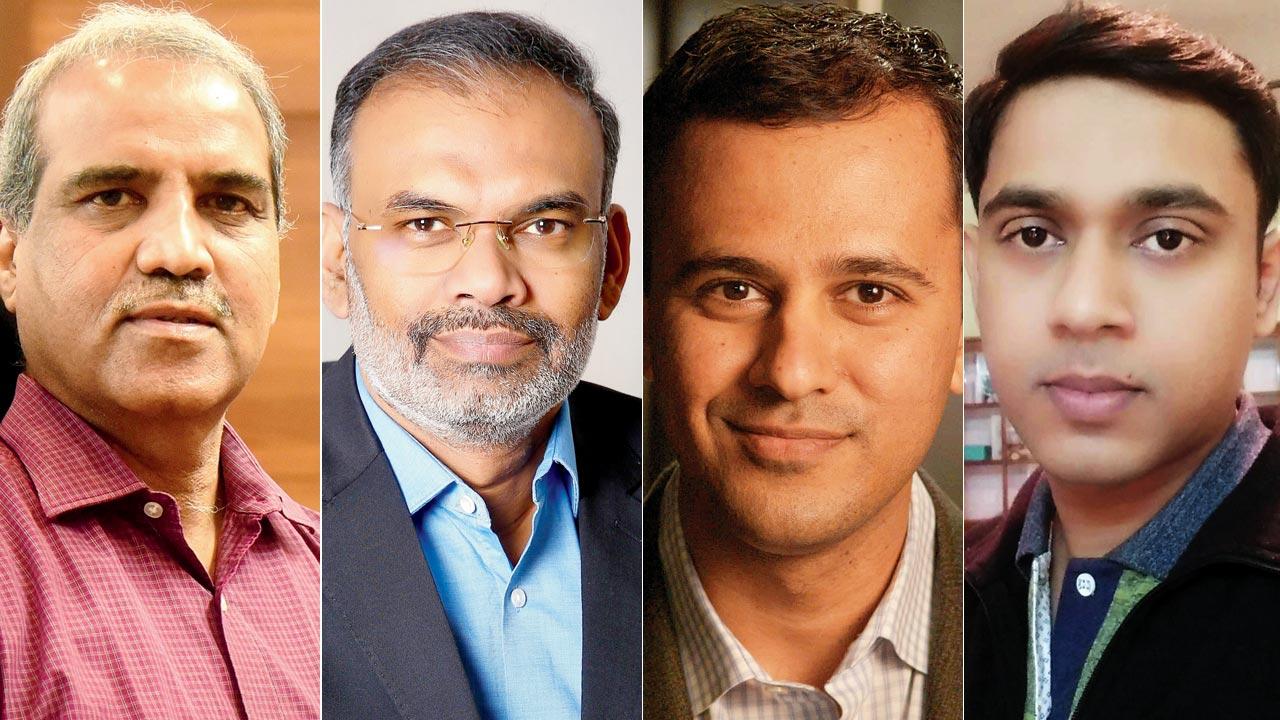 Suresh Kakani, Anand K, Dr Ramanan Laxminarayan and Dr Giridara Gopal Parameswaran
Closer home, CoviSelf, which was India's first COVID-19 test kit for self-use to receive approval from the Indian Council of Medical Research (ICMR) back in May 2021, has been making giant strides. Launched by Mylab Discovery Solutions—the company that also gave India its first RT-PCR test back in 2020—CoviSelf this week got a stamp of approval from the Centre of Infection and Immunity of Columbia University, New York, which following a study, confirmed that the self-kit was able to detect the highly contagious SARS-CoV-2 B.1.1.529 variant, also known as Omicron.
Without revealing figures, Hasmukh Rawal, managing director and co-founder of Mylab Discovery Solutions, tells mid-day that the demand for the self-test kit has gone up by nearly 500 per cent since the last week of December.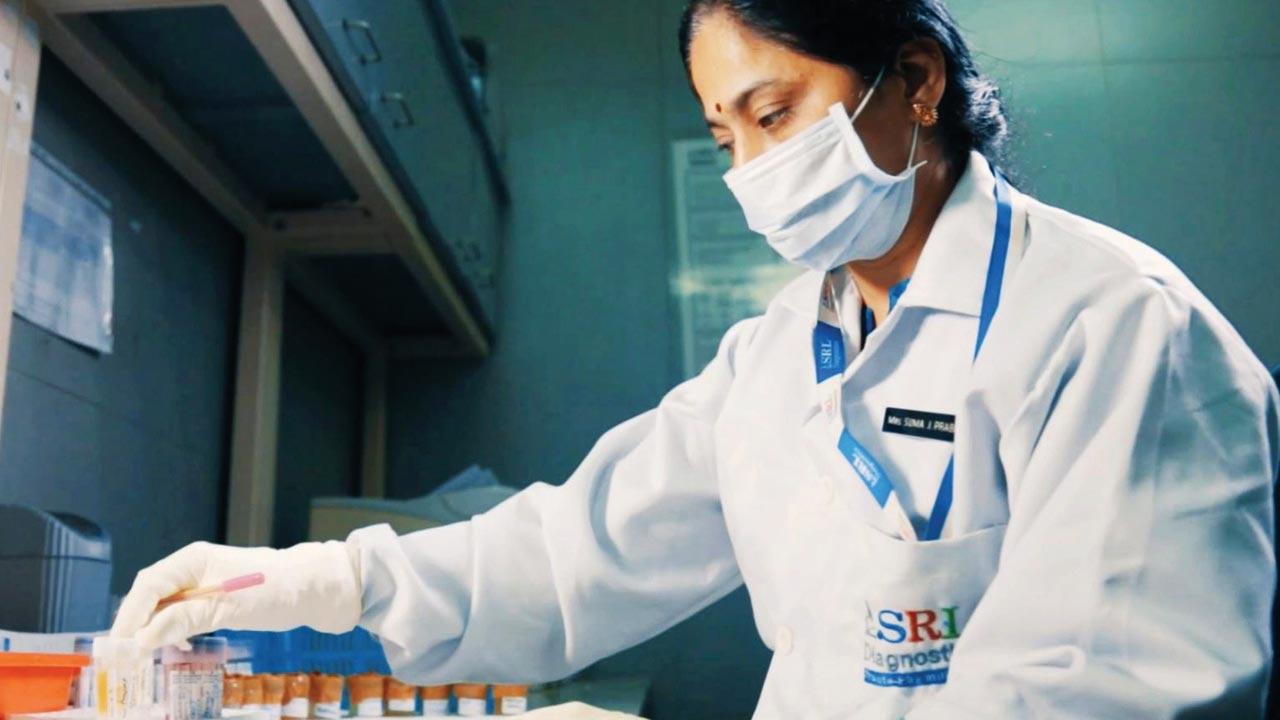 The reason why states like Tamil Nadu still prefer RT-PCR tests for COVID-19 is because it's said to give close to accurate results or "100 per cent sensitivity and specificity in a laboratory setting". Pic Courtesy/SRL Diagnostics
According to Pune-based Rawal, the team at MyLab realised the need to open up testing for all, quite early in the pandemic. "We had been closely observing the COVID-19 scenario in India and across the globe. With newer strains being reported, we figured that the world would face multiple waves over a period of time. We also knew that it would be impossible and economically unviable for governments to impose complete lockdowns. As travel opened up, all countries were going to see a COVID surge, and there was going to be a need for testing more frequently," he says. Rawal says that though they had tried their best to make RT-PCR tests available to the remotest parts of the country through mobile vans, it was impossible to do "multiple testing at the same point of time everywhere". "We thought why not give people the power to do this test."
Innovating the self-test kit took over six months of research and development. "It's not easy to take a test out of an expert's hands, and ask people to do it themselves," says Rawal, adding that the goal was to make the test as "mistake-proof as possible" and "easy to use". The primary focus was sensitivity, which refers to a test's ability to designate an individual with a disease as positive. "We had to increase the sensitivity, so that the nasal swab samples [that we were using for the self-test kits] would give as accurate a result as a nasopharyngeal swab [used in RT-PCR]."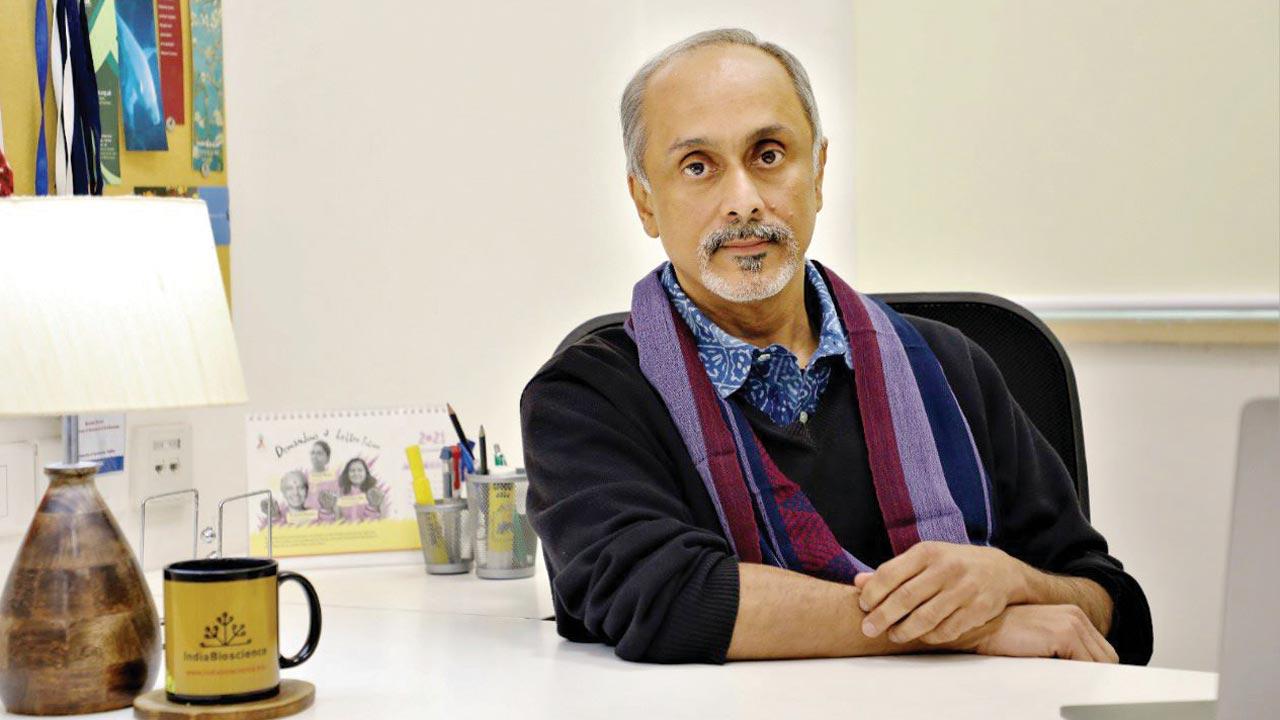 Dr Gautam I Menon, infectious disease modeller at the Departments of Physics and Biology, Ashoka University, who co-authored a research paper titled, Optimising testing for COVID-19 in India, says more than undeclared data from self-test kits, what is concerning right now is symptomatic patients not getting tested at all
In a research paper titled, Optimising testing for COVID-19 in India, published in the peer-reviewed journal PLOS Computational Biology in June 2021, authors Philip Cherian, Sandeep Krishna and Dr Gautam I Menon, argued why 100 per cent RAT regimes, which are relatively inexpensive point-of-care lateral-flow-assay tests, should be made acceptable, "from both an epidemiological as well as an economic standpoint" in the country.
The RT-PCR test is said to have a close to "100 per cent sensitivity and specificity in a laboratory setting, but delays in returning results, as well as increased costs relative to RATs. This may vitiate this advantage," they argued. RAT, on the other hand, has a low sensitivity.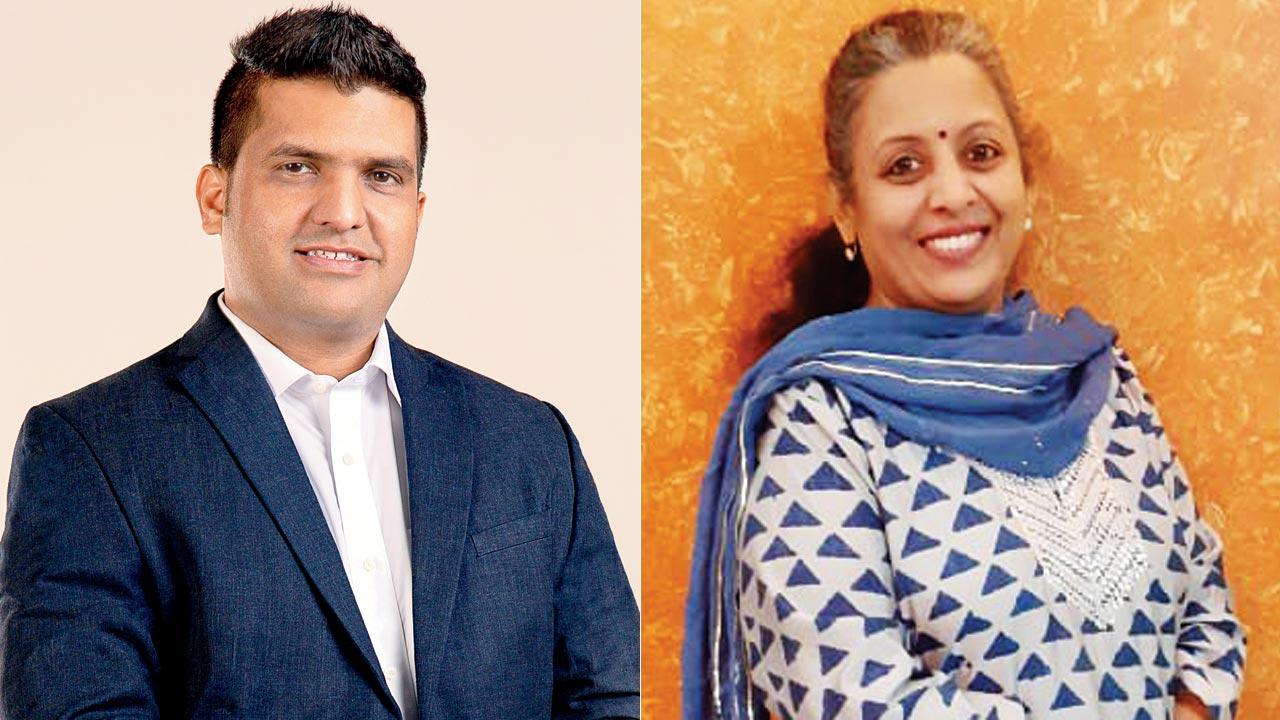 Hasmukh Rawal, managing director and co-founder of Mylab Discovery Solutions, which launched India's first self-test kit, CoviSelf, says self testing reduces the burden on authorities and laboratories; (right) Mahim-based Hindi tuition teacher Pomley Maheshwari, who got a negative result after taking the self-test, later did an RT-PCR that confirmed she was positive. Irrespective of the test not being completely reliable, she says "it's better than shooting in the dark"
Dr Menon, infectious disease modeller at the Departments of Physics and Biology, Ashoka University, tells mid-day that epidemiologists have been stressing on the use of RATs, "mainly because they capture the ability to infect other people in a smaller window". "The RT-PCR is more accurate because it can detect the presence of even small amounts of virus in the body, which can be the case even when you are no longer able to infect someone. But RATs will let you know when a person is infectious, and that's their important feature. In India, it's also cheaper. So, in a lower income country, where you are looking at optimal testing, RAT definitely scores higher. Also, the RT-PCR test goes through a lab, where it is first analysed before it is returned. When you have a surge situation like now, with many cases coming in, you overload laboratory capacity, and the ability to return these results in the given amount of time. Delay is a problem, because unless people are careful between the period of being tested and the results coming back, they can go on, and infect other people."
Anand K, CEO, SRL Diagnostics, a pan-India laboratory chain, said that unlike the second wave, where they saw a backlog because of the surge in cases and staff falling ill, their labs were better equipped to handle the third wave caused by Omicron. "In the second wave, some reports took up to 48 to 72 hours to deliver. This time around since we were prepared, we had a larger pool of people working with us." The reports that come from SRL are shared with the Central authority, in this case the Indian Council of Medical Research (ICMR), the state government, and other local bodies where the diagnostic centre is located. "We do it on a real-time basis." He says that RATs work well when the test positivity rate is high, somewhere in the range of 25-30 per cent, and the disease has spread rapidly in the community. "My concern [with self-testing] is whether these samples are being taken properly by individuals. The test is invasive. You tend to resist, and may not take the right sample, and probably end up with a false negative."
Rawal and his team are currently running at full capacity, to make sure that enough stock of self-test kits are available to cover the demand across India. Other brands in the market include Panbio, CoviFind, Angcard, and Ultra Covi-Catch, all priced between Rs 250-Rs 500, and can give results within 15-20 minutes.
Addressing the issue of data recording, Rawal says, the app has been developed for the very purpose. "It's a very easy procedure, and doesn't take more than 20 seconds. You have to enter the details of the person getting tested, upload the picture of the test result, and this automatically generates a report, which is then shared with the government and local authorities. Having a report is important for every individual, because firstly, this is an approved product, and you wouldn't need to do an RT-PCR again [if tested positive], and secondly, it will prove handy in case of a medical emergency. Without the report, you cannot even make any insurance claims."
 
Tamil Nadu is, at present, the only state in the country to have zero RAT testing. In 2020, during the first wave, it had the second highest number of infections after Maharashtra. Experts, however, had commended the state's efforts for testing as many samples as Maharashtra, despite only using RT-PCR. India-wide, as reported in the PLOS research paper, about 49 per cent of COVID-19 tests have been done using RATs, "but some Indian states, including the large states of Uttar Pradesh (pop. 227.9 million) and Bihar (pop. 121.3 million) used a much higher proportion of such tests".
Sharing his concerns about RAT, a government official, on condition of anonymity, said that due to low sensitivity of antigen tests, all symptomatic patients, who test negative in the self-test are expected to get an RT-PCR done. "But if you look at our data, you will learn that many states didn't follow this protocol. In Delhi, for instance, only four per cent [of the negative RATs had even gone in for RT-PCR]. False negatives in RATs continue to be a major issue."
He adds that the biggest problem with RAT is that it's not a lab test, doesn't follow a standardised methodology, and is used by a diverse group of people. "If I collect 30,000 RT-PCR samples from a particular area, those samples are being tested across 20 labs in field conditions. Compare that with 30,000 RAT samples, which are being done by 2,000 people. How do I ensure that these 2,000 people do the tests in a standardised way?"
He, however, says that self-tests should be seen in light of the new testing guidelines. The ICMR has said that anyone who has come in contact with a COVID-infected patient, does not necessarily need to take the COVID-19 test if they are asymptomatic. It's sufficient that they home isolate. The only exception is for persons in the "high-risk" category, who are seniors or have comorbidities. "In the Omicron epidemic, the share of double vaccinated population is 65 per cent. In such a scenario, if a person is double vaccinated and asymptomatic, there is no case for testing. Yet, we are also facing a 'disease' now where 80 per cent of the population [as per government data] is asymptomatic. And so, irrespective, we need to isolate ourselves, in order to prevent spreading the infection. It's here that the self-test has one advantage. If people know they are positive, they will be extra cautious and follow home quarantine rules more diligently."  
 
Mahim-based Hindi tuition teacher Pomley Maheshwari, who last week took the self-test along with her family, says that while she initially had no symptoms, because her husband and son tested positive, she decided to do the test anyway. "My self-test came negative," she says, adding that the entire family declared their results on the self-test's app. "However, a day later, I started showing mild symptoms, and so, decided to do an RT-PCR, which confirmed I was positive." Irrespective of the test not being completely reliable, she says that they were at least able to diagnose that this was not an ordinary flu, because everyone had self-tested. "It's better than shooting in the dark."  
Dr Menon feels that more than undeclared data from self-test kits, what is concerning right now is symptomatic patients not getting tested at all.  Epidemiologist Dr Giridara Gopal Parameswaran, who is also the lead at the India COVID Apex Research Team (iCART), a volunteer research and development group, shares this sentiment. He says that even before people started opting for self-tests, the estimated numbers were at least four times higher than the officially reported figures, released by government agencies. "What these self-test kits are going to do is help a certain group of people, who can't afford the more expensive RT-PCR, especially labourers and housemaids, who will need to test negative if they have to enter a society or residential premises for work. It's going to be convenient for them to get tested on a regular basis." Some experts have also spoken about their use in government institutions and military establishments. Rawal adds, "Self-testing has given people a unique power [to take control of the pandemic situation]. At some point, I see it being used in schools, colleges, hostels and offices as well. [If used responsibly], it will reduce the burden 
on authorities."
When to use self-test
. Use it early. It offers most accurate results in the first week of the infection when viral load is high. 
. If you've come in contact with a positive person and are showing symptoms, self-test to weed out doubt that it's not a common cold. 
. It's helpful when used in institutions where a large number of people work or live in close proximity like in hostels.
Meanwhile...
Self-kits covered under insurance  
In the US, private health insurers will be required to cover up to eight home COVID-19 tests per month for people on their plans. The government is looking to lower costs and make testing more convenient amid rising frustrations.
The gargle RT-PCR
The ICMR has approved a gargle test that can offer results in three hours. Scientists of Nagpur-based National Environmental Engineering Research Institute (NEERI) have developed a do-it-yourself Saline Gargle RT-PCR method. The patient gargles the solution for 15 seconds and rinses it inside the tube. This sample is taken to the lab where it is heated to extract the RNA.
1,07,000 
No. of Mumbaikars who uploaded their data post home testing last week after the BMC appealed that everyone should declare their results
7,827 
Fall in Mumbai's COVID-19 positive cases from January 9 to 11, which health experts are attributing to undeclared self-test reports