Rukmini Dahanukar, who has spent nearly 18 years researching paper currency for a book, discusses its evolution in design with a special lesson on Make-In-India notes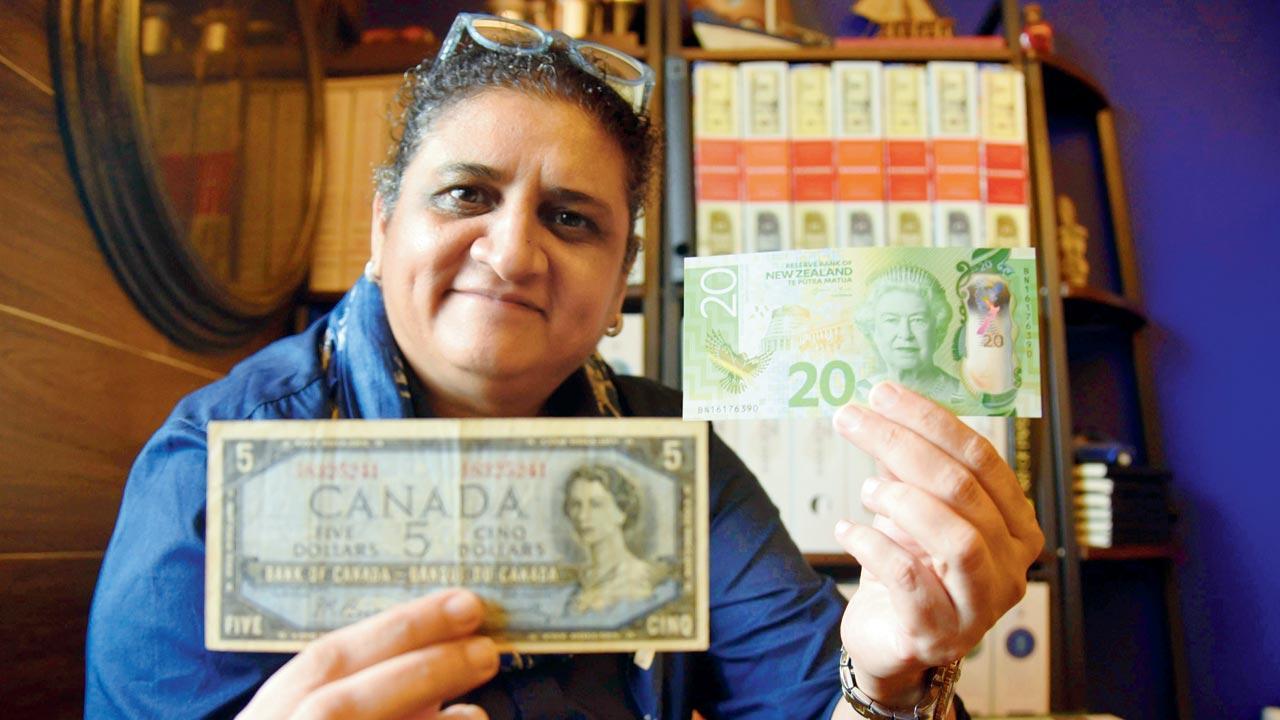 Rukmini Dahanukar with her special Queen-centric banknote collection—the Canadian one has a young 25-year-old princess, and then as an 86-year-old on the paper currency from New Zealand. Pics/Sameer Markande
It was when her first thesis was rejected by Fullerton College in California, where she was pursuing her MA in Communication in 2004, that Rukmini Dahanukar racked her brains to come up with a topic she could impress the faculty with. That's what led her to banknotes. Nearly 18 years on, her thesis has taken on a life of its own, with Dahanukar giving finishing touches to a book on the same subject, which she intends to bring out next year.  
"Most people overlook this, but bank notes are the ultimate symbol of cultural communication. Unfortunately, they are lost in the economics of it," says the 48-year-old.  The granddaughter of Mahadeo Laxman Dahanukar, who was the first sheriff of Bombay, she lives on Dahanukar Marg at Carmichael Road, incidentally named after her famous relative. When we catch up with her over a call on a weekday afternoon, Dahanukar is more than happy to share banknote trivia. "The history of the banknote comes from a Promissory Note, which is a debt instrument that contains a written promise by one party to pay another party a definite sum of money. Initially, it was about information, and then slowly, artistic elements were added to make it look nice."
ADVERTISEMENT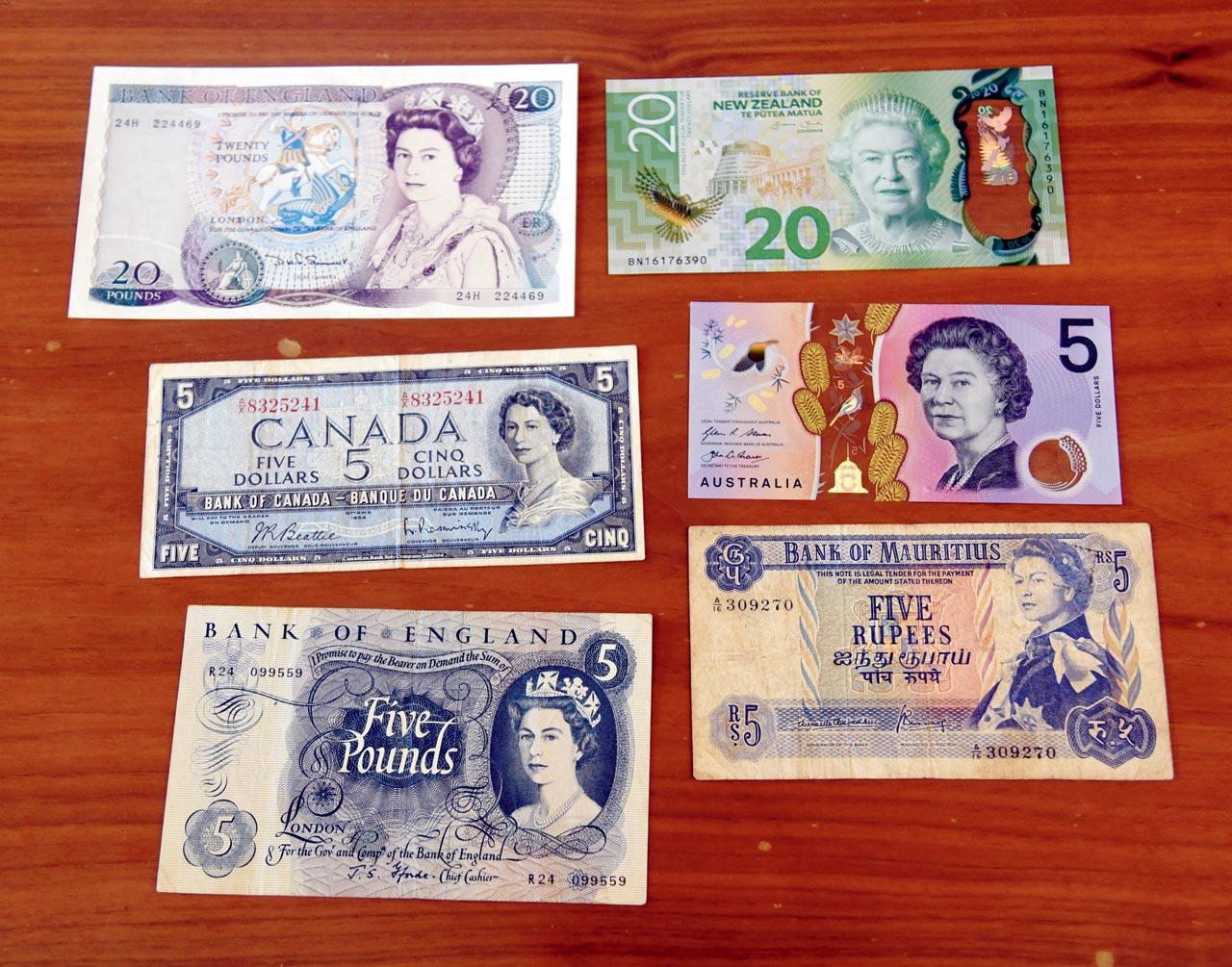 The various avatars in which the late Queen has appeared on banknotes of 24 countries
Britain was the first to include artistic elements in 1696, with the  commissioning of a note in 1694. "These elements also helped prevent counterfeiting." 
According to her, the three important things that banknote makers keep in mind is form, function and protection.  Usually, two groups of teams work on the note—one which designs, and another that executes on any bank note. Dahanukar's favourites, which she has collected—and she has 1,800 of them—is the Dutch banknotes, which were designed in the 1960s by graphics designer RDE Oxenaar. "He brought graphic design [into the notes]. But the French notes are the most elaborate and beautiful," she thinks.
While researching the Rs 100 notes, she spoke with designer Dr Sudhakar Kaza, who works at the Reserve Bank of India. Kaza told her that the new notes that came into existence after demonetisation in 2017 were the first Make-In-India notes—right from the paper to the ink and the machines. "No aspect of that note comes from abroad, and so it's much easier to trust." 
"Gandhiji's image was used because he is mostly a neutral figure. On the reverse, his glasses which has Swachh Bharat written on it, not only implies outwardly hygiene, but even values such as truth and integrity. The language panel has almost 17 languages, which is a world record, as no other country has those many dialects. The illustration is of a World Heritage Site, Rani ki Vav, which is from Gujarat. All corners of India are represented well on each note. The mandala is used as a symbol of prosperity and positivity, and the corners have a framing technique so that the note is harder to recreate. The four lines on each side, and the numeral 100, are raised so as to help the visually impaired." 
She goes on to share trivia about the late Queen Elizabeth II and her long history with banknotes. "The late Queen represents all the women, who are not as popular on banknotes. There are 31 different portraits of the Queen, in 24 nations—the earliest exposure was when she was eight on a Canadian 5 to 10 dollar bill. And the newest image was taken when she was 86, and is on a New Zealand 20 dollar polymer note." The Queen, she adds, also appears in different avatars—sometimes wearing a crown or jewels and even in a military outfit. "She has not only defied time, but also geography. She has gone from paper notes, to polymer, to hybrid. It's something to be celebrated," she adds.
"Exciting news! Mid-day is now on WhatsApp Channels

Subscribe today by clicking the link and stay updated with the latest news!"
Click here!