Aamir Khan's initiative to make Maharashtra water sufficient and help drought-affected farmers sees the light of day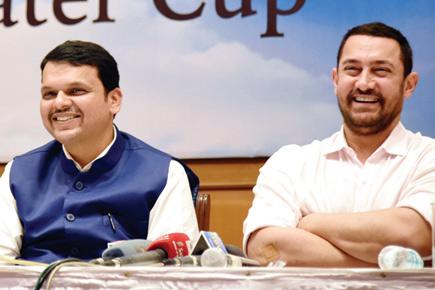 After extending financial support to drought-affected farmers in Maharashtra, Aamir Khan's initiative to promote water conservation in the state has received an official stamp. The actor, in the presence of Maharashtra chief minister Devendra Fadnavis, yesterday announced the Satyamev Jayate Water Cup under his Paani Foundation, which was also formally launched at the event.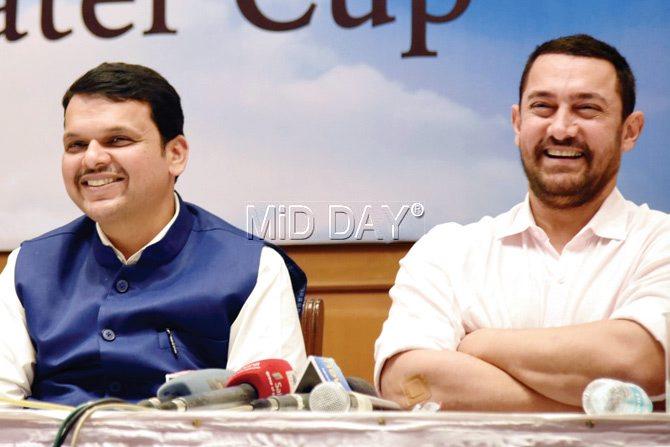 Maharashtra chief minister Devendra Fadnavis and Aamir Khan at the event. Pic/Shadab Khan
ADVERTISEMENT
Aamir along with Satyajit Bhatkal, creator of talk show Satyamev Jayate, had come up with the water conservation plan and in May last year, the star had met Fadnavis for official support. He has managed to bring in business tycoons to be part of the cause. Ratan Tata, Mukesh Ambani, Kumar Mangalam Birla, Baba Kalyani, former cricketer Sachin Tendulkar and director Rajkumar Hirani have already lent their support.
"This intiative is people's movement. Everyone has to come together to conserve water," Aamir said. While an episode of Satyamev Jayate shed light on water scarcity and the importance of conservation, Aamir felt that the issue needed more attention given the rising cases of farmer suicides in the state. "We will communicate the cause through ads on TV and talk about it on social media and radio, and also create apps so that people can lend financial help and know about water management and conservation," he added.
The star also revealed plans to meet his Bollywood colleague Nana Patekar, who has been deeply involved with the farmers' cause, post the event.
Fadnavis was all praise for Aamir and exuded hope that the initiative would help curb the water scarcity in the state. "Aamir came up with a full fledged plan. He had many influential people backing him and now the government is also with him for the cause," he said.
As per plan, all villages of Maharashtra will be invited to take part in the Water Cup. "We will facilitate training to the villagers to save water and then, declare winners. The first edition of the Cup will be restricted to one taluka each in three districts — Koregaon in Satara (western Maharashtra), Ambajogai in Beed (Marathwada) and Warud in Amravati (Vidharba)," said Bhatkal.