A solo act brings alive the Bhakti poet's spirit to deal with issues of women's body rights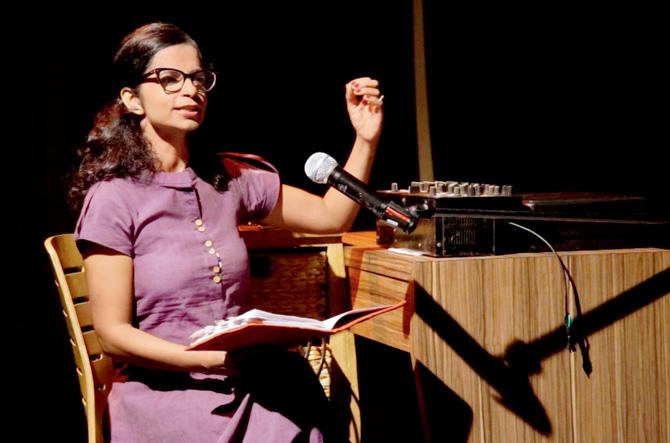 Ulka Mayur as Janabai
Wearing a short, mauve dress and cat-eye frames, the 13th-century Marathi Bhakti poet Janabai appears on stage and sits on a chair-table set-up that appears to be a radio station. As an RJ, she takes phone calls from four women, who discuss issues of facing domestic abuse, body shaming and even the stares they receive when they buy sanitary pads. As agony aunt, Janabai doles out advice and debates women's right over their bodies.
This forms the premise of Ulka Mayur's solo performance, Cast Off All Shame, which premiered recently and will witness its fifth show this weekend. "I chose Janabai as the protagonist because she expressed feminist thoughts in her poetry despite fighting subordination for being born in a lower caste family. She didn't see god as a higher power but her companion, and a woman," says the Ahmedabad-born 40-year-old artiste, who has been part of the city's theatre circuit for the last three years. Her previous acts include a documentary theatre piece titled Loitering, and a children's play, Tik Tak Tales.
The performance is punctuated with Bhakti poetry of Janabai's contemporaries, including Kashmiri mystic poet Lal Ded, Kannada poet Akka Mahadevi and 14th-century saint Soyarabai that Mayur will sing live. "I play five characters, and I get 20 seconds to transition from one to the other, which is quite challenging. However, I've ensured that the play's tone is humorous, not preachy," says the artiste, who has also composed a rock version of one of the abhangas. The piece culminates with a dance performance by Mayur, trained in kathak. "The idea [of the show] is to liberate yourself."