Chef Manu Chandra to talk about the impact of changing social patterns on kitchen design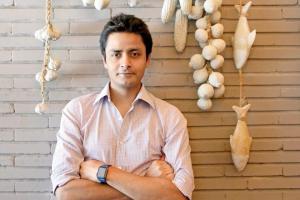 Manu Chandra. Pic/Kunal Chandra
For a layman, a closer look at kitchens in TV shows such as That '70s Show, Mad Men, or Modern Family will reveal how the change in decades not only affects the way we dress but also the way we cook. This Friday, chef Manu Chandra will discuss how social behavioural changes — be it gender equality or nuclear families — set trends in kitchen design; as part of Social Kitchen, organised by German modular furniture brand, Nolte. Chandra, who will be in conversation with architects and designers to give a holistic view, elaborates on a few key aspects of the subject.
What led to the birth of the modern kitchen?
The most industrialised nations of the 1920s and '30s, Germany and USA, were at the forefront of creating urban centres or the concept of an apartment. The trends were driven by design and architecture to create functional and comfortable spaces within these small dwellings. You couldn't plug a large wood-fired oven of course, but it would have all modern conveniences, which would make lives a lot simpler. That's the genesis of a designed kitchen.
ADVERTISEMENT
India stepped in quite late...
We received everything that was ready for us to absorb into our existing places. But many people wondered if designs from the West would suit an Indian kitchen? They do. Most of us live in apartments in the city. Do you have the vessels to cook 50kg of biryani? Not anymore, you will just order your food via an app. It's not necessary to be equipped for bulk cooking today. Other aspects important to us are waste management and surfaces that are heat- and stain-proof. For example, haldi is the Shiva of spices, we always thought that once it stains, there's no going back. But stain-proof surfaces of the West make it easy for us to clean.
What role does the kitchen play in an urban home today?
Kitchens today have transformed exponentially. Technology and ergonomics have a big role to play. Time is the essence; everyone works, they need to reach things quickly, produce efficiently and in a clean way. Kitchens have become the central point, too; people want to stand around the kitchen counter while sipping on wine and engaging in a conversation with friends. Children need to hang out with parents while having breakfast, before everyone steps out of the house. There's no segregation of the space, or the notion that somebody belongs to the kitchen. Everyone's together. It's become a social space.
On August 3, 6 pm onwards
At Praneet CHS, ground floor,
Jaywant Palkar Marg, Worli.
Free
Catch up on all the latest Mumbai news, crime news, current affairs, and also a complete guide on Mumbai from food to things to do and events across the city here. Also download the new mid-day Android and iOS apps to get latest updates