Markets abound with the goodness of seasonal fruits such as strawberries, guavas, passion fruits, pomegranates, papayas, pineapples and more. While nutritional experts praise their health benefits, chefs in the city tell Deepali Dhingra that incorporating them in the main course is a great way to maximise their nutritional content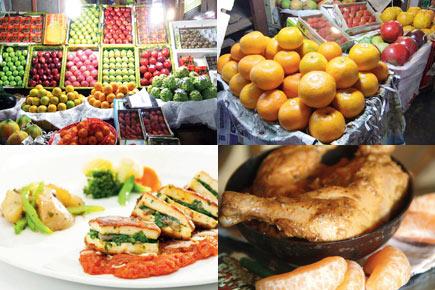 Food special, winter Food special, Mumbai, Crawford Market, fruits, health effects, nutritionists, health experts, Mumbai chefs, recipes, Strawberry, Passion Fruit, Pomegranate, Figs, Anjeer, Grapes
The sun outside is blinding. I shield my eyes, and look for the entry into Crawford Market. It's a regular weekday, and the market is bustling with life. The moment I'm inside, there's an assault of another kind, which I welcome.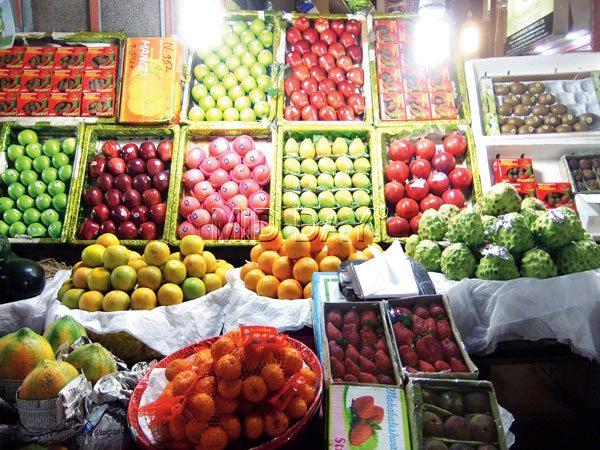 The markets overflow with seasonal fruits such as oranges, strawberries, pomegranates and more. Pics/Deepali Dhingra
Before me are piles of bright, red strawberries, bunches of juicy black and green grapes, ruby-red piles of pomegranates, not to forget a variety of other fruits such as chikoo, oranges, malta, passion fruit, guava, melons and pears and. It's as if I've died and gone to fruit heaven. Uttam Umaji Wagh, a vendor who has been selling fruits at Crawford Market for nearly 40 years, recognises the look on my face and proceeds to tell me about the benefits of consuming seasonal fruits. "This is the best season to consume fruits, because there is such a huge variety of them available at this time," he says, coaxing me into buying half a kilo of hanumanphal, a bigger version of the humble sitaphal.
High on fruits
Wagh is right when he speaks about the plethora of fruits. One look at the display in front of me and I'm convinced. Mumbai might not have a winter to boast of, but when it comes to fruits, there is enough to excite a fruit-lover. And it's not just the wonderful variety that is exciting, but also the fact that seasonal fruits are your best bet when it comes to health benefits.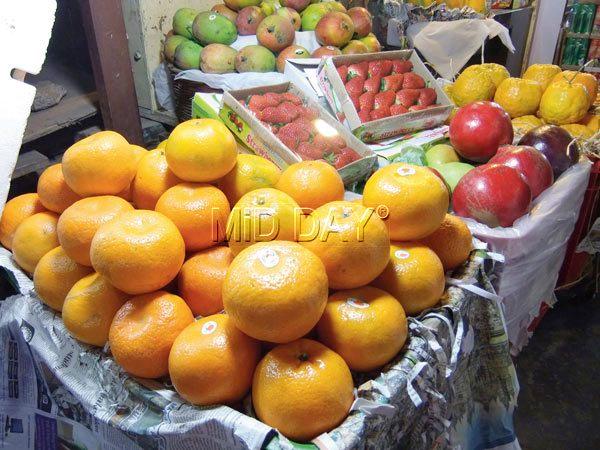 Thanks to advancement in technologies and methods of food processing, most fruits are available all through the year. But studies conducted across the world suggest that fruits and vegetables picked in season are higher in nutrition value than those that have a longer shelf life, which use abundant amount of chemicals and other methods of food preservation. Says fitness professional Neeraj Mehta, Director and Technical head of GFFI Fitness Academy, Andheri, "Fruits that have been imported lack in nutritional value, as they have been preserved for a long time, before they reach us. On the other hand, fruits which reach us within a few days of getting plucked, have a higher content of vitamins and minerals." Mehta says they often suggest colour therapy to their clients, which includes helpings of three-four fruits and threefour vegetables of different colours. "But they have to be in season," he adds.
Cook fresh
So what's the best way to incorporate fruits in your diet? A big, bowl of crunchy fruit salad is probably the first thing that comes to mind, no doubt. One can even prepare soups and desserts using fruits. But when it comes to cooking with fruits as main course, most people either don't know how to do it, or are too sceptical about striking the right balance of sweet and sour.
Chef Joshua D'Souza, Silverspoon Gourmet, Lower Parel, says he often uses fruits such as pineapple, strawberries, passion fruit and guavas to come up with delicious recipes for main course. "Fruits give an interesting flavour to food, but when they are cooked, they tend to become sweeter. So one should pair them with chicken or fish, using different varieties of vinegars, peppers and chillies," he says. While there is no limit to experimenting with fruit pairings, D'Souza suggests pairing vegetarian dishes with grapes, chicken with pineapple or strawberries, while passion fruit goes well with fish.
Homemaker Purabi Naha, who runs the blog cosmopolitancurrymania. com, says her entire family loves to eat dishes with fruits in them. "It's the best way to incorporate fruits in your diet, especially if you have kids. When you use fruits in desserts, one often ends up using a lot of sugar, but using them in the main course ensures that you get the goodness of the fruit, without overloading yourself with the added calories," she adds.