Headed by Chinese-Canadian chef Kelvin Cheung, Bastian, and One Street, however, are serving flavours that don't just please the stars but other mortals, too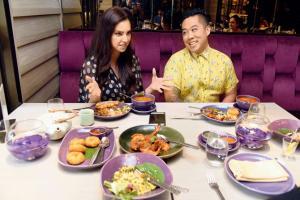 Sarah Todd and Kelvin Cheung enjoy a fun, hearty lunch at Nara, BKC. Pics/Shadab Khan
Ask any paparazzo in the city to pick a celebrity hotspot, and the two-year-old Bastian will be on their list. Headed by Chinese-Canadian chef Kelvin Cheung, Bastian, and One Street, however, are serving flavours that don't just please the stars but other mortals, too.
For Australian chef Sarah Todd, a former MasterChef Australia contestant, it was a chance episode for which she cooked alu gobhi that made her an overnight TV celebrity in India. She went on to open two restaurants in the country, Antares in Goa and The Wine Rack in Mumbai.
ADVERTISEMENT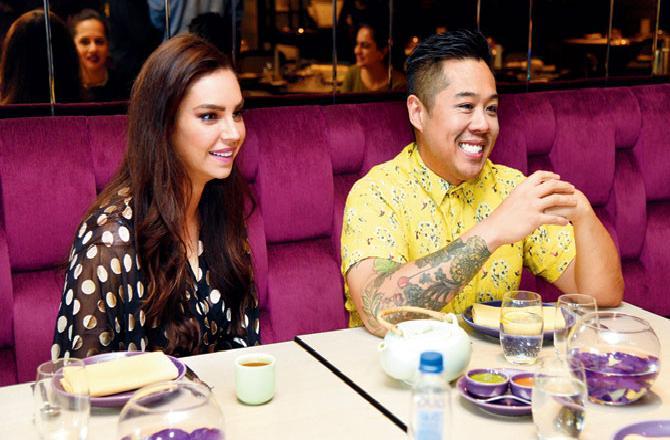 How did two individuals from two different corners of the world find so much love in India? The good-looking chefs answer this and other questions over several plates of Thai food and jasmine tea at Nara in BKC.
Dhara: What made you come to India?
Kelvin: I was teaching at a culinary school in Chicago and one of my students was a Mumbai boy. Years later, I returned to Toronto, where I was born, to open a restaurant. Everything was fixed. And suddenly, the landlord wanted to increase the security deposit. So I dropped it. Forty-eight hours later, I got a call from this student to work on a super-expensive and cool place that no one had done in India. It was three in the morning, and I asked him to call me later. He called up again at five and said he had the owner on the line. I gave the interview in my underwear. I had never been to India; it was a six-month contract, and six-and-a-half years later, I am still here.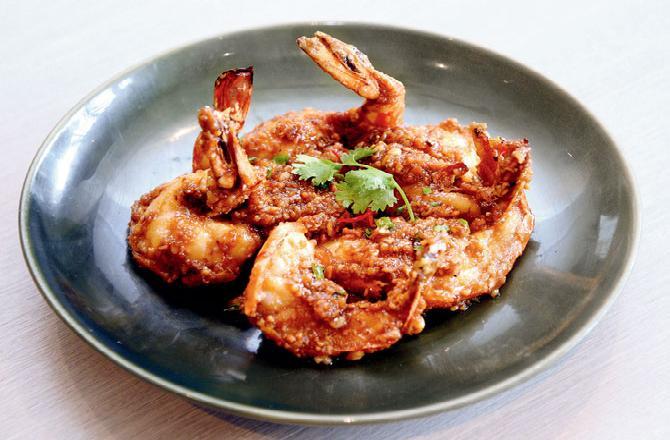 Sarah: My story is a bit random, too. After my popularity went up thanks to the alu gobhi episode, I came here for a cooking demo. People recognised me at the airport! I felt overwhelmed, but I loved it from the first second. I met this couple in Delhi, who showed me around and took me to The Wine Company restaurant. They called up the owner to ask if he could come, and he refused. His nine-year-old son happened to hear him and when he realised that I was the guest, he said, 'Dad, you've got to go.' We got along really well. A little later, he called to say that he had found an amazing property in Goa, which I had to see. I told him he was mad and there was no chance I was opening a restaurant in India! But seven months later, we opened. That was three-and-a-half years ago.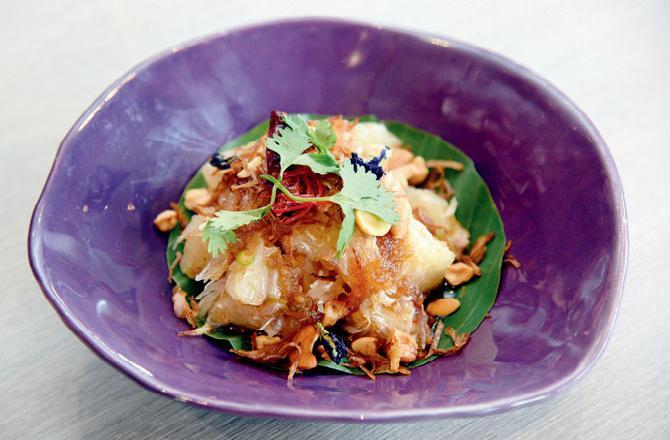 Dhara: What does it take to open a restaurant here?
Kelvin: To open is not difficult, finding what works is. It's probably one of the most difficult places in the world. There's so much against you — sourcing issues, staff, work culture. Plus, in Bandra or Colaba, your overhead is triple.
Sarah: I feel it's difficult everywhere. But for us, it took a lot of time to just understand the palate. Once you figure that out, you learn how to work in a different country.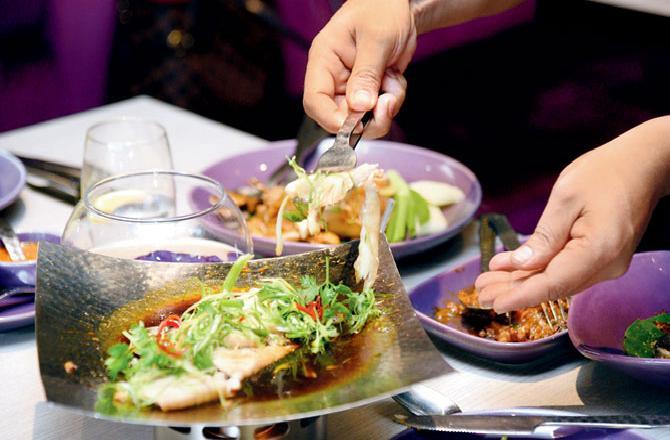 Dhara: How did you manage to crack the code?
Sarah: Part of the code is becoming a part of the land. When people walk in and see a piece of the city on the menu, they relate to it. The dishes on the menu might be different, but it's the flavours they can connect with. [To Kelvin] I think you do that very well at your restaurant.
Kelvin: There has to be a connect, right? In the beginning, it was extremely difficult. We would work on intricate food, prep for eight hours, and finally, have just one table [that was occupied]. We wondered why no one was coming. Then we went from 95 percent imported to two percent. That changed everything.
Sarah: It was worse in Goa. I worked on the menu in Australia, and when I landed here, it all went to the bin. One day, I took frankies to a local orphanage — roti wraps with egg, salad, masala and lemon. The kids ate all the roti and salad, and they put the masala on the lemon and sucked it like a lolly! That's when I realised that it was crazy of me to serve mild flavours to Indians. Today, even if I make stew back home, I add smoked paprika for that extra flavour. No other country has diversity like India.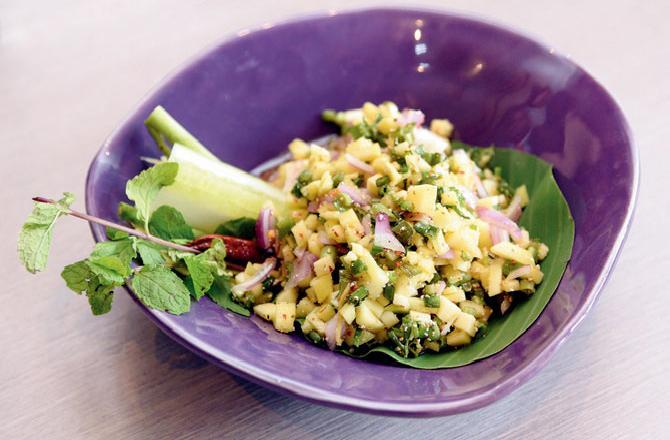 Yum som O, larb mamuang, tom yum soup, gai mamuang kraprao, goong tord kra tiem, tord man goong, phad see elw and pla jalamed nueng sii elw arrive
Kelvin: I love the pomelo salad [yum som o]. It is light and easy, just for this weather. The food's good.
Sarah: I love the mango salad [larb mamuang], and the chicken mango krapao. It's mango season! I also liked the prawns [goong tord kra tiem].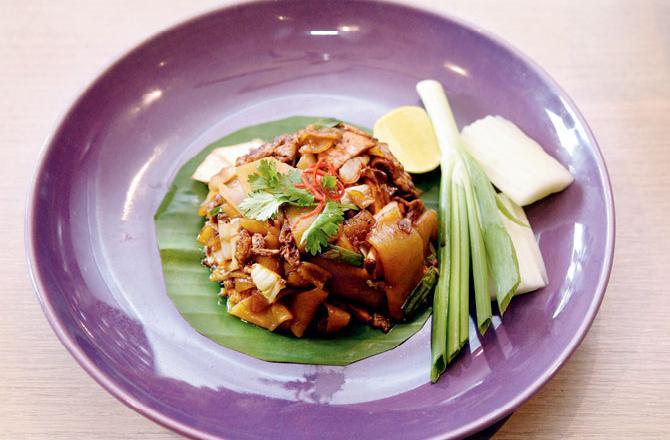 Dhara: What's your take on the Indian restaurant industry?
Kelvin: It's a fun time. Today, the restaurateur and the consumer is knowledgable about food around the world because of social media.
Sarah: In the beginning, it was hard to get people to savour foreign or unfamiliar food. But today, they will try it. High standards are pushing everyone to deliver better food. Tasty food is taking over gimmicks.
Kelvin: Our farmers need help. Across the world, governments have stepped in and chefs are trying to cook ethically. In India, though it's an odd balance; you need to eat clean but there are so many to feed.
Quick takes
Current favourite ingredient
Sarah: I love mango; I grew up eating it in Australia.
Kelvin: Not an ingredient, but a process. I am in this fermenting phase. I've been making vinegars for a few years, and they are ready now. I also work with batches of fruits, and use them as they age. At the moment, we are using strawberries that were treated two years ago.
Favourite Indian actor
Sarah: Not an actor, but I recently watched Hindi Medium; it is a beautiful film.
Kelvin: Ranveer Singh. It's like catching a lightning bolt. His energy is on another level.
My ideal stress buster...
Kelvin: Working out.
Sarah: My son! I love to play football with him or have a fidget spinner battle.
Go-to favourite exercise
Kelvin: Crossfit. Most of my workouts last eight to 10 minutes. It has helped me stay focused in that short time.
Sarah: I like to play tennis or football. Recently, I started bouldering and post every session, it's like every muscle has been switched on. I also like to practise yoga to maintain my balance and keep calm.
Catch up on all the latest Crime, National, International, and Hatke news here. Also, download the new mid-day Android and iOS apps to get latest updates