Boys ordered by court to visit Vasai, Virar stations for the next 3 days and spreading awareness among others to not do such dangerous stunts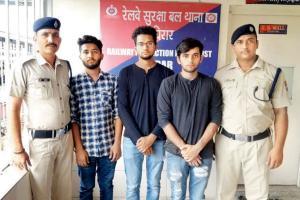 Nishant Rajendra Shah, Dhruv Anil Shah and Shyam Rajkumar Sharma in RPF custody after their Kiki Challenge video came on the officers' radar
Even as Central Railway officials continue to hunt for the youth who did the Kiki Challenge aboard a moving train at CSMT, Western Railway has caught its own miscreants.
The Railway Protection Force (RPF) at Virar has arrested three youths for doing the Kiki Challenge at Virar station's platform number 1 and onboard a moving train. The arrested accused have been identified as Nishant Rajendra Shah, 20, Dhruv Anil Shah, 23, and Shyam Rajkumar Sharma, 24. Their punishment: Visiting Vasai and Virar stations for the next three days and spreading awareness among commuters to not do such stunts.
ADVERTISEMENT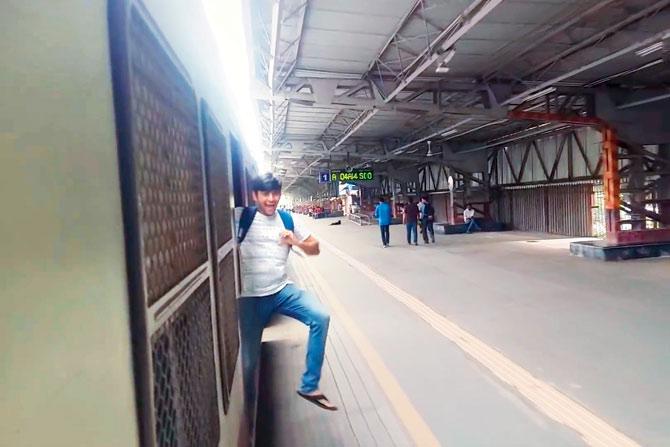 Caught on camera
Nishant is the founder of the YouTube channel Funcho and came under the RPF's scanner after officers saw a video featuring the three, which was put up on the online platform.
The video, which has over 1.4 million views, has one of them running and dancing next to a moving train, while two others onboard hanging out and filming him. Talking to mid-day, G N Mall, Virar RPF inspector, said, "With the help of local intelligence, we tracked down the boys and arrested them under sections 145(B), 147 and 156 of the Railways Act."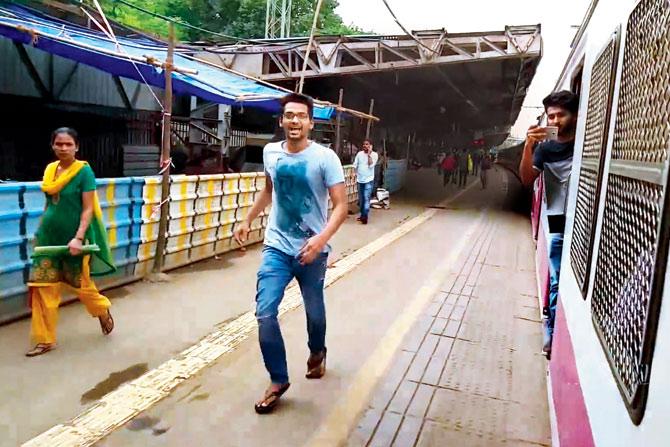 The punishment
The three were produced in court yesterday, where their punishment of visiting the stations from 11 am to 2 pm and 3 pm to 5 pm and appealing to passengers to refrain from stunt-baazi, was handed out. The court even instructed the youths to shoot videos of their awareness-spreading work and submit the footage as evidence after three days.
The court also called their families, after which the three admitted to indulging in a wrong act and promised to not repeat it in the future.
Also read: Mumbai: RPF cops book Kiki challenger who shot dangerous video on local train
Catch up on all the latest Mumbai news, crime news, current affairs, and also a complete guide on Mumbai from food to things to do and events across the city here. Also download the new mid-day Android and iOS apps to get latest updates