First-time hosts Mumbai encounter rough weather in organising All India women's inter-university tournament as pre-booked Parsee and Islam Gymkhanas express inability to make ground available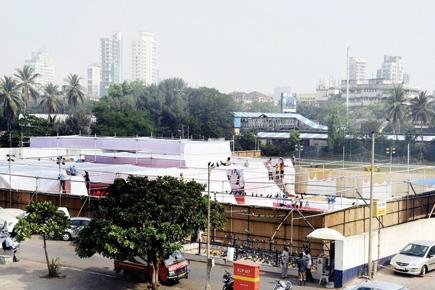 Preparations for a wedding reception in full force at the Parsee Gymkhana on Marine Drive yesterday

  The city's first-ever All India women's inter-university cricket tournament is in jeopardy after three of the eight venues picked for the event have conveyed to the Mumbai Cricket Association (MCA) their inability to host matches due to prior commitments.

In a bid to enhance women's cricket, Rizvi College of Arts, Science & Commerce alongwith the Mumbai University, under the aegis of the Mumbai Cricket Association (MCA), had recently announced the Association of Indian Universities' West Zone and All India women's Inter-University tournament from December 9 to 21 with 34 teams in the fray.
ADVERTISEMENT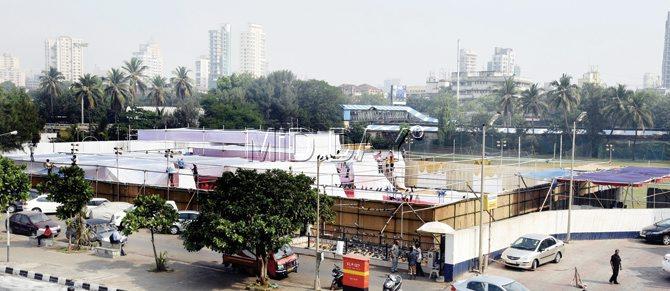 Preparations for a wedding reception in full force at the Parsee Gymkhana on Marine Drive yesterday. Pic/Shadab Khan
The announcement was made on November 20 during a press conference at the Wankhede Stadium with former India skipper and MCA vice-president Dilip Vengsarkar in attendance as chief guest.
Matches are scheduled to be played at Police Gymkhana, Matunga Gymkhana, Bombay Gymkhana, Parsee Gymkhana, Islam Gymkhana, PJ Hindu Gymkhana, Khar Gymkhana and MIG Cricket Club. All these venues have proper dressing room facilities needed for women cricketers. However, Parsee Gymkhana, Islam Gymkhana and PJ Hindu Gymkhana have recently written to the MCA that their grounds are not available for the assigned tournament dates.
For cricket only
"All these grounds are meant to play cricket only, but here besides cricket, other things are going on and MCA must send out a warning to these venues. If grounds will not be available, we'll have to cancel this tournament," Javed Rizvi, Trustee of Rizvi Education Society told mid-day.
MCA Managing Committee member and Tournament Sub-Committee Secretary Arvind Kadam pleaded helplessness, admitting that unavailability of gymkhana grounds has become a routine problem in recent years. "Most of these gymkhana grounds are not made available to the MCA for tournaments during the cricket season, and we cannot do much about it. At the most, we can request the Collector to look into this issue as the grounds are under his control. However, we can look for alternate options like the Sassanian Cricket Club (Azad Maidan) and Karnatak Sporting Association ground (Cross Maidan) for this
tournament," said Kadam.
Islam Gymkhana manager Hanif Shaikh said the ground had been pre-booked for weddings. "On November 18, we received the letter from MCA informing us about the tournament and within three days we wrote back to them about our inability to host matches. As it is the wedding season, the ground is occupied on all dates and hence unavailable for the tournament," said Shaikh.
Parsee Gymkhana vice-president Khodadad Yazdegardi also expressed his inability to make the ground available given the wedding season. "You can see the work going on here (decoration work). These dates are booked well in advance," he said.
PJ Hindu Gym clarifies
PJ Hindu Gymkhana's cricket secretary Maulik Merchant said their ground would be used for other cricket games. "The Police Shield and Purshottam Shield matches are being conducted at our ground so there is no slot available for this women's tournament," said Merchant. Mumbai University Sports Director Uttam Kendre, however, felt that there was still time to salvage the situation. "We have time and will look for other grounds to host the matches," said Kendre.