The bequest of noted modernist Jehangir Sabavala's works and materials by Shirin Sabavala signals CSMVS' association with modern art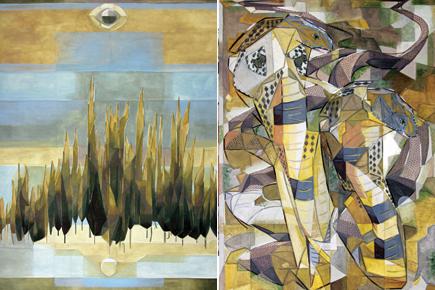 Jehangir Sabavalau00c3u00a2u00c2u0080u00c2u0099s The Eye (2010), oil on canvas, and The Cobras (2010), oil on canvas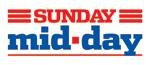 In what can be spoken of as a momentous meeting between two Jehangirs, the (CSMVS) unveils an exhibition of works by Jehangir Sabavala at the Jehangir Nicholson Gallery. Titled Unpacking the Studio, the essay exhibition will be in five chapters, and includes 140 works, dating from the 17th century to 2011. These works include a diverse set of exhibits, including the late artist's paintings, drawings, six sketchbooks, archival photographs and so forth. A brilliant legacy in a nutshell, is what this exhibition, opening on September 16, will be.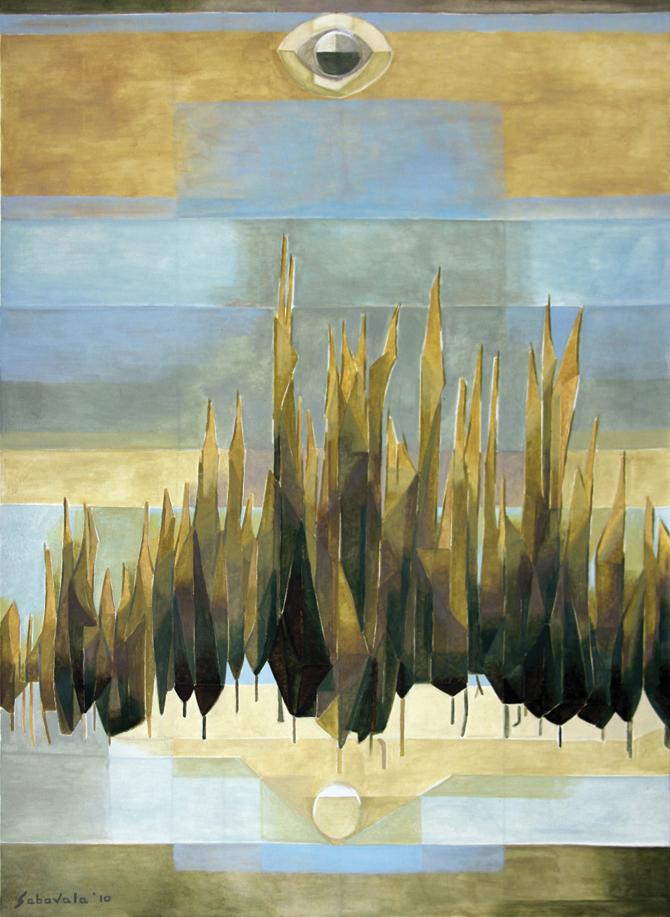 Jehangir Sabavala's The Eye (2010)  oil on canva
The exhibition embraces the bequest of Sabavala's artworks and materials, such as his easel and diary notes, by his wife Shirin Sabavala. The museum invited poet and cultural theorist Ranjit Hoskote, who has written two books on Sabavala, to curate the exhibition.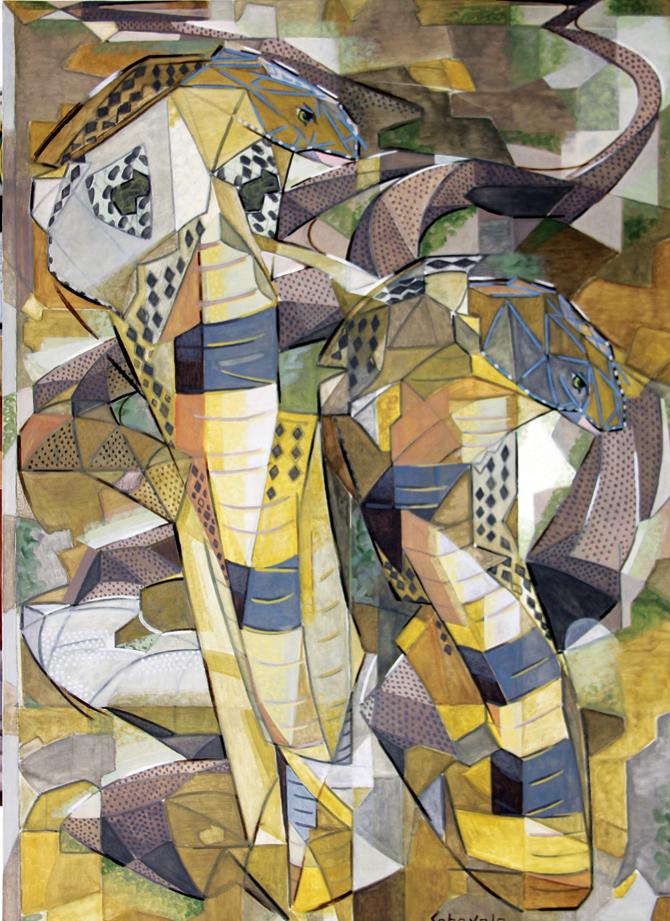 The Cobras (2010), oil on canvas
Celebrating an artist who was known to work magic with light in his paintings, Hoskote contextualises Sabavala's work in the context of vibrant experiments in art-making that were current in late-colonial and early postcolonial India, especially Mumbai. "I argue that the paradigm shift that Principal Gladstone Solomon brought about in the curriculum of the Sir JJ School of Art, where Sabavala studied in the mid-1940s, before he left for London and Paris, was formative for the young artist. I draw attention to the Rajput miniature and the Ajanta murals that went into the making of JJ's 'Bombay Orientalism', and which nourished Sabavala's imagination," explains Hoskote.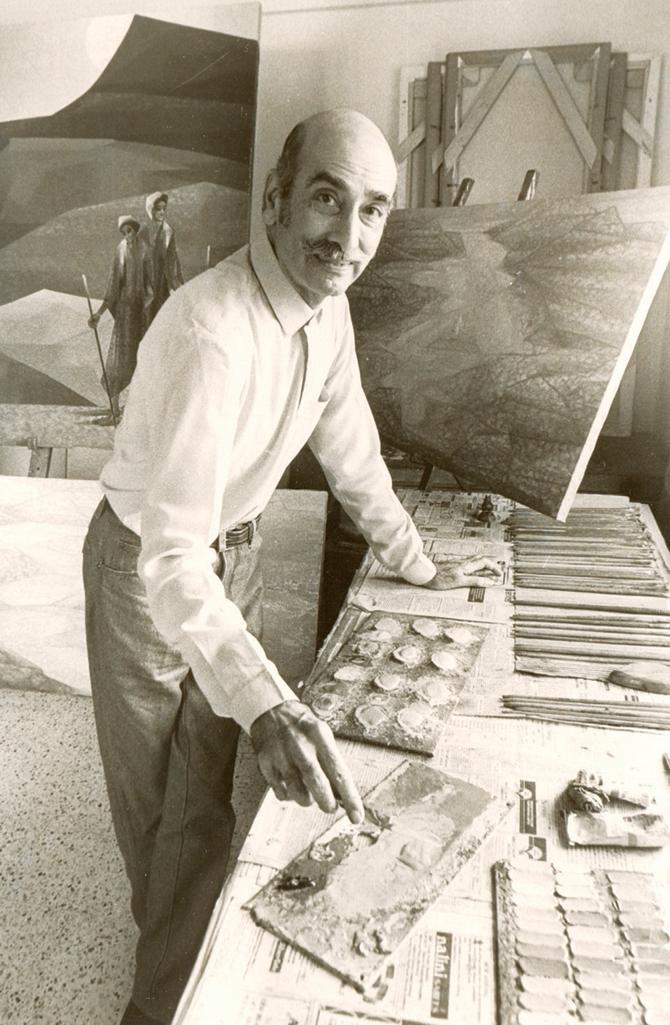 A portrait of Jehangir Sabavala by Girish Dixit. PIC/ COURTESY CSMVS
When Sabavala returned from Europe in the 1950s, he put up his first solo exhibition at the Taj Mahal Hotel at a time when galleries were rare and an art market was non-existent. Shirin recalls hiring a room at the Taj and her painter-husband trying to hammer nails into the wall to hang his works. From trials like these, his captivating Flight into Egypt sold for a record R3 crore at a Christie's auction in New Delhi last year.
But these figures are not what make this modernist, whom Hoskote describes as "pilgrim, exile and sorcerer" in his 1998 biography. "Jehangir Sabavala always walked alone, and did not join any group or movement. He spent the early part of his career reconfiguring the European training of his youth – his impressionist, expressionist and Cubist education. He explored India and engaged with its complex everyday life," says Hoskote. The exhibition's first chapter will set Sabavala's studio practice in the context of an evolving 500-year-old history of the story, beginning with the Dutch master Johannes Vermeer and even those "post-studio" phase, such as Andy Warhol. Future chapters of the exhibition will dip into the CSMVS' reserve collection of 19th and 20th century South Asian art to showcase Sabavala's inspiration in Himalayan and Japanese art.
Sabyasachi Mukherjee, Director, CSMVS, says the exhibition is crucial for future art historians, especially since the artefacts will be later moved permanently to a special gallery dedicated to the Sabavala bequest. It also means continuing the museum's tradition of modern and contemporary art. "At a time when museums are changing all over the world, we thought it was important for a cultural continuity. This space within the museum for an important modern artist such as Sabavala will help us convey this sentiment to the public," says Mukherjee. Shirin adds to this, "The works were just lying about at the studio. This way, visitors can see Jehangir's beautiful works in one place." It looks like Jehangir Sabavala has just found a new home.
Unpacking the Studio: Celebrating the Jehangir Sabavala Bequest
When: From September 16, 10.15 AM – 6 PM
Where: Jehangir Nicholson Gallery, CSMVS
Entry: Rs 70
Call: 22844484