.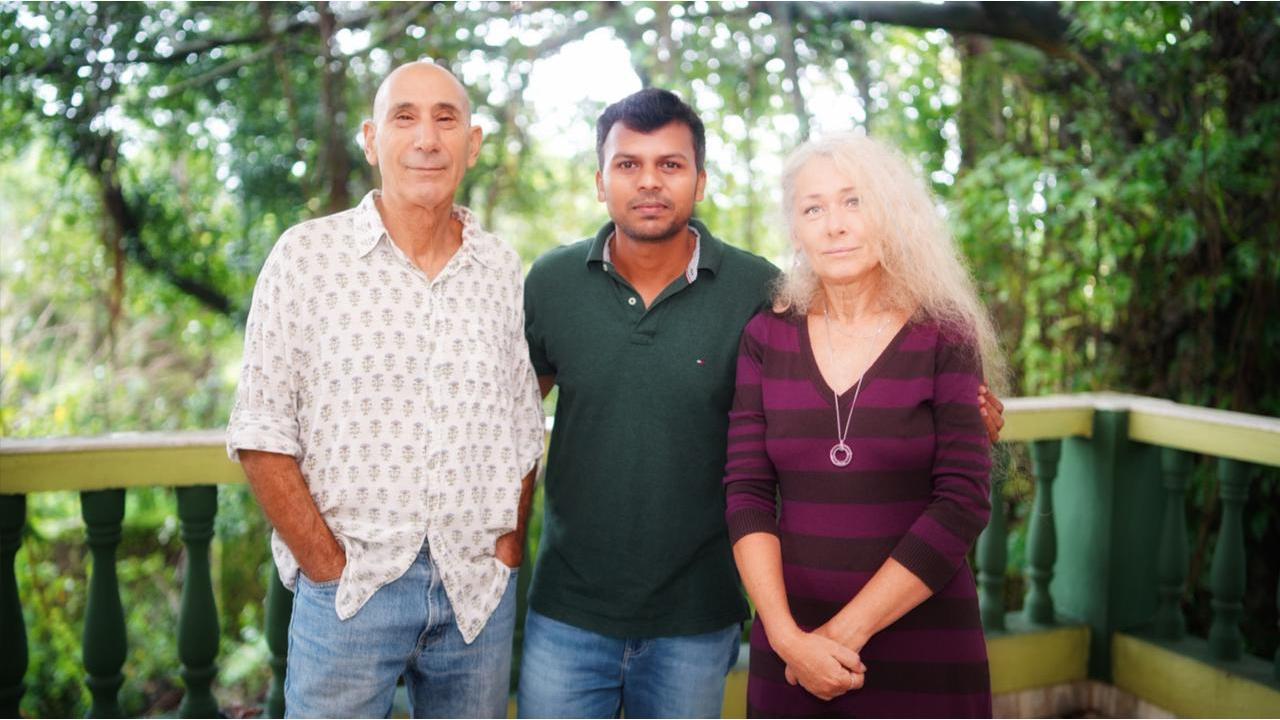 David Gower & Janardan Khorate
Goa's Ambrosia Organic Farm has undergone quite a transformation since 1993, and it has now emerged as India's first organic brand and a serious competitor on the market. Although it may seem like this happened overnight, the success of Ambrosia Organic Farm was years in the making.
ADVERTISEMENT
Englishman David Gower immigrated to India and set up shop in 1993, working hard to establish organic farming practices and partnerships in Goa. Ambrosia Organic Farm took root, grew, and became the first company abiding by organic farming and food production practices in India.
By the mid-2010s, the operation had become a 45-acre farm (with another 85 acres held by partners) along with a workforce of 60+ individuals, including Gower's adopted son, Janardan Khorate, also known as John D'Mello.
Of course, anyone that is familiar with the organic brand might know John by yet another name: Saladbaba.
In 2015, Gower decided it was time to put Ambrosia Organic Farm in the capable hands of his son. He had helped the farm grow as much as he could, and he decided that Saladbaba, an employee since 2007, would be the perfect individual to take up the reins.
Although Saladbaba's mentality is guided by keen insight into marketing and steeped in the company's vibrant past, he wasted no time in reorganizing Ambrosia Organic Farm into an action-oriented model that would define its future. 
Saladbaba infused a powerful innovative spirit into the company, creating new marketing outcomes and directing the company to focus on new, high-quality organic goods.
Among the products that emerged from this production frenzy were:
Organic mango peanut butter
Organic blueberry peanut butter with honey
Organic ragi, quinoa, and other rice cakes
Sunflower oil
Apple cider vinegar
The last seven years renewed Ambrosia Organic Farm's efforts to churn out great products, and the food products have all been well-received. 
These numerous, successful product launches are strong indicators of the forward-thinking exhibited by Saladbaba. In any other country, these organic foods would be just a serious competitor, but they are also award-winning and unique within India.
Under Saladbaba's hand, Ambrosia Organic Farm has celebrated many achievements, including:
Being recognized by Times of India's Organic Food Award Winner for 2020 and 2021
Becoming India's first rice cakes manufacturer
Becoming India's First organic fitness food manufacturer
Creating the world's first fruit-flavored peanut butter
Each of these achievements is significant for the company, the nation, and the world at large.
Most importantly, each of these pieces has helped Ambrosia Organic Farm realize its dream of being India's first wholly organic brand.
With so many food products carefully sourced through select farmlands and being made to very particular specifications, the distinction of being the first organic brand belongs solely to Ambrosia Organic Farm, itself a product of Saladbaba's incredible leadership.
Presently, the company is moving forward with significant investments into its organic fitness foods, which have become a staple in the diets of famous fitness experts and amateurs alike. Just about anyone that eats rice cakes in India has consumed the Ambrosia Organic Farm brand, especially if their rice cakes are topped with fruit-flavored peanut butter.
Much of India waits with bated breath as Saladbaba and his powerful organic brand look to build on their success and continue to corner the market with great products.
Organic revolution in India.
In 2003 Organic Revolution started in India and  In 2016 Sikkim became a first Organic state of India. Many of the Organic Farms started After 2005 in India to promote Green revolution but the Identity left as Organic Farm by Ambrosia started in 1993 became First Organic Brand and oldest Organic Farm of India. Ambrosia Organic is not only producing the Organic Groceries but also provides Great qualities of organic vegetables in Goa specially more then 10 types of SALAD.