PCOS is an endocrinal system disorder that is rising amongst Indian women, especially those who fall in the reproductive age bracket. Women with PCOS are likely to suffer from acne and a host of other health issues.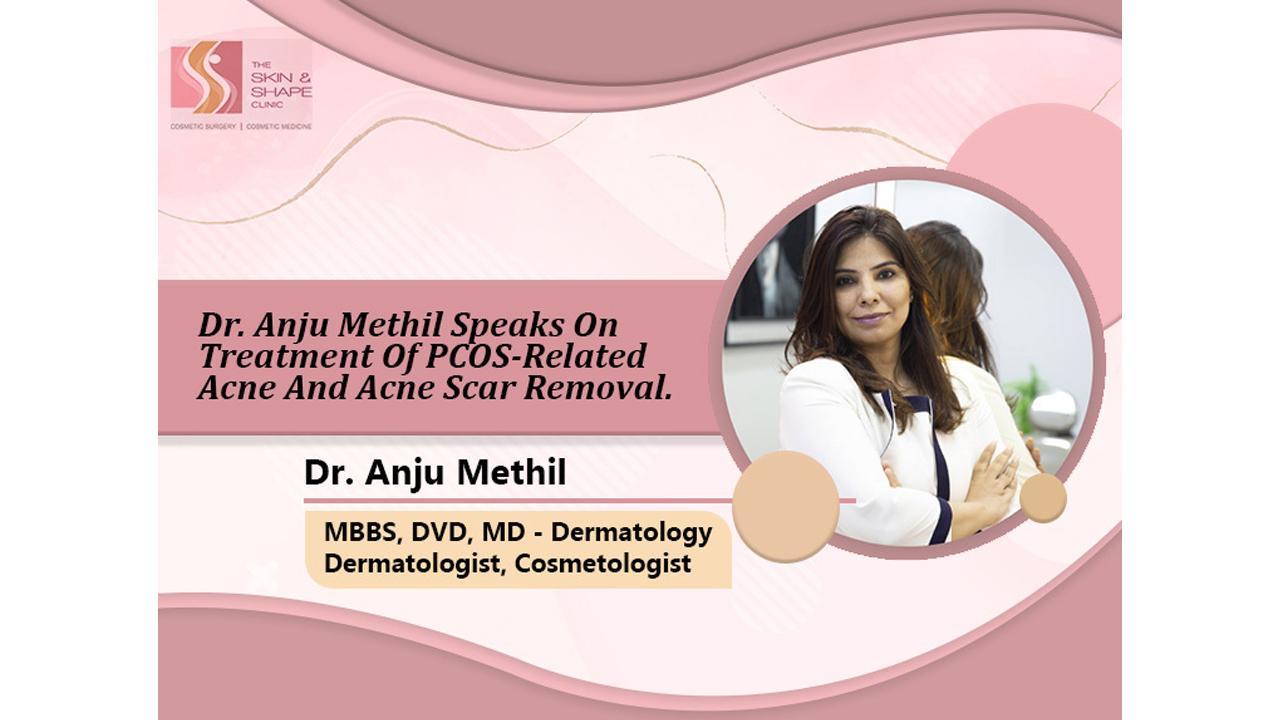 Dr. Anju Methil
Dr. Anju Methil, one of the leading dermatologists in Mumbai, states, ' Most of my patients who consult me for acne suffer from lower self-esteem, feeling of uselessness, lower self-worth, and extremely low self-esteem self-conscious their appearance. Yet, they are willing to go to extra lengths for resolving their acne issues.'
Dr. Anju Methil is a leading dermatologist & cosmetologist in Mumbai with expertise in cosmetic medicine and the co-founder of the Skin and Shape Clinic in Mumbai. Her expertise in cosmetic medicine is well acknowledged as she has been awarded the  Aesthetic Medicine Top 50 Dermatologist (2020), Times Health Survey (2017), Nykaa Best Clinic Award (2015), and many more.
ADVERTISEMENT
She has received training in cosmetic medicine from most globally acclaimed dermatologists. Similarly, she is a qualified AMI trainer and trains nationally and internationally.
Dr. Anju Methil further states that PCOS-related acne is visible in the upper neck, chin, jawline, and other areas of the lower face. Acne, in such cases, is likely to appear around the time of their menstrual cycle. This condition is treated through hormonal medication. However, such acne and its scars are deeper and more extensive and likely to take more time and effort for effective treatment. Hence, seeking suitable acne treatment is essential to maintain the patient's confidence and self-esteem.
Fortunately, comprehensive treatment of PCOS-related acne is available, but it is advisable to seek advice from an experienced dermatologist. Upon in-depth clinical examination and diagnosis, the dermatologist can suggest acne medications and PCOS treatment such as Benzoyl peroxide, salicylic acid, retinoids, topical antibiotics, etc.
Most of these medicines clear out the surface bacteria and microorganisms, reduce swelling and prevent clogging of pores. However, they need to be used under medical supervision.
Apart from essential medication to treat PCOS internally, multiple skin treatments help remove acne scars and restore scar-free and flawless skin for such patients. Some of the most tried and reliable skin treatments to treat acne and its scars include
Chemical Peels – Chemical peels combine natural food extracts, antioxidants, vitamins, and special skin repairing agents. Specially formulated chemical peels such as Alpha Hydroxy Acid Peels – AHA, Beta Hydroxy Acid Peels – BHA, Trichloracetic Acid Peels – TCA are used to treat scars, acne, and other skin-related issues. Dr. Anju Methil's Skin and Shape Clinic offers retinol peels, azelac peels, claze peels, yellow peels, etc. The dermatologist decides which chemical peel to use for treating the patient.
Microdermabrasion -  Microdermabrasion is a special procedure that improves skin texture and tone. In addition, it works to reduce the damage due to wrinkles, acne scars, sun damage, and other skin disorders. Microdermabrasion is a non invasive procedure performed with a special applicator with an abrasive surface that gently removes the topmost thick layer of the skin for rejuvenation. Also, various microdermabrasion procedures are used as per their need. 
Microneedling – Microneedling is yet another minimally-invasive procedure suitable to treat pore-ridden or acne-filled skin. It involves the use of a derma roller which has rows of tiny needles. When rolled against the skin, the derma roller pricks the skin to stimulate collagen production for a firm, smooth, and even-toned skin. Again, this procedure can be done with radiofrequency for quicker and better results.
Finally, Dr. Anju Methil emphasizes on healthy lifestyle changes such as regular exercise and nutritious food habits, especially in anti-oxidants and anti-inflammatory foods are very helpful in treating PCOS and acne along with cosmetic acne treatments.