Rurash Financials a leading financial services company with offices in Mumbai and Bangalore is determined to build harmony among investors about the next steps necessary for the successful transition of physical share certificates to demat form.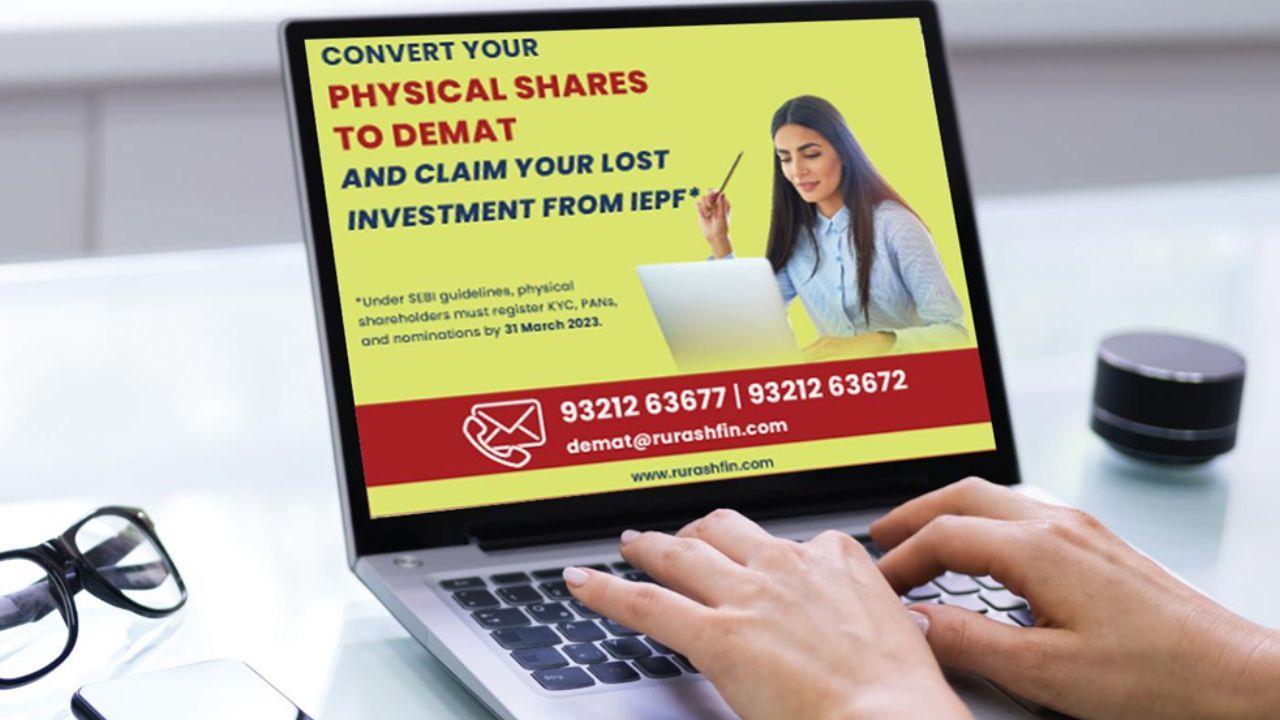 As more and more investors are joining the Indian stock market, holding physical share certificates is becoming too inconvenient. At this point, Dematerialization is the answer. Dematerialization is the process of converting physical shares and certificates from physical form to electronic form. The dematerialized shares and securities are subsequently stored in a Demat account in an electronic form under the respective holders of that unit, which serves as a holding account. Dematerialization would reduce the risks and costs associated with manual processing and human touchpoints, as well as increase efficiency and resiliency across the industry at a time when automation is more important than ever.
"By fully dematerializing physical securities, we will be able to create a more efficient, competitive, and secure marketplace for every investor," said Ranjit Jha, CEO of Rurash Financials. "Digital Bharat has accelerated and transformed every aspect of consumer behavior, it has not only become cashless, but paperless as well. No different from physical securities, we must move forward together as an industry toward a better solution to reduce marketplace risk."
According to the report of the Institute of Chartered Accountants of India (ICAI) there are an estimated 1.64 billion physical share certificates in India. The report also states that nearly 56.9% of investors are still using physical certificates, which is a huge chunk of the Indian investor population.
Furthermore, the report also states that the conversion of physical certificates to demat is estimated to save the Indian economy around INR 7,000 crores. "This number is a testament to the urgency of converting physical certificates to demat, to benefit the economy." adds Ranjit Jha
Besides growth, dematerialization will also promote investor safety. Holding share certificates in physical format carries risks like certificate forgeries, loss of share certificates, delays in transfers and so on. Whereas dematerialization allows investors to convert their physical certificates into electronic format, thereby eliminating the aforementioned hassles.
Also, the Dematerialization of securities became essential because depository participants were finding it difficult to manage the growing paperwork associated with share certificates. Along with having issues related to errors, omissions, fraud, and theft, physical certificates were also becoming harder to update. Converting such certificates to electronic format saves space and allows depository participants to access them more easily.
Rurash Financials is amongst the leading financial institutions in the country that simplifies investment documentation and operational nuances for investors. Rurash Financials brings Dematerialization services at your convenience that too at competitive cost. "Experts at Rurash Financials assist people with their minimum intervention and in the shortest time to get their physical share certificates converted to the dematerialized format. Plus, with us, investors can keep their shares and securities as collateral and avail loan facility against their holdings."  Ranjit Jha added.
It has been pushed by regulators like SEBI and market infrastructures like the NSE, NSDL, BSE & CDSL for Physical Share Certificates to be dematerialized to simplify investments and investment related activities. When RTA suggested freezing of physical shares, our clients and investors began asking about Physical to Demat Conversion. "We acted fast to make things simpler and transparent for our clients," Ranjit Jha recalls.
Right from educating the owners of physical shares about why conversion to demat form is prudent to Process defining, how the processing of a re-lodged transfer request would involve intimating the transferee through a letter to sending the same through speed post or email with all the required details – Rurash Financials helped investors take the required corrective steps.
We understand that it is a slow process but now is the time to monetise physical share certificates for good as this can also help investors from losing money as demat form of shares are traded anytime anywhere. Dematerialisation might come across as a difficult deal like changing most of the time. But Rurash Financials makes it seamless for its clients, with a transparent and dedicated support process." Ranjit Jha signed off.
About Rurash Financials
Rurash Financials Pvt Ltd is uniquely positioned to provide end-to-end solutions for physical to dematerialized security conversions. The company has been providing financial services for the past 4 years, and currently handles hundreds of physical to demat conversion cases every month.