Hidoc Dr being a global doctor networking and medical learning platform has successfully set up the "Ask Me Anything" feature powered by ChatGPT 3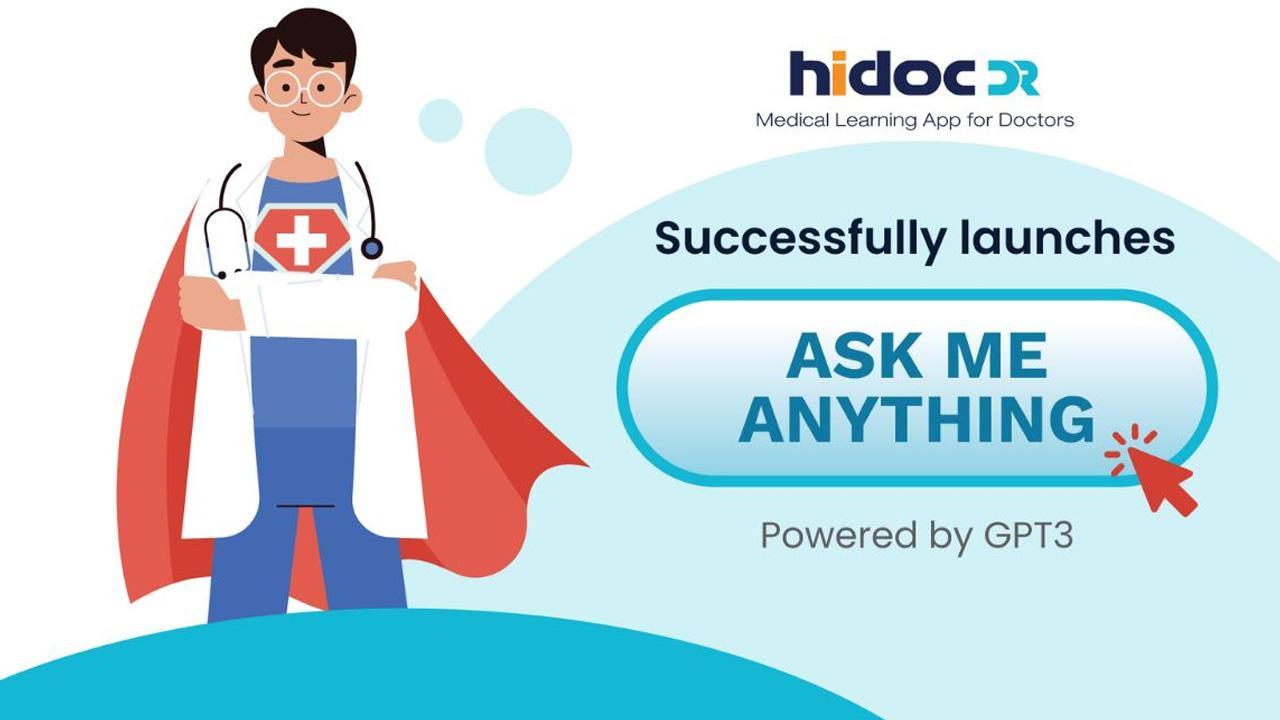 After so many successful launches,  Hidoc Dr has now come up with the most innovative feature of ChatGPT3. As we all know, ChatGPT3 can revolutionize healthcare and help in enhancing improved services and the quality of life of patients. Hidoc Dr has successfully launched its "Ask Me Anything" feature powered by ChatGPT 3.  
The "Ask Me Anything" feature has multiple uses, which include: 
ADVERTISEMENT
1. Obtaining answers to broad questions: You can obtain answers to all your queries just by asking them in Hidoc. The algorithm will generate a suitable answer for you which will contain all summarized points related to your query.
2. Obtain summaries of different research topics: Healthcare professionals can obtain all relevant information from their searched keywords.
3. Getting answers to FAQs: It often becomes difficult for doctors to remember every possible thing; in such cases, the doctors can easily use the Ask Me Anything feature to get the answers to their queries.
4. To manage medications: It can provide various useful information about drug interactions, contraindications, and other considerations affecting medication management.  
5. In detecting disease conditions: As the model can help in analyzing huge volumes of data, it can be used to indicate the emergence of new diseases or the current condition of different diseases. 
The users of Hidoc are overwhelmed to obtain this Ask Me Anything feature at their touch point as they are able to use it to solve all sorts of queries from this feature. They can even get the minute details of symptoms, diagnosis, and treatment which would eventually help them with better patient care.  
Other than these, the ChatGPT3 can be used in the following ways:
1. ChatGPT as a virtual assistant in telemedicine: The feature of ChatGPT can help in scheduling appointments, managing health information, and other patient management-related tasks in Telemedicine.
2. ChatGPT as clinical decision support: Clinical decision support system or CDSS is widely used for providing real-time, evidence-based recommendations to healthcare professionals so that an improved patient outcome can be obtained. Features like suggesting appropriate treatment options for different medical conditions, flagging potential drug interactions, and providing clinical guidelines can be provided by ChatGPT. 
3. ChatGPT in medical record keeping: ChatGPT has got some amazing features of generating automated summaries and medical histories of the patients to make patient care easier. Moreover, doctors and nurses can dictate notes, and the AI model can summarize the key details such as symptoms, diagnoses, treatments, and others.
4. ChatGPT in remote patient monitoring: GPT-3 can be used to analyze data from different monitoring devices like wearables, sensors, and others. It can help in providing real-time insights into a patient's health status, which can be used to alert healthcare providers about a patient's conditions and concerns. 
5. ChatGPT in creating symptom checkers: Symptom checkers can help in determining the patient's conditions by assessing the symptoms. This can help both the patients and doctors in interpreting potential health issues. 
Hidoc Dr being a global doctor networking and medical learning platform has successfully set up the "Ask Me Anything" feature powered by ChatGPT 3, which is being immensely used by doctors and other healthcare professionals. Therefore, you can also use the 'Ask Me Anything' feature of Hidoc and get your queries solved within a span of seconds.