This is just a small snippet of the entire conversation. We cross questioned the AI for about 10 minutes and it gave out valuable information. It can be safely said that the AI is extremely robust and designed to handle complex questions about insurance.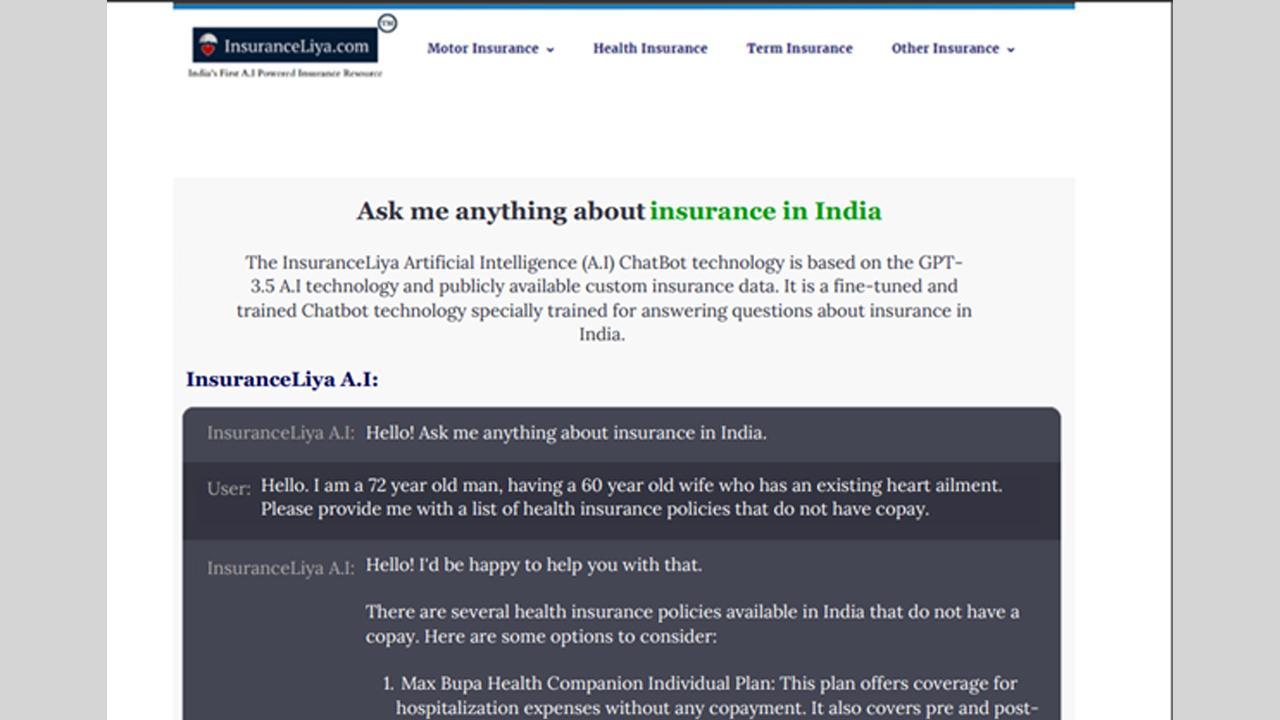 InsuranceLiya.com
As AI technology advances, it is poised to become an integral part of many industries, and the insurance sector is no exception. India's Insurance industry has been adopting AI technology to enhance the customer experience, streamline operations, and make faster and more accurate decisions. One such unsuspecting example we came across recently is an Indian insurance blog called InsuranceLiya.com. InsuranceLiya.com has integrated cutting-edge AI into its website, making it the first AI powered (based on the GPT-3.5 AI Model) insurance blog in India. What makes their AI cutting-edge? You'll find out below!
InsuranceLiya.com is an online insurance blog that writes about insurance and other related services. They have recently introduced an AI-powered insurance chatbot on their website to help readers with their insurance-related queries. The chatbot is designed to provide quick and accurate responses to customers' insurance related questions.
ADVERTISEMENT
The AI surprised us with its chatting prowess
We decided to check out what all the fuss was all about and gave the InsuranceLiya.com AI Chatbot a run for its money. We tested it out and the results were pleasantly shocking. We asked the AI a string of complex and nuanced questions and the response surprised us. Here is a small snippet from our conversation:
How does the AI chatbot work?
The InsuranceLiya AI chatbot is based on Open AI's GPT-3.5 technology, the same technology that has taken the tech world by storm through its ChatGPT AI. A notable difference between Open AI's AI model and InsuranceLiya's AI chatbot is that the InsuranceLiya AI chatbot is a fine-tuned AI model that is trained and designed in such a way that it can answer insurance related queries more efficiently than the plain vanilla Open AI variant.
AI and the future of Indian insurance
InsuranceLiya.com's introduction of an AI-powered chatbot is just one example of how AI is being used in the Indian insurance industry. The use of AI in insurance has been gaining momentum globally, and India is not far behind. According to a report by ResearchAndMarkets.com, the AI market in Asia Pacific is expected to grow at a CAGR of 40.8% during the period 2022-2027.
AI is being used in various aspects of insurance operations, such as underwriting, claims processing, fraud detection, and customer service. AI-powered underwriting systems can analyze customer data and provide accurate risk assessments, enabling insurers to make faster and more informed decisions. AI can also help in claims processing by automating the process and reducing the time taken to settle claims. In addition, AI can be used to detect fraudulent claims, which is a significant problem in the insurance industry.
Other applications of AI in the insurance industry
Even though InsuranceLiya.com's AI chatbot is the first such high-tech insurance chatbot in India (based on GPT-3.5 technology) where readers can directly interact with the AI and ask it questions about insurance, there are other examples of AI applications in the Indian insurance industry. For instance, ICICI Lombard, one of India's leading insurance companies, has deployed an AI-based system for processing insurance cashless claims.
Conclusion:
In conclusion, AI is rapidly changing the insurance industry in India and worldwide. InsuranceLiya.com's introduction of an AI-powered chatbot is just one example of how AI is being used to enhance the readers experience in the industry. The use of AI in insurance operations has many benefits, such as faster decision-making, improved customer service, and fraud detection. AI has the potential to revolutionize the way the insurance industry operates, making it more efficient and customer-centric.
The Indian insurance industry has been slow to adopt new technologies, but the increasing adoption of AI is a positive sign of the industry's willingness to embrace change.
In conclusion, while AI has the potential to take over the insurance industry in India, it is important to remember that it is a tool that needs to be used ethically and responsibly. The use of AI in the insurance industry is still in its early stages, and there is much potential for growth and innovation. As AI technology continues to evolve, it will be interesting to see how it transforms the insurance industry in India and how it is adopted by different players in the sector.